TM6 Thermomix Gift with Purchase Offer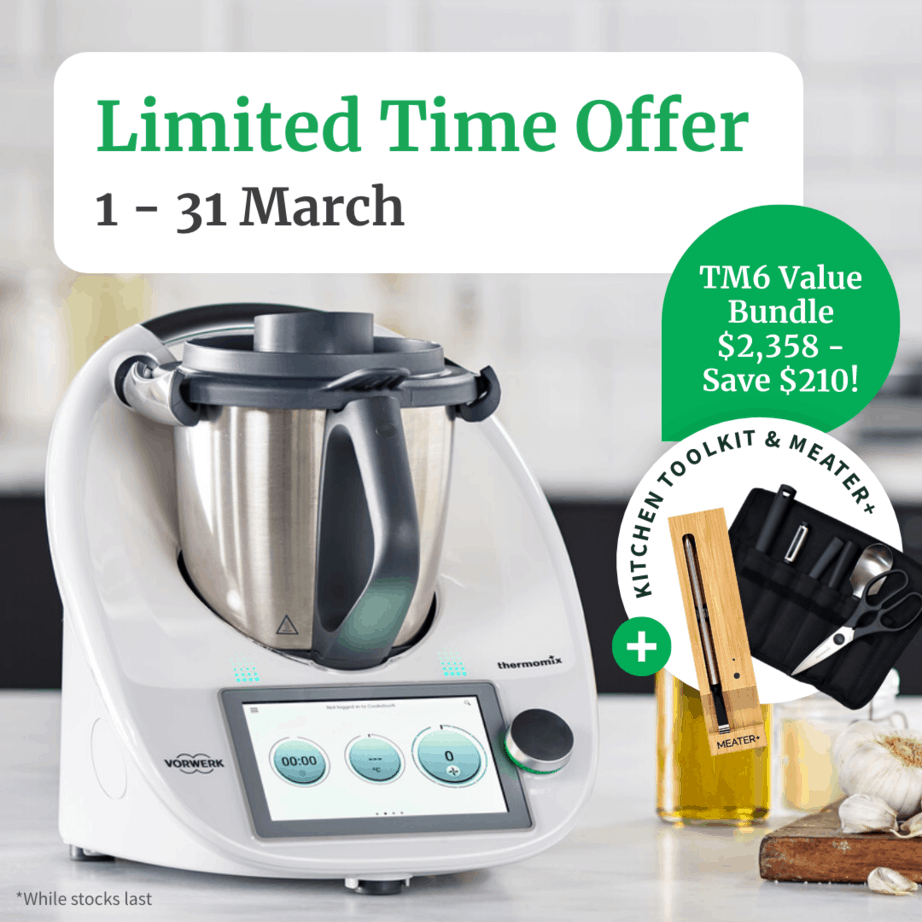 What is the Thermomix gift with purchase?
Did you know that Thermomix in Australia quite often offers either a special gift when you purchase a Thermomix or a discounted bundle with the purchase?
Buying a Thermomix is an exciting time. This smart, connected appliance will be your best friend in the kitchen for a very long time. This month Thermomix has provided the option to purchase a discounted kitchen bundle!
To help you get the most from your TM6 Thermomix is offering a very exciting discounted kitchen bundle when you buy a TM6 before the end of March 2021. Take a look at the flyer for the items available in this great offer.
You don't have to upgrade to the kitchen bundle!
If you just want the TM6 and no extra's, just click on the buy button. You will be taken to the Mixit shop and you simply delete the extras in the cart. Doing this will bring the Thermomix down to the lowest base price of $2,269.
Then just continue with the purchase. Once you have purchased the TM6 the machine will be shipped directly to your home. I will then be in contact to help you set up your machine and cook your first recipe!
If you do choose to select our bonus offer the items will be sent separately to your Thermomix so they may arrive at different times.
If you do choose to select our bonus offer the items will be sent separately to your Thermomix so they may arrive at different times.
Purchasing a TM6 is as simple as clicking the link and checking out!
What's the next step?
Once you have made your purchase it's time to set up your Cookidoo profile.  I will send you those instructions when your order has been confirmed
Can you help me set up my TM6?
Of course, I will always be there to help you with your machine. When you received the TM6 we will schedule a time for your virtual, online delivery briefing. Here I will help you unbox your Thermomix and run through the TM6 setup and all the functions of the Thermomix. We will cook your first recipe together! I will remain with you as your consultant. You will have my personal phone number to contact me anytime!
Thermomix Gift With Purchase
Would you prefer to contact me for a chat? I would love to talk with you. Just complete the form below and I will get back to you ASAP.
What else gets delivered with your Thermomix?
When you buy a Thermomix everything you could possibly need to get you started with online guided cooking is included with your purchase. Take a look here for more information about what is included when you purchase a TM6 and the cost of a Thermomix.
Thermomix Host Rewards
Do you have a friend that would like to purchase a TM6? Did you know as a referrer, or by hosting a cooking experience you will unlock free gifts from the Mixit shop? These gifts are products to help you get more from your Thermomix.
I love rewarding enthusiast Thermomix advocates, so please let me know if I can help you collect our host rewards.
Our brand new host reward is the 2.2L White ThermoServer which fits neatly inside your Varoma to ferment yoghurt.
Email, call, or contact me via social media if you would like to chat more about introducing a friend to me or unlocking host rewards.
Let's Get Chatting!
Direct message me on any of these social media platforms. I would love to connect!
FACEBOOK
TWITTER INSTAGRAM  PINTEREST
Happy Cooking!
Julie xx