Lunchtime Keto Handbook – Keto Cookbook Interview
Published , Last Updated
Today I am pleased to be able to share a conversation I had with Megan Ellam. Megan is a popular Keto cookbook author and she now has 19 books to her credit. She recently launched "Lunchtime Keto Handbook," a collection of 48 inspiring recipes for those on a Ketogenic or low-carb lifestyle.
I've had the privilege of trying some of her recipes and I can honestly say they are delicious for everyone, keto or otherwise. Megan has allowed me to share her Spicy Keto Popcorn Chicken Salad recipe, on the website so if you want to sample her recipe style take a look at the page.
I will be talking more about Megan's books in a moment but first I thought we should go back to basics.
What Is Keto Or The Ketogenic Diet?
The ketogenic diet is a very low-carbohydrate diet which focuses on including a high level of healthy fats and protein as the main macronutrients. By drastically reducing carbohydrate intake and replacing it with healthy fats, the body enters a metabolic state called ketosis in which it burns stored fat resulting in weight loss.
Keto is a completely new concept to me! So I thought I would ask Megan a little more about Ketogenics.
Hi Megan, thanks for joining me, I was hoping you could explain a little bit about the Ketogenic diet and about your books.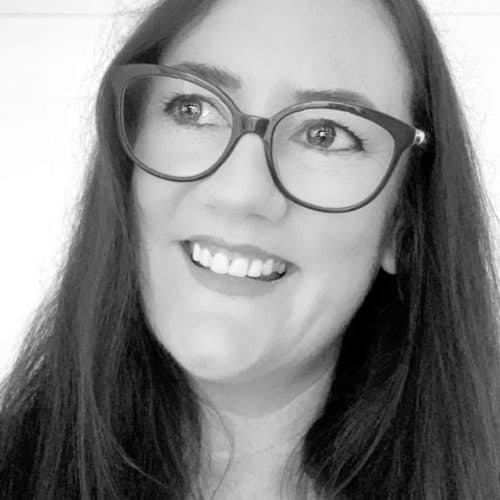 How many carbs are allowed per day on a Keto Diet?
Megan: Most people go with <20g net carbs a day. This is calculated by subtracting the fibre from total carbohydrates.
How do you know if you've reached Ketosis?
Megan: Some people choose to measure their blood ketones using a simple test similar to blood glucose tests using a keto reader. Nutritional ketosis is between the readings 0.5 – 3 mmol.
Other signs you are in ketosis is weight loss, higher levels of energy and mental clarity.
Some people may also suffer from bad breath when in a deep state of ketosis.
What is the most difficult aspect of staying Keto?
Megan: I don't personally find it difficult at all. I recommend a list of foods to begin. You need to slowly educate yourself with what foods contain a lot of carbohydrates. It is better to travel with some low carb foods handy or again know how to order meals and/or take away when out or at social events to stay in ketosis.
Is there a common mistake people make when trying the Ketogenic diet?
Megan: Overcomplicating it. Just focus on staying under the carbs and consume enough fat and protein to feel fuller for longer.
What is your favourite Keto recipe on your website? Link and why?
Megan: Sichuan Beef and Broccoli I love this recipe so much! It is a very fast dish to make and the flavours are all bang on delicious. It is just umami-amazing!
If I wanted to buy just one Keto cookbook to get started, which would you suggest and why?
Megan: Keto Eats would be my first recommendation. With over 100 recipes I know it will fast become a valuable resource and part of your everyday recipes. This book was well planned, written and is beautiful as well. Firstly, I researched the most popular foods/meals on multiple Top 100 lists and narrowed down to those I knew would have the same universal appeal to keto followers. Keto Eats contains recipes from your own spice blends, keto pastry, bread, crackers, sweets, snacks and meals just for you, your family or entertaining.
What's next for Megan Ellam and Keto?
Megan: Currently, I am working on several projects for publishing this year and a whole revamp of my website www.madcreationshub.com. Personally, I will be working on a side project of how to lose the last 10 kilos (after a long stall) and meal plans to go with that. This will be my personal goal in weight loss and a book to go with it once achieved. Previously diagnosed with insulin resistance I have no plans to ever steer away from the Keto Lifestyle.
Is there another book on the horizon?
Megan: Haha! Yes, I am always writing. I have just started on a new ebook, Aussie Icons for an Easter launch. However, my next hard copy book will be a BIG one, The Keto Companion will be everyone's new Keto Bible. I am super excited to start on this project and have ready for an end of year launch.
Thank you, Megan, for spending the time talking with me and sharing your knowledge and enthusiasm for Keto with my readers.
So how do you start a Keto Diet?
It seems to me that eating Keto is quite different from our modern Western-style diet, which is probably why so many people experience success when changing to this eating plan. Personally, I feel that without a great deal of guidance it would be difficult to stay Ketogenic. In our time-poor society, the quick food options are geared towards high carbohydrate, refined and over processed foods such as; fast foods, burgers, chips, pizza, and snacks like biscuits, lollies, cakes and sugary drinks.
How would I go on a Keto diet I wonder?? I don't eat fast foods or commercially prepared foods, pasta or bread. I realised a long time ago those foods put weight on me MEGA quick! Just for fun, I decided I would take a look at how many carbohydrates I consume on average per day. My fitnessPal tracked my average carbohydrate intake at around 60 carbs with fibre as 20g. Megan explained that I should deduct the fibre from total carbs giving me net carbs of 40g. Not bad… but not Keto!
I took a look through Megan's "Lunchtime Keto Handbook" and found her recipes are as low as 3g per serving! Even though I cook healthy meals from scratch, my meals are never that low in carbs. Creating delicious recipes for a Keto diet is a real talent! Some of the staple ingredients we take for granted such as flour, sugar, rice and potato are not available on this eating plan. Finding substitute ingredients that not only work in a recipe but lift the dish to a whole other level of flavour and nutrition is Megan's gift.
I would never have imaged you could make the following recipes ketogenic. PLUS, they're also nut-free!
Keto Lunchtime Cookbook
Keto lunchtime includes 48 recipes. Some of my favourite dishes from Megan's latest cookbook include;
Aussie Beef Pie
Keto Cheese & Bacon Scrolls
Newie Cheese Steak Wrap
Taco Roll Up
Beef & Feta Gozleme
Crunchy Baked Popcorn Chicken Salad
Nut-free Sandwich Loaf
Raspberry & White Chocolate Muesli Bar
My conclusion, if you're serious about making the change to a Keto diet following a Keto Meal Plan which includes a cookbook with a variety of recipes would be by far the best way to start. Megan's Keto Life cookbook has meal plans for 4 weeks and 60 recipes. This would be a great way to get started on a Ketogenic diet.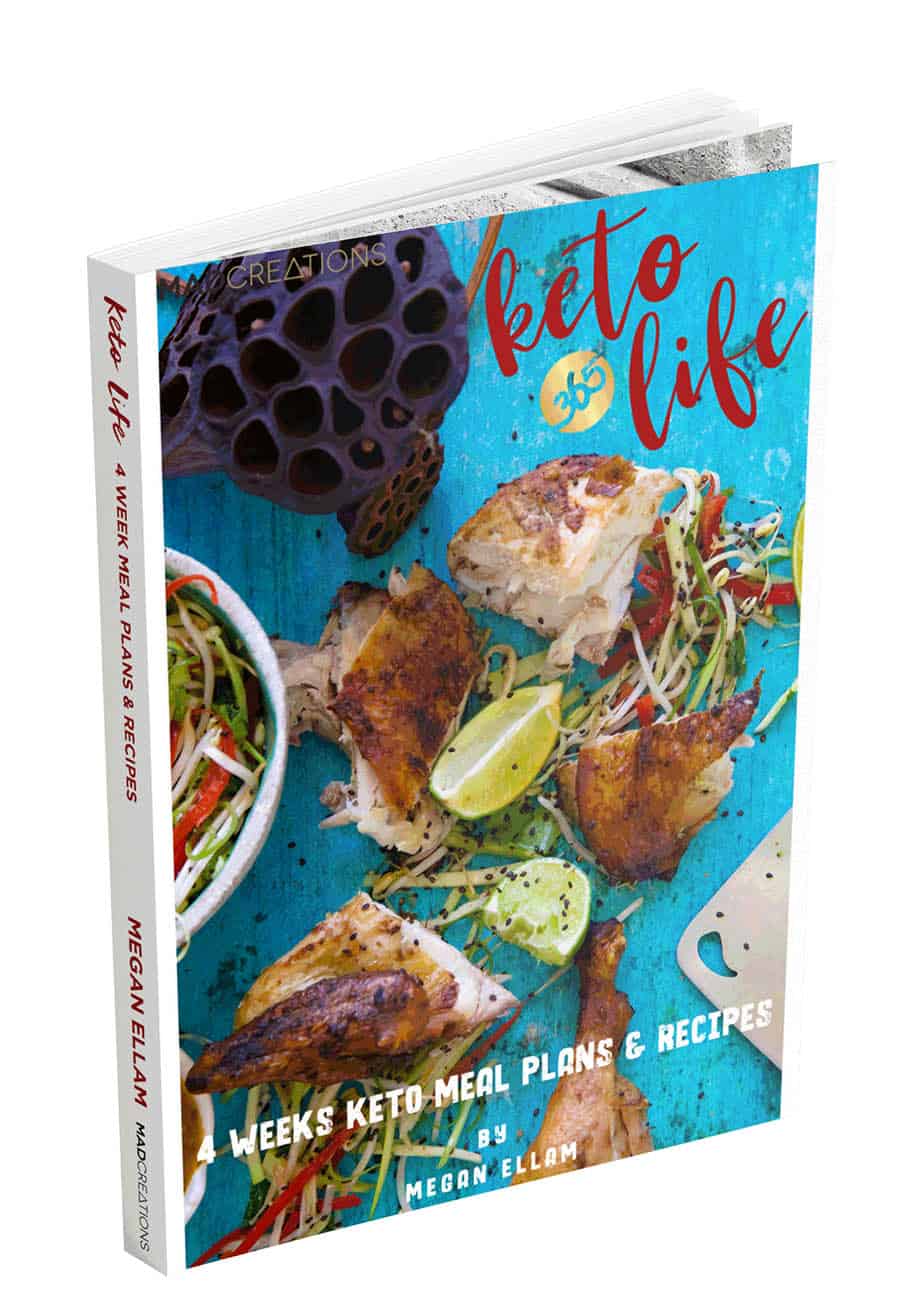 If you're interested in simply "testing the waters" and starting slowly as I did, I highly recommend the "Lunchtime Keto Handbook". Our recipe today Keto Popcorn Chicken Salad has been taken from this book.
The recipes in Megan's latest book are delicious and suitable for the whole family.
I've included the recipe for the Spicy Keto Popcorn Chicken Salad so you can get a taste for Megan's latest book, "Lunchtime Keto".
I'd love to hear your thought on the Keto lifestyle! Do you follow the Keto diet, have you had success? What are your best tips for maintaining a keto lifestyle? Do you have some of Megan's other cookbooks?
Let me know your thoughts in the comments section below.