Description
Tex-Mex – Imagine A Texan BBQ Meets A Mexican Fiesta; It's A Taste Sensation!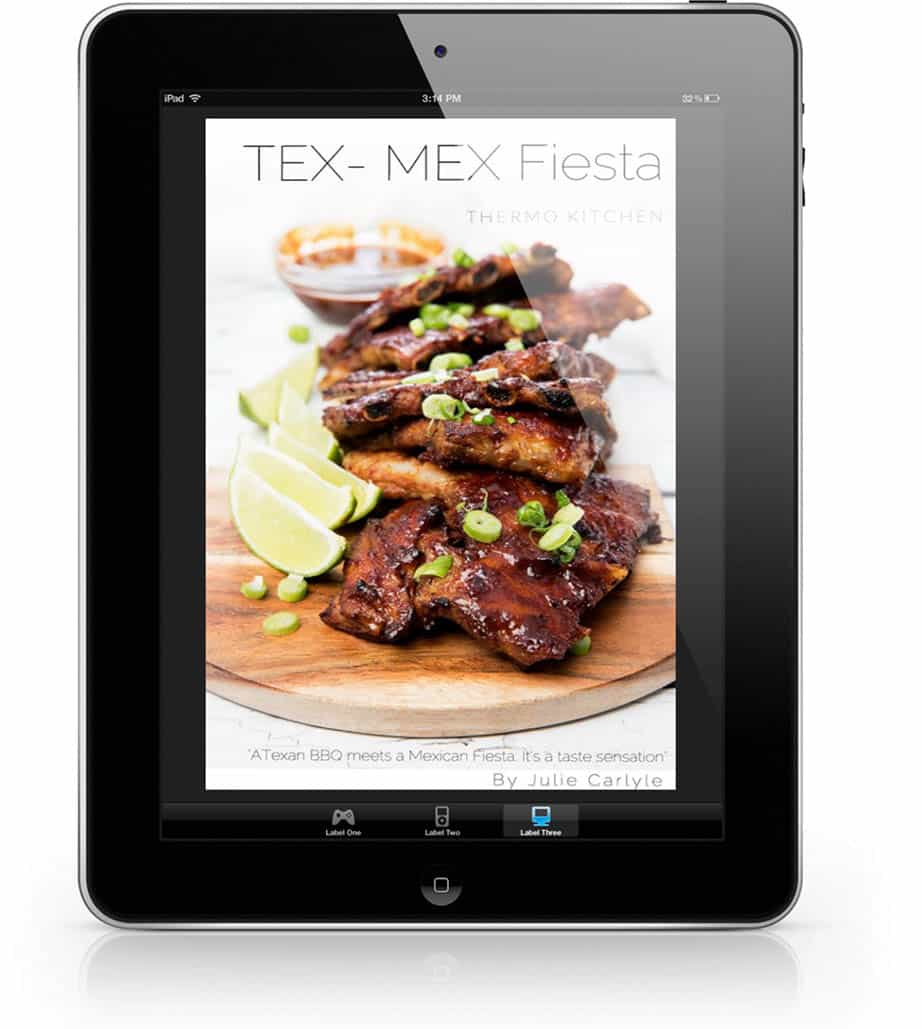 A Tex-Mex Fiesta is the latest Thermomix cookbook to be released by ThermoKitchen. It features more than 30 Texan BBQ & Mexican Fiesta recipes all suitable for the TM5 and TM31. If you're looking for a flavour explosion Tex-Mex style then this book is for you.
The Recipe Index
Cowboy Dust Seasoning
Texas Spiced Nuts
Smokey Bourbon BBQ sauce
Tomatillo Sauce – Salsa Verde
Blue Cheese Dressing
Loaded Lettuce Wedges w Ranch Dressing
Seasoned Fries w Chipotle Aioli
Jalapeno Cornbread
Corn Tortilla
Jalapeno Soup
Pumpkin Soup with Chorizo Crumb
Elotes – Mexican Street Corn
Arroz Rojo – Mexican Red Rice
Frijoles Refritos – Refried Bean Dip
10 Minute Bean Burrito Filling
Black Bean Brioche Burger w Chipotle Aioli
Double Stuffed Cheese Burger
Spicy Buffalo Wings
Yucatan Pibli Pollo Skewers
Easy Mexican Pulled Chicken
Chicken Salsa Verde Enchilada
Pork Carnitas – Pulled Pork
Chili Con Cerdo Quesadilla  – Chilli Pork
Twice Cooked Glazed BBQ Pork Ribs
Chipotle Adobo Beef
BBQ Style Texan Beef Brisket
Last Minute Beef Nachos
Chili Con Carne
Pecan Pie w Bourbon Spiked Cream
Margarita Cheesecake w Lime Sherbet
Mexican Wedding Cookies
When you purchase the e-book you will receive a PDF copy of Tex-Mex Fiesta immediately, so you can start cooking straight away. The e-book link will be in your order confirmation email. Please download the PDF to your documents folder on your computer. Then you can save it to your devices and get cooking!
A Tex-Mex Fiesta is also available as a hard copy with a complimentary e-book download, but I understand that some people just want an ebook.  So the choice is yours.
If you would like more information about where to find authentic the Mexican ingredients, take a look at this article. Please feel free to contact me with any questions.