Balinese Peanut Sauce or Satay Sauce a Basic Thermomix Recipe
Published , Last Updated
Each time we take a family holiday I enrol in as many cooking classes as possible. We visit Bali often, so consequently, I have a number of different peanut sauce recipes! Our most recent trip to Bali was last week and I think I have finally found my favourite peanut sauce recipe.
We had been staying at a quiet location with cute thatched beach huts in Candidasa when I noticed Le Zat Beach restaurant nearby. Le Zat actually means delicious. We enjoyed a gorgeous evening meal in the restaurant watching the waves and the sunset. True to the name, Le Zat was delicious and the satay sauce was everyone's favourite. I discovered the restaurant held cooking classes and quickly enrolled myself for the following day.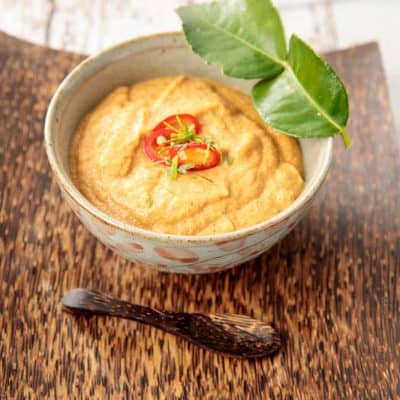 Balinese Peanut Sauce
This is a family favourite recipe that no child or adult can resist. Adjust the chilli to suit your own tastes.
Course:
Condiment, Main Course, Sauce
Keyword:
Balinese Recipes, peanut sauce, Satay sauce, sate sauce
Ingredients
200

gm

beer nuts (salted)

see notes

5

gm

fresh ginger

or aromatic ginger if available

10

gm

garlic

1

red chilli deseeded

for mild heat

1

small red chili *optional

for medium heat if required

5

gm

shrimp paste

see notes *optional omit for vegetarian & vegan

15

gm

vegetable oil

35

gm

palm sugar

see notes

25

gm

fresh tomato

2

kefir lime leaves

20

gm

deep fried shallots

see note

10

gm

lime juice

250

gm

water
Instructions
Add the nuts to the TM Bowl. Mill 3sec/Speed 8. (Reserve in a bowl for later)

Place the ginger, garlic, oil, shrimp paste, hot chili (if using), and long chili in the TM bowl. Chop 3 sec/Speed 9.

Scrape down the bowl. Cook 3 min/Varoma/Speed 1.

Add the palm sugar, deep fried shallot, tomato, lime juice, lime leaves, reserved milled peanuts and water. Blend 10 sec/Speed 8.

Scrape down TM bowl if necessary. Blend 15 sec/Speed 8.

Scrape down TM bowl. Take a look at the consistency. If you want a smoother peanut sauce. Blend 10 sec/Speed 8

If you want a thinner sauce, add a little bit more water or lime juice to taste.

The sauce can be served hot or cold. If you want a cooked hot sauce heat 4 min/Varoma/Speed 3. You may need to add extra lime juice or water once the sauce is cooked.
Recipe Notes
This peanut sauce or satay sauce, as it is also known can be served hot or cold but it will need extra water if it's heated.
If you want a thinner sauce, add a little bit more water or lime juice to taste. For a crunchier texture reduce the final blending time by 5 seconds. For a smoother sauce increase the blending time by 5 seconds.
*Omit shrimp paste for a vegetarian version.
Nutrition Facts
Balinese Peanut Sauce
Amount Per Serving (25 g)
Calories 147
Calories from Fat 99
% Daily Value*
Fat 11g17%
Cholesterol 5mg2%
Sodium 113mg5%
Potassium 194mg6%
Carbohydrates 7g2%
Protein 6g12%
Vitamin A 105IU2%
Vitamin C 13.9mg17%
Calcium 24mg2%
Iron 0.6mg3%
* Percent Daily Values are based on a 2000 calorie diet.
The whole family were looked after whilst I attended the class. Brett and the children were free to use the pool.  With the family busied, I was able to learn the art of producing six delicious Balinese recipes. Dewa Alit, the restaurant chefs' taught me the secret behind all the dishes we had enjoyed the previous night. After I completed each course the family were invited down to a table on the beach to sample my cooking.
They would then head back off to the pool and let me continue cooking the next course.
Making the recipe by hand with a mortar and pestle is a real bicep workout but happily, I had help. Thankfully making the dishes at home is simple with food processors and blenders.  The instructions I have given are for the Thermomix as this is the simplest method.
Tips – Balinese Peanut Sauce or Satay Sauce Ingredients
Beer Nuts -In Bali they use raw beer nuts for this sauce. First, the nuts are deep fried in oil until golden. The nuts are then removed with a slotted spoon, sprinkled with salt and left to cool. The Australian shortcut here is to use any Beer Nuts with the dark shell still on. They're available from any supermarket. If buying salted, just shake some of the salt off and keep all of the beer skins on to use in the sauce. If you can't find beer nuts, just use peanuts, they're exactly the same only shorter.
Dried Shrimp paste – This ingredient is often a hard paste or solid cube. Before it can be used it is customary to heat it directly on the flame or fry it off in oil.
Palm Sugar – The palm sugar I see in Australia is a pale beige colour. In Bali, it is dark brown and rich looking. If you cant find a dark palm sugar just use coconut blossom sugar or brown sugar.
Fried Shallot – These are purchased as a crisp chip-like product in the Asian section of every supermarket. You can deep fry your own french eschallot until brown for a similar effect, but most places simply purchase the commercial variety.
During the cooking class, the peanut sauce was used in a Gado Gado recipe and also as a dipping sauce for  Sate Ayam (grilled chicken skewers). Since arriving home I have already made the Gado Gado again, although I added some fresh asparagus to the dish as it looked so nice.
I had a fabulous time with Chef Dewa Alit. We made 5 dishes together in the most tranquil Balinese setting. I have included a destination link to LeZat in this story because I really feel that this was one of my favourite experiences of this Balinese holiday. The location is quiet, the class is conducted near the water's edge and the chef and staff were so friendly.
If you're ever looking to get out of the tourist locations and take a look at the quieter side of Bali I would thoroughly recommend Candidasa and LeZat Restaurant. Oh… and there's accommodation onsite.
Don't forget to pin this recipe for later!
For more recipes, please follow the ThermoKitchen FB Page. Want to receive an email update when new recipes are released. Why not scroll down and hit subscribe at the bottom of the website.