Beginners Basic Thermomix Kimchi
Published , Last Updated
I've been really getting into eating fermented foods for their probiotic health benefits. As part of this new diet I've been eating a lot of Kimchi and drinking Kombucha every day. It didn't take me very long to realise this was going to be an expensive habit! I knew I would need to learn how to make my own probiotic foods if I was to continue eating them as regularly as I liked.  That's how my beginners Thermomix Kimchi was born.
I made my first batch of Kimchi 3 months ago and I loved it.  As with everything you prepare yourself, homemade Kimchi is so much better than the store-bought varieties. Not that I have anything against the store bought products, but I love being able to add my favourite vegetables and allow it to ferment to the level of funkiness I prefer.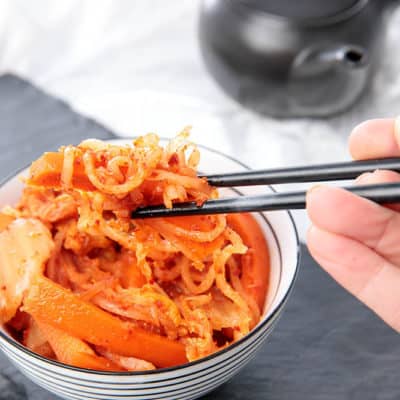 Basic Thermomix Kimchi
This is the most popular Kimchi variation. Kimchi Baechu, made with nappa cabbage and chili.
Course:
Condiment, Side Dish
Keyword:
Fermentation, Kimchi, Pickling, Probiotic, Thermomix
Ingredients
900

gm

napa cabbage

or wombok (approx 1/2 cabbage)

500

gm

daikon radish

peeled

500

gm

carrot

(peeled and cut in quarters)

4

green shallots
Kimchi Paste
200

gm

onion

cut in half

15

gm

garlic

10

gm

fresh ginger

40

gm

Korean Chilli

Gochugaru paste

1/2

cup

fish sauce

(natural only - no preservatives) OR 1/2 cup salting brine for a vegetarian version
Brine
4

cups

natural pure water

bottled (not tap)

4

TBS

Himalayan salt

(or another non-iodised salt)
Instructions
Coarsely chop the cabbage and reserve.

Cut the shallot into 2 cm pieces and add to the reserved cabbage.

Shred the daikon radish by hand or chop in the TM.

Add 150gm daikon in the TM bowl. Chop 4sec /Speed 5.

Transfer the daikon to TM bowl of cabbage. Repeat the process until all the daikon is chopped.

Add 150gm carrot in the TM bowl. Chop 4sec /Speed 5.

Transfer the carrot the bowl with the cabbage. Repeat the process until all the carrot is chopped.
BRINING
Mix the water and salt in a large non-reactive bowl until dissolved.


Add the vegetables to the brine and submerge them fully for 3-4 hours or overnight.

Drain the brine off the vegetables. Make sure to reserve the brine.
KIMCHI PASTE
Place the ginger, garlic and onion to the TM Bowl. Mince 5 sec/Speed 9.

Add the Korean chilli and fish sauce (or 1/2 cup of brine if vegetarian) to the garlic mixture. Combine 15 sec/Speed 6.5.

Add the Kimchi paste to the drained mixed vegetables.

Mix the paste through the vegetables thoroughly, until they're completely covered.

Lightly press the kimchi into a 2 litre fermenting crock.

The brine will rise to the top of the vegetables as you press. If necessary add a little more of the reserved brine to completely submerge the vegetables.

Place a crockery weight on top of the vegetable to keep them submerged as they ferment.

Cover the jar or the crock lid to deter unwanted insects or particles. They won't be able to get in the crock but as water bubbles out onto the plate they may be attracted.

The fermenting crock can sit on the kitchen bench away from sunlight until it's ready.
Recipe Notes
NUTRITIONAL VALUE IS FOR THE WHOLE RECIPE - 
The fermentation will take between 4-8 days depending on the outside temperature and your desired level of funkiness.
Nutrition Facts
Basic Thermomix Kimchi
Amount Per Serving
Calories 359
Calories from Fat 36
% Daily Value*
Fat 4g6%
Sodium 19109mg796%
Potassium 3258mg93%
Carbohydrates 75g25%
Protein 16g32%
Vitamin A 49365IU987%
Vitamin C 205.5mg249%
Calcium 650mg65%
Iron 7.9mg44%
* Percent Daily Values are based on a 2000 calorie diet.
Basic Kimchi Notes
The brine will rise to the top of the vegetables as you press them into the fermenting crock. If necessary add a little more of the reserved brine to completely submerge the vegetables.
You can add as much of the brine as you like depending on whether you want more or less "juice" in the kimchi. (Excess brine will bubble out of the crock as it ferments.)
Place a crockery or glass weight on top of the vegetable to keep them submerged as they ferment. (If you have a Montier Pilon Crock the weight is provided)
Ensure the crock lid always has water in the chamber to keep an airlock.
The fermenting crock can sit on the kitchen bench until it's ready.
Kimchi can be eaten fresh on the day it's made or at any stage of fermentation. Once the taste is to your liking transfer the Kimchi into smaller jars and store in the refrigerator to slow the fermentation process.
I have to admit that I was kind of freaked out about making my first batch of Kimchi. I was scared I would poison myself or just grow a smelly, mouldy mess. Even once the fermentation was complete it took me a day or two to become brave enough to open the fermenting crock.  When the crock was open I was surprised to find delicious looking kimchi. I very gingerly nibbled on a tiny strand of daikon radish and to my surprise, it tasted perfect, just like the real deal!
Thermomix Kimchi Watchpoints
Use a proper fermentation crock or airlock system!
The key to cultivating probiotic bacteria and not mould is allowing the fermentation to occur in an anaerobic environment (no oxygen). If oxygen gets into the crock the vegetables will grow mould and the kimchi will only be suitable as compost. Look for a fermentation crock which has a water airlock trap. This allows the carbon dioxide to escape as the food ferment, without allowing air to enter the fermentation vessel.  This is the Montier Pilon Crock I use to make my kimchi.
The crock I use is quite expensive a cheaper alternative is fermenting in jars with a silicone pickling pipe which provides a fermentation airlock. It's also best to use BPA safe plastic lids otherwise you will find that due to the acidic nature of Kimchi rust will develop quickly in the lid.
Use Pure Products
Water – Tap water is unsuitable for the kimchi as it has been chlorinated. Chlorine kills bacteria, even the good bacteria that we want to cultivate. Use bottled spring water with no additives.
Salt – Salt should be non-deionised table salt. As with chlorine, iodine is an anti-bacterial agent. It actually kills, yeast, bacteria, fungus, viruses and moulds. So if you want your Kimchi to ferment you need to choose salt which hasn't had iodine added. I use this particular Himalayan salt.
Fish Sauce – When purchasing fish sauce look for a brand which has no preservatives. Preservatives will inhibit the growth of our good bacteria in the ferment.
Ferment out of direct sunlight
The kimchi needs to ferment away from direct sunlight. Sunlight kills bacteria so it's best to put the fermenting vessel in the pantry or a cupboard.
Place a large plate under the crock
As the vegetables ferment carbon dioxide will bubble up through the water lock.  This can cause spillages of water and brine from the crock. By placing a plate under the vessel cleaning up is a simple as changing the plate each day.
So there you have it, a no fuss, basic recipe which will work every time. Just make sure to take notice of the watchpoints. Don't forget to pin for later.
Lets Connect!
Do you want to connect with other pro-biotic warriors join the DYI Fermenting FB group page and connect with others? I share loads of great recipes and tips on the page.
Also, if you would like to be notified when more pro-biotic recipes are released please subscribe to our newsletter. We only send a newsletter to our friends when we have a recipe to share.
If you would like more great Thermomix recipes, please follow the ThermoKitchen FB Page. I share loads of great recipes on the page. Our community group page also shares recipes, tips and tricks for your Thermomix.
Please note: This article may contain affiliate links. This means a tracking code is used and I may make a small commission if you purchase the item I've suggested. The price of the item will be the same for you whether it's an affiliate link or not. Adding affiliate links to items I love, helps me to promote sites that provide great products. As a bonus, I earn a small income that goes towards maintaining this website and support my family.