Chinese Chicken Soup Thermomix Recipe
Published , Last Updated
This is a classic Chinese restaurant favourite. Chinese chicken soup is simple to make, healthy and delicious! Preparing the soup is quicker than calling for a takeaway and so much more satisfying. 
Chinese chicken soup is my daughter's favourite winter dish at the moment, although she calls it chicken and sweetcorn soup. My husband started this father-daughter winter ritual a few years ago. They may only have it occasionally but I hate it. They go to the supermarket and buy a can of soup for their bonding meal. I am opposed to soup in a can for so many reasons!
Chicken sweetcorn soup from a can doesn't even taste like chicken, corn or soup! It just tastes like artificial, tin flavoured, goop. Even the consistency is gross. A few weeks ago Anais wanted to buy the offending soup whilst we were shopping. I told her I would make her a proper Chinese Chicken Soup. She gave me the usual "roll of the eyes", but let the argument go.
In all honesty, I haven't made a Chinese chicken sweetcorn soup for years. I love the flavour of the soup, and how nourishing and homely, it tastes, but somehow I just don't think to make it. It's a shame because this is a super easy recipe which can be made on the stove top or in the Thermomix.
Anyway, I knew the recipe would need to be good to win Anais over. I was rather nervous when I put the completed bowl of Chinese chicken soup on the table for her. As soon as she sat down she smiled.
"Yum, it looks and smells amazing!" she said.
She tried the first mouthful and then got up to give me a big hug. "This is the best!" she said.
Brett arrived home and Anais was the first to greet him. "Dad, you've got to try mums chicken sweetcorn soup," she said as soon as he stepped through the front door.
My husband is always being greeted in this manner so he made himself comfortable at the table and tried the soup. The verdict was unanimous! The toughest critics had tried my sweetcorn soup and given it a big "thumbs up."
The rest of my family shares my food tastes (snobbery) and wouldn't touch a can of soup if it was the last item in the pantry. So it was a foregone conclusion that a homemade Chinese chicken soup would be a winner.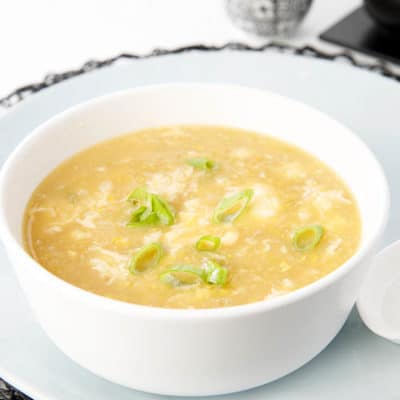 Chinese Chicken Soup with Sweetcorn (Thermomix)
This is a classic Chinese restaurant favourite. Chicken Sweetcorn soup is simple to make, healthy and delicious! Preparing the soup is quicker than calling for a takeaway and so much more satisfying.
Course:
Main Course, Main Dish, Soup
Cuisine:
Australian, Chinese
Ingredients
5

gm

garlic

7

gm

fresh ginger

1

litre

chicken stock

Campbells real stock

2 x 300

gm

creamed corn

250

gm

chicken thigh fillets

cut into 1-2cm wide strips

1

Tbs

soy sauce

light

1

Tbs

Chinese cooking wine

6

green shallots

sliced

1

Tbs

cornflour

50

ml

cold water

2

tsp

sesame oil

2

eggs

1

pinch

white pepper
Instructions
Place ginger and garlic in TM bowl. Mince 3 sec/Speed 9.




Add stock, chicken, soy sauce, Chinese wine, creamed corn, pepper and 1/2 the shallot to the TM bowl. Cook 20min/Varoma/Speed 1.

While the soup is cooking, crack eggs into a small glass bowl and beat with a fork until combined. reserve.

In another small bowl combine the water and cornflour until smooth.

When the chicken soup has finished cooking, add the cornflour liquid to the soup. Heat 2min/100 degrees/Speed 2.

Turn the TM onto 1min/100 degrees/Speed 1. While the machine is running, remove the MC and drizzle the whisked egg into the soup through the hole in the lid.

Allow the soup to stand for 3 minutes. The egg will cook in the soup in strands and help thicken the soup and add texture.

Ladle the soup into serving bowls.

Garnish with reserved shallot and a 1/2 tsp sesame oil.
Recipe Notes
If you can't find Chinese cooking wine, a sweet cooking sherry can be substituted.
Nutrition Facts
Chinese Chicken Soup with Sweetcorn (Thermomix)
Amount Per Serving (400 g)
Calories 202
Calories from Fat 126
% Daily Value*
Fat 14g22%
Cholesterol 143mg48%
Sodium 331mg14%
Potassium 168mg5%
Carbohydrates 3g1%
Protein 13g26%
Vitamin A 170IU3%
Vitamin C 0.4mg0%
Calcium 17mg2%
Iron 0.9mg5%
* Percent Daily Values are based on a 2000 calorie diet.
Let's Connect!
Don't forget to tag me on social media if you make any Thermokitchen recipes! I love connecting and seeing your pictures. #Thermokitchen
For more for more delicious Thermomix recipe inspirations SAY HELLO on;
FACEBOOK
TWITTER INSTAGRAM  PINTEREST
Do you think your family would enjoy this recipe? Why not pin it for later!
I will be making this soup more often during the colder months. It's such a simple, healthy meal to make. The preparation time is about 5 minutes and the Thermomix cooks and stirs for 20 minutes. I don't know too many recipes which are as easy and delicious.
If you're looking for another soup recipe, my family also enjoy this Pumpkin Soup w Chorizo Dust.
Would like more great Thermomix recipes delivered to your inbox? Each Friday I send out a newsletter with 5 or so of my favourite Thermomix recipes. The recipes will give you some ideas on what you might like to make for dinner in the coming week. Feel free to add your name to the list of recipe recipients.