Layered Lentil Vegetarian Moussaka Thermomix
Published , Last Updated
Once upon a time, I was a vegetarian. I was really happy with my vegetarian diet. After more than ten years "meatless", I'd amassed a delicious range of recipes. The dishes I made were fairly simple and nutritionally balanced. This layered vegetarian moussaka was one of my favourite recipes. Today I've converted it for the Thermomix which makes it even quicker and easier to make!
This is a lentil moussaka which also includes a layer of sliced potato. It was a favourite recipe of mine because it's homely and comforting, but still light and healthy. I've always preferred my food to be low fat and high fibre as fibre keeps you feeling full longer.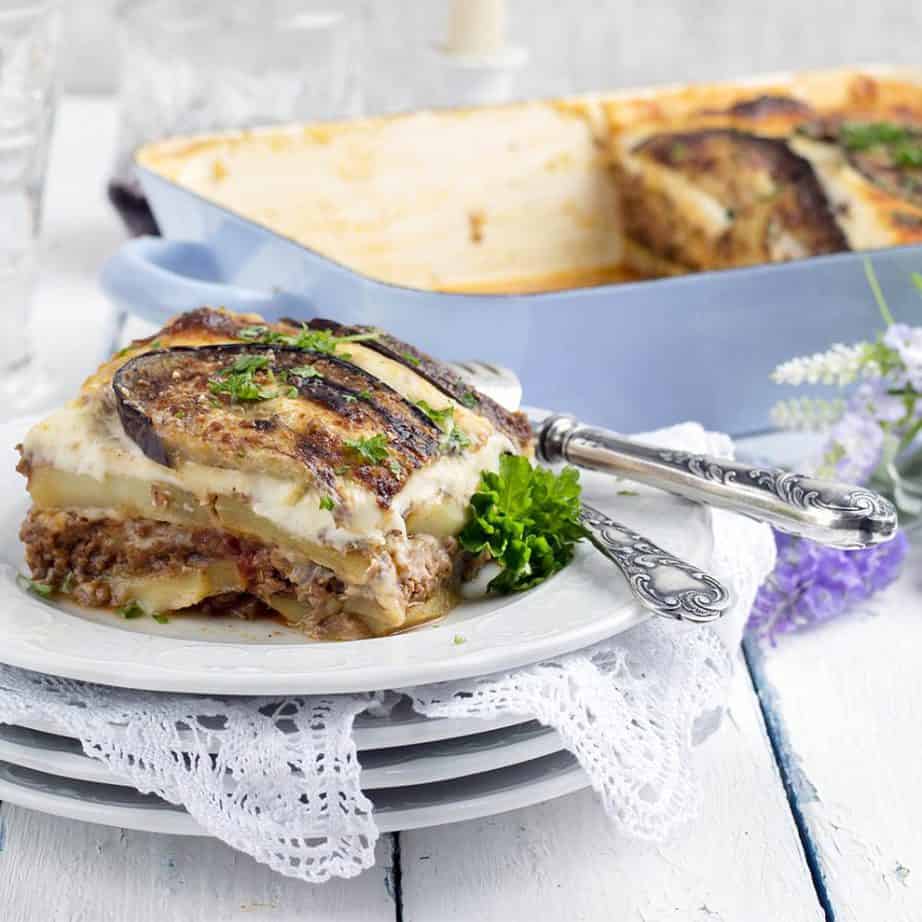 Thermomix Vegetarian Moussaka
A delicious vegetarian alternative to the traditional lamb moussaka.
Course:
Main Course, Main Dish, Vegetarian
Ingredients
400

gm

eggplant

sliced into 1cm thick rounds

300

gm

potato

Sliced thinly on a mandolin

185

gm

onion

10

gm

garlic

240

gm

red lentil

600

gm

tomato pasatta

240

gm

water

1

sprig

fresh rosemary

removed from woody stem

2

tsp

dried oregano

1/2

tsp

allspice

1

tsp

vegetable stock powder
Topping
200

gm

eggplant

sliced thinly length way on a mandolin

200

gm

light Philadelphia Cream Cheese

5% fat

2

eggs

1/4

tsp

salt

1/4

tsp

white pepper

1/4

tsp

ground nutmeg
Instructions
Preheat the oven to 160 degrees.

Spray a baking dish with oil.




Place all the 1cm rounds of eggplant in a layer across the bottom of a baking dish. Cut eggplant to size as needed to fill in gaps.




Add the layer of sliced potato.

Cover the baking dish with foil and bake for 20 - 30mins. Leave the foil on.

Place the onion and garlic in TM bowl. Blitz 3sec/Speed 7.

Add lentils, passata, water oregano, rosemary, all spice, vegetable stock. Cook 20min/100/Speed 1 (MC OUT) Strainer on top to prevent splatters.

Pour the lentils over the eggplant.

Rinse the TM bowl and dry.

Add eggs, cream, salt pepper and nutmeg to the TM bowl. Beat 10sec/Speed4.

Pour the topping over the Moussaka and add the long slices on thinly cut eggplant.

Spray the top of the eggplant with oil. Cover with Alfoil. Bake 20 minutes

Uncover the dish and bake for a further 10-15 minutes or until golden.

Nutrition Facts
Thermomix Vegetarian Moussaka
Amount Per Serving (200 g)
Calories 210
* Percent Daily Values are based on a 2000 calorie diet.
Fibre is also a great prebiotic, meaning that it helps feed the good gut bacteria in your body. Fibre is found in beans, legumes, grains, fruit and vegetables. The recommended level of fibre in the diet is 25-35gms per day. Most adults struggle to consume even 10gms of fibre. No wonder we get hangery!!
Anyway, after 10 years of vegetarianism, I slowly moved back over to the dark side. After being married to a meat eater and having 5 children it just didn't seem practical to stay a vegetarian.  Now my youngest daughter has decided to try out vegetarianism. My first reaction was to say no way! I still need to cook for a lot of people each day and this diet was definitely going to require more forethought on my part. Then I changed my tune.
Then I changed my tune. I had learnt a lot about nutrition during my time as a vegetarian. It's not just about taking the ham off your ham, cheese and tomato sandwich, or leaving the steak off the steak and 3 veg dinner. The protein and iron source needs to be replaced with a vegetable based product. After talking to Anais and explaining all that her diet would entail I agreed to the change in diet.
As a result, the first dish I made was this vegetarian moussaka. The recipe serves eight, so even feeding all the family there were leftovers for Anais school lunch the following day. I also froze one serve so I had something on hand if we were having a meat based meal in the future.
Now, with a new vegetarian in the family it means I have an excuse to revisit some of my favourite dishes.
If you enjoy a meatless dish keep a look at my vegetarian recipe list over the coming months. I will be revisiting and reinventing some of my favourite vegetarian dishes for the Thermomix.
I've made a up this cute little pin so you can add it to your pinterest recipes.
What would you do if your child wanted to be a vegetarian?
Would like more great Thermomix recipes, please follow the ThermoKitchen FB Page. I share loads of great recipes on the page. Our community group page also shares recipes from other fabulous Thermomix bloggers.