Description
Save when you buy all 3 Thermokitchen cookbooks in hardcopy!
NO FURTHER COUPON CODES AVAILABLE FOR THIS OFFER!
You will receive the ebook and hardcopy of an "Indian ThermoKitchen", "A Tex-Mex Fiesta" and the newest release, "An Asian Banquet."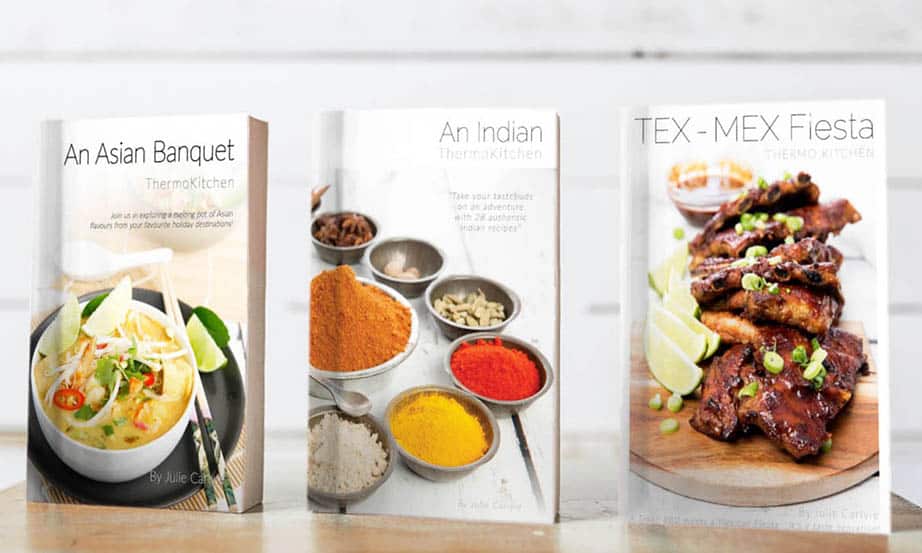 An Indian Thermo Kitchen Cookbook
Take your taste buds on an adventure with 28 authentic Indian recipes including, breads, vegetarian meals, meat dishes and even a dessert or two.
The Recipe Index
Garam Masala
Tandoori Spice Blend
Indian Spiced Ghee
Mint Raita
Tamarind & Date Chutney
Chapati
Garlic Naan Bread
Paneer Cheese
Vegetable Samosa
Aloo Paneer Kofta
Chicken Tikka
Buttery Saffron Rice
Prawn Biryani
Lahsooni Methi Paneer
Paneer & Pea Butter Curry
Gobi Tikka Masala (Cauliflower)
Red Lentil Dahl
Dahl Makhani
Jaipur Malai Kofta
Easy Chicken Curry
Butter Chicken
Mango Chicken
Lamb Rogan Josh
Lamb Korma
Keema Matar
Beef vindaloo
Spiced Cardamom Syrup Cake
White Chocolate Chai Mousse
An Indian ThermoKitchen has been extremely popular and we are now in our second print run!
What you will receive
Please note the ebook "An Indian Thermokitchen" is the only purchase method available for international buyers.
ONLINE SALES
Books are shipped via Australia Post.
Once you purchase a hard copy of the cookbook online you will receive a link in your order email which allows you to download the pdf. This is a complimentary service to allow you to get cooking straight away!
Please open the PDF file on a computer. The file is large and some phones do not have the appropriate software to download the PDF.
Tex-Mex – Imagine A Texan BBQ Meets A Mexican Fiesta; It's A Taste Sensation!
A Tex-Mex Fiesta is the latest Thermomix cookbook to be released by ThermoKitchen. It features more than 30 Texan BBQ & Mexican Fiesta recipes all suitable for the TM5 and TM31. If you're looking for a flavour explosion Tex-Mex style then this book is for you.
The book is A4 portrait format and has 52 pages of delicious Mexican recipes and beautiful images. Take a look at the index.
You will also receive a complimentary PDF version of Tex-Mex Fiesta so that you can start cooking immediately.
Please note A Tex-Mex Fiesta eBook is the only method available for international purchasers.
Take a look at the table of contents.
The Tex-Mex Recipe Index
Cowboy Dust Seasoning
Texas Spiced Nuts
Smokey Bourbon BBQ sauce
Tomatillo Sauce – Salsa Verde
Blue Cheese Dressing
Loaded Lettuce Wedges w Ranch Dressing
Seasoned Fries w Chipotle Aioli
Jalapeno Cornbread
Corn Tortilla
Jalapeno Soup
Pumpkin Soup with Chorizo Crumb
Elotes – Mexican Street Corn
Arroz Rojo – Mexican Red Rice
Frijoles Refritos – Refried Bean Dip
10 Minute Bean Burrito Filling
Black Bean Brioche Burger w Chipotle Aioli
Double Stuffed Cheese Burger
Spicy Buffalo Wings
Yucatan Pibli Pollo Skewers
Easy Mexican Pulled Chicken
Chicken Salsa Verde Enchilada
Pork Carnitas – Pulled Pork
Ancho Con Cerdo Quesadilla – Chilli Pork
Twice Cooked Glazed BBQ Pork Ribs
Chipotle Adobo Beef
BBQ Style Texan Beef Brisket
Last Minute Beef Nachos
Chili Con Carne
Pecan Pie w Bourbon Spiked Cream
Margarita Cheesecake w Lime Sherbet
Mexican Wedding Cookies
If you would like more information about some of the Mexican ingredients listed in the book, please take a look at this article. I have also included suggestions on where the products can be found online.
Join Us On A Culinary Tour Of Asia with An Asian Banquet!
A collection of your favourite Chinese, Balinese, Thai, Indian, Japanese Singaporean, Malaysian and Korean recipes is one Thermomix cookbook. Featuring vegetarian, low carb and keto recipes. This cookbook has something for everyone!
All Your Favourite Hawker Centre And Street Food In One Hardcopy Thermomix Cookbook!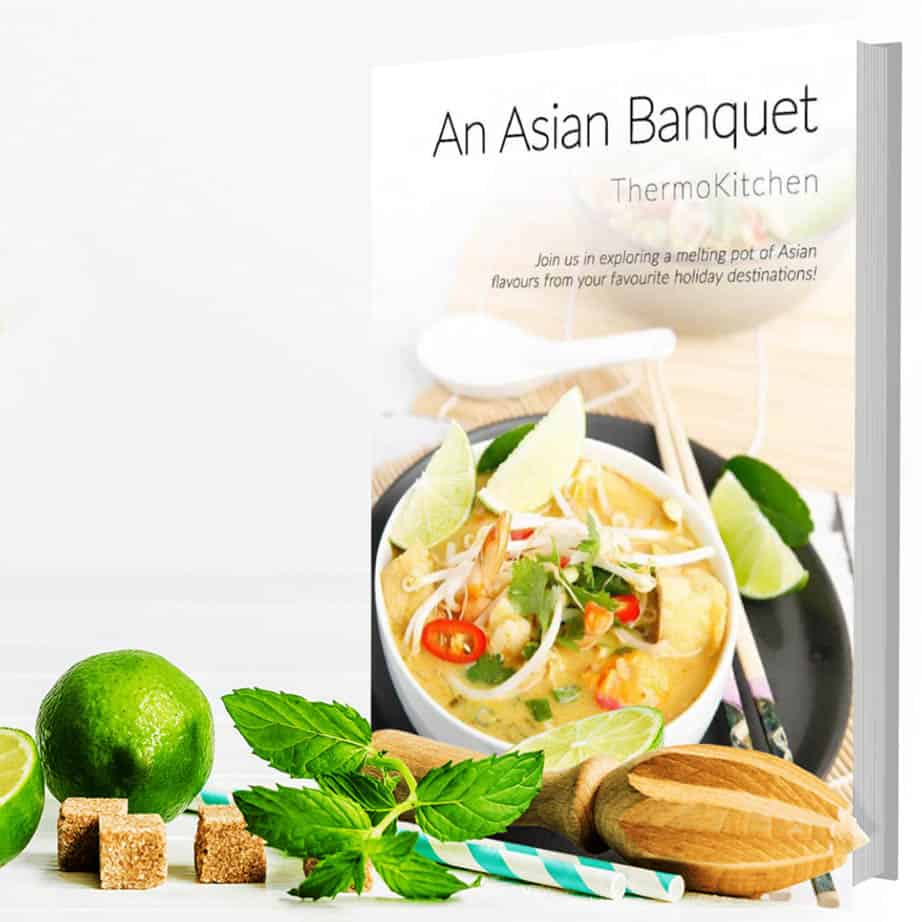 An Asian Banquet is the fourth Thermomix cookbook to be released by ThermoKitchen. This hardcopy cookbook features 33 Asian recipes from more than 8 countries. Recipes are all suitable for the TM5, TM31 and TM6. If you're looking for restaurant-quality food, prepared in your own home you need "An Asian Banquet".
The Recipe Index
Pandan Extract
Palm Sugar Syrup
Balinese Yellow Curry Paste
Hot and Sour Soup
Pork Wonton Soup
Steamed Bao Bun
Korean Sticky Wings
Malaysian Chicken Satay
Prawn Sambal
Balinese Corn Fritter
Asian Greens with Oyster Sauce
Asian Pickled Vegetables
Egg Fried Cauliflower Rice
Chilli Tofu with Beans
Chicken and Tofu Pad Thai
Kashmiri Chicken
Chicken Teriyaki
Hainanese Chicken
Sambal Oelek
Balinese Curry
Seafood Laksa
Asian Steamed Fish
Char Siu Pork
Kimchi Pork Belly
Mongolian Lamb
Massaman Curry
Nikujaga
Korean Bulgogi Beef
Pandan Pancakes
Pandan Panna Cotta
Black Seasame Ice-cream with Sesame Praline
Coconut Banoffee Pie
Black Sticky Rice Pudding
When you purchase the hardcopy of "An Asian Banquet" you will receive a PDF ebook immediately so you can start cooking straight away. The e-book link will be in your order confirmation email. Please download a PDF of the file to your documents folder on your computer. Then you can save it to your devices and get cooking!
If you don't need a hardcopy or you're an international purchaser "An Asian Banquet" is also available as an e-book only.
If you would like more information about where to find authentic the Asian ingredients I will be including a page on my website. Please feel free to take a look and contact me with any questions.
We also have some YouTube tutorials to help you easily recreate these dishes at home. Please subscribe to the ThermoKitchen channel to take advantage of these free tutorials.