Thermomix Helping people with Disabilities – NDIS
Published
Thermomix can be a powerful tool for people with disabilities. It facilitates greater independence in the kitchen and provides an abundance of dietary choice and meal plans. I have been instrumental in getting a Thermomix into many homes using the NDIS and have seen first hand how the machine can change people lives in a positive manner.
Regular readers would know I'm an avid Thermomix user and foodie. Tasty, healthy food is my "go-to" and I like recipes to be quick and easy. I enjoy teaching children and adults to cook. The Thermomix allows me to be completely confident that everyone I teach will have the same recipe outcomes every single time.
This is one of the reasons I feel strongly that the Thermomix belongs in everyone's home!
The TM6 is an even more powerful tool for those with disabilities as it creates the possibility for independence and control over their menu!
How can the Thermomix give greater independence and choices to those with a disability?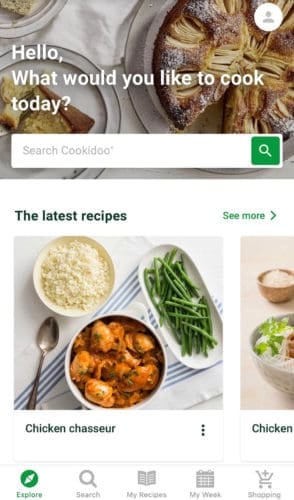 Thermomix guided recipes are simple to follow and provide just one step at a time.
The precise temperature, time and blade speed is preset for each recipe taking the guesswork out of preparing a dish.
Ingredients are weighed by the machine at each stage.
There is just one large dial and no fiddly buttons.
The user is able to leave the Thermomix without fear of burning the dish, the dish boiling over or boiling dry.
The Thermomix can be placed at a lower level than a cooktop allowing for ease of use for those in a wheelchair.
Gas cooktops have an open flame and electric cooktops have hotplates which can be dangerous. The Thermomix is predominately plastic meaning only the metal jug will become hot.
Because there are no open flame or hotplate kitchen items such as tea towels and baking paper aren't at risk of catching fire
The larger touchscreen of the TM6 provides a bigger font size than conventional cookbooks making it easier to read for those with vision difficulties to use.
Thermomix provides a recipe platform with more than 40,000 guided recipes. This gives users the flexibility to choose from a wide range of dishes for all tastes and diets.
The meal plan function allows recipes to be selected in advance and placed in a weekly meal plan.
Shopping lists can be generated from the meal plan. If shopping is being provided by a third party this list can be sent to the person or service for collection.
Safety of the Thermomix in the TM6 is unprecedented. The locking lid mechanism prevents fingers coming in contact with blades or the lid being opened during cooking.
Who can benefit from the Thermomix?
Thermomix makes cooking easier for everyone, but those with limited cooking skills benefit the most from this smart connected appliance. The guided cooking and recipe presets of the Thermomix can be the difference needed to allow someone to live independently.
For intellectual disabilities, the recipe platform allows greater flexibility of meal choices. Meal selection can be made on a computer, tablet, mobile phone or the Thermomix machine. The TM6 has a large colour touch screen and presents an image of each recipe on the Cookidoo library. These recipes can be added to weekly meal plans. Depending on the level of disability a support worker may be needed to assist.
The guided cooking functions of the TM6 provides step by step instructions. Weighing of each ingredient is done by the TM6 as it's required and the cooking temperature, time and blade speed are fully automated. An individuals ability will determine the level of assistance, if any, which is required during the cooking process.
For those with physical difficulties, the Thermomix allows a safer cooking environment. The machine is able to do so many functions such as blend, stir, cook, chop, mince, heat, boil. There is no need for additional pots and pans, knives and other cooking utensils.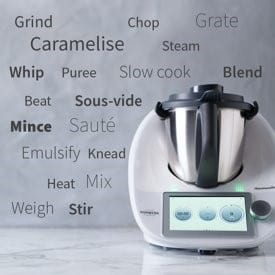 My Experience with Disabilities
I want to share a little bit about myself and our family circumstances so you understand why I believe the Thermomix has so much to offer when it comes to assisting those with disabilities.
My eldest daughter was born with a severe disability. She had very high support needs and was on a pureed diet until aged twelve when she eventually required a stoma and was fed directly into her stomach. During the period when she was physically able to eat she was very particular about her food! She loved her chocolate custard, pureed apricot chicken and pureed sausage curry. It would not have been aged appropriate or nutritionally sound for me to feed her baby food. If I tried, I'm sure she would have spat it at me!
How the Thermomix Helped Me
Having the Thermomix meant I could cook our family meals, then add Kaela's serving to the Thermomix. I would add some additional cream, milk or stock and the powerful Thermomix motor provided a smooth puree. This was essential! Kaela had so much trouble swallowing food that the slightest lump would cause her to choke.
Now I realise that most peoples support needs are not as high as my daughters were, however being part of the disability community has really opened my eyes to the possibilities this machine has in assisting peoples lives. I have seen children and adults get such joy from making dishes that would have otherwise been beyond them. Dishes that would have too much knife work to be safe or too "chefy" to achieve.
Also, my brother-in-law has spina-bifida and a mild intellectual disability. He is wheelchair-bound and cannot reach cooktops or use knives. My aim is to teach him how to use the Thermomix to make his favourite dishes. By using guided cooking on the TM6 I hope he can eventually live in a group home.
Is it possible to gain NDIS funding for the Thermomix
Every case will vary depending on the disability of the applicant and their individual needs. Thermomix funding has been approved in the past in circumstances where the TM6 is assisting in providing an outcome from one of the three categories outlined below.
The NDIS provides funding to participants with the aim of increasing independence, inclusion. Funding is designed to be flexible and to allow service innovation which would best serve the individual. Funding needs to fall into one of three categories: core, capital and capacity building.
CORE Support Funding
The support which enables the participant to complete activities of normal daily living or work towards meeting personal goals and objectives.
CAPITAL Support Funding
A larger investment of funds in long term equipment and home or vehicle modifications.
CAPACITY BUILDING Support Funding
Support which helps the participant to build their independence and skills. Products that would assist in household tasks. This category includes all assistive technology supports that assist participants to live independently or assist a carer to support the participant.
In my experience, it is possible to gain funding for a TM6 if there is a need which can create a positive outcome for the participant.
Do you want to know more about the Thermomix? Please feel free to use the contact form below so we can discuss your individual needs.
What other services can be offered to assist independent living for those with disabilities?
Whilst researching this topic I discovered the foodservice "I Hate Cooking" is a registered NDIS service provider. This service provides an in-home cooking service using the Thermomix. The meals are funded from $7.20 per meal and dishes are cooked fresh in the participants home.
As expected these are healthy, balanced dishes which are cooked, then refrigerated or frozen in serving-sized containers ready to heat up at mealtime.
"I Hate Cooking" provides the customer with a list of the ingredients after the meal selections have been made. The customer can choose to do their own shopping or have it done for them. The service can provide instructions for preparation of the ingredients prior to the cook and the participant can be involved in the cooking process.
To take advantage of the "I Hate Cooking" service participants should be eligible for capacity building funding or assistance with daily tasks.
What Exactly does the Thermomix Do?
If you're not exactly sure what the Thermomix is capable of why not take a look at this TM6 review.
Let's Connect!
I would love to connect with you on social media. Chatting and hearing about your food-related stories makes my day! Use the hashtag #Thermokitchen so I see what you're up to.
For Thermomix recipe inspiration LETS CONNECT on;
FACEBOOK
TWITTER INSTAGRAM PINTEREST
Do you know someone with disabilities that the Thermomix has helped live more independently? I would love to hear about the experience. Please feel free to share your story in the comments below.
In summary, the Thermomix is safe, reliable and provides consistent recipe results. It removes the risks of conventional cooking like open pots on hot stoves, sharp knives and the need for multiple appliances and utensils.