TM6 Thermomix Review – Australia
Published , Last Updated
TM6 Thermomix review – The TM6 has been available in Australia now since July 2019. ThermoKitchen has taken a good look at the new features on the machine, here is the verdict!
First Published 1/8/2019 UPDATED 25/7/2020
We have been putting the TM6 through its paces and I have to say we like the new features and the look of the TM6.
Thermomix has made some great advancements since the initial release of the TM5 and recipe chips. When Thermomix launched the Cook-key and Cookidoo platform TM5 owners had their first glimpse of the future smart connected kitchen. The new TM6 has taken the appliance even further into a smart connected appliance with a larger screen and built-in wifi processor, but it doesn't stop there.
TM6 Thermomix Review
TM6 owners are now able to connect this smart appliance to their home wifi. This feature allows the user to select dishes from an international platform that includes more than 60,000 recipes. Once a recipe is selected from the Cookidoo platform it will appear on the Thermomix touch-screen. The user is then able to follow step-by-step guided cooking instructions for the dish. Each step will appear on the screen with pre-set time and temperature at each step.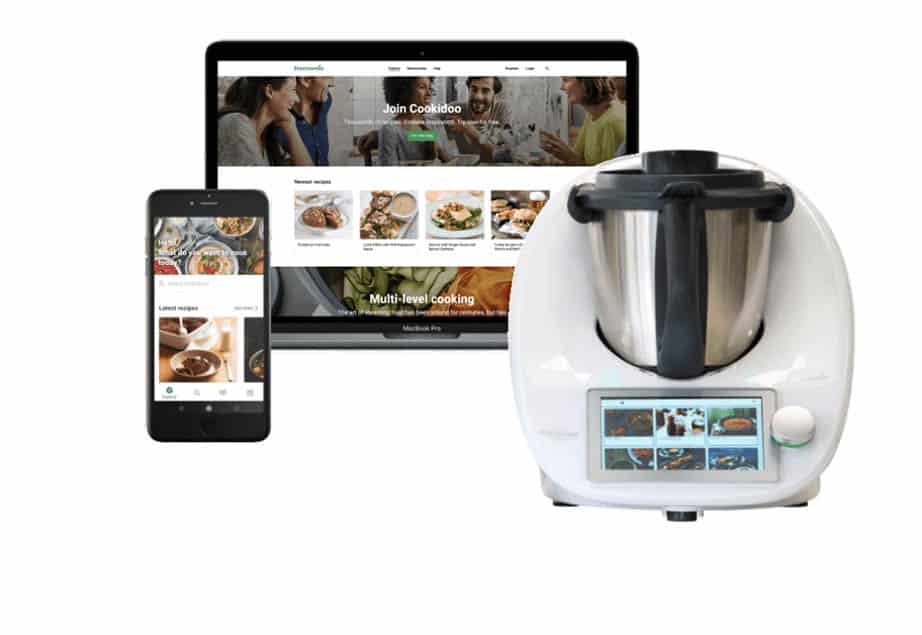 The TM6 touchscreen can also be used to control time, temperature, and speed using manual cooking mode. So users can also continue to cook their favourite conventional recipes in the Thermomix.
What can the TM6 do?
The TM6 can do everything the TM5 can and so much more!
There are now 25 functions on the Thermomix TM6
blend
braise
chop
crush
caramelise
emulsify
ferment
heat
knead
grate
grind
juice
mix
mill
mince
puree
weigh
whisk
stir
steam
sauté
stew
slow-cook
sous-vide
ferment
New features currently available on the TM6 Thermomix are;
a larger touch-screen
Cookidoo online search access on the touch screen
integrated wifi for software updates and new functions to be added to the machine.
8 Pre-set cooking modes – Dough, Turbo, Pre-clean, Kettle, Blend, Slow Cooker, Sous Vide & Fermentation
Scales are accurate to 1 gram
Heat can be controlled in 1˚C increments.
the TM6 can reach 160 degrees celsius in guided cooking recipes.
the measuring cup can be fixed into the lid.
spatula with a silicon edge for better scraping bowl scraping.
the TM6 comes with a splatter guard for use when the MC is removed
The internal steam basket now has a lid to prevent overfilling.
Meal Plans, Shopping List, and more!
Meal Planning
The Thermomix is fully interactive with the Cookidoo recipe platform. Cookidoo allows you to select recipes from the platform and place them into a weekly meal plan.
These recipes are automatically added to the TM6 ready for easy guided cooking. The Cookidoo can be accessed on any smart device. View your meal plan at work, at home, or whilst shopping. Send recipes to your machine whilst you browse on your iPhone or computer.
Shopping List
Once you have selected your recipes and placed them in the meal plan you will want to create a shopping list. The list can be organised by recipe or supermarket aisle. Go through the shopping list and deselect items you already have in the pantry. You can add other household items to your shopping such as laundry detergent.
Send the shopping list to your husband at work. Or simply open the Cookidoo app and check off the shopping as you do it.
Are you too busy to shop, why not send it to Woolworths to be Home Delivered? It's all so easy!!
Cookidoo
Start a free 30 day Cookidoo trial now! Cookidoo Once I order your TM6 you will get an additional 6 months free! Cookidoo is constantly being updated with new recipes and now has 60,000 to choose from. If you choose to keep the subscription it cost just $49 per year.
TM6 Pricing Austalia
The TM6 pricing at the time of writing this article is set at a recommended retail price of $2269. Check out these easy payment options.
Buying a Thermomix
Thermomix is available through direct selling via consultants. You will not find a TM6 available for sale in a traditional shop. Happily, Julie Carlyle and the team from ThermoKitchen are consultants so you can purchase a Thermomix directly through this website. Simply hit the buy now link and a TM6 will be delivered directly into your kitchen.
Julie and ThermoKitchen sell the TM6 Australia Wide and provides assistance, recipes, cooking classes, and demonstrations.
If you would like to know more about the TM6 I would be happy to answer any questions you have.
Host A Virtual Cooking Experience
The Thermomix can be sold party plan style, which gives our party plan hosts access to gifts and discount coupons to the Thermomix Mix Shop. If you are interested in hosting a cooking experience Julie can provide a virtual, online cooking experience via Zoom or Skype with you and two of your friends. All the functions of the machine will be explained PLUS you and your friends will see the TM6 in action.
This is a great way to earn host rewards such as mix shop discounts, and freebies. Just invite 2 friends to join our virtual cooking experience and you will be rewarded.
How Do You Buy A Thermomix If You Don't Want To Host A Demonstration?
I can help you get a Thermomix on your kitchen bench even if you don't want to host a cooking experience. You can buy online by using the buy now link.
Or, simply use the form and tell me you want to buy a TM6 and I will place the order for you.
Your machine will be sent directly to your home. Once your TM6 has been delivered I will help you set it up. We will do an online delivery briefing to familiarize you with your new machine🎉🎉 this is all done online and in the comfort of your own home.
Are you ready to start your Thermomix journey with me?
Conclusion
Thermomix has been the leading all-in-one thermal cooker on the market since the first machine was produced in the 1970s. Each successive model has increased the functionality and scope of the appliance in the kitchen. The latest version the TM6 takes a huge leap into the future of cooking with the smart connection and recipe platform integration.
If you don't already have a Thermomix I would absolutely recommend speaking to me and find out how the Thermomix can help you. This is a labour-saving device that is invaluable when it comes to making food quickly from scratch.
If you already have TM5 I probably wouldn't be in a hurry to upgrade as both machines are fabulous. Can afford to own a TM5 and TM6 then DO IT, don't sell your TM5, just keep both!
The Thermomix is particularly suited to:
people with allergies or specific health issues that require a particular diet or recipes to be made from scratch.
those that wish to save money by making their own yoghurt, bread, sauces, jams, cookies, nut milk and other basic groceries items.
time-poor families that struggle with cooking a meal during the bathing hour and need an extra set of hands in the kitchen.
Creative cooks that want to lift their skills to the next level with precise temperature control and advanced functions
Cooks that have struggled following recipes and need the help guided cooking provides.
If you would like to know more about Thermomix please feel free to either ask in the comments section below, send me an email or complete the online form above.
Let's Connect
To stay connected please feel free to reach out to me on social media
FACEBOOK
TWITTER INSTAGRAM PINTEREST
I share recipe inspiration and loads of Thermomix tips and tricks!
Thanks so much for stopping by, I hope you have found my TM6 Thermomix review helpful!
Happy Cooking
Julie
xx