Authentic Turkish Pide Recipe for Thermomix
Published
Lemon garlic and parsley makes exquisite flavours combination which is typical of Turkish cuisine and these delicious Turkish Pide. The recipe has been provided for conventional cooking and for the Thermomix.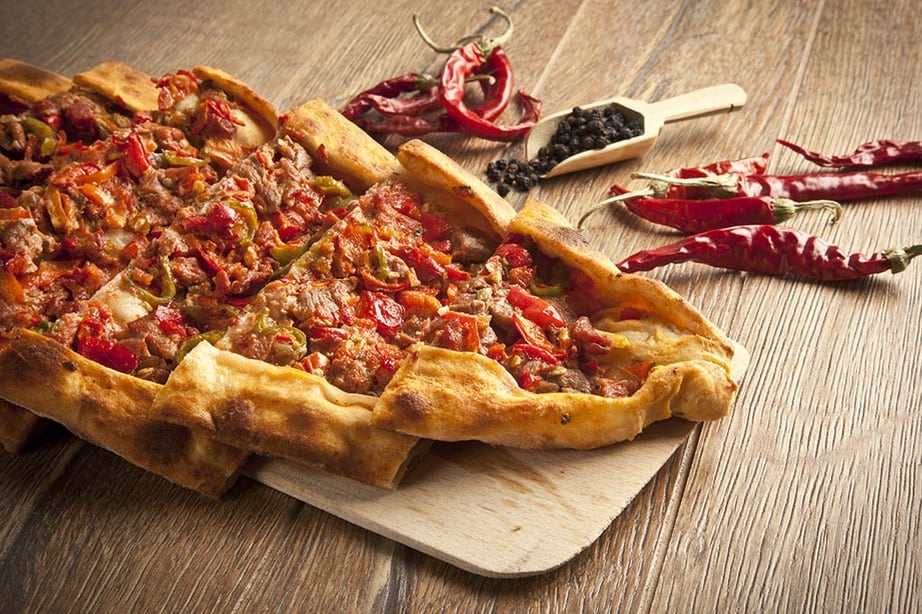 Homemade pide is a delicious alternative to a Lebanese or Turkish takeaway. Making the dish yourself means you can vary the amount of chilli, lemon or cheese to suit your own tastes. I've shared this recipe on a number of other websites and it's always been extremely popular. Even Lorraine from Not Quite Nigella has adapted my recipe for her website. Which is all the social proof I need to assure readers that this dish is delicious!
Today I will provide the original recipe and a Thermified version for Thermomix users. Whichever recipe you use, rest assured they're super easy to make.
Each time I cook this dish the aromas that linger in my kitchen continue to make me hungry for more. So it's a good thing the mixture makes quite a lot. When I smell the pide cooking I imagine the local markets in Turkey and the charred aromatic food stalls.
Turkish Pide Variations
There are loads of fillings you can use to make a Turkish Pide, after all, pide is simply a stuffed flatbread. I do have a few variations I love and would like to share.
Crumbled feta over the meat filling
Substitute lamb for the beef mince
A combination of baby spinach topped with crumbled feta and grated cheese on top.
Watchpoint
Whatever topping you use, the main rule is to keep the topping quite dry.
If there is liquid in the meat filling make sure you use a slotted spoon to drain the meat as you top the pide base.
Also, don't overload the pide with filling.
Both of these things can result in a soggy pide or a base which isn't as crispy as expected.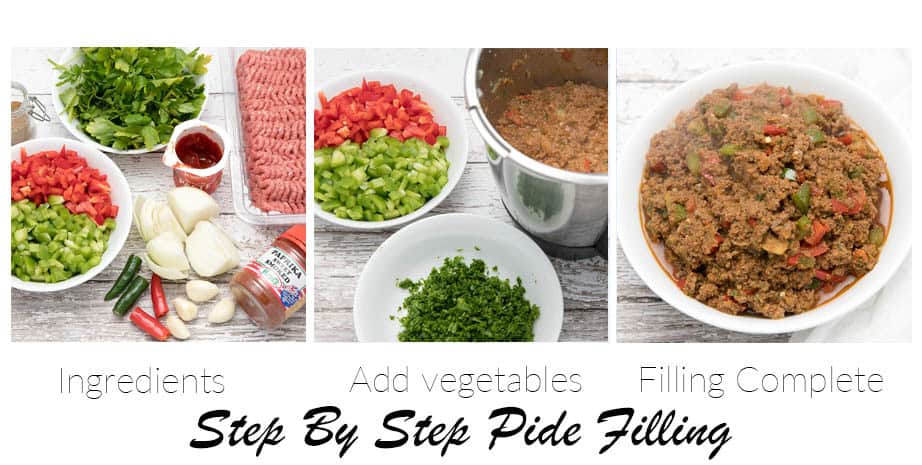 Short Cut Idea
Can I make a confession now? I've made this Turkish Pide recipe loads of times now. Because we are a family of four and don't need 8 pide, I freeze half the mince filling. This makes the whole, Pide making process much quicker. Next time I make Pide I simply make a new dough and use the prepared mince.
Doing this will mean there is also leftover dough. I use up the leftover dough by spreading vegemite and cheese on it. Then I roll the dough up to make Cheesymite scrolls for the kid's lunch box.  The scrolls get baked at the same time as the pide and I have dinner and the following day's lunch sorted!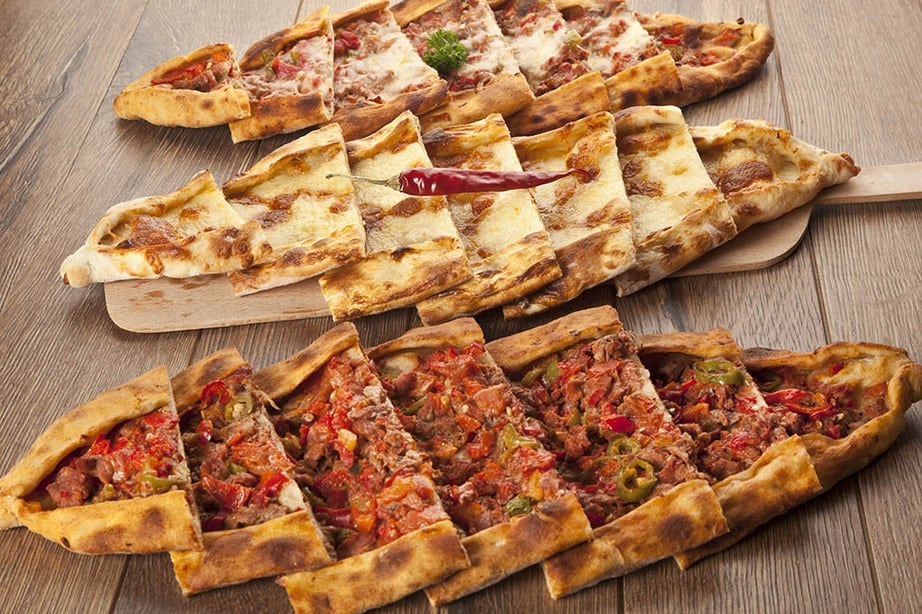 You could say that Pide is Turkey's answer to the Italian pizza.  The two main differences are the pide doesn't have a base sauce and the two dishes are served differently. Pide is garnished with chopped parsley and a generous serve of squeezed lemon. The lemon heightens the flavour and cuts through any heaviness or oil in the meat and cheese filling.
Whenever I make this Turkish Pide, I also make a serving of my Baba Ganoush or Hummus.  Then, before diving into the Pide I squeezed huge amounts of lemon over the dish, slather is in the delicious homemade dips. It is so good!
If you're looking for some tasty Middle Eastern recipes to serve with your Pide take a look at these delicious ideas;
Serving Ideas
Let's Connect!
Don't forget to tag me on social media if you make any Thermokitchen recipes! I love chatting and seeing your pictures. #Thermokitchen
For more delicious Thermomix recipe inspirations LETS CONNECT on;
FACEBOOK
TWITTER INSTAGRAM  PINTEREST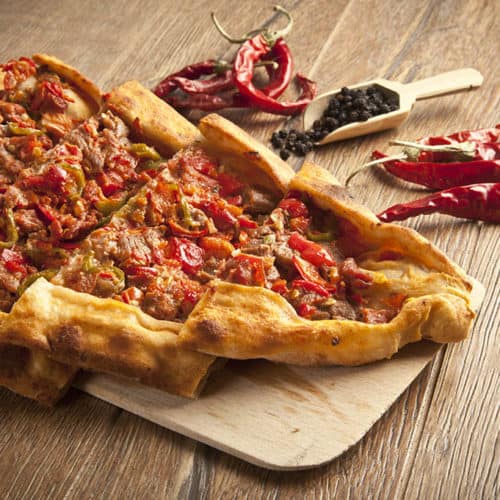 Turkish Pide
Homemade Turkish Pide is a delicious combination of lemon garlic & parsley with a smokey meat filling. A Simple Thermomix & conventional recipe provided.
Course:
Lunchbox, Main, Main Course, Picnic, Snack
Cuisine:
Lebanese, Middle Eastern, Turkish
Keyword:
Pide, Pizza, Thermomix recipe, Turkish Pide
Ingredients
Pide Dough
510

gm

Bread Flour

10

g

dried yeast

5

g

salt

5

g

sugar

25

g

oil

210

g

water

lukewarm tap water
Meat Filling
40

g

parsley

fresh bunch

1

chilli

fresh large red

20

g

garlic

180

g

onion

2

tsp

cumin

2

tsp

smoked paprika

2

tsp

salt

1/2

tsp

pepper

40

g

tomato paste

700

g

beef mince

or lamb mince

200

g

capsicum

100gm red & 100gm green capsicum

25

g

oil

for brushing pide
Toppings
200

g

grated tasty cheese

1

lemon
Instructions
Pide Dough
Wash a glass bowl in hot water then dry thoroughly.

Spray the cleaned bowl with oil and put it in a warm place.

Add the water, yeast and sugar, then all other ingredients to the TM bowl. Knead 2 minutes.

Scrape down the bowl. Knead 30 sec.

Remove the dough from the TM and form it into a ball.




Place the dough in the warmed bowl and cover with a clean tea towel. Leave in a warm place until it doubles in size.
Pide Meat Filling
Place parsley in TM bowl. Chop 3 Sec/Speed 9. Remove from bowl and reserve.

Do not clean bowl. Add garlic and chilli to the bowl. Chop 3 Sec/Speed 9.

Scrape down the bowl. Add onion to TM. Chop 4 sec/Speed 5.

Scrape down the bowl. Add cumin, smoked paprika, salt and pepper, tomato paste and mince. Cook. 8 min/Varoma/Speed 1 (Reverse Blade) (MC Out).

Add capsicum and half the reserved parsley. Roughly stir the ingredients with the spatula. Cook 4 min/Varoma/Speed 1 (Reverse Blade) (MC Out).
Assembly
Preheat the oven to 180 degrees. Line two baking trays with baking paper.

Break the dough into 8 equal balls.

Flour a flat surface and roll each ball out into a rectangle.

Transfer the pide onto the prepared baking tray.

Use a slotted spoon to add a layer of mince to the dough. Make sure you leave a border of at least 2 centimetres around the edge.

Pinch the ends of the dough together, and turn over the sides to form a boat shape.

Sprinkle the pide with grated cheese and brush the sides with oil.

Bake for 15-20 minutes or until golden. Ensure the base is cooked before removing the pide from the oven.

Repeat until all the pide dough and filling have been used.
To Serve
Sprinkle parsley over the pide and squeeze lemon over the top to serve.
Recipe Notes
Conventional Cooking Method
How To Make Authentic Turkish Pide Bread
Combine flour, yeast, sugar and salt then add the oil and warm water.

Use your hands to combine the dough and knead the mixture for 5 minutes. (Doing this activates the gluten.)

When you have a soft shiny dough place the dough in a bowl and cover with a tea towel.

Place the bowl in a warm spot to rise.

After an hour the dough should have doubled in size. If so it's ready for use.

If the dough has not doubled in size, place it in a warmer environment and leave it a little longer.
How To Pide Filling
Add the minced meat, onion chilli and garlic to a frying pan, I don't use oil because I find there is enough moisture in the meat.
Fry off these ingredients. The mixture will look quite wet for a while but as you continue to fry the liquid will eventually be cooked off.
When the moisture starts to reduce add the diced capsicum and spices.
Continue to cook the beef filling for about 10 minutes stirring occasionally.
When there is very little moisture left remove the pan from the heat and allow it to cool slightly.
Add half of the chopped parsley to the mince.
Assembly
As per Thermomix recipe above.
Nutrition Facts
Turkish Pide
Amount Per Serving
Calories 440
Calories from Fat 180
% Daily Value*
Fat 20g31%
Cholesterol 49mg16%
Sodium 745mg31%
Potassium 434mg12%
Carbohydrates 44g15%
Protein 19g38%
Vitamin A 1270IU25%
Vitamin C 45.9mg56%
Calcium 43mg4%
Iron 2.8mg16%
* Percent Daily Values are based on a 2000 calorie diet.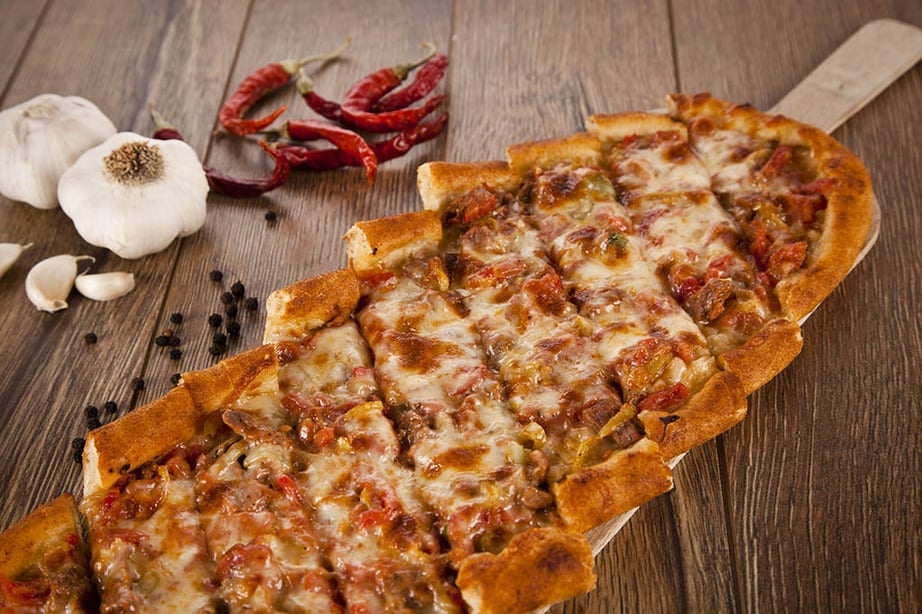 Thank you once again for stopping by and checking out the website.  If you make your own homemade Turkish Pide please let me know what you. What toppings did you try??
Thank you once again for stopping by and checking out the website.
Happy Cooking, Julie