Turmeric Mango Smoothie Bowl -Thermomix or Blender
Published
This refreshing Turmeric Mango Smoothie can be enjoyed as a healthy drink, a cooling smoothie bowl or as a fun ice block. With all the health benefits of  Turmeric and the flavour of fresh tropical fruit, this is a simple and delicious breakfast or snack idea.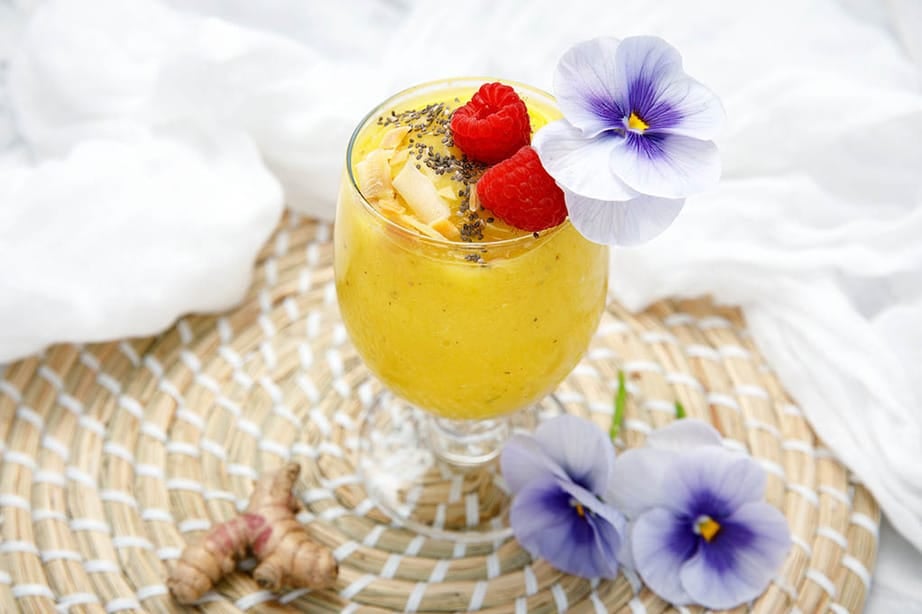 When the weather is warm I like to make the children a smoothie, either as part of their breakfast or as an after-school snack. It's a great way to get some extra vitamin-filled fruit in their diet. My family didn't even guess I'd added turmeric to this smoothie!
Whilst I was developing the recipe I served the same smoothie in a few different ways. Each day I used the same ingredients but with different amounts of fresh and frozen fruit.
Turmeric Mango Smoothie Serving Variations
Smoothie:
If you prefer a Turmeric Mango Smoothie Drink rather than a thick smoothie bowl, use frozen mango and fresh pineapple. Continue as per the recipe
Smoothie Bowl:
For a delicious smoothie bowl which is thick enough to decorate with your choice of fresh fruit. use frozen mango and frozen fresh pineapple.
Smoothie Ice-block:
Freeze any leftover smoothie drink or smoothie bowl into snack size zip lock bags for a cool treat. I like to add a couple of pieces of additional fruit to the ice-blocks prior to freezing.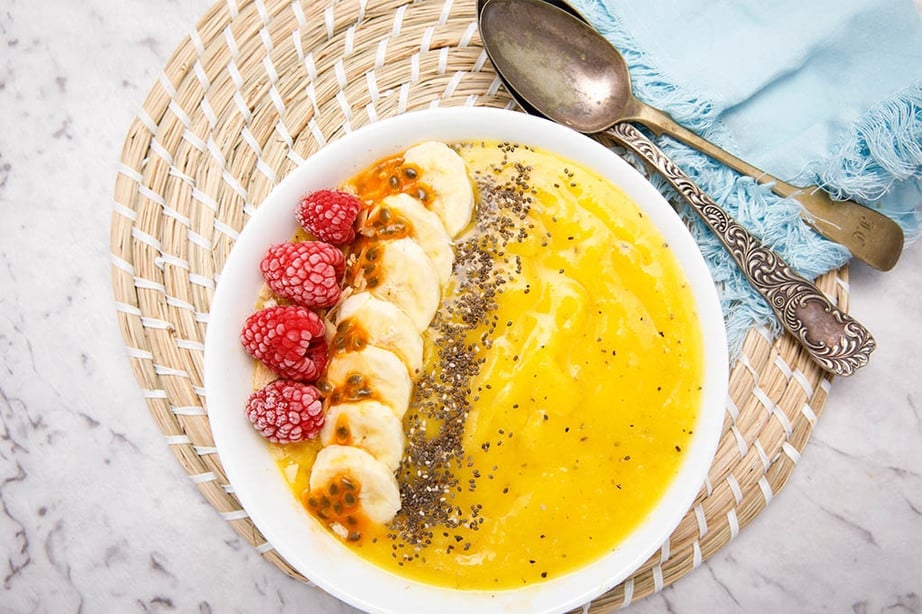 Tips and Tricks
Ginger
I like fresh ginger a lot! So I use it often in smoothies, it does tend to give the smoothie a "spicy" flavour, if you have small children you might want to leave this out.
Peppercorns
Pepper allows the Turmeric to be better absorbed by the body. Happily, it doesn't affect the flavour of the drink.
Green Cardamon
I really like the flavour of cardamom, especially when its teamed with ginger and turmeric. If you're not a fan you can reduce or omit the cardamom pods.
Frozen Mango
I prefer the "Boost" brand of frozen mango. It's now available in Woolworths supermarkets in the frozen fruit section. I feel this brand is sweeter and has more flavour than other brands.
Liquid
Depending on your preference you can use any of these 3 liquid bases for your smoothie. I used plain tap water to test my recipe on the kids. You could substitute regular water for coconut water for added electrolytes and nutrients.  If you prefer a sweeter smoothie use apple juice. I know this may seem a little unhealthy, but when you buy a smoothie at Boost Juice the base is always a fruit juice. That's why it's so delicious!! 100 % Apple juice instead of water was my favourite variation.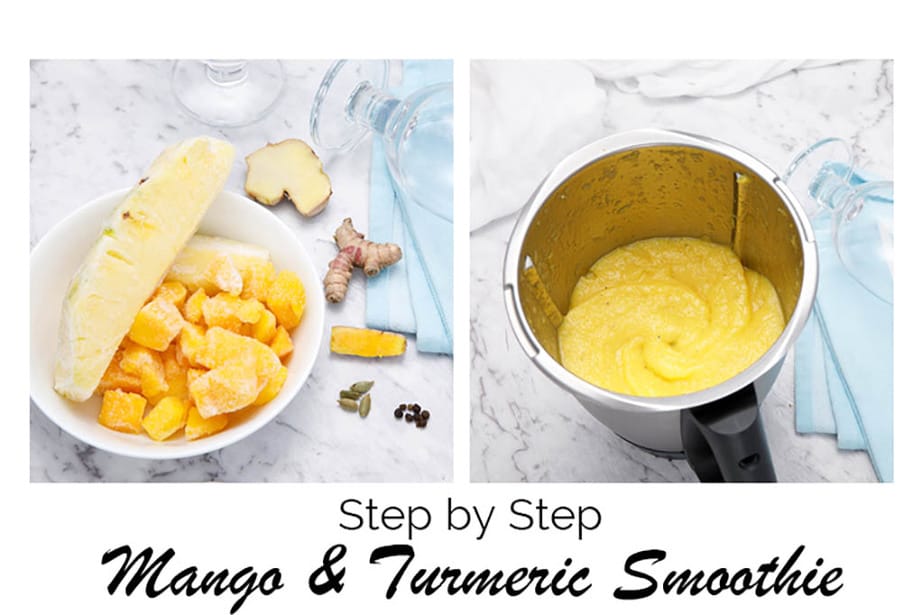 The Health Benefits Of Turmeric
I know I've mentioned the health benefits of Turmeric before, but here is a quick list of ways Turmeric can be of benefit in the diet.
powerful anti-inflammatory effects
a strong antioxidant which protects us from free radicals
improve brain function and may assist in brain-related diseases such as Alzheimer's
lowers risk of heart disease
can reduce the growth of tumours and slow the spread of cancer
reduces depression
can reduce cholesterol
may improve memory function
For more information on the health benefits of turmeric take a look at this article by prevention.
Turmeric Mango Smoothie
This refreshing Turmeric Mango Smoothie can be enjoyed as a healthy drink, a cooling smoothie bowl or as a fun ice block. With all the health benefits of Turmeric and the flavour of fresh tropical fruit, this is a simple and delicious breakfast or snack idea.
Course:
Breakfast, Brunch, Drinks, Snack
Keyword:
Drink, Healthy Smoothie, Smoothie, Thermomix recipe, Turmeric Recipe
Ingredients
5

black peppercorns

2

green cardamon pods

*optional

2.5

g

fresh ginger

*optional

5

g

fresh turmeric

*or 1 teaspoon of powder

320

g

frozen pineapple

180

g

frozen mango

1-2

passionfruit

350

g

water

*OR see alternative liquid options
Garnish
1

tsp

black chia seeds

*optional

1

banana

*optional

6

fresh raspberry

*optional

1

passionfruit

*optional
Instructions
Place the black peppercorns and green cardamon in TM Bowl. Blitz 5 sec/Speed 10.

Remove any large pieces of green husk from the cardamon.

Add the turmeric and ginger. Blitz 3 sec/Speed 10. Scrape down the TM bowl.

Add the water, mango and pineapple to the TM bowl. Blend 45 sec/Speed 7.




Scrape down the bowl. Blend 10 sec/ Speed 7.

Divide the smoothie into 3 equal serves and garnish with fruit as desired.
Recipe Notes
This recipe is suitable for the Thermomix, food processor or any high powered blender.
The calories have been calculated to include the optional toppings. 
Nutrition Facts
Turmeric Mango Smoothie
Amount Per Serving
Calories 189
Calories from Fat 9
% Daily Value*
Fat 1g2%
Sodium 24mg1%
Potassium 570mg16%
Carbohydrates 47g16%
Protein 2g4%
Vitamin A 1455IU29%
Vitamin C 94.5mg115%
Calcium 36mg4%
Iron 1.6mg9%
* Percent Daily Values are based on a 2000 calorie diet.
Let's Connect!
Don't forget to tag me on social media if you make any Thermokitchen recipes! I love chatting and seeing your pictures. #Thermokitchen
For more delicious Thermomix recipe inspirations LETS CONNECT on;
FACEBOOK
TWITTER INSTAGRAM  PINTEREST
Thank you once again for stopping by and checking out the website. If you're looking for other Turmeric recipes check out my Turmeric Lemon Bliss Balls, they taste just like cheesecake.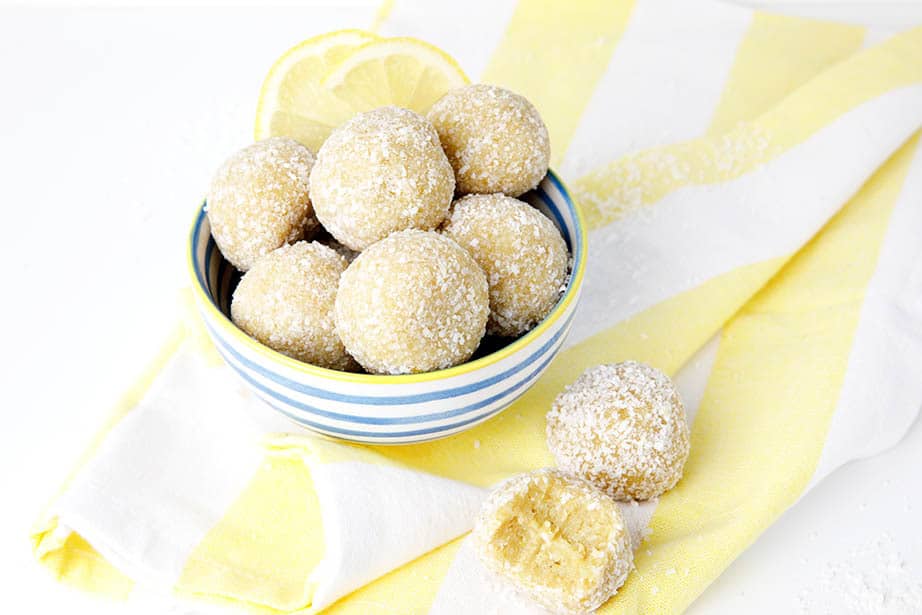 If you've made my Turmeric Mango Smoothie I'd love to know what you thought? Feel free to leave a rating too. Rating the recipes let others know if they should try it too. ?