Acai Bliss Balls – A Healthy Christmas Treat
Published , Last Updated
I may be a little late to the party but I LOVE Acai Bliss Balls! Perhaps you're reading this and saying, well of course, but these have been a revelation to me. Obviously, I've tried other bliss balls but these are by far my favourite.
In all honesty, I haven't really been a fan of bliss balls in the past but when I was walking past my local health food store I saw a picture of these babies and I instantly wanted to make them. I think it was the lovely muted Christmas colours that first grabbed my attention. So you could say I had a very superficial start to my relationship with Acai.
Inside the health food store, the assistant explained all the health benefits of Acai. She told me Acai was a powerful anti-oxidant. The berry fights free radicals and has been linked to weight loss and aids the detoxification of the liver. WOW!
WOW! All of that seems pretty good. In the lead up to Christmas, my liver could use a helping hand. I was very happy with the anti-oxidant aspect too, wouldn't eat be good to be able to eat something yummy and have it make you look younger.
When I did a little more research I discovered that the scientific jury is still out on some of those claims. Regardless, I made the Acai Bliss Balls and even if they don't make me look younger they tasted pretty good.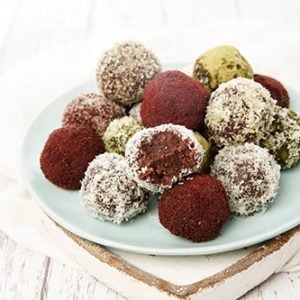 Acai Bliss Balls
Simple and delicious bliss balls with Acai, cranberries and Chai seeds.
Ingredients
90

g

Medjool Dates

150

g

Natural Cashews

65

g

Cranberries

2

Tbs

Black Chai Seeds

3

Tbs

Acai Powder

1

Tbs

Psyllium Husk

2

Tbs

Matcha Powder
Instructions
Place all the ingredients in the TM bowl.

Roll the mixture into 10 balls.




Roll the Bliss Balls in your choice of coating. Coconut, Acai Powder and Matcha Powder have been used in the picture.
Recipe Notes
Refrigerate the Acai Bliss Balls until required.
If the balls are too soft or oily to roll when they are first made, refrigerate them for 30 minutes and then roll into balls.
Nutrition Facts
Acai Bliss Balls
Amount Per Serving
Calories 150
* Percent Daily Values are based on a 2000 calorie diet.
Happily, the Bliss balls weren't overly sweet. I think the addition of cranberries gave the treat a lovely tartness. To make the Acai Bliss Balls look more festive I rolled them in three different coatings.
Acai powder gives the muted red colour to the Bliss Balls. The white coating is coconut and the green colour is matcha powder. The matcha powder is ver strong and quite bitter, so only use this coating if you like the flavour.
If Acai Bliss Balls are not your type of Christmas treat why not take a look at these delicious Rum Balls.
ThermoKitchen has a facebook page which shares fabulous Thermomix recipes with followers. Feel free to come over and say hi. If you want to share some of your own Thermomix recipes and tips you can join the ThermoKitchen Group Page.