Aussie Lunchbox Chocolate Milo Malted Cookies
Published , Last Updated
During the school holidays, I really enjoy cooking with the kids. I find it relaxing, especially now that they know how to use the Thermomix. When I used to make cookies in the mixmaster I was sure one of the kids would put their fingers in the beaters!! Thankfully I don't need to worry about that when we use the Thermie!
These Chocolate Milo Malted Cookies were an invention that came about whilst I was trying to come up with a new and interesting cookie to make. My mind kept coming back to the all familiar "Chocolate Chip Cookie" that I make regularly. I resigned myself to making another batch of choc chip and went to find the ingredients.
Happily, I didn't have any Dutch process cocoa. This meant I would have to think a little harder if I planned to make a tasty cookie. In the pantry, I found a tin of our famous Aussie food icon, Nestle Milo and some dark chocolate chips.
I love crunchy cookies that have too much flavour! So I went looking for something more, that's when I noticed a can of "Malted Milk Powder."
The Nestle Malt powder would add to the intensity of the malty goodness of the Milo and create a mega tasty Chocolate Milo Malted Cookies. Whilst the kids and I were busy throwing ingredients in the Thermomix I struck upon the idea to press the cookie in Milo powder prior to cooking.
So we are talking about Milo on Milo with chocolate bits and a healthy serve of malt! With all this deliciousness packed into one cookie, there' s no need for icing or more toppings. So these are a totally fuss-free cookie.
The kids loved making them with me. I will definitely be making them again for school lunches. So if you're looking for a new cookie to pack for school or work lunch boxes, give these a try!
With this in mind, I give you, Chocolate Malted Milo Cookies! A cookie that every Aussie kids will love! Maybe you can make a batch with the kids this Australia Day? Serve the cookies with a glass of milk for strong healthy bones.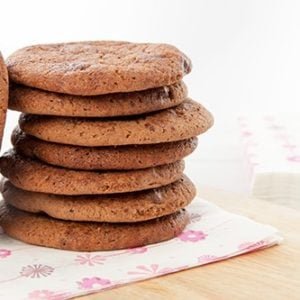 Chocolate Milo Malted Cookies
A delicious crunchy Milo, chocolate chip, malt cookie that is perfect for a packed lunch or morning tea.
Ingredients
160

gm

butter

(at room temp)

230

gm

sugar

1

egg

100

gm

Nestle Milo Powder

35

gm

Nestle Malt Powder

120

gm

dark chocolate chips

240

gm

plain flour

3

tsp

baking powder
Topping
1/3

cup

Nestle Milo Powder
Instructions
Preheat the oven to 160 degrees (fan forced) or 350 F (USA)

Line three baking trays with baking paper.

Add the butter, sugar and egg to the TM bowl. 30sec/speed 7.




Scrape down the bowl. 1 min/speed 4.




Add the Milo, malt powder and chic bits to the TM bowl. 2min/Reverse blade/Speed 1.




Add the flour and baking powder to the TM bowl. 1.2min/Reverse Blade/ Speed 1.5




Form small balls of the cookie dough in your hand. It will be sticky.




Flatten the cookie ball and press one side into the milo powder.




Place the flattened cookie (milo side up) on the baking sheet.

Continue this process leaving at least two cm (1 inch) between each cookie.

Bake for 20 minutes or until the cookies darken.

Remove the cookies from the oven but leave them to cool on the tray.
Recipe Notes
*The cookies will be extremely soft when removed from the oven. They harden on cooling. 
Nutrition Facts
Chocolate Milo Malted Cookies
Amount Per Serving
Calories 125
Calories from Fat 54
% Daily Value*
Fat 6g9%
Cholesterol 17mg6%
Sodium 67mg3%
Potassium 117mg3%
Carbohydrates 20g7%
Protein 1g2%
Vitamin A 150IU3%
Vitamin C 0.1mg0%
Calcium 44mg4%
Iron 0.6mg3%
* Percent Daily Values are based on a 2000 calorie diet.
If you don't have malt powder you can just add a little more Milo powder but I do recommend try the cookies with the extra kick of malt. They are out of this world!Remember the cookies will be extremely soft when they come out of the oven. However once cooled they become deliciously crisp.
Remember the Chocolate Milo Malted Cookies will be extremely soft when they come out of the oven. However once cooled they become deliciously crisp. Don't move them until they're cool!
If you want to be kept up to date when new Thermomix recipes are available, join me on Facebook or sign up to receive recipes via email once a week.