Peppercorn Meat Pie – Thermomix
Published
A hearty, homemade meat pie is the perfect cold-weather meal. This peppercorn meat pie has tender chunks of diced beef with cracked pepper and green peppercorns for that gourmet peppercorn pie experience.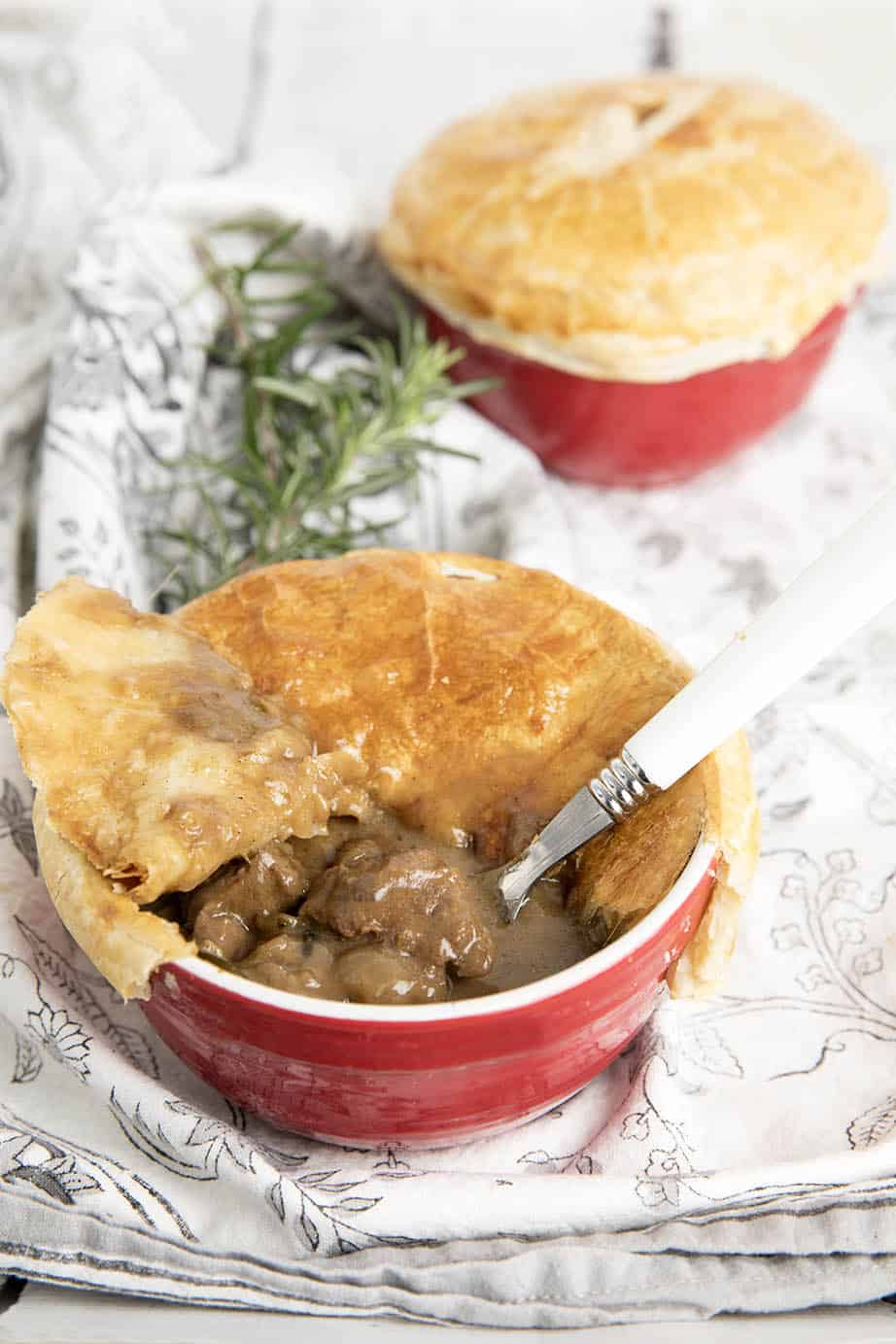 Who doesn't love the smell of a meat pie baking in the oven? It's especially good when you know all the ingredients are nutritious and wholesome. When I feel like a winter warming comfort food I tend to choose something meaty. My family like pies but I really don't like the small amount of filling in commercially prepared pies.
So when the family suggests pies I make a pot pie.
What's the difference between a pie and a pot pie?
A regular pie has a shortcrust pastry base on the bottom, about 1 inch of meat and gravy in the middle and a puff pastry top. The filling in a meat pie needs to be a much thicker consistency so it can be picked up and eaten.
The pot pie has no pastry base and consists of a substantial volume of casserole filling in an individual crockery dish. The top of the pot pie is enclosed with a puff pastry lid and baked until golden.
Why I prefer to make Pot Pies
As a mum, I like to balance feeding the family what they enjoy with good nutrition. An average bakery meat pie weighs 195g and has just over 500 calories. They contain a significant amount of saturated fat from the pastry and meat. Surprisingly an average meat pie only contains about 16g of protein due to the small amount of actual meat! A standard pie also doesn't provide very much in the way of fibre, vitamins or minerals.
So as much as my family may crave a meat pie indulgence I prefer to compromise by making a pot pie. The major difference between the two pies is that using half the amount of pastry in the pot pie decreases the fat and carbohydrate load of the meal. The Potpie also has more filling which increases the meat (or meat and vegetable filling) giving the pot pie increased protein, vitamins, minerals and fibre.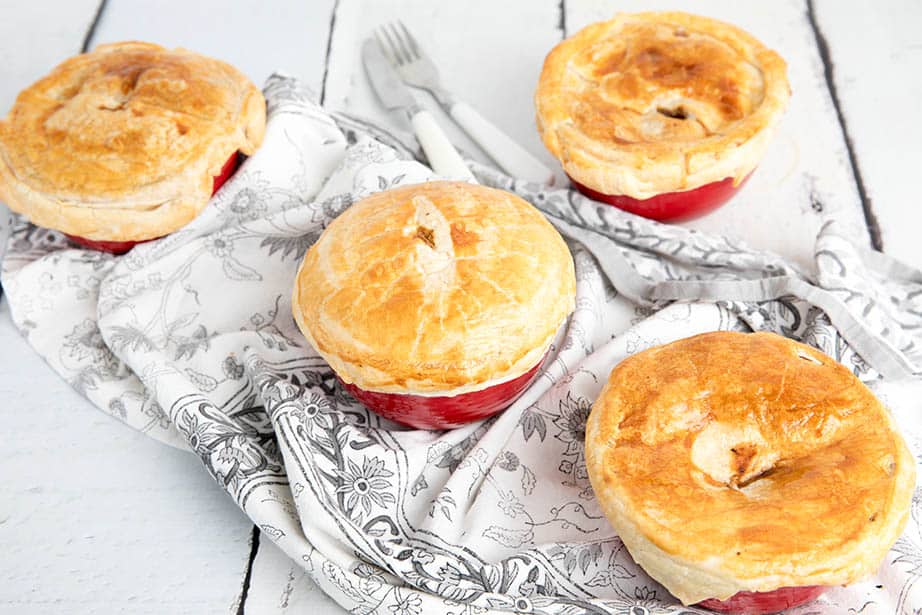 Thermomix Pie Recipes
Winter is a great time to indulge in a hearty pie. If you're looking for some more ThermoKitchen pies take a look below;
Quick Kids Sheppard Pie with Hidden Veggies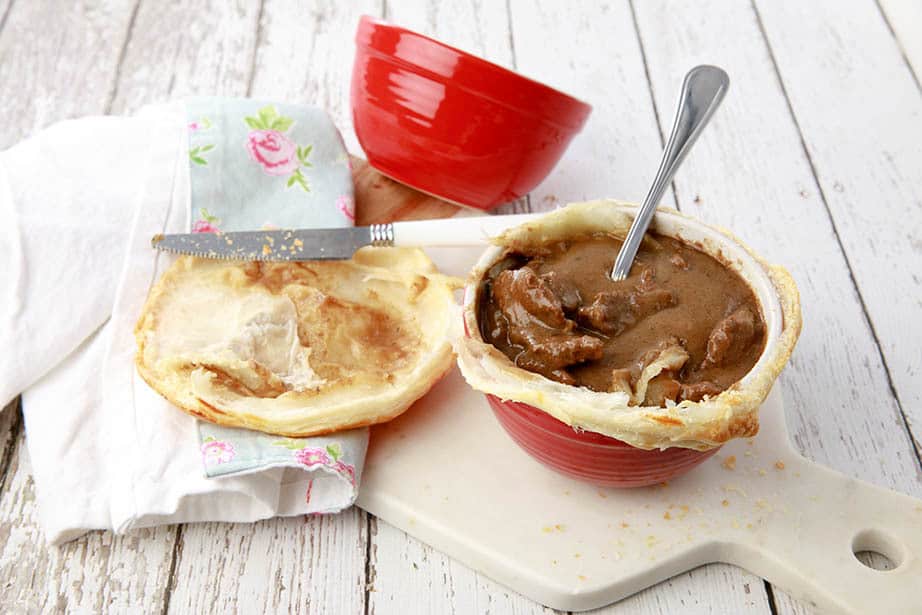 Let's Connect!
Would you mind tagging me on social media if you make any of my Thermokitchen recipes! Chatting and seeing your pictures really makes my day. #Thermokitchen
I would love to share more delicious recipes with you. For Thermomix recipe inspiration LETS CONNECT on;
FACEBOOK
TWITTER INSTAGRAM PINTEREST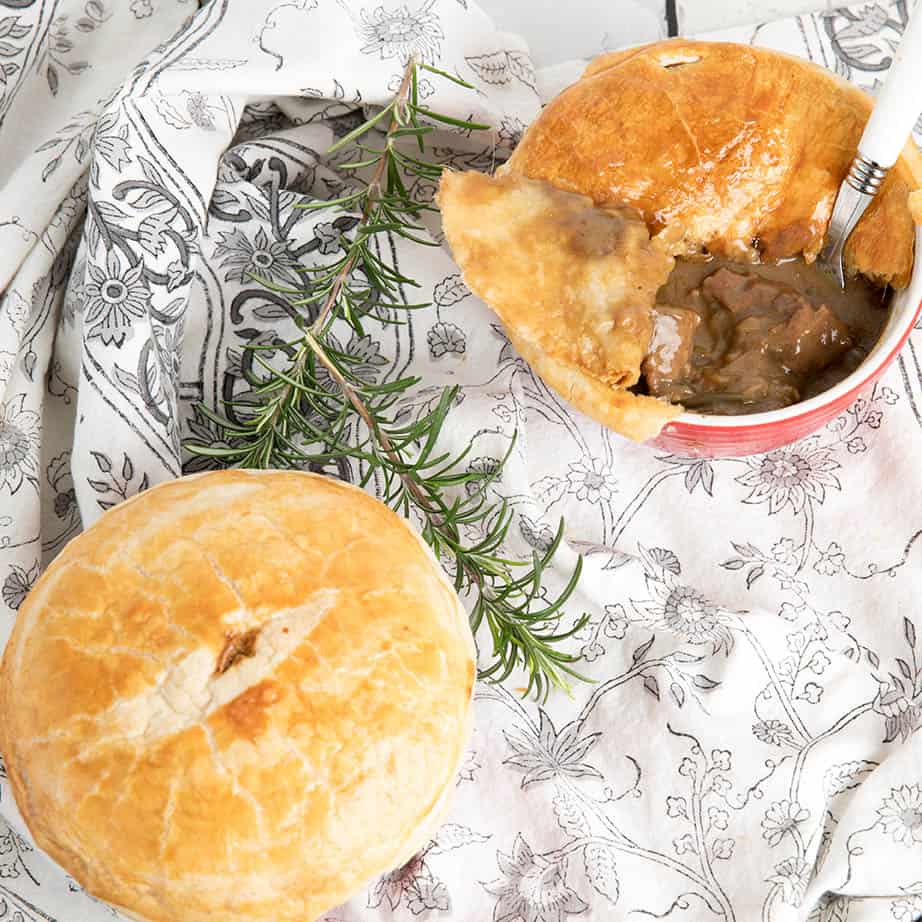 Peppercorn Meat Pie
A hearty, homemade meat pie is the perfect cold-weather meal. This peppercorn meat pie has tender chunks of diced beef with cracked pepper and green peppercorns for that gourmet peppercorn pie experience.  
Keyword:
Fathers Day Food, meat pie, pepper pie, pot pie, Potpie
Ingredients
5

g

black whole peppercorns

30

g

garlic

45

g

butter

400

g

brown onion

cut in half

1000

g

gravy steak or casserole beef

diced into 40g squares

55

g

cornflour

1 1/2

tsp

salt

1/2

tsp

white pepper

2

tsp

onion powder

2

tsp

garlic powder

1 1/2

tsp

Parisienne Essence

*optional -darkens the colour of the pie

150

g

Beef Stock

Campbells Real Beef Stock

70

g

sour cream

1 1/2

TBS

brandy

30

g

can green peppercorns

drained

3

sheets

puff pastry

1

egg

lightly beaten
Instructions
Place garlic and black peppercorns in TM bowl. Chop 3 sec/Speed 9.

Add onion to TM bowl. Chop 4 sec/Speed 4.

Scrape down the bowl and add butter. Saute 5 min/Varoma/ Speed 1 (MC Out).

Place the ThermoServer on TM for weighing. TARE

Weigh the beef, cornflour, salt, white pepper, onion powder and garlic powder into the ThermoServer. Combine all the ingredients by hand until the beef is covered in the seasoned flour.

Place the seasoned beef in TM Bowl.

Add Parisienne Essence, beef stock, sour cream and brandy to the TM bowl. Cook 60 min/100 degrees/Soft Spoon. (MC OUT) Place internal steam basket on top to prevent splatters.

Meanwhile, preheat oven to 200 degrees Celsius.
Pie Assembly
Choose 6 ceramic bowls or pie dishes.

Turn the dishes upside down on the pastry and trace around the outline with a knife allowing and an extra centimetre or more for overhang.

Break the egg into a small bowl and beat with a fork to combine.

Once the peppercorn pie filling has cooked divide the meat between the 6 pie dishes.

Divide the green peppercorns between the six pies and add on top of the filling.

Place the pastry circles on top of the pie and stretch it over the sides to cover.

Use the egg and a pastry brush to glaze the tops of the pies.

Bake 20min 200 degree Celsius or until golden and crisp.
Recipe Notes
Lower Calorie/Lower Fat: Subsititute the pastry for mashed potato or sweet potato
GF Option: Omit pastry and top with mashed potato or sweet potato
Low - Carb Option: Substitute the pastry for a cauliflower mash topper.
Kid Friendly (quick cheat): Substitute the pastry for a potato gem topper.
Nutrition Facts
Peppercorn Meat Pie
Amount Per Serving (200 g)
Calories 537
Calories from Fat 288
% Daily Value*
Fat 32g49%
Cholesterol 126mg42%
Sodium 893mg37%
Potassium 817mg23%
Carbohydrates 37g12%
Protein 44g88%
Vitamin A 260IU5%
Vitamin C 7mg8%
Calcium 85mg9%
Iron 6mg33%
* Percent Daily Values are based on a 2000 calorie diet.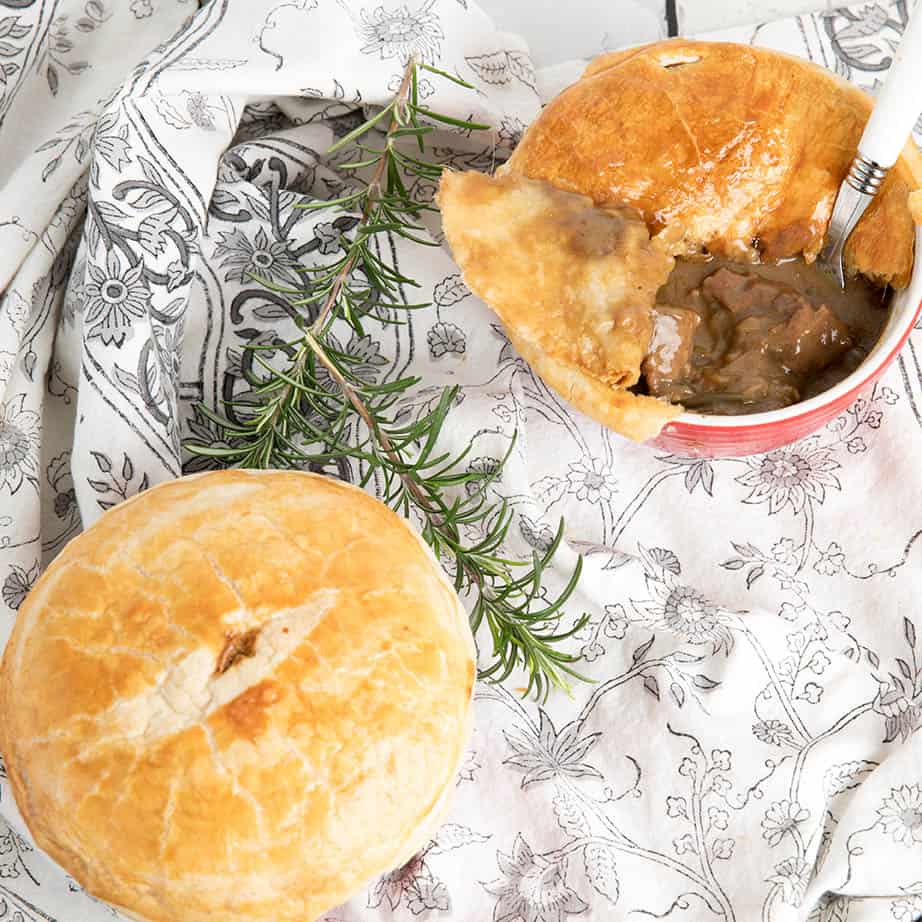 Thank you so much for stopping by!
Please feel free to leave me a comment. I love hearing from everyone 🙂Rating the recipe once you've made the dish helps other readers decide whether to make my dishes, so I would love it if you could come back and let everyone know what you think.