My Favourite Corn Fritter Recipe Now Thermomixed
Published , Last Updated
Corn fritters are one of my favourite breakfast recipes because they're healthy and filling. I tend to make them when I'm trying to eat a lean and healthy diet. At the moment I'm feeling like I've gained a little winter weight so I've returned to my regular weight loss meal plan.  Which means I've returned to my yummy low-cal breakfast menu and this corn fritter recipe is part of my program.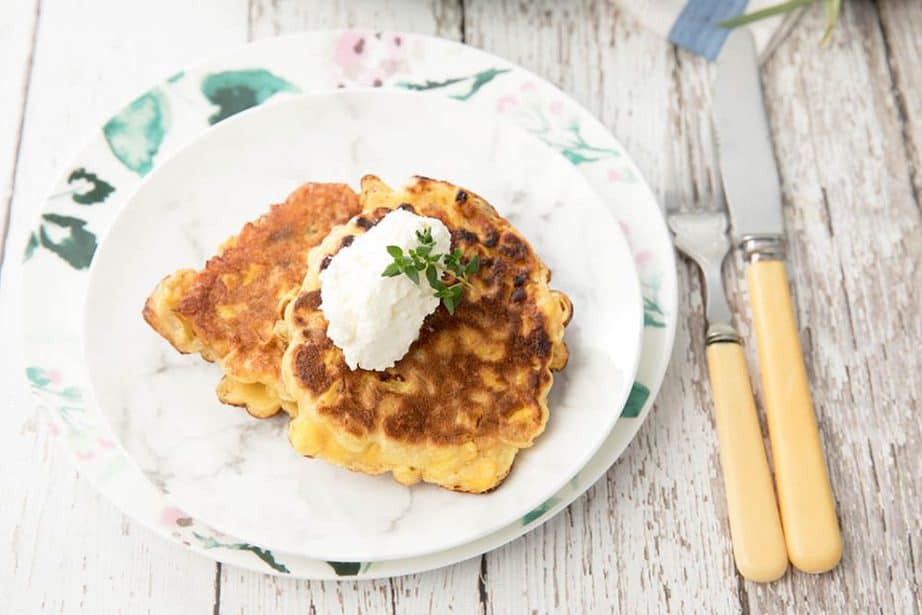 Today I've modified the corn fritter recipe so it can be made in the Thermomix. I'm a lazy cook and making corn fritters in the Thermomix means I don't need to chop the onion by hand. Also, the corn batter is combined quickly and easily in the TM.  When it's time to fry the fritters I find it much easier to pour the batter from the Thermomix jug straight into the frying pan.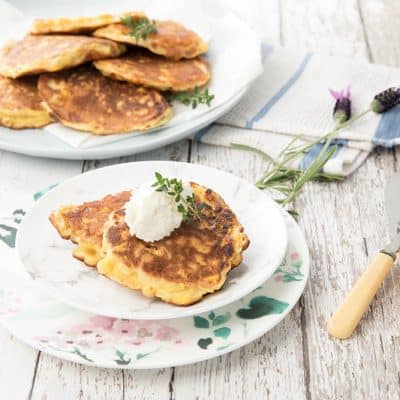 Thermomix Corn Fritter Recipe
These corn fritters can be made even leaner by cooking them in the sandwich press without oil.
Course:
Breakfast, Brunch, Lunch, Lunchbox
Cuisine:
American, Australian
Ingredients
110

gm

red onion

cut in 1/2

150

gm

skim milk

3

eggs

1/4

tsp

salt

1/4

tsp

black pepper

160

gm

plain flour

2

tsp

baking powder

800

gm

can corn kernels

(drained)
Instructions
Place the onion in the TM bowl. Chop 5 sec/Speed 5.

Add the milk, eggs, salt and pepper to the onion mixture. Combine 5 sec/Speed 3.5.

Add the flour, baking powder and corn to the TM bowl. Combine 1min/Speed 3.5 (Reverse blade).

Heat a frying pan or sandwich press. Add 4-5 fritters to the hot pan and cook until bubbles appear on the top.

Flip each fritter and cook through.

Repeat until all the batter is cooked.

Serve with cottage cheese and a slice of ham or smoked salmon.
Recipe Notes
Corn Fritters also make a fabulous cooked lunch.  They can also be frozen and heated in the microwave.
If you're not a breakfast or brunch person these are equally delicious for a packed lunch. I like to serve them with a big salad. Since my daughter became a vegetarian I have started making them for her school lunch. I make her a "corn fritter burger." The burger consists of a corn fritter patty, then I add tomato, lettuce and beetroot to a burger bun with some tomato relish and sour cream.
Best of all these babies are easy to make ahead and freeze! When you're short on time just pop them in the microwave while you make a salad to go with them. So you see, they're a very versatile dish.
Do you have a delicious fritter recipe you use regularly? I have a halloumi and kale recipe I will have to share too, it's another delicious vegetarian option.
If you fancy giving my corn fritter recipe a go make sure you pin it for later.
For more recipes, please follow the ThermoKitchen FB Page. Want to receive an email update when new recipes are released. Why not scroll down and hit subscribe at the bottom of the website.