Pancake Recipe Easy Thermomix or Hand Method
Published
This pancake recipe makes big, light, fluffy pancakes that soak up loads of delicious maple syrup or sweet berry sauce. It's a quick recipe made by hand or in the Thermomix.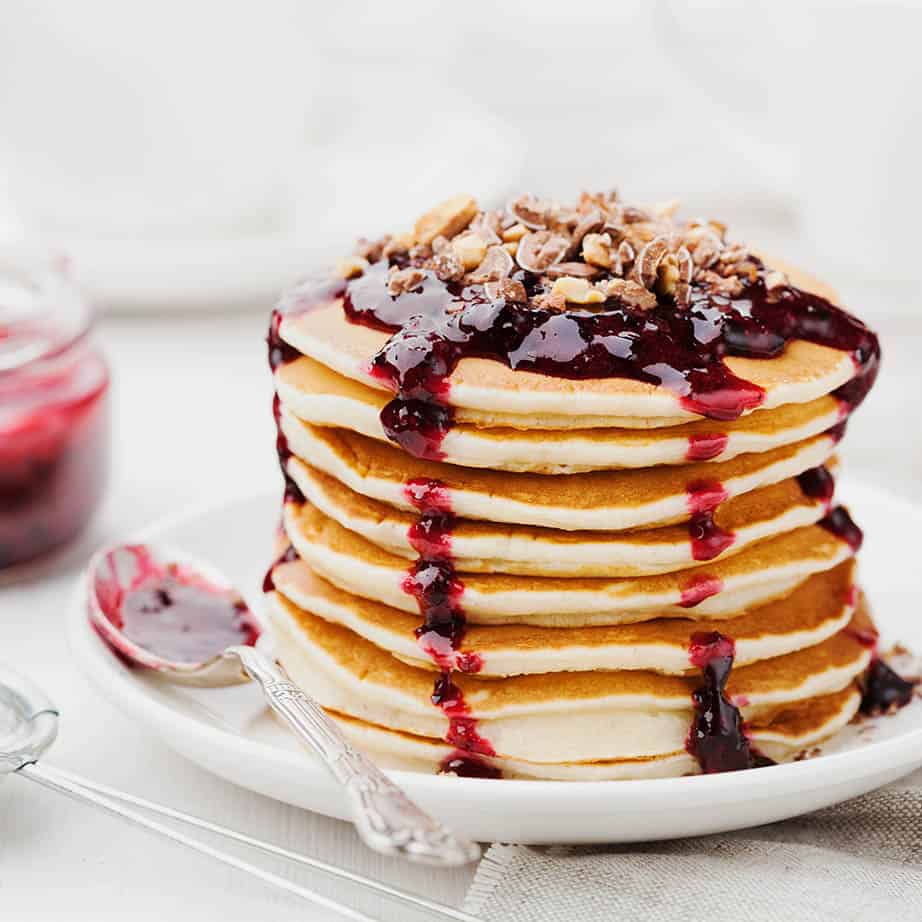 Have I excited your tastebuds with this deliciously dripping pancake image??? If you could smell the sweet smell of vanilla pancakes and berry coulis you would be knocking on my door right now!
I've used this same recipe for so many years now that when it went missing I nearly died a million deaths!  You would think I would know the ingredients off by heart, but I've always had a handwritten recipe card and never needed to remember the exact proportions.
I tried a few random pancake recipes but they just didn't give the same fluffy, light pancakes that my old recipe produced. Happily, I was cleaning up my bedside table drawer and found it!! Today I'm sharing my pancake recipe so that it will always be "safe" on the internet.
This basic pancake recipe is completely fail-safe but I do have a few tips to get you started.
Pancake Recipe Tips
Don't overmix the batter. The ingredients should be only just combined.
Use a small non-stick pan just a fraction bigger than the size you would like your pancakes to be.
Use low heat to cook the batter. Because these are fluffy pancakes if too high a temperature is used the pancakes will cook on the outside but remain raw on the inside.
Use kitchen paper to wipe a thin smear of oil over the pan before adding the batter.
As much as butter tastes delicious it will burn too quickly and smoke, use oil to cook the pancakes.
Cook the first side very slowly.  You should be able to see air bubbles all over the raw batter on the uncooked side before you turn it.
Wipe clean the pan clean of residue with kitchen paper after cooking each pancake.
Re-oil between cooking each pancake.
Making Pancakes By Hand
Place the butter in a large microwave-safe bowl.
Heat until melted.
Add milk and vanilla essence stir to combine.
Add flour, baking powder, sugar and then eggs to the bowl.
Stir until combined.
Leave to sit for 5 minutes.
Cook as in the method below.
Pancake Toppings
I will provide the recipe for this delicious berry sauce in an upcoming post.  It is only 3 ingredients but I want to test the recipe using frozen and fresh berries so I can give full instructions for both.
In the meantime, my pancake recipe is delicious served with the following;
fresh berries and maple syrup
sliced banana and maple syrup
freshly squeezed lemon and caster sugar
choc chips, banana and warmed honey
your favourite jam heated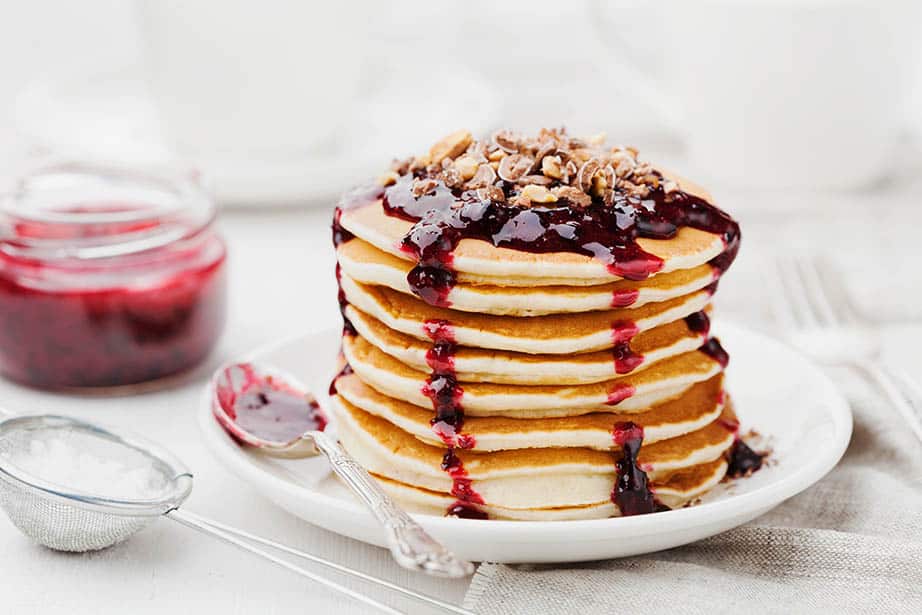 More Breakfast ideas
If your looking for more breakfast ideas take a look at some of my favourites below;
Let's Connect!
Don't forget to tag me on social media if you make any Thermokitchen recipes! I love chatting and seeing your pictures. #Thermokitchen
For more delicious Thermomix recipe inspirations LETS CONNECT on;
FACEBOOK
TWITTER INSTAGRAM  PINTEREST
Easy Pancake Recipe
The perfect way to start the day! Big, light, fluffy pancakes that soak up loads of delicious syrup!
Course:
Breakfast, Brunch
Cuisine:
American, Australian
Keyword:
Breakfast, brunch, Pancake
Servings
:
8
large pancakes
Ingredients
60

g

butter

cut into pieces

250

g

1 cup - milk

1

tsp

vanilla paste

185

g

1 1/2 cups - self-raising flour

1

tsp

baking powder

2

TBS

caster sugar

2

eggs
Instructions
Place the butter in TM bowl. Heat 2min/100/Speed 1.

Add milk and vanilla to the butter in TM bowl. Combine 5 sec/Speed 6.

Scrape down the bowl add flour, baking powder, sugar then eggs. Combine 10sec/ Speed 4.

Scrape down the bowl and allow the batter to rest for 10 minutes. (not critical but it helps the mixture achieve a good consistency)
Cooking Pancakes
Heat a non stick frying pan over a low flame.

Wipe the pan with oil or use a spray.

Pour the batter into the centre of the pan. Tilt and "swirl" the pan to spread the batter.

Allow the pancake to cook slowly until it is covered with bubbles and looking a little bit "set".

Flip the pancake and cook until golden.

Wipe clean the pan and add another small amount of spray oil.

Repeat the cooking procedure.
Recipe Notes
Once made pancakes can be stored in the fridge or the freezer and heated in the microwave as required.
*Resting the batter is optional. It will cause the mixture to become a little thicker and the first few pancakes will be easier to manage if you do follow this step.
Nutrition Facts
Easy Pancake Recipe
Amount Per Serving
Calories 172
Calories from Fat 72
% Daily Value*
Fat 8g12%
Cholesterol 60mg20%
Sodium 85mg4%
Potassium 145mg4%
Carbohydrates 19g6%
Protein 5g10%
Vitamin A 280IU6%
Calcium 76mg8%
Iron 0.5mg3%
* Percent Daily Values are based on a 2000 calorie diet.
If you would like more great Thermomix recipes, follow the ThermoKitchen FB Page. I share loads of great recipes on the page. Our community group page also shares recipes and tips from other fabulous Thermomix bloggers. So if you're want to "Create more with your Thermomix" make sure to stop by and say hi.
Please feel free to make a comment and rate this recipe! I love hearing your thoughts and the rating helps other readers decide if they should make the recipe.
Happy Cooking
j