How to Make Homemade Ricotta -Thermomix & Conventional Method
Published , Last Updated
Homemade ricotta is as easy to make as boiled milk. Plus, it tastes so much better than the commercially prepared brands.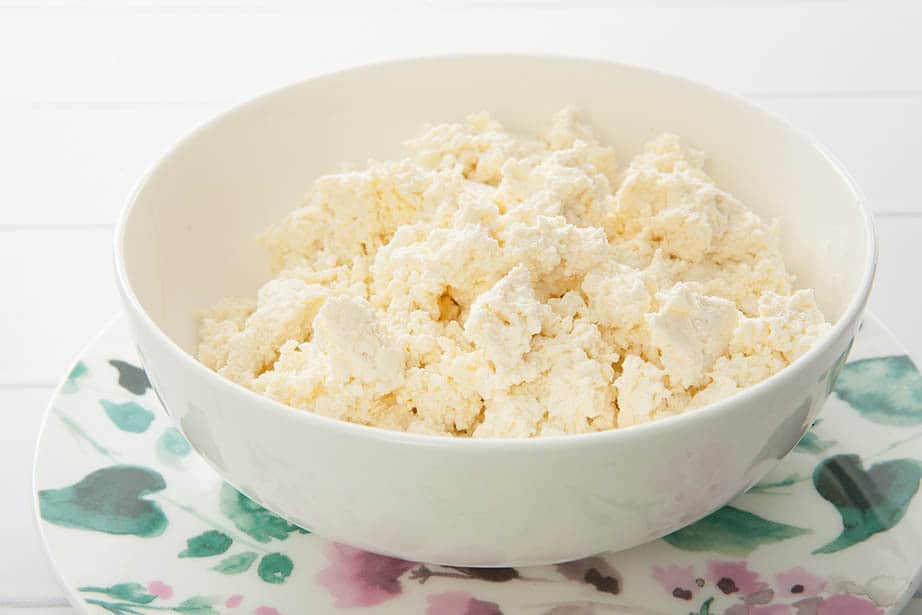 Making homemade ricotta is simple whether you're using a conventional method or the Thermomix.  This recipe includes only two ingredients; milk and a curdling agent, either lemon juice or vinegar.
The recipe should yield about 500gm of fresh ricotta cheese.
I like to use vinegar to make ricotta cheese because;
it's easier to use vinegar from a bottle than squeeze lemons.
white vinegar is so much cheaper than buying lemons.
Homemade Ricotta Steps
Heat the milk to 98-99 degrees, (195 Fahrenheit).
Add the vinegar to the milk.
Stir the milk & vinegar mixture just once.
Allow the curds to sit undisturbed for 30 minutes.
Curds will form a raft on top of the whey.
After 30 minutes drain the mixture through a cheesecloth.
Hang the cheesecloth to further drain for 10 minutes depending on the level of moisture you would like in your homemade ricotta.
More Tips
Don't use flavoured or colour vinegar such as red wine vinegar or balsamic vinegar. These will colour and flavour the ricotta. Use only white vinegar or lemon juice.
Use UHT milk if it's available, it's cheaper and produces a good yield.
Times in the Thermomix are given for milk starting at room temperature.
Full cream milk must be used to make ricotta. Skim milk will yield a very small quantity of ricotta.
Don't forget to tag me on social media if you make any Thermokitchen recipes! I love connecting and seeing your pictures. #Thermokitchen
For more for more delicious Thermomix recipe inspirations FOLLOW ME on;
FACEBOOK
TWITTER INSTAGRAM  PINTEREST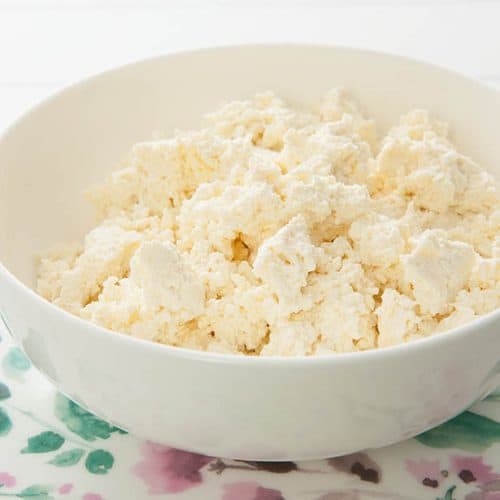 Homemade Ricotta Cheese
This recipe is as easy to make as boiled milk. Plus, it tastes so much better than the commercially prepared brands.

Keyword:
Cheesemaking, Recipe, Ricotta, Thermomix
Ingredients
2000

g

full cream milk

80

g

white vinegar or lemon juice
Instructions
Place the milk in TM bowl. Heat 15 min/98 degrees/Speed 2.

Add the vinegar to TM bowl. With a spoon manually stir one complete circle to combine the milk and vinegar.

Leave the contents in TM bowl undisturbed 30 minutes.

Line the internal steaming basket with cheesecloth or clean Chux dishcloth.

Using a slotted scoop the ricotta into the internal steaming basket.

Allow the ricotta to drain for 5 -10 minutes.

The ricotta can be used immediately or stored in the fridge for up to a week.
Homemade Ricotta - Conventional Method
With the aid of a cooking thermometer heat milk in a heavy-based saucepan until it reaches 99 degrees Celsius (195 Fahrenheit)

Continue as per the Thermomix method.
Recipe Notes
I use UHT milk as the ricotta yield is better PLUS UHT milk can be stored in the pantry at room temperature. The cooking times give for the Thermomix assume the milk was at room temperature at the beginning of the cheesemaking process.
Nutrition Facts
Homemade Ricotta Cheese
Amount Per Serving
Calories 205
Calories from Fat 90
% Daily Value*
Fat 10g15%
Cholesterol 33mg11%
Sodium 143mg6%
Potassium 440mg13%
Carbohydrates 16g5%
Protein 10g20%
Vitamin A 540IU11%
Calcium 377mg38%
Iron 0.1mg1%
* Percent Daily Values are based on a 2000 calorie diet.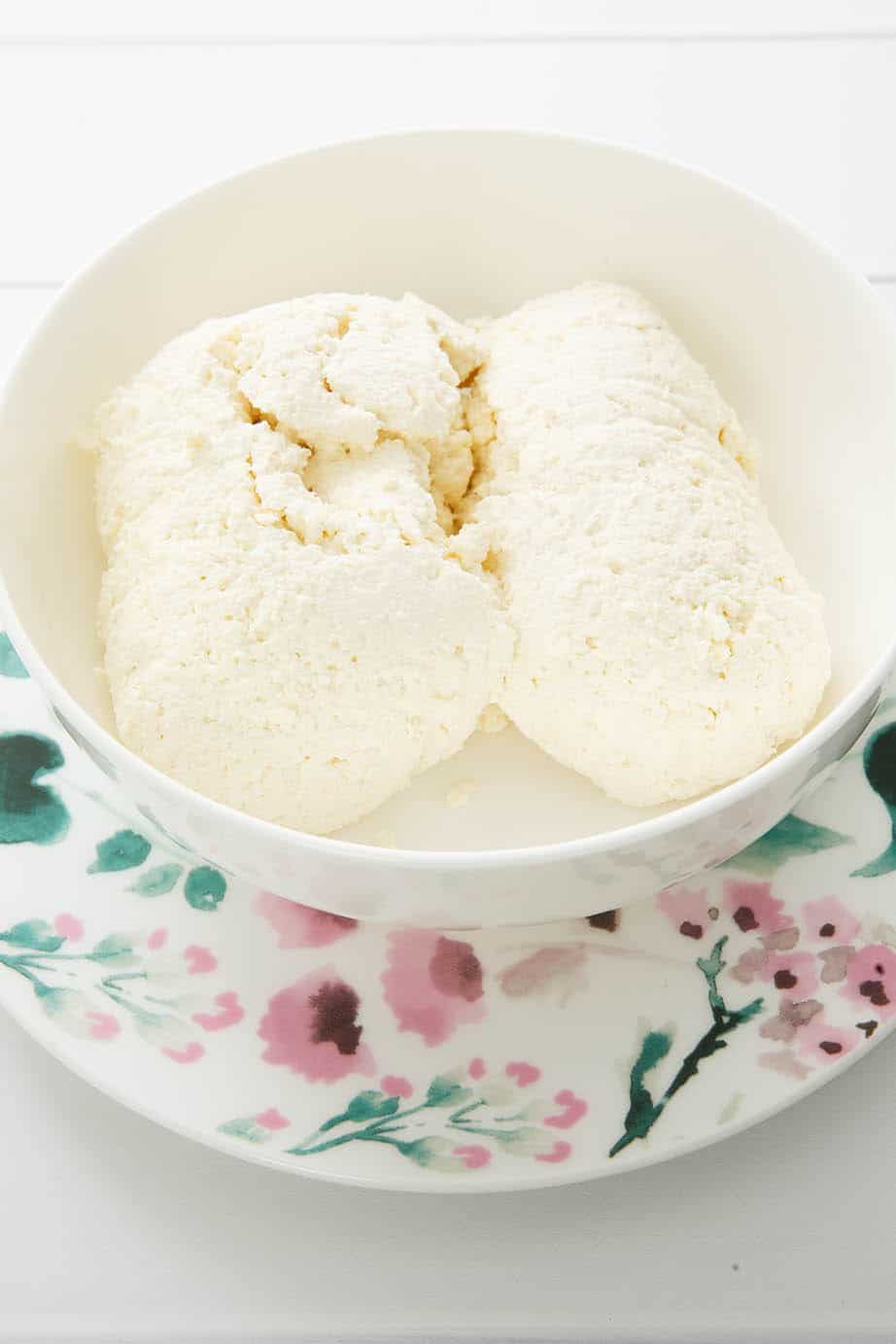 Thanks so much for stopping by, please feel free to leave a comment below so we can chat.
Happy Cooking
j