Licorice Ice Cream – Perfection Thermomix Style
Published
OMG! This is homemade licorice ice cream perfection! Rich, thick, creamy Thermomix ice cream which tastes even better than a gourmet ice cream parlour.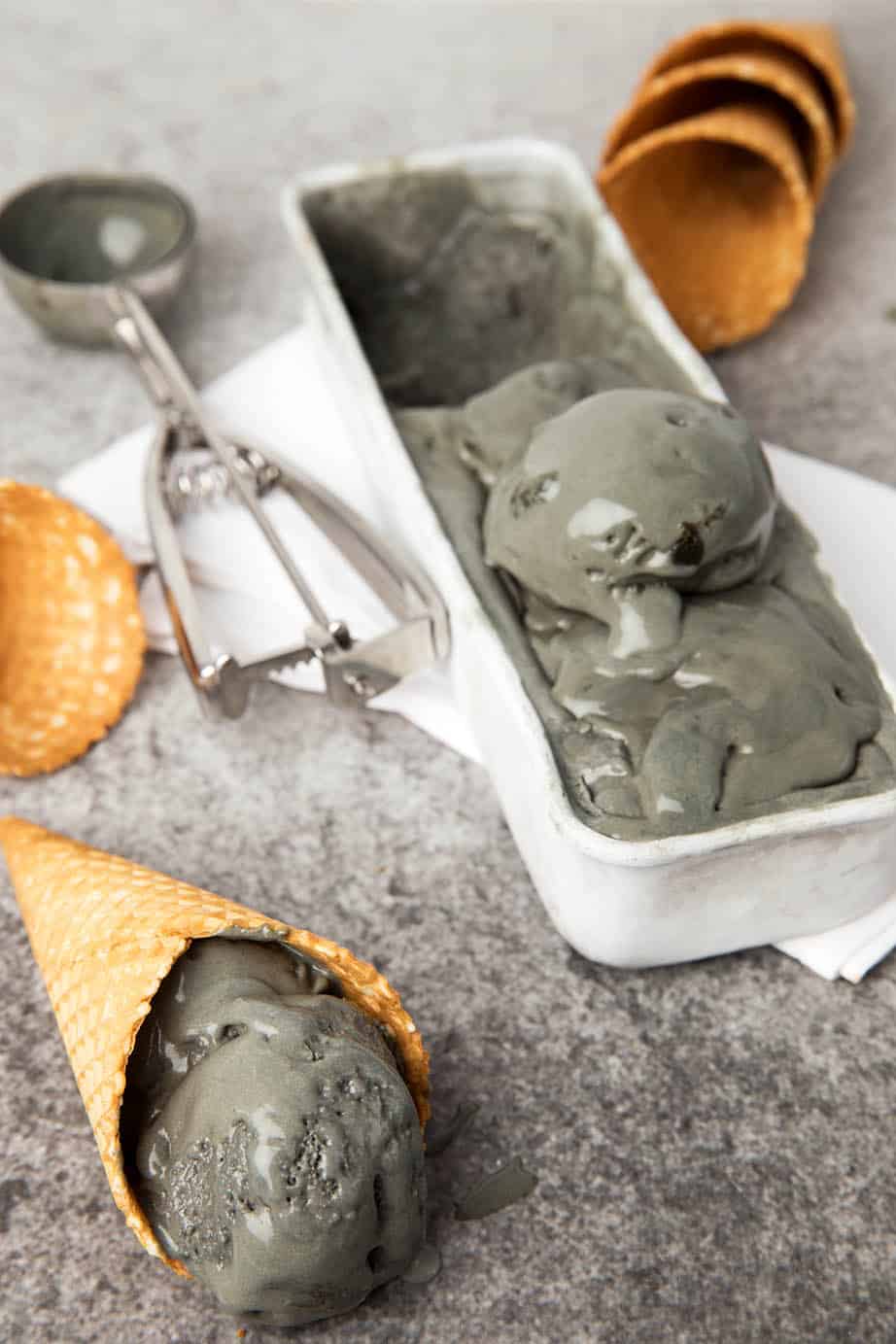 There are some recipes that I would never attempt without the Thermomix. French style, custard-based ice cream is definitely not a recipe for the faint hearted but the Thermomix makes it manageable. The ability to make an ice cream base in the Thermomix was the feature which sold me on my first TM5.
I'm sure you're wondering why ice cream making is so difficult. It's actually not difficult to make if you can keep the mixture at the precise temperature required, and you stir the mixture constantly. That's why the Thermomix excels at making ice cream!
There are a lot of different ice cream making techniques but I tend to really enjoy the rich French style custard-based ice-creams. This method is most suited to rich heavy flavours like chocolate, salted caramel, cookies and cream and this amazing licorice ice cream. The rich custard makes those flavours taste even more luxuriously decadent.
Licorice Ice Cream Tips
There are no short cuts in making ice cream. It's all about technique and patience. Happily, we don't have to do to much manual labour with the Thermomix on the job.
Two TM bowls are really handy for any custard ice cream recipe. One bowl is used for the milk flavour base and the second to beat the egg yolks until pale and frothy.
Egg yolk and sugar should be beaten until pale, thick and custard-like.
When adding the flavoured milk mixture to the egg mixture it's extremely important to go painfully slow at the start. Adding the hot milk too fast will result in "sweet licorice scrambled eggs."
Chilling the finished custard in the fridge prior to churning will allow the custard base to thicken even further giving it a better consistency when frozen.
The best results are achieved by breaking up the ice crystals as they form which is what a commercial compressor ice cream machine does. If you don't have an ice-cream machine you can still achieve good results using your Thermomix.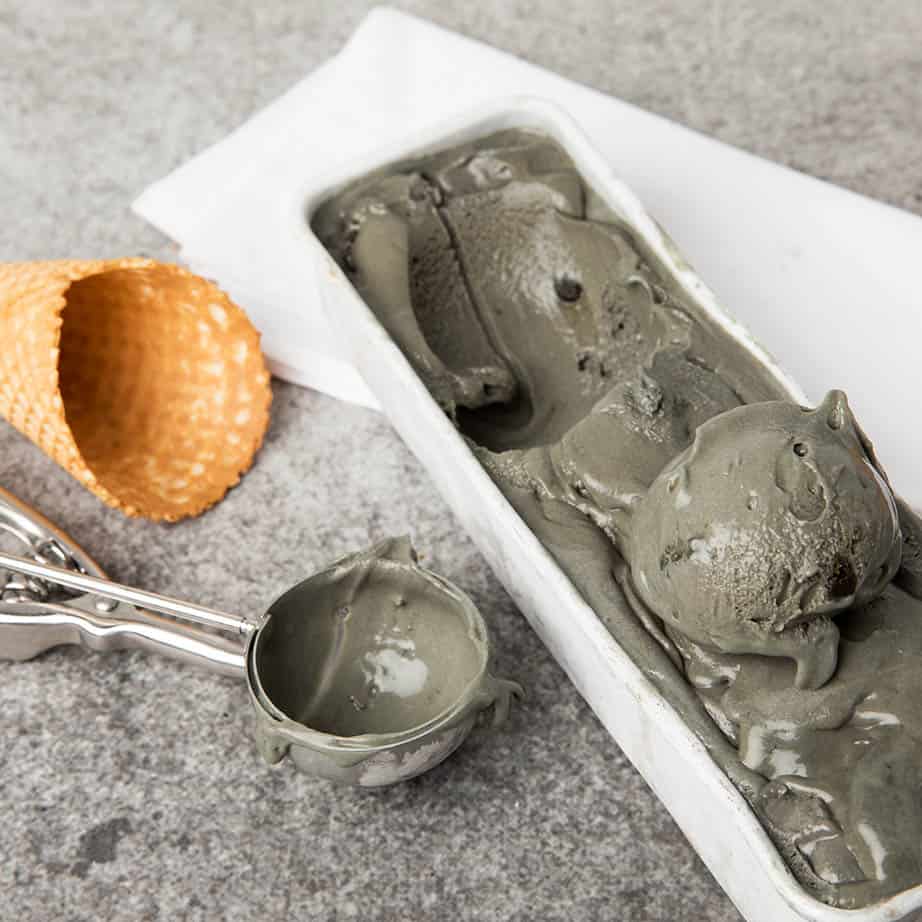 Thermomix Ice-cream Technique
Once the ice-cream has frozen, remove the container from the freezer and chop the frozen ice cream into large cubes.
Add half the ice cream cubes to the TM Bowl. Blend 6 sec/Speed 6 (use the spatula to agitate the mixture).
Repeat if necessary. Once the ice-cream is smooth transfer it to an airtight container and refreeze.
Add the other half of the ice cream to the TM bowl. Blend 6 sec/Speed 6 (use the spatula to agitate the mixture).
If you're looking for a popsicle style ice-cream why not take a look at my cute strawberry cream bunny ice cream recipe.
Let's Connect!
Would you mind tagging me on social media if you make any of my Thermokitchen recipes! Chatting and seeing your pictures really makes my day. #Thermokitchen
I would love to share more delicious recipes with you. For Thermomix recipe inspiration LETS CONNECT on;
FACEBOOK
TWITTER INSTAGRAM  PINTEREST
Thermomix Licorice Ice Cream
Overnight Chill & Freezing
OMG! This is homemade licorice ice cream perfection! Rich, thick, creamy Thermomix ice cream which tastes even better than a gourmet ice cream parlour. #Icecream #Thermomix #licorice #licoriceicecream
Cuisine:
American, Australian
Keyword:
Cleaning Thermomix, Dessert, Ice cream, Ice cream maker, Licorice, Licorice ice cream, Sweet snack
Ingredients
600

g

cream

400

g

full cream milk

1

pinch

salt

260

g

soft licorice

cut into 1cm pieces

150

g

sugar

6

egg yolks

only

1/2

tsp

black food colouring

*optional
Instructions
Place cream, milk, salt and 200g licorice in TM bowl. Blend 10sec/Speed 9. (60g of licorice is reserved for "mix-ins")

Heat the milk mixture. 10 min/80 degrees/Speed 4 (MC OUT) Internal steam basket on top to prevent splatters.

Remove bowl and replace with a second bowl. (or reserve milk base in another container and wash TM bowl).

Add sugar to a clean, dry TM bowl. Mill 10 sec/Speed 9. Add butterfly whisk.

Add egg yolks to the sugar. Beat 3 min/Speed 3.

Scrape down bowl. Beat 30 sec/Speed 3.
Tempering the eggs - VERY SLOWLY
Remove the butterfly. Select 4 min/40 degrees/Speed 2.5. Start the machine.

INCREDIBLY SLOWLY, pour a tiny stream of the hot milk mixture into the egg mixture whilst the TM is running. This is called tempering the eggs.

Continue to add the milk mixture slowly to the eggs. Take the full four minutes to slowly incorporate the licorice milk into the egg.

Make sure any licorice solids at the bottom of the TM bowl are added to the custard.

Add black colouring, gently cook the custard. 5min/80 degrees/Speed 2.5.

Pour the custard into a container. Allow it to cool with the lid off so any steam (moisture escapes).

Refrigerate the custard overnight.

Churn as per the ice cream manufactures instructions.
Recipe Video
Recipe Notes
NOTE 1:
The recipe makes about 1.3 litres of ice-cream. This is more than the capacity of most ice-cream makers. I churned my ice cream in two batches. 
NOTE 2: The nutritional information is calculated with one serve being approximately 110g.
NOTE 3: Use soft licorice such as Darrell Lea brand, this is available from Woolworths supermarket.
Please see additional notes above if you are using your Thermomix for the final churn.
Nutrition Facts
Thermomix Licorice Ice Cream
Amount Per Serving
Calories 342
Calories from Fat 198
% Daily Value*
Fat 22g34%
Cholesterol 169mg56%
Sodium 142mg6%
Potassium 91mg3%
Carbohydrates 32g11%
Protein 3g6%
Vitamin A 920IU18%
Vitamin C 0.3mg0%
Calcium 82mg8%
Iron 0.3mg2%
* Percent Daily Values are based on a 2000 calorie diet.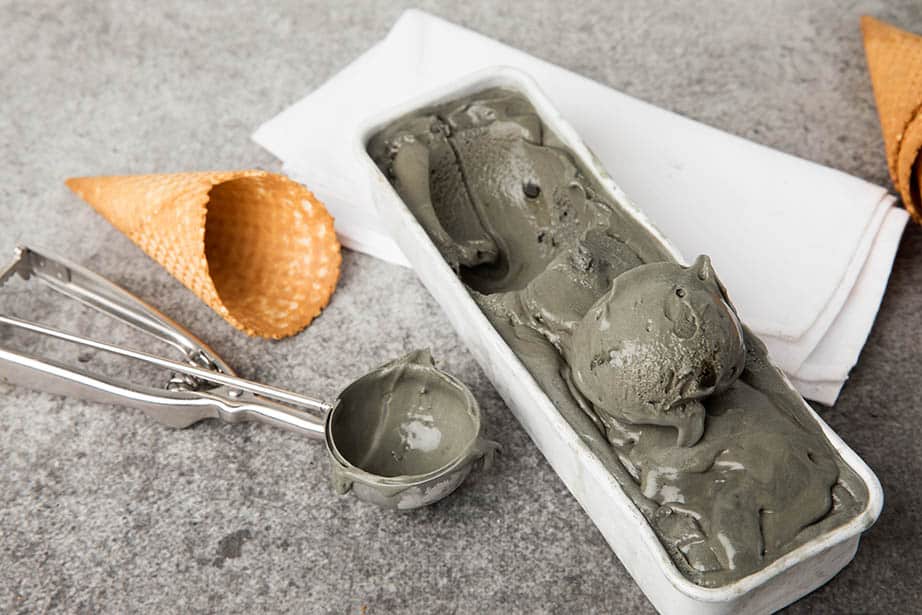 Please feel free to leave me a comment. I love hearing from everyone 🙂Rating the recipe once you've made the dish helps other readers decide whether to make my dishes, so I would love it if you could come back and let everyone know what you think.
Happy Cooking
j xx