Refreshing Thermomix Strawberry Cream Ice Cream Popsicles
Published
Summer is in full force at the moment and what better way to cool down than with these homemade Thermomix Strawberry Cream Ice Cream Popsicles.  The popsicles are made from just three ingredients so they're really quick and simple to make.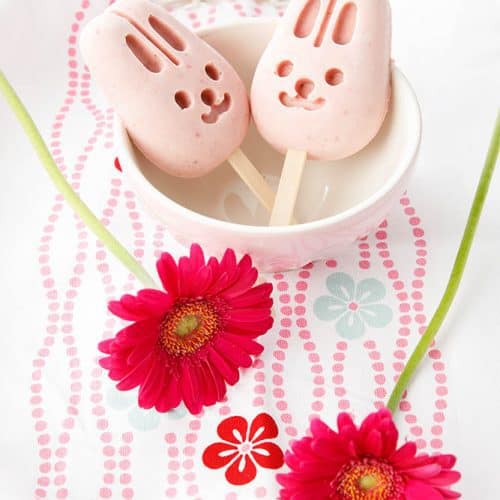 Thermomix Strawberry Cream Ice Cream Popsicles
What better way to cool down than with these homemade Thermomix Strawberry Cream Ice Cream Popsicles.
Cuisine:
American, Australian
Ingredients
350

g

strawberries

remove stem & leaves

220

g

condensed milk

350

g

thickened cream
Instructions
Place strawberries and condensed milk in TM bowl. Blend 30 sec/Speed 6.

Add the cream. Combine 40 sec/Speed 4.

Scrape down the bowl. Blend 40 sec/Speed 4.

Place 12 silicone popsicle moulds on a tray that fits in your freezer space.

Pour the ice-cream mixture into the moulds and insert the wooden stick.

Place the treats in the freezer overnight.

To serve, remove the popsicles from the moulds.
Recipe Notes
This recipe makes a more solid ice-cream and is better suited to popsicle moulds than scooping. 
Nutrition Facts
Thermomix Strawberry Cream Ice Cream Popsicles
Amount Per Serving
Calories 168
Calories from Fat 108
% Daily Value*
Fat 12g18%
Cholesterol 46mg15%
Sodium 34mg1%
Potassium 134mg4%
Carbohydrates 13g4%
Protein 2g4%
Vitamin A 480IU10%
Vitamin C 17.8mg22%
Calcium 76mg8%
Iron 0.2mg1%
* Percent Daily Values are based on a 2000 calorie diet.
The Thermomix or food processor is used to blend strawberries with cream and condensed milk which makes the most simple ice cream. There is no need to own an ice cream maker for this refreshing treat. The mixture is poured into popsicle moulds and chilled overnight.
I found the recipe made about 12 popsicles but the exact number will vary depending on the size of your mould. If you don't have popsicle moulds you can use small plastic cups or snack sized sandwich bags.
The snack sized sandwich bags made very popular popsicles. I particularly liked pouring the ice cream into the bags and sealing them prior to freezing. Using this method meant there was no chance of spillage in the freezer when "helpers" checked to see if they were ready yet!
Speaking of "helpers," this recipe is simple enough for even the youngest cook to make. So why not let the kids give you a hand making their own Strawberry Cream Ice Cream.
Regular readers may know that I am a mother of 5 children. I have always encouraged my children to help in the kitchen. I will be sharing more recipes that are suitable for kids to help prepare. These recipes will have the tag "Kids in the Kitchen" so if you're looking for a suitable recipe just search for that tag.
If you're looking for a more decadent ice-cream treat take a look at this delicious Peanut Butter Chocolate Ice cream.
Strawberry Cream Ice Cream Bunny Moulds
In case you're wondering where I got these cute bunny moulds I thought I would share. These are available on eBay. I purchased them through an international seller for about $7 including postage. My moulds hold three bunnies, the rest of my mixture I froze in regular popsicles and sandwich bags.
If you would like an email when recipes are released please scroll down to the bottom of the page and subscribe. If you want to have a chat with other Thermomix owners please feel free to join our friendly facebook group, we have over 11,000 members who love sharing recipes and tips.