Slow Cooked Maple Syrup Lamb Shanks Thermomix
Published
Maple syrup lamb shanks are one of my favourite winter dishes. I have been making this dish for so long! Initially, I used to make the recipe in the slow cooker but I've found that cooking it in the Thermomix Varoma is quicker and gives all the same slow cooked, melt in the mouth magic as more traditional cooking methods.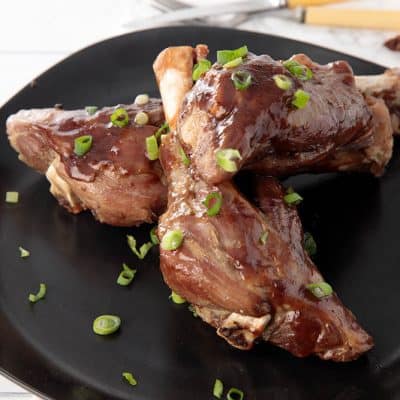 Thermomix Slow Cooked Maple Syrup Lamb Shanks
These classic slow cooked lamb shanks are a perfect winter warming recipe.
Course:
Main Course, Main Dish
Ingredients
1400

gm

lamb shanks

4-5 shanks

220

gm

onion

quartered

10

gm

garlic

250

gm

beef stock

campbells real stock

250

gm

red wine

130

gm

maple syrup

4

star anise

1

shallot

sliced finely to garnish

1/4

tsp

salt

500

gm

water

added to replenish cooking liquid

100

gm

water

for sauce
Instructions
Place the onion & garlic in TM bowl. Chop 5sec/Speed 9.

Add stock, red wine, maple syrup, salt and star anise to the onion.

Place the lid on the TM (MC OUT) and stack the deep Varoma dish on top of the lid.

Arrange the lamb shanks in the Varoma dish and cover with the lid.

Cook 60min/Varoma/Speed 2.

Add 500gm water to the TM bowl. Repeat the cooking. 60 min/Varoma/Speed 2.

Remove the lamb from the TM and place into a serving dish.

Remove the star anise from the cooking liquid and add the final 100gm water. Blend 30 sec/Speed 6.

Pour the sauce over the lamb shanks and serve with vegetables.
During winter I always enjoy warming, cosy comfort foods. These are usually covered in a silky mashed potato and a rich gravy.  Another favourite winter recipe is Swedish meatballs. The rich gravy has such a lovely homely flavour, so they also tick my comfort food box.
My comfort foods tend to be quite meaty? I also love a Guinness Pie or a melt in the mouth piece of Corn Beef which has been cooked in the Varoma and served with a mustard sauce.
Even the smell of these comfort foods cooking is warming and nourishing on a cold day. I usually serve the lamb shanks with mashed potato and green beans but today I feel like changing things up, and I've decided to prepare a homemade coleslaw.
When you get the shanks out of the Varoma you may be concerned that they don't have that gorgeous glazed look.  Don't worry, once the sauce goes over the top you would never guess they weren't oven-cooked.
So what are your favourite winter warming recipes? Do you have any vegetarian comfort foods to share?
Would your family would enjoy this recipe? Why not pin it for later!
If you're looking for more great Thermomix recipes, please follow the ThermoKitchen FB Page. I share loads of great recipes on the page. Our community group page also shares recipes from other fabulous Thermomix bloggers.