Nasi Goreng – Thermomix Balinese Fried Rice
Published , Last Updated
Bali is one of my favourite places to holiday. Any opportunity we get we use to escape and unwind. In June we managed a quick getaway for a bit of winter sun and some yummy food. Anyone that's ever visited Bali would have eaten Nasi Goreng or Balinese fried rice. I make it at home sometimes but I rarely have day old rice.
You see, stir fried rice needs to be made from cold rice or it tends to become gluggy and falls apart in the wok. When you use "fridge cold" rice the grains hold together and the dish is so much nicer.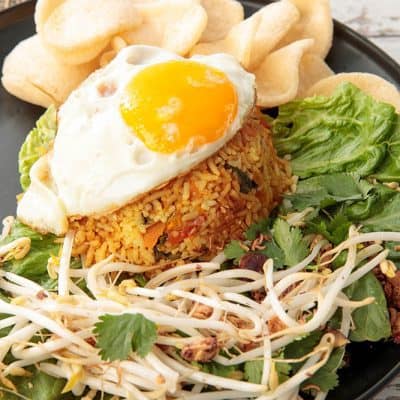 Nasi Goreng - Balinese Fried Rice
Nasi Goreng is everyone's favourite Balinese holiday dish. Now you can make it quickly & easily in the Thermomix.
Course:
Main Course, Main Dish, Side Dish, Vegetarian
Ingredients
Thermomix Balinese Rice
250

g

basamati rice

washed

1000

g

tap water

100

g

onion

peeled & halved

15

g

garlic

peeled

15

g

fresh ginger

peeled

10

g

fresh turmeric

peeled

2

chilies

long mild, seeds removed, cut in half

2

kaffir lime leaves

1/2

red capsicum

cut in 3

100

g

carrot

peeled cut in 3

1

bok choy

roughly chopped
Nasi Goreng Sauce
2

tbsp

oil

100

g

onion

diced finely

100

g

diced firm tofu or diced chicken thigh fillet

*optional

2

tbsp

kecap manis

Sweet soy sauce

2

tbsp

Tomato Sauce

2

tsp

soy sauce

2

tsp

vinegar
Toppings
1/4

cup

bean sprouts

1

tbsp

chopped coriander

1

fried egg

1

tbsp

crispy fried shallots

available in the Asian section of the supermarket

1

tbsp

chopped peanuts

2

tbsp

kaffir lime leaves

shredded
Instructions
Add the onion, garlic, kaffir lime leaves, chili and turmeric to the TM bowl. Chop 4 sec/Speed 9.

Remove 2 teaspoons of the spice mixture from TM bowl and reserve to use later in the sauce.

Add the capsicum and carrot to the remaining spice mixture in the TM bowl. Chop 3 sec/Speed 4.

Place the rice in the internal steam basket. Wash it under running water until the water runs clean.

Place the chopped onion and chili mixture in the internal steamer on top of the rice.

Add the chopped bok choy on top on the chopped vegetables and rice.

Without cleaning the TM bowl add 1000gm of water the TM bowl.

Add the internal steam basket to the bowl. Steam the rice and vegetables. 17min/100 degrees/Speed 4.
Nasi Goreng Sauce
Add the oil to a frying pan and heat gently.

Place the chopped onion into the heated oil. Fry until golden.

If you're adding chicken or tofu to the Nasi Goreng and the ingredient to the frying pan and cook until golden.

Add the 2 tsp of reserved spices to the frying pan. Cook gently until fragrant.

Reduce the frying pan heat to low.

Add all the sauce ingredients to the pan and stir gently until heated through. Turn off the heat.
Assembly
Add the steamed rice to the ThermoServer.

Scatter the finely sliced lime leaves over the rice.

Stir the sauce gently through the rice combining the vegetables, rice and sauce evenly.

Place the lid on the ThermoServe to keep warm until serving.

Fry an egg for each person and top with the desired garnishes.
Recipe Notes
Nasi Goreng can easily be served as a main meal or a side dish. Simply choose how elaborate you make the toppings.
Nutrition Facts
Nasi Goreng - Balinese Fried Rice
Amount Per Serving (300 g)
Calories 391
Calories from Fat 81
% Daily Value*
Fat 9g14%
Cholesterol 32mg11%
Sodium 464mg19%
Potassium 804mg23%
Carbohydrates 65g22%
Protein 11g22%
Vitamin A 11465IU229%
Vitamin C 122.8mg149%
Calcium 231mg23%
Iron 2.8mg16%
* Percent Daily Values are based on a 2000 calorie diet.
Today I wanted Nasi Goreng but I didn't have any pre-cooked rice. I thought about just making regular steamed rice in the Thermomix to accompany my Balinese Chicken but I really wanted Nasi Goreng. I think I may be having "Bali holiday withdrawals."
Anyway, I thought about other rice dishes I make, in which I cook the rice with the vegetables and stir through the sauce gently at the end. It had always worked well so I decided to improvise and make my own Thermomix Nasi Goreng.
All the ingredients I used in the dish, are from recipes I collected in Bali whilst attending cooking classes. It was a success, my Nasi Goreng was delicious and super easy! Using the Thermomix meant I didn't have to grind the garlic, turmeric, ginger and chilli. I left out some of the harder to find ingredients such as galangal and candlenut but it tasted perfect. Best of all the recipe took just 25 minutes from start to finish.  20 minutes of that time I wasn't even in the kitchen!
Something I love about this dish is that it's so simple! You can dress it up with more decadent ingredients such as pan-fried prawns or chicken or keep it simple. I like to add fried shallots, bean sprouts, and peanuts as a garnish for a bit of crunch.
Hopefully making some Balinese meals satisfy me for a little longer. I really am starting to feel like it's time to wander off again. In June my husband and I hired motorbikes each and rode a circle right around the island. It was a huge adventure and now I'm looking forward to another one.
If you're looking for more great Thermomix recipes, please follow the ThermoKitchen FB Page. I share loads of great recipes on the page. Our community group page also shares recipes from other fabulous Thermomix bloggers.