Peri Peri Chicken Recipe Thermomix & Keto Friendly
Published , Last Updated
The best Peri Peri Chicken EVER!
Moist chicken marinated in homemade garlic, lemon, chilli sauce. Cooked in the oven or on the BBQ for an extra smokey flavour.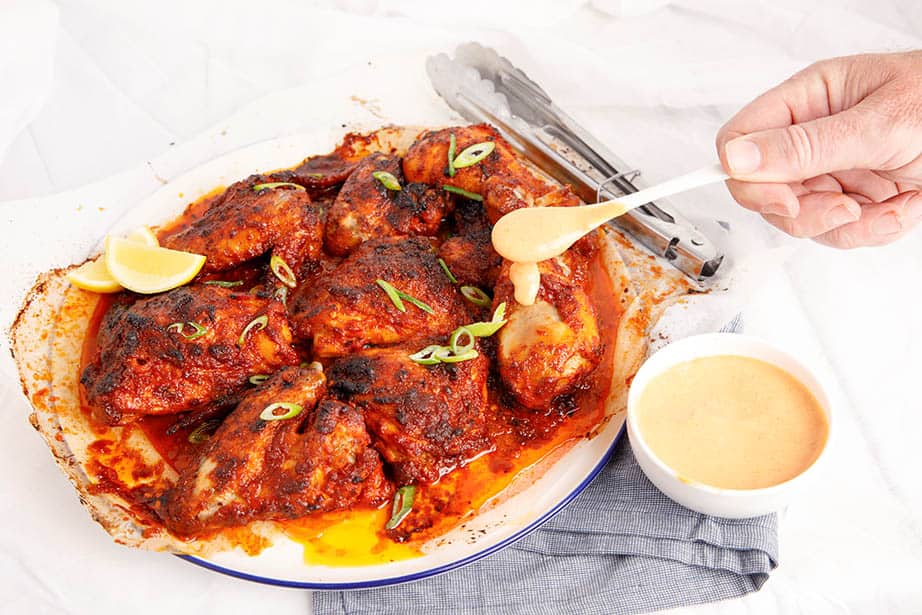 You may think you have had the best Peri Per Chicken in the past, but this dish is AMAZING! All the tang, flavour and just enough heat to keep you coming back for more. Plus the recipe is Gluten-free, low carb and very keto friendly. This is a dish that will suit the whole family.
Some Piri Piri Chicken recipes require the chicken to marinate overnight, or even up to 24 hours but I've found using this method prevents the chicken skin become as crisp and delicious as I like. The increased marinating time also didn't seem to add any flavour benefits so I recommend only marinating the chicken for up to one hour.
What is Peri Peri Chicken?
A deliciously zingy lemon, chili and garlic chicken made famous by the Nandos Portuguese chicken chain. The chicken can be served in a salad, over rice or the chicken meat can be added to a burger.
Is it Peri Peri or Piri Piri?
Piri Piri is the type of chili which is traditionally used in this dish. The sauce is commonly used in Portuguese dishes and the Portuguese tend to spell the dish Piri Piri. In South Africa, it's more common to see the dish spelt Peri Peri. So the answer is both terms are correct.
Is Peri Peri Chicken Portuguese or South African
Countries are always fighting over who "invented" a dish! Peri Peri chicken is a South African/Portuguese dish. Both countries like to take credit for the dish. The most commonly accepted view is the dish developed from Portuguese immigrants moving to South Africa.
The founding owners of Nandos further highlight the multicultural aspect of the dish. The chain was started by South Africa Robert Brozin and Portuguese Fernando Duarte. The pairing of the two is responsible for Nandos chicken and I think foodies all over the world were the real winners.
Keto Piri Piri Chicken?
This dish only has 4g of net carbohydrates so if you're following the keto diet the dish would be suitable. Serve with a green salad or cauliflower rice to keep the carbohydrates low in the overall meal.
What cut of chicken is best for homemade Portuguese Chicken?
This is one of the very few dishes which I like to use chicken pieces with the skin on and bones in place. Using these cuts will give the dish more flavour and the finished product will be deliciously crisp and moist, plus you will also have yummy, fatty, flavour covered skin to enjoy.
I chose a selection of wings, drumsticks and thighs for this dish. If I was making Peri Peri Chicken Burgers I would use boneless chicken thigh fillets and cook for only 20 minutes at the same temperature.
Peri peri chicken can be spicy or mild. The beauty of this recipe is the base sauce is packed with flavour, so if you don't like chilli you can leave it out altogether. If you're a chili lover then up the heat by adding another birdseye chilli to the marinade.
How to Make Portuguese Chicken

Let's Connect!
Would you mind tagging me on social media if you make any of my Thermokitchen recipes! Chatting and seeing your pictures really makes my day. #Thermokitchen
I would love to share more delicious recipes with you. For Thermomix recipe inspiration LETS CONNECT on;
FACEBOOK
TWITTER INSTAGRAM PINTEREST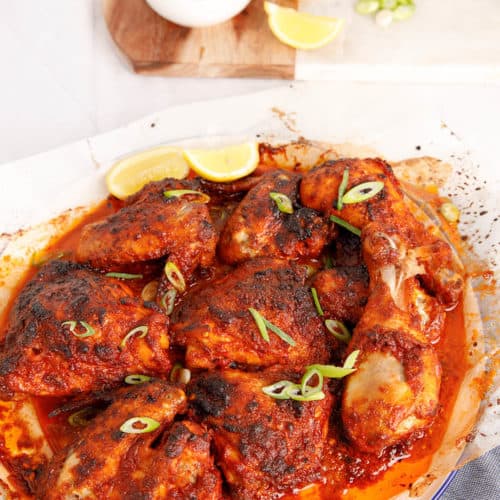 Peri Peri Chicken Recipe
You may think you have had the best Peri Per Chicken in the past, but this dish is AMAZING! All the tang, flavour and just enough heat to keep you coming back for more.
Cuisine:
African, American, Brazilian, Portuguese
Keyword:
Aioli, Chicken, Cleaning Thermomix, Nando, Peri-Peri
Ingredients
6

black peppercorns

20

g

garlic

1

lemon

juice and zest

1

orange

juice only

1

long red chilli

1-2

birdseye chilli

25

g

brown sugar

or coconut blossom sugar

2

tsp

sweet paprika

1

tsp

smokey paprika

1

tsp

onion powder

1

tsp

garlic powder

1

tsp

oregano

1

tsp

salt

2

drops

red food colouring

45

g

vegetable oil

1.2

kg

chicken pieces

skin on and bone in place
Instructions
Place garlic, peppercorns, lemon zest, long chill and birds eye chilli in TM Bowl. Chop 5 sec/Speed 9

Add lemon juice, orange juice, oil, sweet and smoked paprika, onion powder, garlic powder, dried oregano, brown sugar and red food colouring, (if using)to TM Bowl. Combine 10 sec/Speed 5.

Pour the marinade into a large ziplock bag.

Add the chicken pieces to the marinade and refrigerate for one hour.

 

Pre-heat oven to 200°C. Line a roasting tray with baking paper.

Pour the contents of the ziplock bag into the roasting dish. Arrange the chicken so the skin is facing up. Bake 45 minutes

Once the chicken is cooked baste the skin with any residual cooking liquid from the roasting pan.

Serve immediately with cooking liquids.
Recipe Video
Recipe Notes
Conventional Cooking Method:
To cook Peri Peri Chicken without a Thermomix simply add all the marinade ingredients (not the chicken) to a high powered blender or food processor. Blitz until the sauce is combined.
Continue to the next step of adding the marinade to a ziplock bag with chicken pieces and refrigerate.
Cooking Peri Peri Chicken Thigh Fillets
Place on the prepared baking tray and cook for 20 minutes at 200 degrees. 
NOTE: VIDEO ERROR
After making the video I continued to develop the recipe.  As a result I have swapped out the Apple Cider Vinegar in the marinade for orange juice.
Just follow the recipe above.
Nutrition Facts
Peri Peri Chicken Recipe
Amount Per Serving
Calories 387
Calories from Fat 252
% Daily Value*
Fat 28g43%
Cholesterol 102mg34%
Sodium 486mg20%
Potassium 388mg11%
Carbohydrates 7g2%
Protein 26g52%
Vitamin A 803IU16%
Vitamin C 35mg42%
Calcium 37mg4%
Iron 2mg11%
* Percent Daily Values are based on a 2000 calorie diet.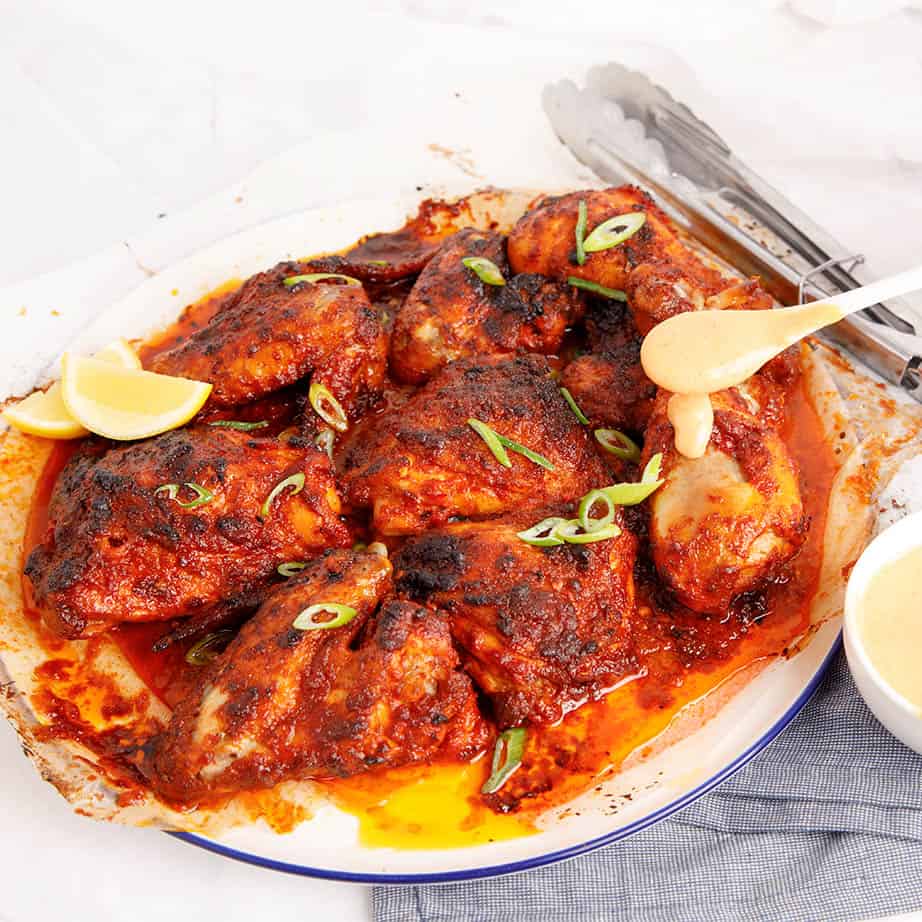 I love Peri-Peri chicken and whenever I make this dish the family devour every piece of chicken in record time. They seem to prefer my homemade version of Nandos chickens to the real thing. I find this version much healthier tasting also.
Thank you so much for stopping by!
If you're looking for more chicken recipes you can take a look here "Thermokitchen Chicken recipes". All the recipes are family-friendly and a lot will be on the table in just 30 minutes.
Please feel free to leave me a comment. I love hearing from everyone 🙂Rating the recipe once you've made the dish helps other readers decide whether to make my dishes, so I would love it if you could come back and let everyone know what you think.