Pineapple Detox Smoothie – A Little Bit of Sunshine
Published , Last Updated
Happy New Year Dear Readers! How are you on this gorgeous summers day? I have a refreshing treat to share, my Pineapple Detox Smoothie. This delicious smoothie tastes like a Pine-Lime Splice and is so addictive! I like I like to use frozen fruit because it makes the smoothie a bit like a healthy slushy! Speaking of healthy, the drink is also part of my New Years resolution to look after my health more in 2017.
Do you make New Years Resolutions? I do tend to make some resolutions because I find that if I set goals at the start of the year I have more direction throughout the year. Kind of make sense doesn't it???
My health goals are fairly broad;
Cut down on booze
Eat healthier
Exercise for 30 minutes per day
Stress less and use relaxation techniques
Value sleep more!
I've also broken each of these points down a little further to help me achieve the goals.
Although, in the spirit of full disclosure, I'm writing this article with a glass of wine in hand! Yep, you could argue that I'm not off to a good start with my resolutions but I'd prefer to look at things more optimistically;
Today I;
went on an exhausting headland walk for 40 minutes.
made a delicious and healthy pineapple smoothie
relaxed with a glass of wine
Ok, so perhaps I'm taking the relaxation point on a bit of a tangent. Anyway, I'm sure you're now able to see why I'm looking for a delicious detox smoothie.
I really enjoy making smoothies in the Thermomix. The machine is so powerful it makes short work of the ingredients. Before we go any further I'd like to explain why I choose smoothies over juices.  Blitzing the fruit in the Thermomix makes use of the whole fruit. When you ingest the smoothie you 're consuming all the goodness that was part of that fruit. All the vitamins, minerals, fibre and sugars are served in the proportions nature intended.
I guarantee that after you try my pineapple smoothie you will feel full. The fibre from the fruit in the drink will keep you feeling content for quite some time.
If you choose to juice these same ingredients the effect is very different. When you juice fruit you throw away so much of the fruits goodness and increase the sugar load on the body, so you will find the juice quicker to drink and you'll feel hungry sooner. get
Anyway, are you wondering where the detox component comes into the Pineapple detox smoothie? I chose these ingredients, not only because they taste good together, but because each ingredient is useful in detoxing.
Pineapple is well known for its detox benefits and is particularly  popular in liver cleanses. The fruit contains the enzyme bromelain, which aids in digestion and lowers inflammation. Currently, there is also research taking place which looks at the pineapples as an anti-cancer agent.
Asian countries have long enjoyed drinking Turmeric juices and teas for the health benefits. We may be a little slow to catch on but more than 20 studies have shown Turmeric is a good anti-inflammatory agent.
Ginger and lime give the smoothie a delicious tang. Ginger will also add some anti-inflammatory properties and is great for circulation and digestion.
I've used coconut water as the base for the smoothie as it will add some electrolytes to the drink. The weather has been so hot later!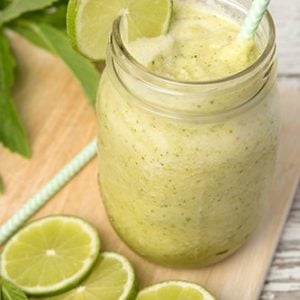 Pineapple Detox Smoothie
A delicious refreshing smoothie which tastes just like a Pine-Lime Splice.
Ingredients
200

gm

ice

280

gm

pineapple

frozen

10

ml

lime juice

5

gm

mint

280

gm

coco water

10

gm

ginger

fresh

5

gm

turmerick

fresh
Instructions
Place all the ingredients in the Thermomix. Blitz 10 sec/Speed 9.

Scrape down the bowl.

Repeat Blitz 10 sec/Speed 7.

Divide into 2 glasses and serve immediately.
Recipe Notes
Use frozen pineapple.
Add more coconut water for a thinner consistency.
Nutrition Facts
Pineapple Detox Smoothie
Amount Per Serving
Calories 100
* Percent Daily Values are based on a 2000 calorie diet.
Anyway, even if you're not concerned about detoxing, this is a super refreshing, hydrating smoothie which tastes a lot like a Pine Lime Splice.
Enjoy!