Pretty Pink Turkish Delight Thermomix Macarons
Published , Last Updated
With Mother's Day around the corner, I wanted to share my recipe is for some pretty pink macarons. These are simple Thermomix macarons, which have a lovely Turkish Delight flavour. Although if you prefer you could a strawberry essence instead of rosewater.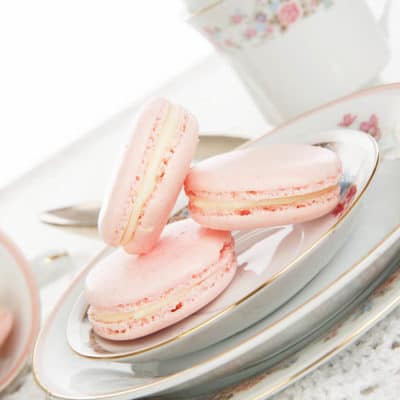 Pretty Pink Turkish Delight Thermomix Macarons
These little macarons are surprisingly easy to make and would make a great surprise for someone special.
Course:
Dessert, Macaron, Snack
Cuisine:
American, Australian, French
Ingredients
3

egg whites

at room temperature

1/4

tsp

cream of tartar

1/4

cup

caster sugar

4

drops

pink food colouring

1

tsp

rosewater

1 1/4

cups

pure icing sugar

sifted

1

cup

almond meal
White Chocolate Ganache Filling
¼

cup

cream

160

gm

white chocolate

(I use Dream chocolate)
Instructions
Line 2 cookie sheets with baking paper.


Add caster sugar to the TM bowl. Mill 5 sec/Speed 9. Remove and reserve for later use.

Insert the butterfly in TM bowl.

Start with eggs at room temperature and separate the egg whites from yolks.

Add egg whites only and cream of tartar to TM bowl. Beat 2 min/37 degrees/Speed 3.

Start the TM 2 min/37 degrees/Speed 3. Slowly add the reserved sugar and food colouring through the MC whilst the machine is running.

Transfer the meringue to a large glass bowl.

Gently fold ½ of the sifted icing sugar, ½ of the almond meal through the meringue.

Add the rosewater and the remaining sifted icing sugar and almond meal.

Gently fold the ingredients through the meringue until they are combined.

Spoon the mixture into a piping bag with a 1cm plain tube. Pipe 4cm round macaroons onto tray leaving 1 inch for spreading.

Once the macarons have been piped drop the baking tray from a 10cm height to release any air bubbles in the macaron shells.

Leave the tray to stand for 30mins. This will allow a skin to form and the pretty frilly feet.

Preheat the oven to 130 degrees.

Bake macaroons for 15- 20mins, leave them on the tray to cool.
White Chocolate Ganache
While the macaroons are cooking add the white chocolate to a clean TM bowl. Chop 5 sec/ Speed 9.

Add cream to the chocolate mixture. Melt 2 min/ 50degrees/Speed2.

Pour the ganache into a bowl and allow it to cool before use.

Once the macarons are completely cooled and the ganache is at a spreadable consistency, sandwich the macaroons together with the ganache and dust with icing sugar.

Recipe Notes
Allow extra time when making this recipe to allow for the cooling time!
Please ensure that the butterfly is in place to whip the egg whites and that the bowl and blades are perfectly clean. 
It is useful to fo a vinegar and hot water wash to the bowl and butterfly to ensure there isn't any oily residue which may stop the egg whites achieving the stiff peaks.
Tip: Before commencing the macaron recipe do a vinegar wash of the TM bowl and butterfly.
One of the very first things I made when I unpacked my Thermomix was a macaron. I know that sounds strange but I didn't quite believe my Thermomix consultant when she told me I could use the Thermomix to whip egg whites into meringue. So, when she suggested making the basic stock I politely declined and pulled out a macaron recipe.
The recipe wasn't even for Thermomix macarons. I was using my tried and tested chocolate macaron recipe. To her credit, the consultant whipped the egg whites for me. After that step, we were in uncharted territory and I was pretty much on my own! Happily, it was a cinch and we both enjoyed some macaron shells.
Preparing macarons is really simple. Plus when you pipe the mixture they seem to want to form nice little circles. Any inconsistencies tend to sort themselves out in the oven. Occasionally I might pipe one that looks really terrible, but the kids are always happy to eat it!
Since that first day, I've made so many different flavours of Thermomix macarons. I'm never even tempted to buy them from the shops because they're really quick to make and I love to control the level of flavour and the fillings.
I have finally shared this recipe as these little macarons appear in the Drip Cake I made for my daughters birthday.
Are you tempted to make my Thermomix macarons? Why not pin this picture for later.
If you would like more great Thermomix recipes, please follow the ThermoKitchen FB Page. I share loads of great recipes on the page. Our community group page also shares recipes from other fabulous Thermomix bloggers.
Thanks for stopping by!