Thermomix Nut Butter Recipe – Chocolate Peanut Butter
Published
Nut butter can be customised to your favourite consistency when you prepare your own with the Thermomix. Try slightly crunchy peanut butter or a completely smooth hazelnut spread. I've even added some chocolate for a real breakfast treat.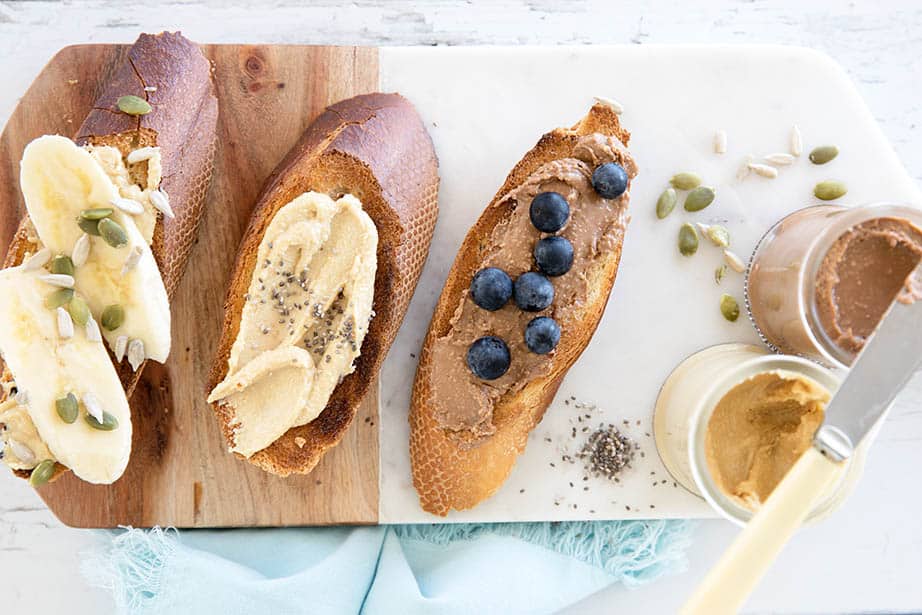 Making peanut butter in the Thermomix is a piece of cake. It literally takes just one minute in the Thermomix and you will have a personalised jar of nut butter. I have used loads of different nuts to make a delicious spread and I've listed some of my favourites below.
All nuts have a long list of health benefits including healthy fats, protein, fibre and antioxidants, however, some nuts have a few extra health points in their favour.
My Favourite Nuts for Making Butter
Almond Butter
Almonds are rich in antioxidants, provide vitamin E and are thought to help lower cholesterol. They're a great source of fibre and perform a prebiotic function in the digestive system feeding good gut bacteria.
Hazelnut Butter
Hazelnuts are also packed with nutrients, including vitamins, minerals and antioxidant. Research is being conducted into the effects hazelnuts have on regulating blood pressure and reducing inflammation.
Cashew Butter
Cashews nuts have been called the "feel good nut" They are naturally high in tryptophan which helps our bodies make serotonin. Healthy levels of serotonin contribute to feelings of sexual desire, good mood, and healthy sleep. Cashews are also high in magnesium and vitamin B6 which is linked to stable moods.
Peanut Butter
Yes I know, peanut butter is very basic nut butter and it's been around forever. BUT, when you make your own it's delicious! Peanuts consist of the same healthy monounsaturated fat found in olive oil. Plus, it's rich in fibre, protein and potassium and good for heart health.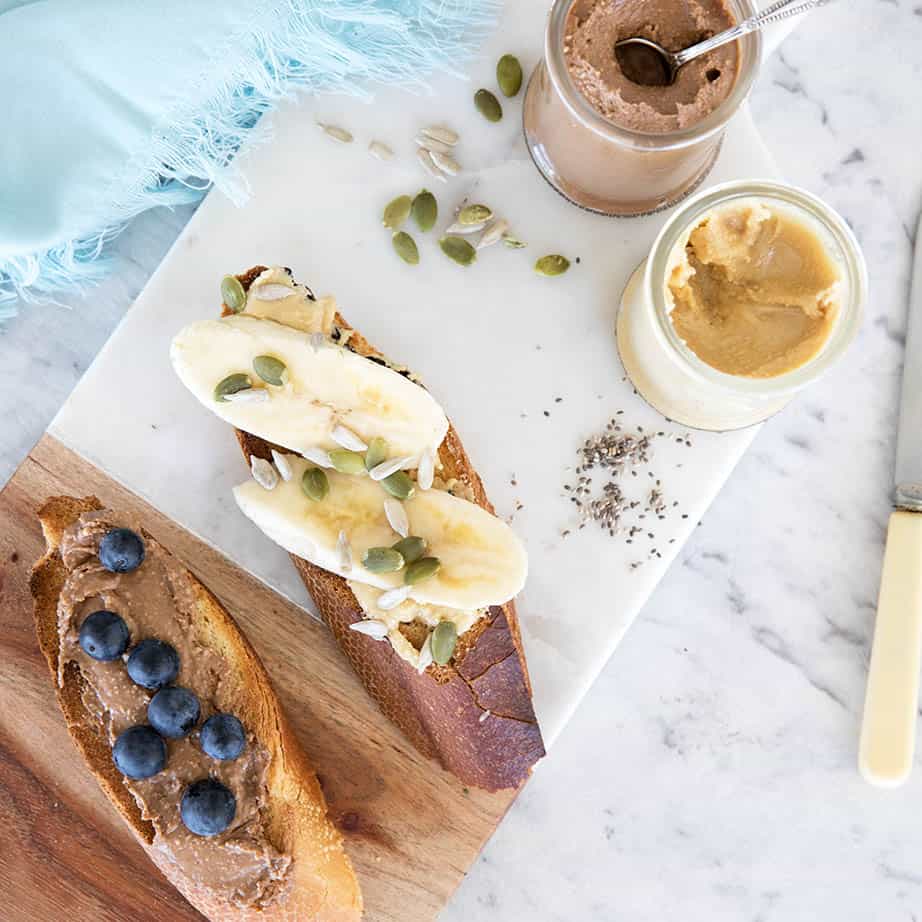 How to Use Your Homemade Nut Butter
Add it to smoothies, with a frozen banana and your favourite milk. See my Scorched Peanut Bar Smoothie
Smother a piece of toast in the spread, then top with fruit, chia seeds or a seed mix.
Dip vegetable sticks such as celery and carrot into a pot of nut spread.
Step By Step Guide to Making ANY Nut Butter
Ingredients
250g salted roasted nuts (if using unsalted you will need to add salt to taste).
Method
Place nuts in Thermomix Bowl. (any nuts)
Blend 30 sec/Speed 6. Scrape down the bowl.
Blend 1 min/Speed 7.
At this point, the nut butter should have a spreadable consistency. You can continue to scrape down the bowl and blend until the butter has reached the level of smoothness you desire.
There is no need to add any oil to the mixture. As you blend, the oil from the nuts will make the peanut butter smoother and runnier.
Let's Connect!
I'd love you to tag me on social media if you make any of my Thermokitchen recipes! Chatting and seeing your pictures really makes my day. #Thermokitchen
For more delicious Thermomix recipe inspiration LETS CONNECT on;
FACEBOOK
TWITTER INSTAGRAM  PINTEREST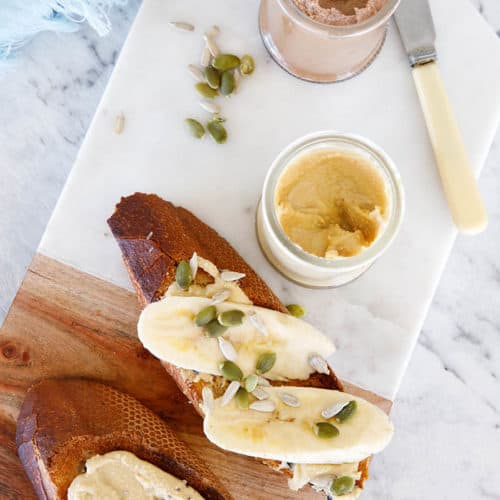 Chocolate Peanut Butter
Chocolate Peanut Butter is a treat breakfast as it includes real Cadbury milk chocolate. Top with fruit and seeds to add some extra nutritional value.
Cuisine:
American, Australian
Keyword:
Breakfast, nut butter,, Nutella, peanut butter, snack, Spread
Ingredients
200

g

roasted salted peanuts

200

g

Cadbury milk chocolate chips
Instructions
Place the nuts and chocolate in TM Bowl. Blend 30 sec/Speed 6.

Scrape down the bowl. Blend 1min/Speed 6.

Scrape down the bowl and continue to blend until the desired consistency has been reached.
Recipe Notes
Regardless of which nut you choose to make into a nut butter the method remains the same. Just blend away with no added oil and scrape down the bowl periodically. Happy cooking 🙂
Nutrition Facts
Chocolate Peanut Butter
Amount Per Serving
Calories 216
Calories from Fat 126
% Daily Value*
Fat 14g22%
Cholesterol 3mg1%
Sodium 100mg4%
Potassium 155mg4%
Carbohydrates 17g6%
Protein 6g12%
Vitamin A 45IU1%
Vitamin C 0.1mg0%
Calcium 43mg4%
Iron 0.7mg4%
* Percent Daily Values are based on a 2000 calorie diet.
I really hope you have enjoyed this recipe. I know the addition of chocolate to the peanut butter takes the recipe out of the realm of healthy, but I'm all in favour of moderation.
This is one of those treat breakfasts that I'm happy to load up with fruit and serve on occasion to the kids.
I'd love to hear your thought on the recipe. Have you made your own nut butter? What is your favourite variation?  Please feel free to leave a comment and a rating below.