Basic Sushi Rice Thermomix Recipe
Published
Using this method will enable you to make perfect sushi rice in your Thermomix every time. The rice is ideal for sushi, Inari tofu pocket or just sticky rice in a bento.
Since I purchased my Thermomix about 5 years ago I have slowly given away all the appliances that are now unnecessary. One of the last appliances to go was my rice cooker. I know the Thermomix makes great risotto but I'm very fussy with my sushi rice. So it took me a little while to perfect sticky rice and make the change to Thermomix sushi rice.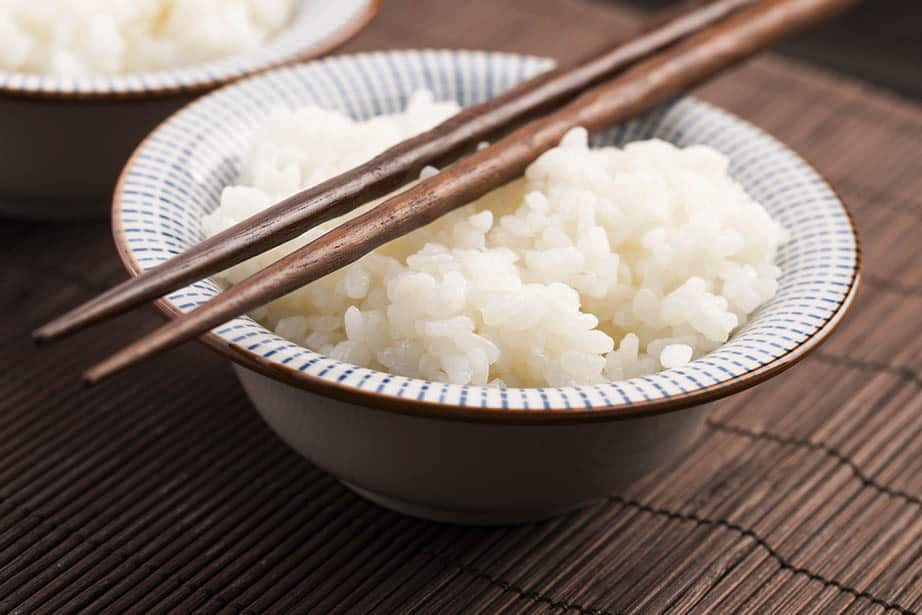 I have provided some tips below for making the perfect sticky rice. Regardless of whether you're making the rice on the stove, rice cooker or Thermomix it's important to follow these preparation tips.
7 Tips for Making Perfect Sticky Rice
Chose the correct rice. Sushi rice is short grain rice which is more round in shape than other types of rice. It is commonly called sushi rice but it also goes by the name "Shari" rice. Other short grain rice will not give the same result and should be avoided.
Wash the rice under running water for 1 to 2 minutes whilst stirring the rice gently with fingers. This allows the excess starch to be removed so the end result doesn't become too gluey. It is not necessary for the water to run clear.
Once the rice is cooked transfer it to a large bowl ready to add sushi seasoning.
Season the rice with sushi seasoning whilst the rice is still hot.
Use a sushi paddle to stir/cut and turn the rice gently so as not to squash the cooked grains.
Fan the rice to cool it ready for use.
Do not refrigerate the rice once it's cooked as it will become hard and unpalatable.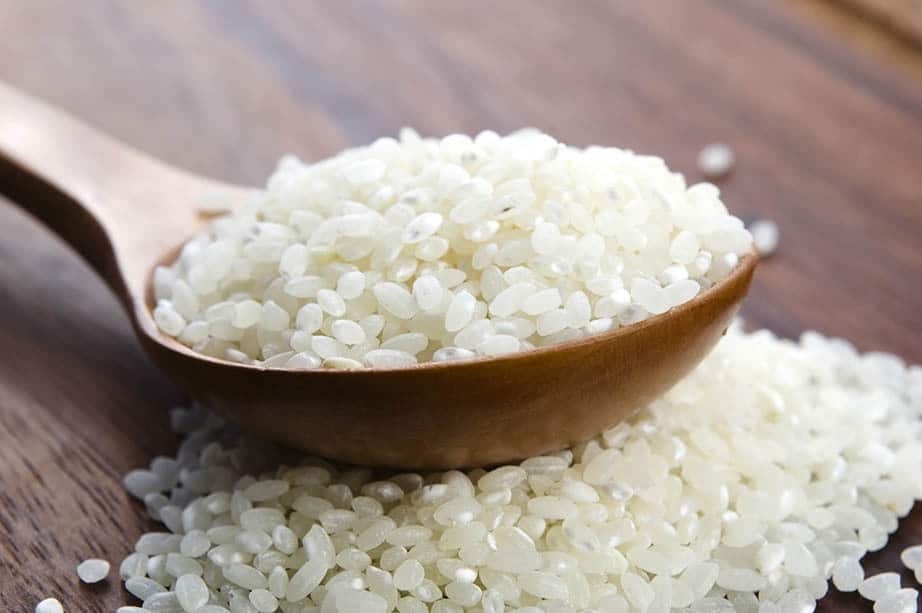 How to Use Your Sushi Rice
Seasoned rice can be used in a number of different ways. Of course, you could always make your favourite sushi roll with the rice, but if you're looking for some other healthy lunch box ideas I've included some pictures and recipe links.
These cute little Inari pockets were made using leftover rice from making sushi. The rice was placed into commercially prepared tofu pockets.
Another nice way to use the sticky rice is in a poke bowl. This rice has been coloured pink using red cabbage, but you could easily use regular Thermomix sushi rice.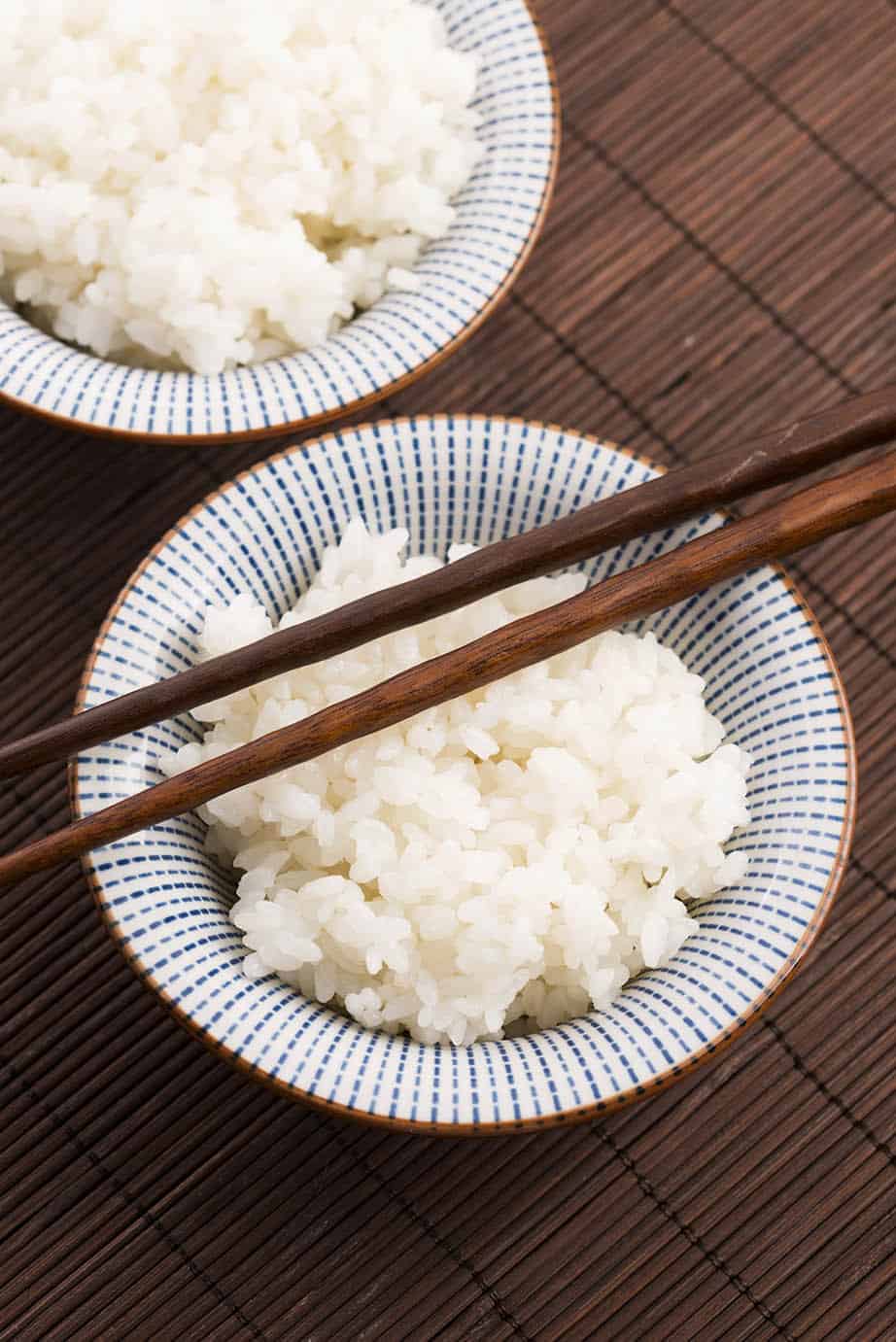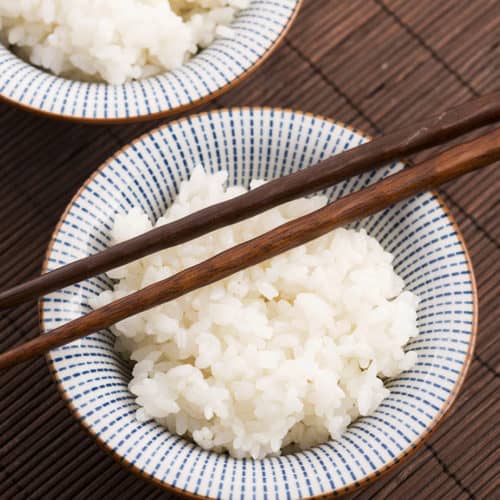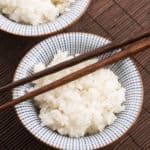 Thermomix Sushi Rice
Using this rice cooking method you will make the perfect sushi rice in your Thermomix every time. Use the sticky rice for sushi, Inari tofu pocket or bento.
Keyword:
Japanese Rice, Sticky Rice, Sushi, Sushi rice,, Thermomix recipe, Thermomix rice
Ingredients
300

g

sushi rice

1000

g

water

warm tap

1

TBSP

sushi vinegar
Sushi Seasoning
3

TBSP

sushi vinegar

1/2

TBSP

white sugar

1/2

tsp

salt
Instructions
Sushi Seasoning
Place all the sushi seasoning ingredients in TM bowl. Heat 3min/Varoma/Speed 2.

Reserve the sushi seasoning to use over the cooked rice.
Cooking the Rice
Place the sushi rice in the internal steam basket. Wash it well under running water for 1 - 2 minutes.

Add 1000g water and 1 TBSP vinegar to the TM bowl.

Place the internal steam basket with rice into TM bowl. Cook 20min/Varoma/ Speed 3.5.

Once TM is finished turn the rice out into a large bowl and pour the sushi seasoning over the rice. Stir gently, and allow the rice to cool.
Nutrition Facts
Thermomix Sushi Rice
Amount Per Serving
Calories 285
% Daily Value*
Sodium 308mg13%
Potassium 57mg2%
Carbohydrates 62g21%
Protein 5g10%
Calcium 16mg2%
Iron 1.2mg7%
* Percent Daily Values are based on a 2000 calorie diet.
Let's Connect!
Thank you for coming to visit my site. I truly hope you enjoy all of my recipes. Don't forget to tag me on social media if you make any Thermokitchen recipes! I love chatting and seeing your pictures. #Thermokitchen
FACEBOOK
TWITTER INSTAGRAM  PINTEREST
If you make my recipes please let me know what you think in the comments section below. I would also love to hear what other recipes you're interested in making.
P.S Rating the recipe lets others know if they should make the dish 🙂