Cheese Garlic Bread Star – A Fancy Pull Apart Recipe
Published
Just when you thought garlic bread couldn't be improved I bring you my star cheese garlic bread. It's everything you love about homemade garlic bread, except I've thrown in fresh herbs and oozy cheese.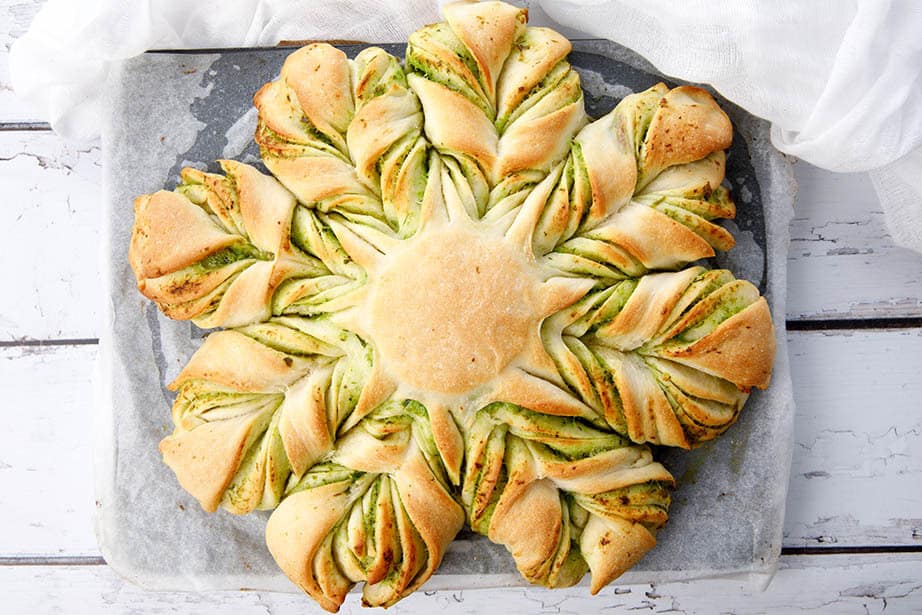 Making the pull apart is much simpler than it looks and the results are super impressive. The hardest part is sharing! It's so delicious I just wanted to just eat it all myself.
I recently used this recipe in one of my cooking classes and all the ladies were surprised at how easy it was to make. Take a quick look at the video below if you want to see the star bread and a few other dishes being made in the class.
So if you're hesitating, DON'T! Get cooking 🙂 It's super fun.
Star Bread Watch Points
Although its super simple to make my cheese garlic bread, there are a few watchpoints which are worth mentioning.
Don't overfill the layers of dough with the garlic spread.
Make sure to pinch closed the points of the stars well so they don't open during cooking.
Ensure the bread is cooked completely on the bottom before serving. There is a lot of butter so cooking time may vary depending on the filling (Just take a peek at the underside of the bread.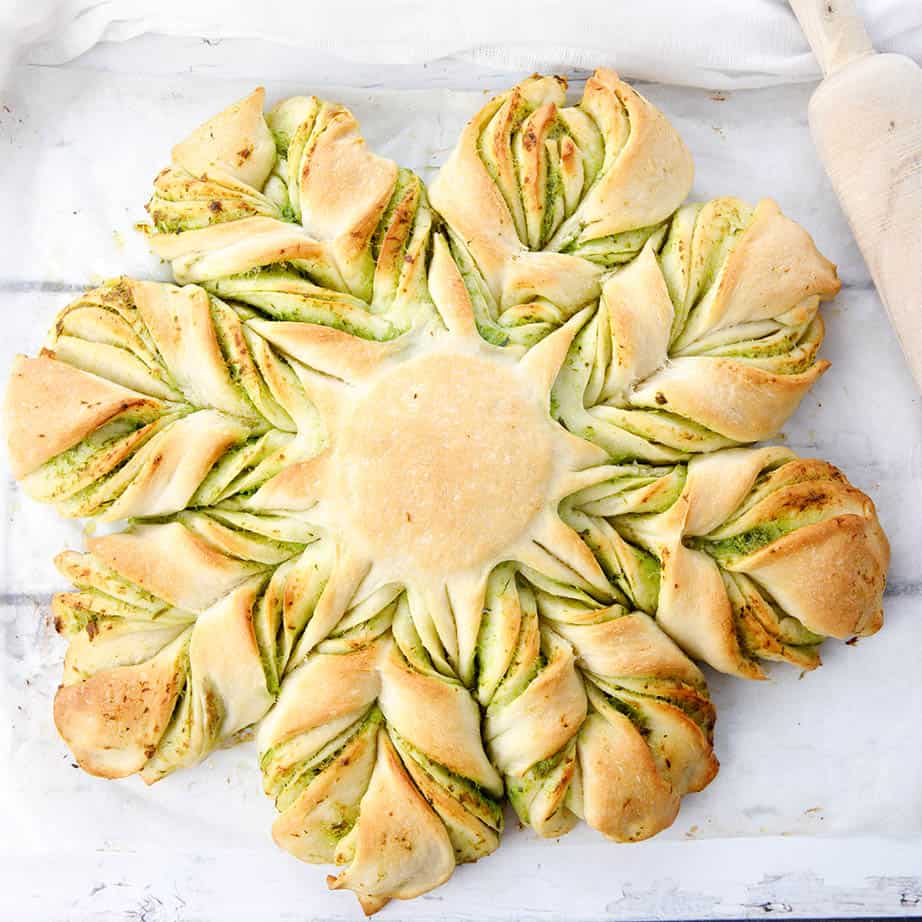 Cheese Garlic Bread Variations
There are so many possible variations to the recipe. You could choose a sweet or savoury filling. Below I have listed a few suggestions;
Sweet Fillings
Cinnamon Butter
Nutella Spread
Strawberry Jam
Savoury Fillings
Sundried Tomato Pesto
Olive Tapenade Spread
Rocket Pesto Spread
Back to the recipe, I've included some step by step photos to give you some pictorial images to refer to whilst you're making and assembling the cheese garlic bread.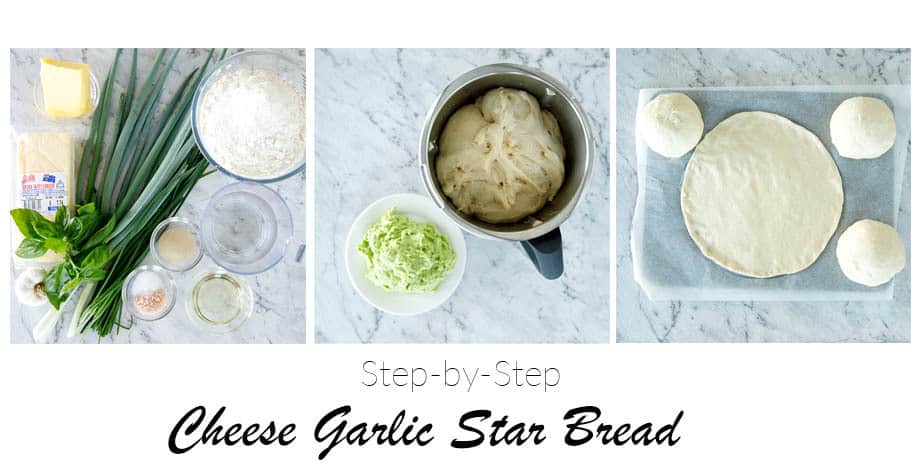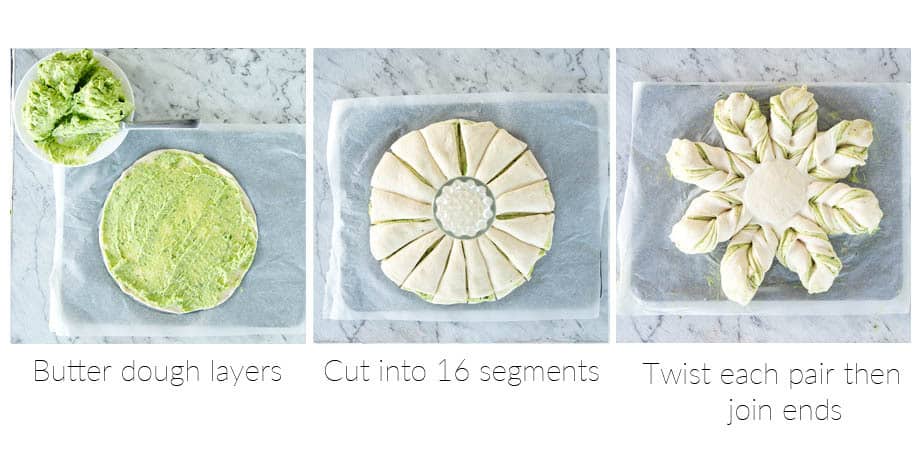 Don't forget to tag me on social media if you make any Thermokitchen recipes! I love connecting and seeing your pictures. #Thermokitchen
For more for more delicious Thermomix recipe inspirations FOLLOW ME on;
FACEBOOK
TWITTER INSTAGRAM  PINTEREST
Star Cheese Garlic Bread with fresh herbs
This star-shaped Cheese garlic bread is everything you love about homemade garlic bread, except I've thrown in fresh herbs, oozy cheese and upped the presentation a notch or two.
Ingredients
Bread Dough
320

g

warm water

10

g

dry yeast

5

g

sugar

510

g

flour

bakers

5

g

salt

25

g

oil
Cheesy Garlic Butter
20

g

garlic

60

g

shallots

about 2 shallots cut into 10 cm lengths

10

g

chives

cut into 10cm lengths

10

g

basil

120

g

tasty cheese

quartered

150

g

butter

room temperature

1

olive oil

spray
Instructions
Bread Dough
Wash a glass bowl in hot water then dry thoroughly.

Spray the clean, warm bowl with oil and put it in a warm place.

Add the water, yeast and sugar to TM bowl. Combine 2 min/50 degrees/Speed 1.5.

Add flour, salt and oil to the TM bowl. Knead 2 minutes.

Remove the dough from the TM and form it into a ball. Place the dough in the warmed bowl and cover with a clean tea towel. Leave to proof until doubled in size.
Cheesy Garlic Butter
Place the garlic, shallots, chives and basil in the TM bowl. Chop 3 sec/Speed 9

Add the cheese to the herb mix. Chop 3 sec/Speed 9.

Add the butter to the TM bowl. Combine 5 sec/Speed 5. Scrape down the bowl and repeat if necessary.
Assembling the Star
Once the dough has proofed divide the dough into 4 equal portions.

Line a cookie slide with baking paper and preheat the oven to 180 degrees Celsius.

Get a second sheet of baking paper and trace a circle around a large bowl.

Spray oil on the traced circle, and place one of the balls of dough in the centre of the circle.

Roll the dough out to fill the circle.

Carefully lift the dough off the guide and place it on the baking tray.

Spread 1/3 of the butter mixture over the first circle of dough.

Take the next ball of dough and roll out the same as the first using the circle as a guide.

Place the 2nd circle on top of the first. Repeat the garlic butter process.

Continue with the remaining balls of dough leaving the top layer free from butter.

Place a small glass in the centre of the circle.

Use a knife to cut through all the layers of dough at the 12 o'clock, 3 o'clock, 6 and 9 points.

Divide each quarter of the circle into two more segments. You should have 16 segments.

Remove the glass from the centre.

Choose two "side by side" segment pairs and twist them twice away from each other.

Repeat this process all the way around the circle.

Pinch the ends of each pair of dough twists so they hold together whilst baking.

Spray the dough lightly with olive oil and bake for 30-40 minutes or until browned and cooked through.
Recipe Notes
There will be leftover garlic and herb butter. To store the butter just place it on plastic wrap and roll it up into a sausage shape. Store it in the fridge or freezer. The butter can be used over vegetables, steak or as a spread on pizza dough.
Nutrition Facts
Star Cheese Garlic Bread with fresh herbs
Amount Per Serving
Calories 419
Calories from Fat 189
% Daily Value*
Fat 21g32%
Cholesterol 49mg16%
Sodium 420mg18%
Potassium 119mg3%
Carbohydrates 46g15%
Protein 10g20%
Vitamin A 655IU13%
Vitamin C 2.1mg3%
Calcium 117mg12%
Iron 2.9mg16%
* Percent Daily Values are based on a 2000 calorie diet.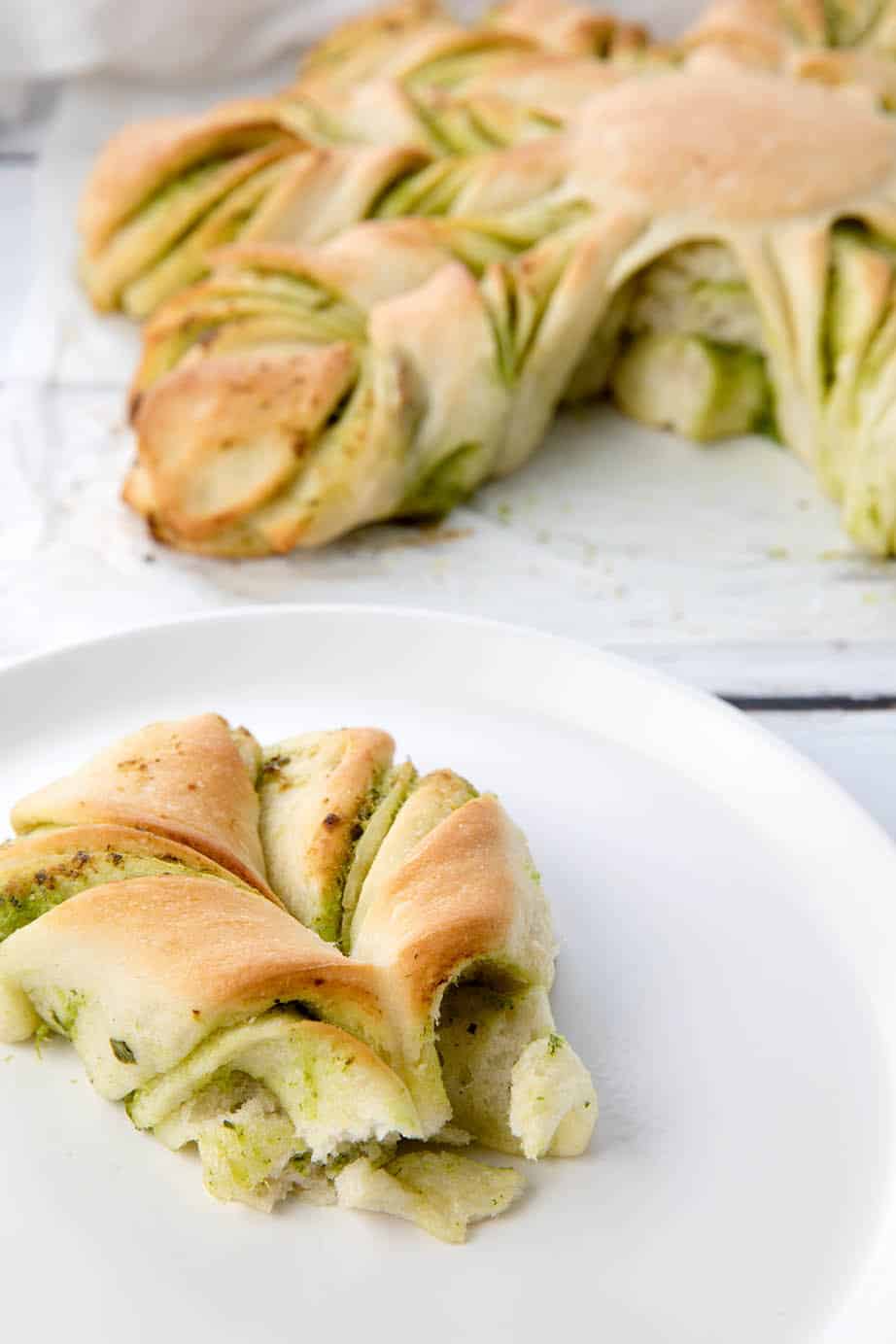 If you've tried my Cheese garlic bread star recipe please leave a message and let me know what you thought.  The more we chat the more I know what recipes I should be making and sharing. If you have any recipe suggests I would also love to hear them.
Your comments may also help another Thermomixer trying to choose a recipe for their family.
Thanks so much for stopping by!
Happy Cooking
j