Chocolate Oatmeal Porridge Thermomix Recipe
Published
Chocolate oatmeal is a decadent breakfast idea, perfect for the serious chocoholic! This warming bowl of comforting porridge is topped with banana, puffed wheat, bliss balls, nuts and coconut flakes.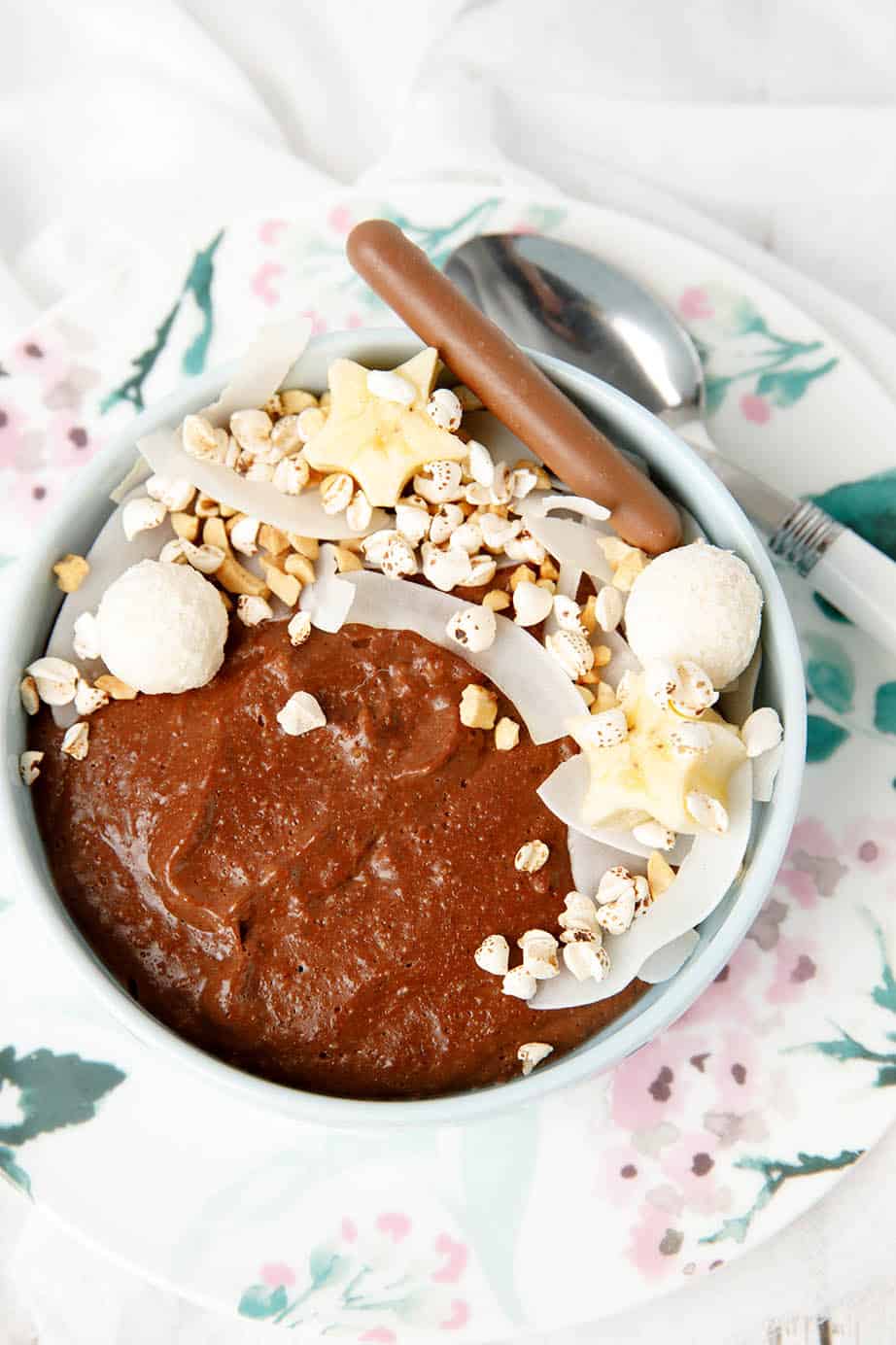 If you're missing your pretty Summer smoothie bowl, you can swap it for my winter warming, "Instaworthy," chocolate porridge bowl.  You can add all your favourite smoothie bowl toppings but instead over a frozen treat, you have a nourishing bowl of oats which will keep you warm on the inside.
Whilst chocolate for breakfast may not be everyone favourite way to start the day I am sure there will be many readers out there who would love to give this recipe a try.  My picture makes this chocolate oatmeal look like a dieters nightmare but in reality, it isn't that bad.
Oatmeal Health Facts
Oats are whole grains and high in fibre. Fibre is important for a number of reasons, firstly it makes a slow passage through our body which keeps us full longer. Secondly, fibre is important for gut health, is a pre-biotic and helps to keep our bowels regular.
Oatmeal is also a slow release carbohydrate so they stabilise blood sugar levels between meals which again help you feel more satisfied for longer after eating. They also contain protein and nutrients such as B vitamins, vitamin E, minerals, healthy fats and antioxidants.
All oatmeal is nutritious and has a similar nutrient profile… but there are some important differences between Steel Cut Oats, Rolled Oats and Quick Oats!
The nutritional differences come from the amount of processing.
What is the difference between rolled oats, quick oats and steel cut oats?
All three products started life as the same grain, oats. The processing of the oat groat is where the differences lie. All three types of oats are considered whole grains but they do have varying nutrition levels. The GI (Glycemic Index) and fibre content will vary between the three varieties.
Steel Cut Oat
The oat is processed by chopping the whole oat grain into pieces. This is results in minimal processing. Steel cut oats require a longer cooking time than rolled oats or quick oats. These oats have a GI below 55 and 8gm fibre per 100g.
Rolled Oats
As the name suggests the oat grain undergoes a flattening process. This allows the oats to cook faster than Steel Cut Oats.  These oats have a GI below 65 and 6gm fibre per 100g.
Quick Oats
These are the most processed oats.  They have been flattened and pressed thinner than rolled oats. The extra processing reduces the fibre in the oats. This allows them to cook faster than the other two types of oats. They will absorb more liquid and not hold there shape as well as the other oats. The quick oats GI is 83 and 3.6gm fibre per 100g.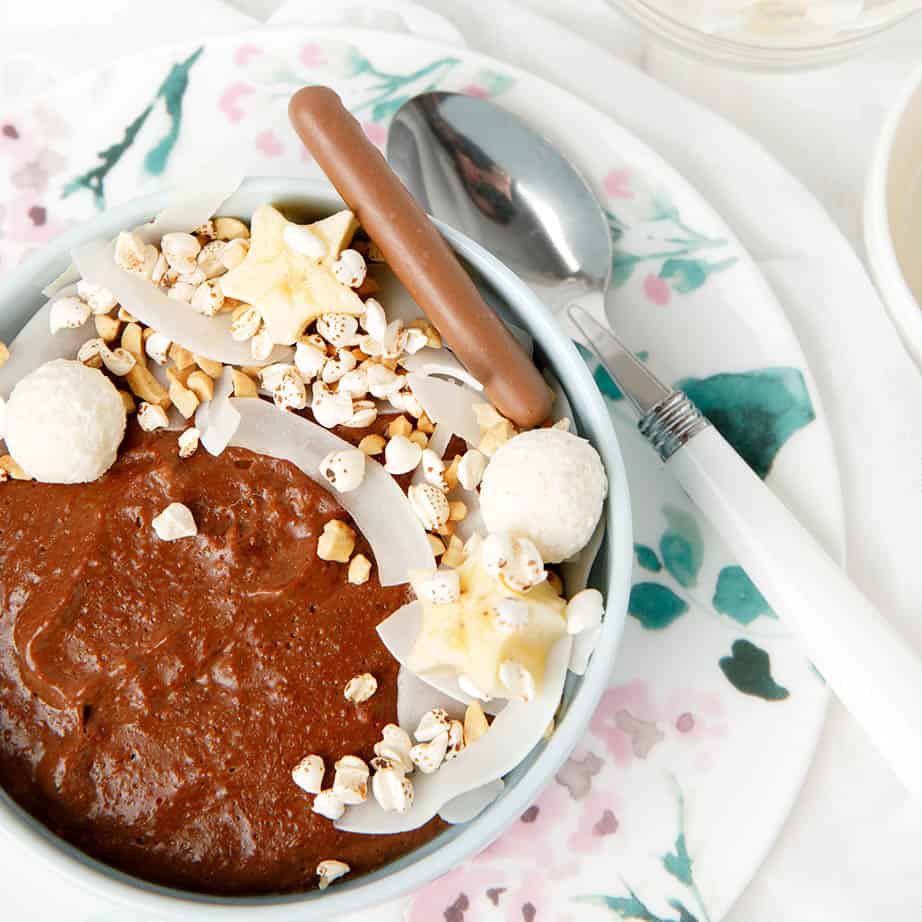 Chocolate Oatmeal Ingredients & Substitutes
Milk
Feel free to use your favourite milk. Nut milk, coconut milk, skim milk, soy milk all are suitable in this recipe.
Sweetener
You can use brown sugar, coconut blossom sugar, rapadura or muscovado sugar. I prefer to use less processed darker sugars as it adds more flavour to the oats and is a slower release sugar.
Cacao Powder V's Cocoa Powder
The best way to explain the difference between cocoa and cacao is that cacao is a raw product. Both powders are made from the same bean, the difference is in the processing.
The cocoa bean is cold pressed so the nutrients, fibre and enzymes remain intact whilst the cacao butter is removed. Cocoa powder is the result of roasting the beans prior to the extraction of the cacao butter.  Roasting the beans reduces the nutritional value of the cocoa powder.  You can use either cocoa or cacao depending on your preference.
Whilst I may have sold you on the benefits of including a hot bowl of oatmeal in your morning routine I realise some people may not be able to face a bowl of chocolate in the morning. I'm sorry to say, I am one of those people!! My family loved the Chocolate oatmeal but I will be continuing to have my Apple Pie Oatmeal for breakfast.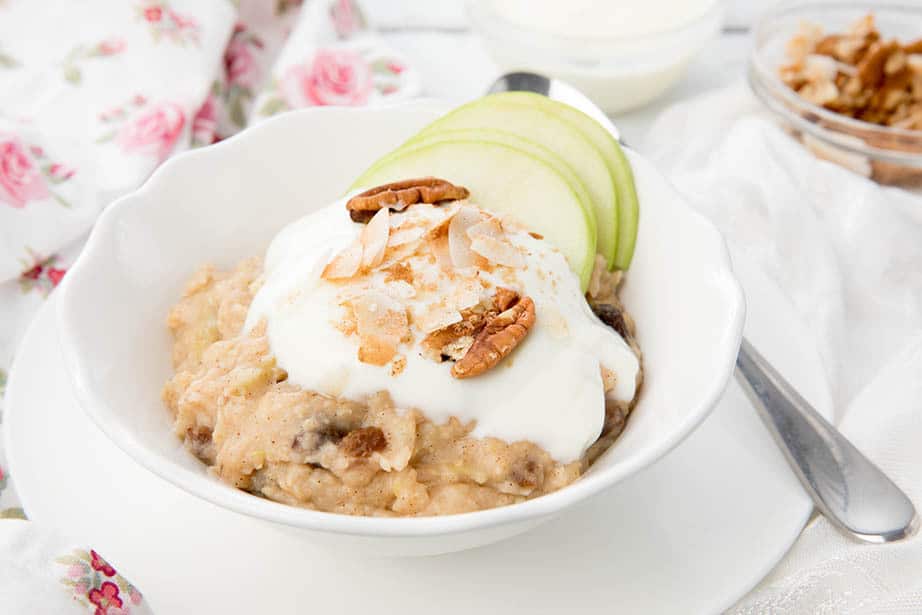 Let's Connect!
Don't forget to tag me on social media if you make any Thermokitchen recipes! I love chatting and seeing your pictures. #Thermokitchen
For more delicious Thermomix recipe inspirations LETS CONNECT on;
FACEBOOK
TWITTER INSTAGRAM  PINTEREST
Which porridge would you make, chocolate or apple pie?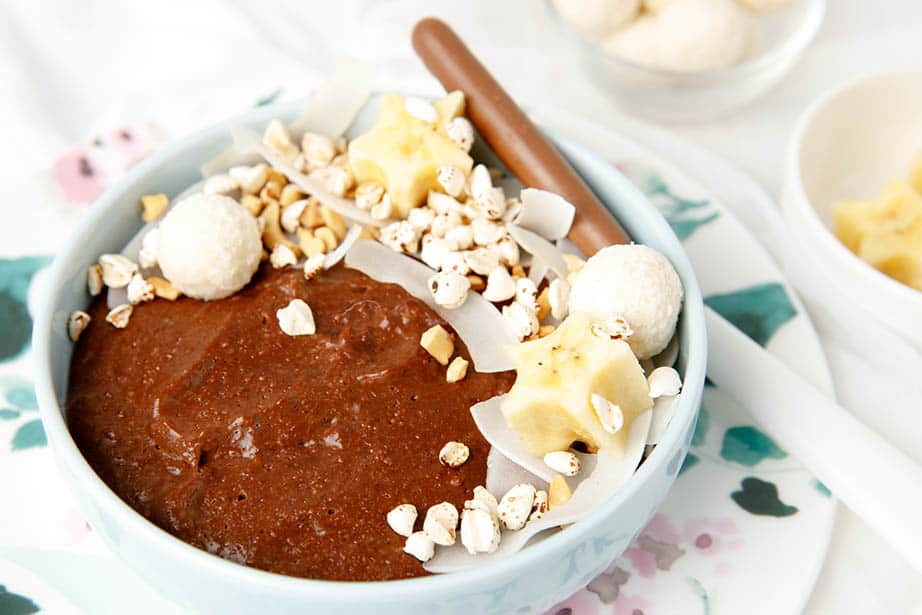 Chocolate Oatmeal Recipe
Course:
Breakfast, Brunch
Cuisine:
American, Australian, English
Keyword:
Chocolate, Chocolate porridge, porridge, Thermomix, Thermomix oatmeal, Thermomix porridge
Ingredients
1

cup

90g Rolled Oats

large flat oats, not quick oats

2

cups

500g milk

non-dairy milk is fine

2

TBS

unsweetened cacao powder

or unsweetened cocoa powder

3

tsp

brown sugar

or coconut blossom sugar

1

tsp

vanilla paste
Oatmeal Toppings
2

banana

sliced

2

tsp

peanuts

chopped

2

tsp

coconut flakes

2

tsp

puffed grains
Instructions
Place the oatmeal in TM Bowl. Mill 3 sec/Speed 9.

Add the milk, cocoa powder, sugar and vanilla to the bowl. Cook 10min/90 degrees/Speed 3.

Divide the porridge into 4 bowls and top with garnishes.

Serve with extra milk and maple syrup if desired.
Recipe Notes
Conventional Cooking Method
This chocolate porridge can also be made on the stovetop although it won't be as smooth as the Thermomix version.
Simply add all the porridge ingredients to a saucepan and cook over a medium heat stirring constantly.
Once the porridge becomes think it is ready to be served. If you feel it is too thick you can always add more milk.
Garnish with the toppings and serve with milk and maple syrup if desired.
Nutrition Facts
Chocolate Oatmeal Recipe
Amount Per Serving (150 g)
Calories 209
Calories from Fat 36
% Daily Value*
Fat 4g6%
Cholesterol 2mg1%
Sodium 55mg2%
Potassium 535mg15%
Carbohydrates 38g13%
Protein 9g18%
Vitamin A 290IU6%
Vitamin C 5.1mg6%
Calcium 169mg17%
Iron 1.5mg8%
* Percent Daily Values are based on a 2000 calorie diet.
I decorated the chocolate oatmeal bowl with some bliss balls from my free eBook. If you would like a copy just follow the link and download it.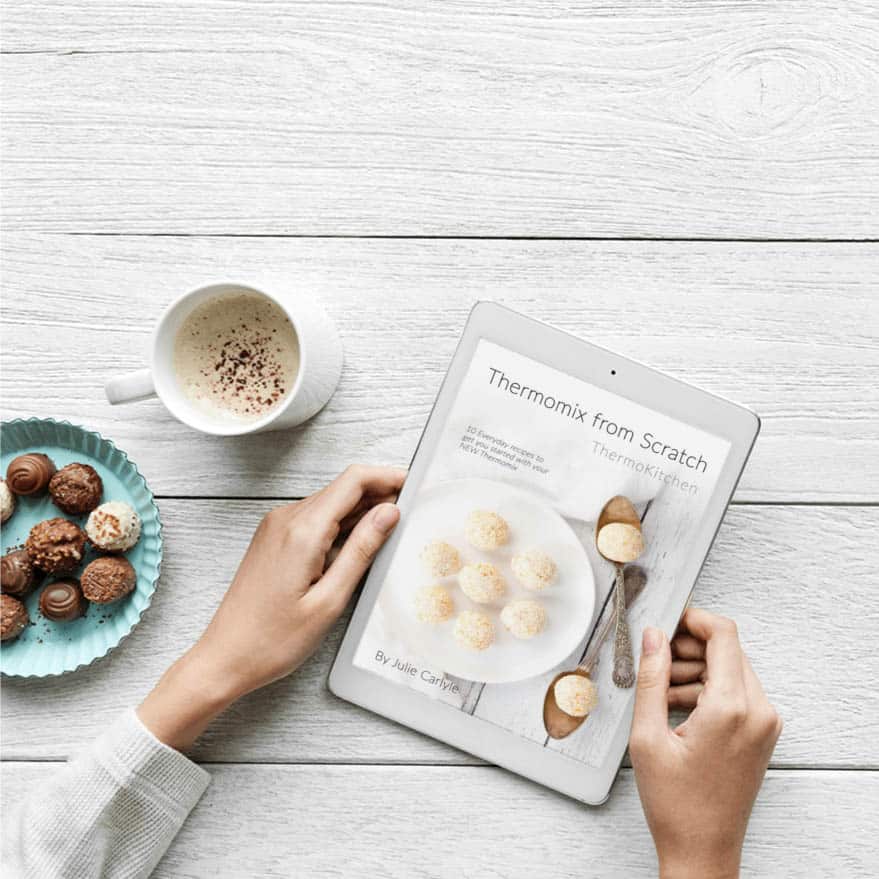 Once again for stopping by and checking out my website. As always, if you make this recipe please let me know what you think in the comments section. Oh, and don't forget to rate the recipe too, this lets others know what you thought of the recipe.
Happy Cooking
j