Healthy Smashed Bean & Pea Dip Thermomix
Published
Smashed Bean and Pea Dip is the perfect choice when you want a creamy, moreish dip which is also healthy and delicious! The feta gives the dip zing, whilst the seeds add crunch.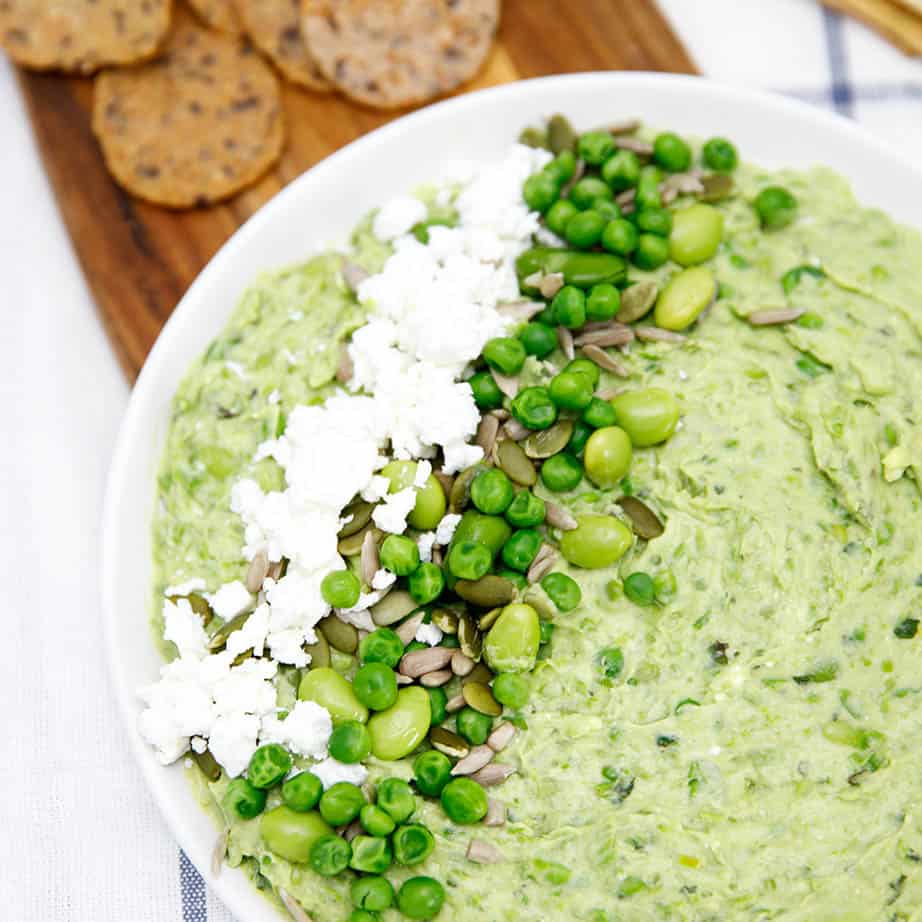 Sometimes I see a recipe and I want to make straight away.  Other recipes I seem to skim over or miss entirely. I've had the recipe for this healthy Smashed Bean & Pea Dip for twelve months now but I haven't been inspired to make it. I'm sure you're wondering what changed? Well, I went to a Thermomix cooking class and my lovely ThermoRep made this dip.  It was sensational!
This dip has everything I want in a snack. It's tasty, healthy, low in fat and high in fibre! I'm sure I've told you how much I love to eat a high fibre diet, but in case you missed it.
Why Fibre is GOOD!
Fibre is the magic ingredient that keeps you feeling satisfied longer. There is also a lot of research on gut bacteria which suggests a diet high in fibre feeds the good bacteria.  This is the bacteria which likes to keep you thin. I could go on forever about this topic but if you're interested, take a look at this article on fibre. The article also includes a yummy breakfast recipe.
Smashed Bean & Pea Dip Substitute Ingredients
The recipe for my dip includes peas, beans and edamame. All of these ingredients are found in the freezer section of the supermarket. In my store, the ingredients were side by side. If you have trouble finding either ingredient it's easy to make substitutes.
No Edamame -use the same amount of peas and make up the difference with broad beans.
No Broad Beans – use the same amount of peas and make up the difference with edamame.
Don't like mint – Substitute the mint for 5gm Dill or Basil
Can't find the pepita, sunflower seed and pine nut mix – Substitute for any nuts or seeds you like.
Serving Ideas
As you can see by my pictures, I like to add a topping to the dip so guests can load up crackers with extra feta, seeds and whole beans.
For a fancier vegetarian finger food, you could grill bruschetta and add a spoonful of the smashed Bean dip and top with micro herbs or watercress.
Leftover dip is fabulous as a spread on sandwiches.
Let's Connect!
Don't forget to tag me on social media if you make any Thermokitchen recipes! I love chatting and seeing your pictures. #Thermokitchen
For more delicious Thermomix recipe inspirations LETS CONNECT on;
FACEBOOK
TWITTER INSTAGRAM  PINTEREST
I would love to know how you go with this recipe so please feel free to share your pictures on ThermoKitchen.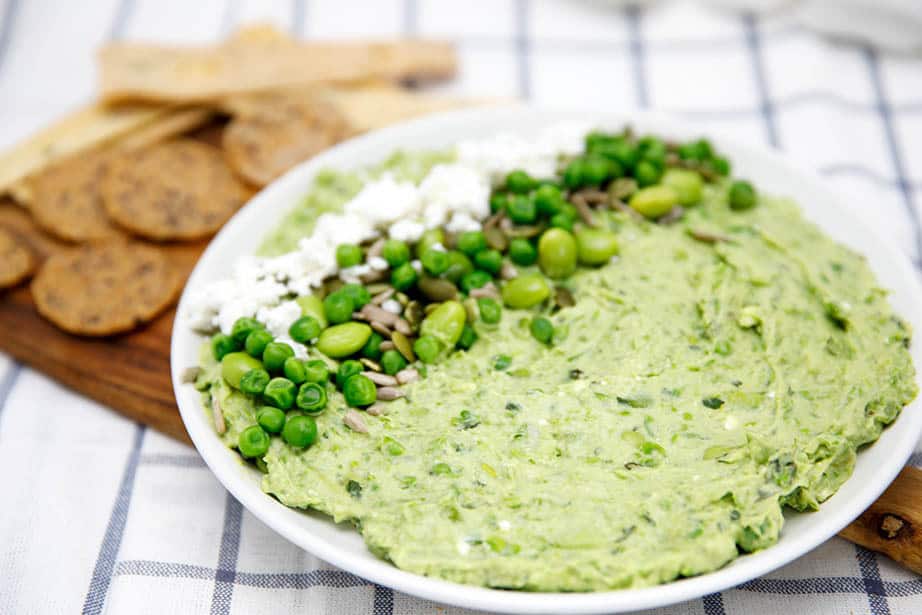 I made these as part of a live Facebook broadcast so if you would like to see a replay of the Bean & Pea Smashed Dip Video just follow the link. If you're not a member of the ThermoKitchen Facebook group page you may need to join first.
Step by Step Images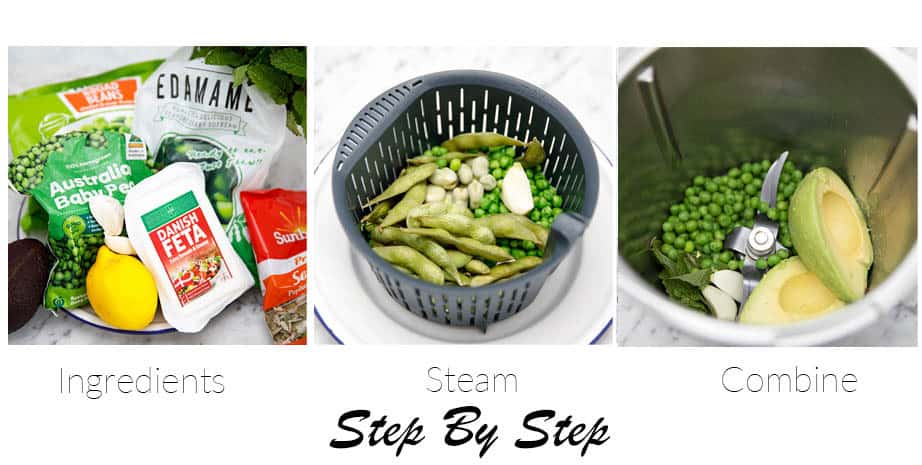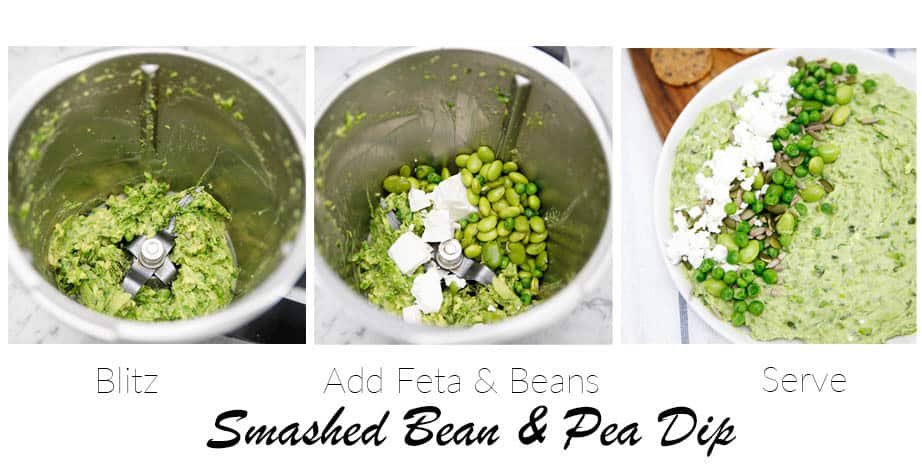 Smashed Bean & Pea Dip
A simple healthy dip that is low calorie and delicious!
Keyword:
Dip, Healthy snack, High Fibre, Thermomix Dip, Thermomix recipe
Ingredients
120

g

Frozen Peas

70

g

Frozen Edamame

70

g

Frozen Broad Beans

2

cloves

garlic

1

shallot

white part only - Long green and white shallot

1

Tbs

fresh lemon juice

50

gm

Danish Feta

1

avocado
Garnish
1

TBS

pepita, sunflower and pine nut mix

30

g

Danish Feta
Instructions
Place the garlic, edamame beans, peas, and broad bean in the internal steaming basket.

Add 800gm water to the TM bowl.

Place the steaming basket into the TM bowl and steam. 10 min/Varoma/Speed 3.

Remove the steaming basket and discard the water from the TM bowl.

Take the shells off the edamame and broad beans.

Place the roughly quartered shallot, avocado, mint, garlic, feta, lemon juice 3/4 of the shelled beans and 3/4 of the peas into the empty TM bowl.

Blitz 3 sec/Speed 7. Scrape down the TM bowl.

Repeat Blitz 3 sec/Speed 5. Scrape down the TM bowl.

Add the remainder of the peas and beans. Blitz 3 sec/Speed 5.

Remove the dip from the TM and place it into a serving dish. Garnish with extra feta and seed mix.

Cover and refrigerate until cold. Serve
Recipe Notes
Make sure you allow the dip time to cool before serving.
If you can't find Edamame beans just use more broad beans. If you can't find broad beans add extra Edamame.
Nutrition Facts
Smashed Bean & Pea Dip
Amount Per Serving
Calories 84
Calories from Fat 45
% Daily Value*
Fat 5g8%
Cholesterol 7mg2%
Sodium 123mg5%
Potassium 190mg5%
Carbohydrates 6g2%
Protein 3g6%
Vitamin A 155IU3%
Vitamin C 8.2mg10%
Calcium 51mg5%
Iron 0.7mg4%
* Percent Daily Values are based on a 2000 calorie diet.
Although the dip is quick to make a little bit of pre-thought is needed for the recipe.  The frozen vegetables need to be steamed so time must be allotted to allow the dip to chill before serving. Having said that it's such a quick recipe I'm sure you will be making it again and again.
As I said in the broadcast, the original recipe was adapted from the Thermomix Festive Cookbook.  Today I'm sharing my version of the dip. I think my recipe is even nicer as it has some crunch and a little more lemon and feta. Funnily enough, I noticed the recipe has also appeared in other, non-thermie magazine! It's obviously a popular dip!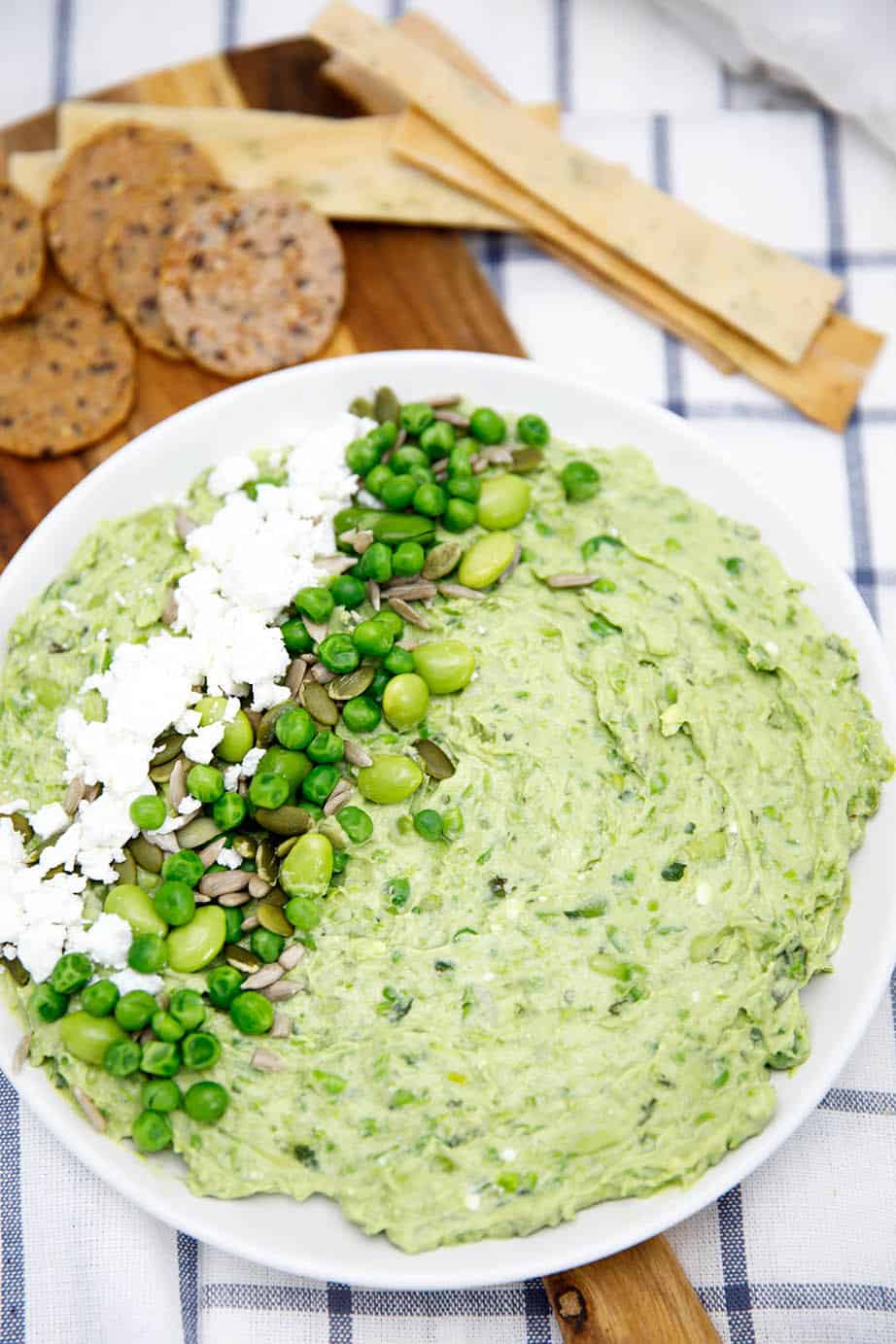 Do you have any favourite Thermomix dips you would like to share? I would love to try some new recipes. Please feel free to leave a comment and let me know what you thought of the dip. Commenting lets other readers know what you thought of the recipe and any changes you made 🙂
Happy Cooking