Masterchef Ghanaian Peanut Stew Thermomix Style
Published
Ghanaian Peanut Stew is an authentic  African dish which combines curry spices and a peanut satay. The result is a rich, chicken satay style curry, perfect for a winters night.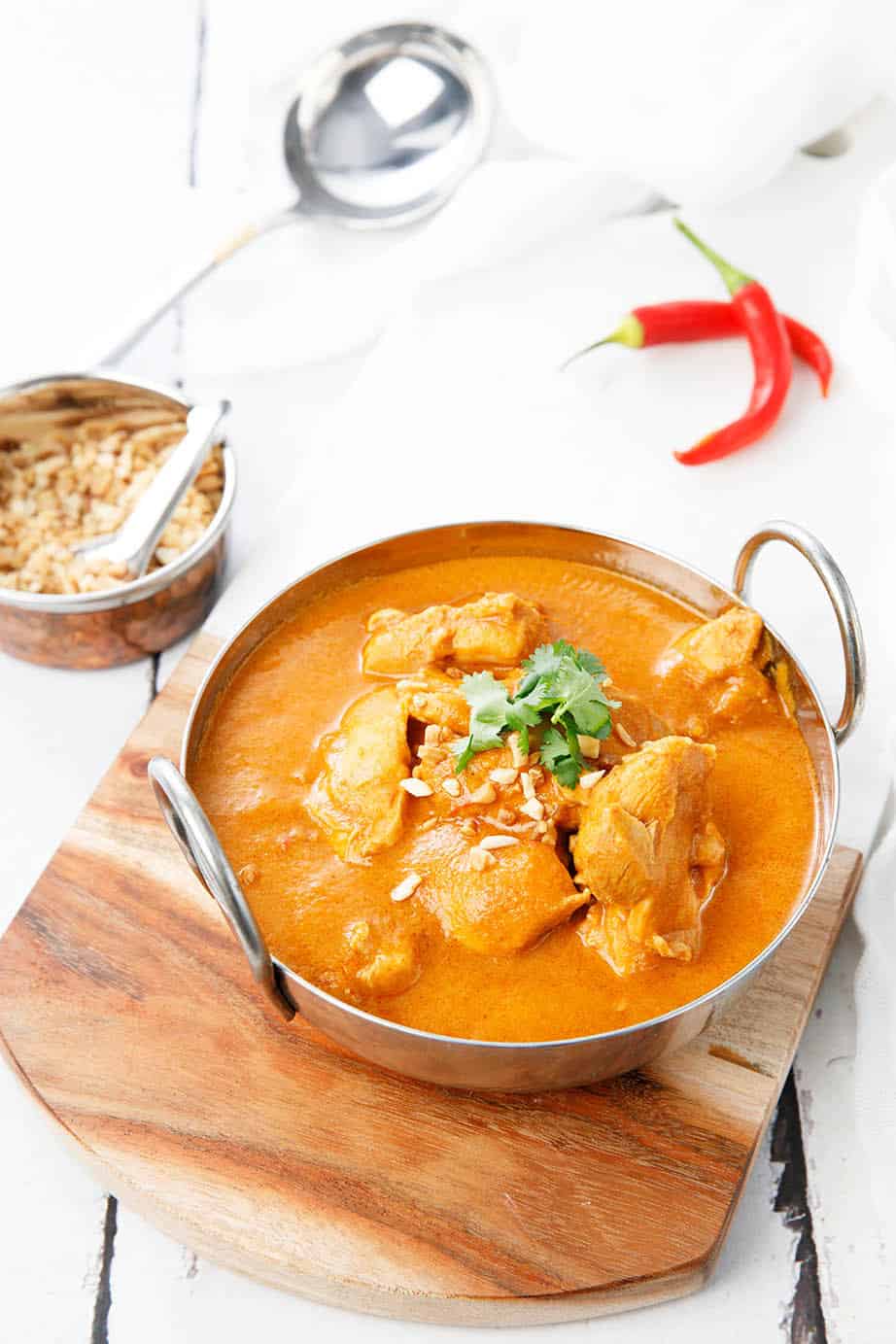 I love watching Masterchef for my food inspiration! When contestant Chloe Carroll presented this unique traditional African dish to the judges, I knew I would need to make it too. I had never before imagined combining two of my favourite flavours into one dish!
After Masterchef, I gave a shout out to the ThermoKitchen group page which confirmed that other Thermomix owners wanted to have this recipe converted for the Thermomix too.
Chloe's recipe on the Masterchef website is very simple. It didn't have a lot of ingredients and not very many spices. I wondered where the depth of flavour the judges had mentioned would come from. I decided to make the dish exactly as the recipe stated and resist the urge to tweak the recipe straight away.
The result of the first attempt was a lovely meal, but not something I would rush to make again. There was only the barest hint of satay, a slight suggestion of curry spices and not much flavour overall.
I thought the dish was rather bland, so I asked my husband what he thought.
He confirmed my fears,"It's not as good as a satay, and it' a poor curry."
I wasn't too disappointed because I had suspected the dish was missing some zing when I looked at the original ingredients. I checked other variations of Ghanaian Peanut Stew online which confirmed my hunch.
Variation to the Masterchef Original Ghanaian Peanut Stew
In order to make a truly amazing Thermomix Ghanaian Peanut Stew, I made the following alterations to the Masterchef recipe;
Substituted the chicken Marylands pieces for boneless thigh fillets.
Increased the 2 cloves of garlic to 4.
Added fresh ginger to the recipe as suggested in other versions of this recipe.
2 Scotch Bonnet chillies are suggested but these are not available here the closest match is habanero chilli. I wimped out totally and used just one mild long red chilli.
The recipe suggests 1 teaspoon of cayenne pepper but as I was cooking for the family (children) I reduced it to a 1/2 teaspoon.
Reduced the stock as the Thermomix doesn't require as much liquid when cooking.
Increased the peanut butter from 1/2 cup to 1 cup as some recipes online showed.
Added some vinegar to give the dish a lift as I would with a Vindaloo.
Added Garam Masala at the end of the dish for a more traditional curry profile.
Please note: You can make this dish milder by omitting the fresh chillies and reducing the chilli powder 
In Conclusion
The alterations to the original recipe make this a sensational winter's meal. This is truly a unique dish which is not fussy and very quick and easy to make. I've included some step by step pictures to help you follow along.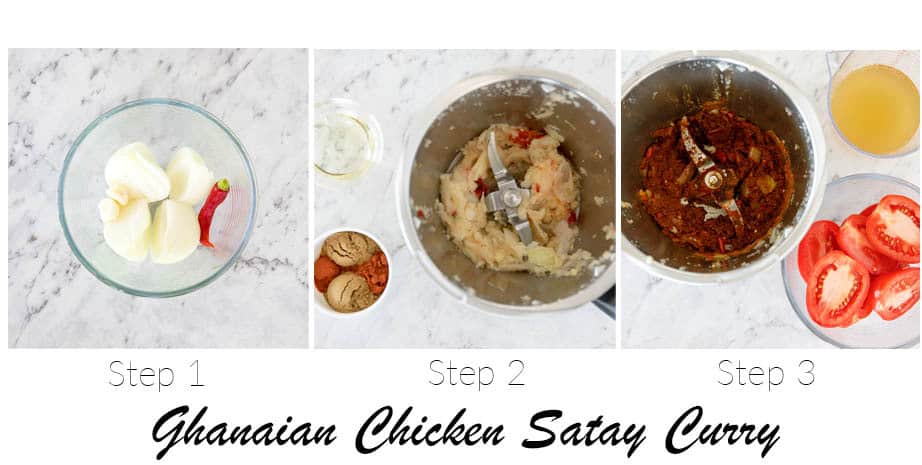 Let's Connect!
Don't forget to tag me on social media if you make any Thermokitchen recipes! I love chatting and seeing your pictures. #Thermokitchen
For more for more delicious Thermomix recipe inspirations LETS CONNECT on;
FACEBOOK
TWITTER INSTAGRAM  PINTEREST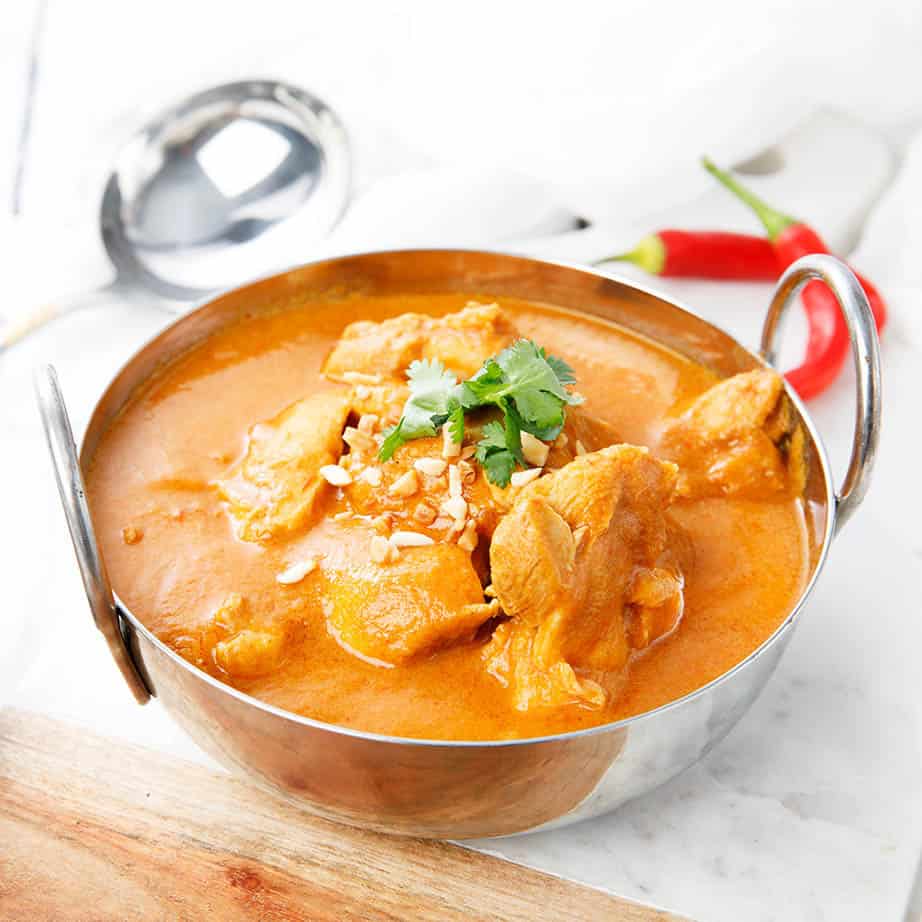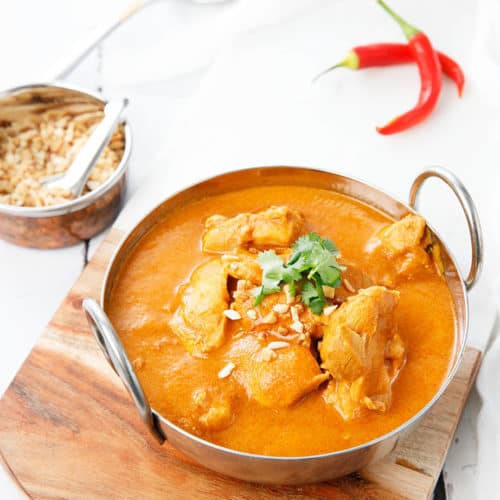 Thermomix Ghanaian Peanut Stew
Ghanaian Peanut Stew is an authentic African dish which combines curry and satay. The result is a rich, chicken satay style curry, perfect for a winters night.
Course:
Main, Main Course
Cuisine:
African, Ghanaian
Keyword:
Curry, satay, chicken curry, chicken satay, chicken stew,
Ingredients
180

g

onion

quartered

20

g

garlic

10

g

fresh ginger

1

red chili

long mild variety

30

g

peanut oil

1

TBS

ground cumin

1

TBS

ground coriander

1 1/2

TBS

smokey paprika

1/2

tsp

cayenne powder

1/4

tsp

salt

400

g

Roma tomato

halved

220

g

chicken stock

75

g

apple cider vinegar

650

g

boneless chicken thigh fillets

300

g

peanut butter

I used crunchy

1

tsp

garam masala
Instructions
Place onions, garlic, ginger and chilli in TM bowl. 5 sec/Speed 9.

Scrape down the bowl and a peanut oil. Sauté 5 min/Varoma/Speed 1(MC OUT)

Add cumin, coriander, smoked paprika, cayenne powder, salt, tomatoes, stock and vinegar to the onion mixture. Puree 30 sec/Speed 8.5.

Add chicken and peanut butter to the curry base. Cook 20 min/Varoma/Soft Spoon (REV).

Finish the dish by adding garam masala. Cook 2 min/Varoma/Soft Spoon (REV).

Serve with rice and garnished with crushed nuts and fresh coriander.
Recipe Notes
Substitute Products:
Chicken stock 
If you prefer you can use 1/2 TBS Thermomix vegetable stock with 220gm water instead of commercial liquid chicken stock.
Peanut Oil
Any mild flavoured oil can be substituted for peanut oil without any change in flavour. Vegetable oil would be a good alternative.
Nutrition Facts
Thermomix Ghanaian Peanut Stew
Amount Per Serving
Calories 527
Calories from Fat 315
% Daily Value*
Fat 35g54%
Cholesterol 104mg35%
Sodium 485mg20%
Potassium 951mg27%
Carbohydrates 20g7%
Protein 36g72%
Vitamin A 1605IU32%
Vitamin C 24.8mg30%
Calcium 68mg7%
Iron 3.5mg19%
* Percent Daily Values are based on a 2000 calorie diet.
Thank you once again for stopping by and checking out the website.
If you've made my version of this recipe I'd love to know what you thought? Is it as good as the original? Please let me know in the comments below and give it a star rating. Rating the recipes let others know if they should try it too. ?
Do you have any other Masterchef recipes you would like converted for the Thermomix? Please let me know!