The Original Thermomix Easy Chicken Curry!
Published , Last Updated
Easy chicken curry is one of my most popular Thermomix recipes because its a super quick weeknight meal, which is full of authentic Indian flavour. Plus, there are no difficult to source ingredients!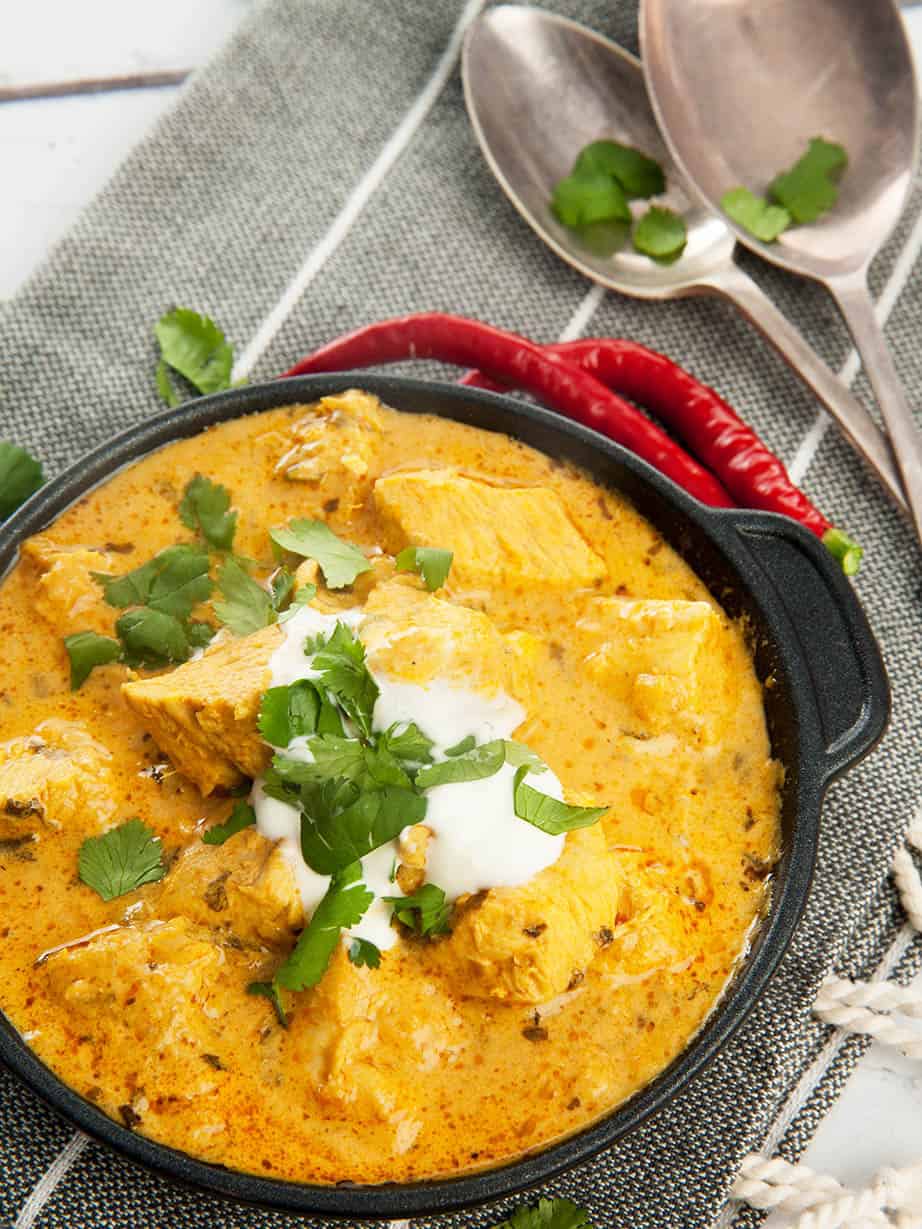 The Thermomix is exceptional at making full flavoured curries. The machine is able to meld the Inidna flavours so well together. When I did my cooking classes in India I found that most Indian kitchens had three different sized blenders.
The blenders ranged from a mini blender to mill spices,  a medium blender to make a garlic and ginger paste, and a regular sized blender to puree the finished curry sauce. The actual curry, or "gravy" as it's known in Indian is made in a pressure cooker to help tenderise the meat and combine the flavours. Thankfully by using the Thermomix Indian recipes can be made simply whilst still keeping the authentic flavours.
This recipe is being shared from the first book I published called "An Indian ThermoKitchen". The recipes have been sourced by spending time in India and learning from the locals. I have decided to give readers a little "taste preview" from the book. If you like this recipe please take a look at some of the other dishes.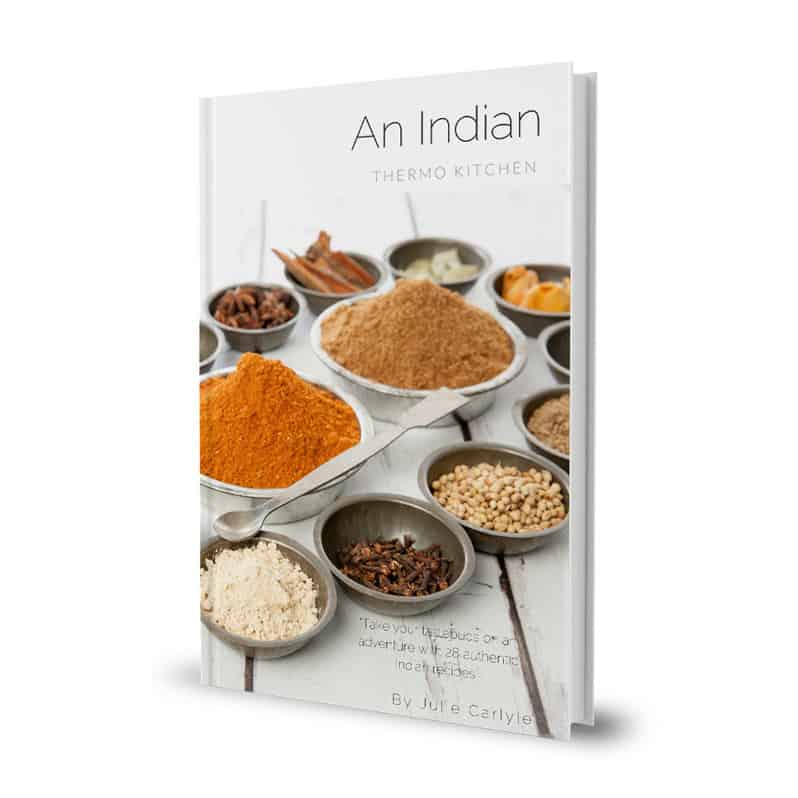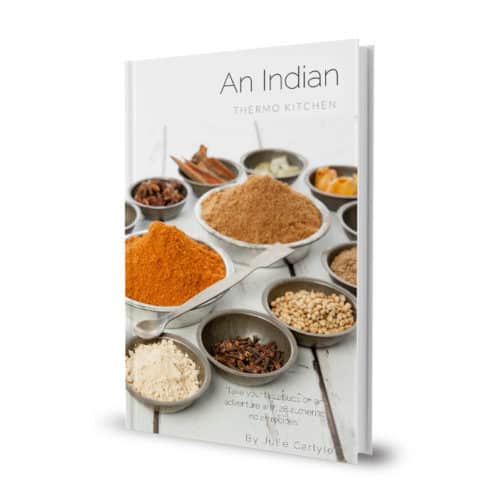 Easy Chicken Curry Substitute Ingredients
Yoghurt v's Coconut Cream
This recipe uses regular unflavoured yoghurt which gives the dish a lovely tart lemony flavour. If you're dairy free you can substitute the yoghurt for coconut cream. This will give a more South Indian style of curry.
Oil v's Ghee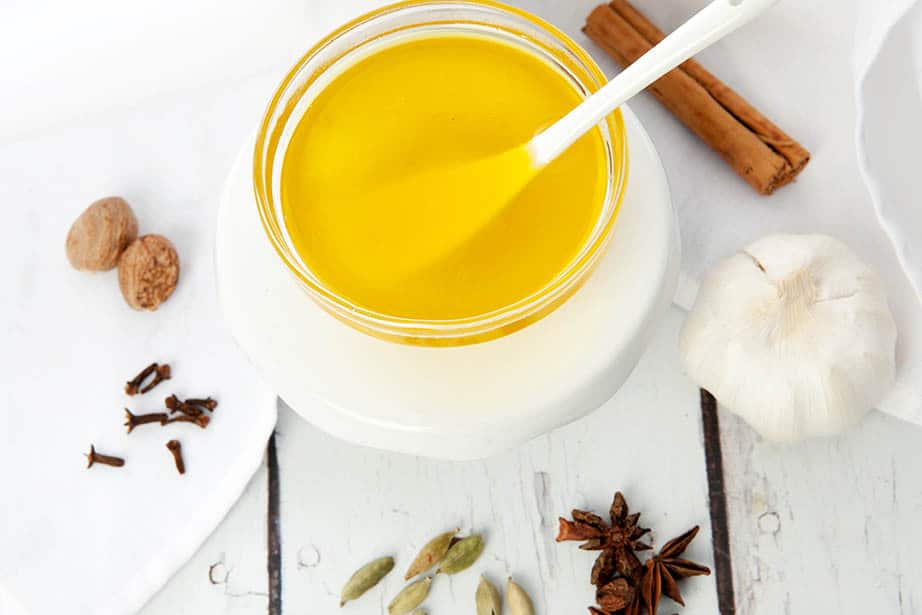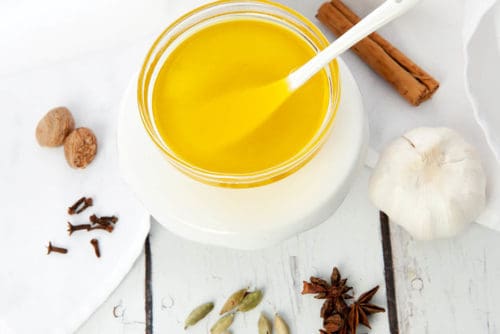 In my cookbook, I give a recipe for spiced ghee which is the basis on most Indian recipes. If you don't have access to my recipe just use mild flavoured vegetable oil. Vegetable oil is preferable to commercially prepared ghee. The quality of ghee available in Australia isn't as nice as the ghee I sampled in India.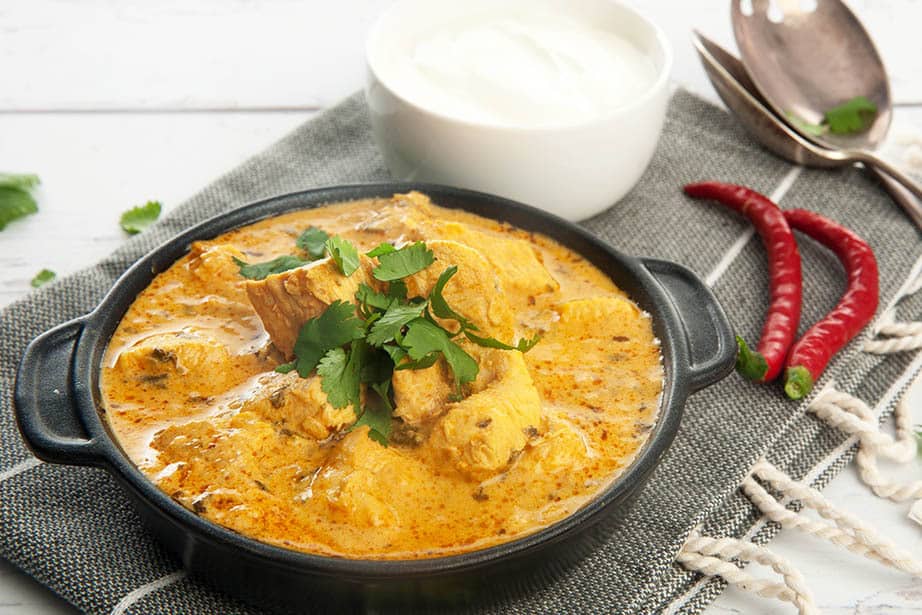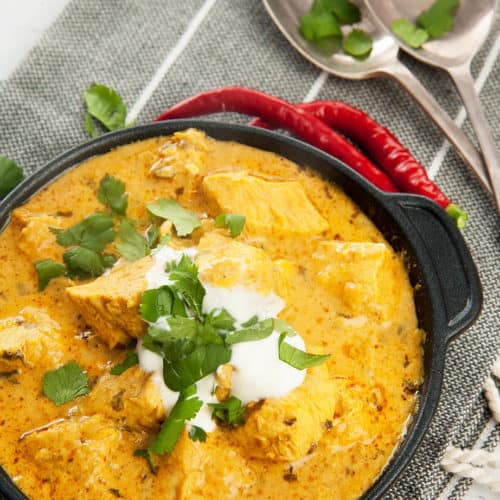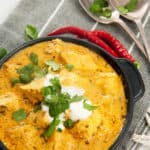 Thermomix Easy Chicken Curry
The Original Easy Chicken Curry Recipe! Shared!! Easy chicken curry is one of my most popular Thermomix recipes because it's a super quick weeknight meal, which is full of authentic Indian flavours.
Keyword:
Easy Chicken Curry, Indian Chicken Curry, Thermomix curry, Thermomix recipe, Turmeric Recipe
Ingredients
30

g

vegetable oil

or Indian Spiced Ghee (recipe in Thermokitchen Indian book)

200

g

onion

cut in quarters

2

green chili

fresh (cut in half)

20

g

ginger

fresh

20

g

garlic

fresh

20

g

coriander

fresh

2

tsp

ground cumin

2

tsp

ground coriander seed

1

tsp

ground turmeric

120

g

liquid chicken stock

80

g

tomato paste

500

g

natural yoghurt

700

g

diced chicken thigh fillets

(cut each thigh fillet in 6 large pieces only)
Instructions
Place the oil, onion, garlic, ginger, fresh coriander and chili in the TM bowl. Chop 10sec/Speed 5.

Scrape down the bowl. Cook 6 min/Varoma/Speed 2 (MC OUT).

Add turmeric, cumin and ground coriander. Cook 3 min/Varoma/Speed 2 (MC OUT).

Add the stock to the spices. Cook 5 min/Varoma/Speed 1.

Add the tomato paste, yoghurt and chicken to TM bowl. Cook 22 min/Varoma/Speed 1 (Reverse Blade)
Recipe Notes
To make this recipe dairy free the coconut cream can be used instead of yoghurt.
Serving Suggestion
The Easy chicken curry is delicious served with minted raita, naan bread and saffron rice. All of these recipes can be found in my book, "An Indian ThermoKitchen".
Nutrition Facts
Thermomix Easy Chicken Curry
Amount Per Serving
Calories 440
Calories from Fat 180
% Daily Value*
Fat 20g31%
Cholesterol 183mg61%
Sodium 505mg21%
Potassium 1256mg36%
Carbohydrates 24g8%
Protein 42g84%
Vitamin A 775IU16%
Vitamin C 42.1mg51%
Calcium 284mg28%
Iron 5.7mg32%
* Percent Daily Values are based on a 2000 calorie diet.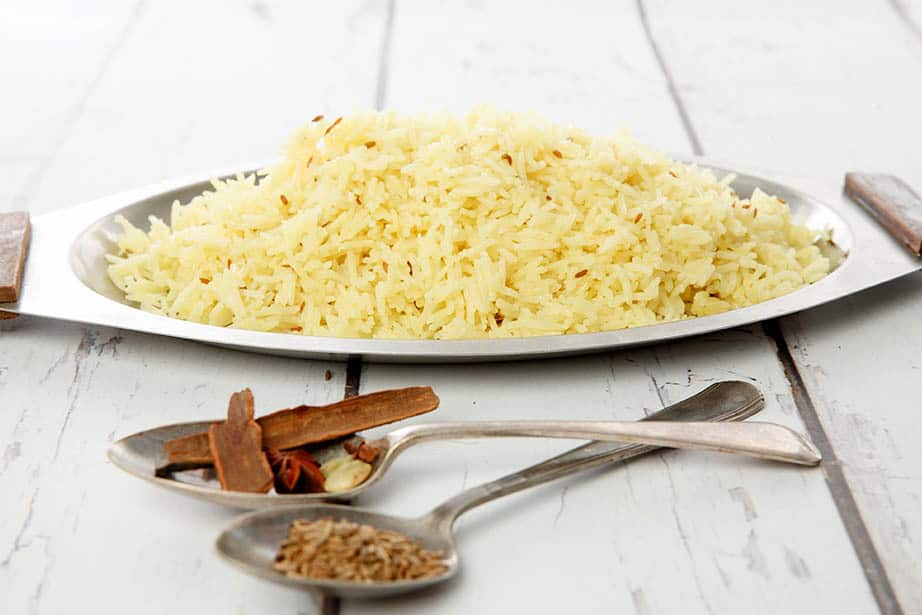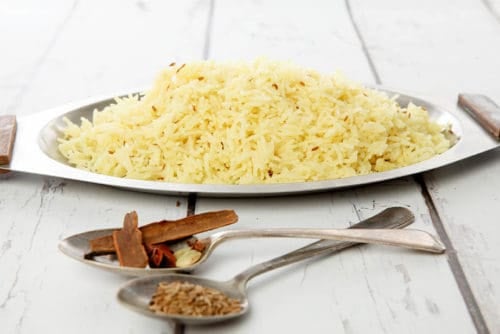 Let's Connect!
Don't forget to tag me on social media if you make any Thermokitchen recipes! I love chatting and seeing your pictures. #Thermokitchen
FACEBOOK
TWITTER INSTAGRAM  PINTEREST
Please feel free to leave a comment and let me know what you think of my Easy Chicken Curry recipe. Leaving a rating or a tip on the recipes will help other people to know if the recipe is good, PLUS I really like to hear from anyone who has cooked my dishes.
Happy Cooking  🙂