Natural Yoghurt TM6 Fermentation Mode
Published
Making natural yoghurt in the TM6 is easy with the new fermentation mode and this simple recipe.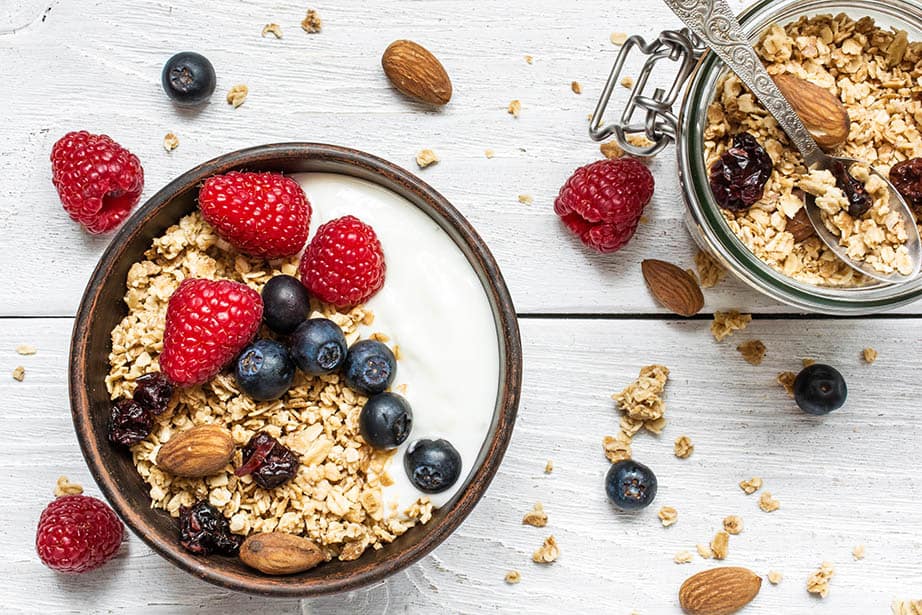 Yoghurt making at its simplest requires just two ingredients, milk and yoghurt culture. The trick is keeping the active yoghurt culture alive and at the optimum temperature to produce a healthy, probiotic-rich yoghurt.
Temperature control is easy with the Thermomix TM6 as it has a fermentation mode which allows the yoghurt to be kept at a constant, controlled temperature for up to 12 hours. The recipe I am sharing uses the TM6 and either a white Thermoserver or individual yoghurt pots.
If you don't have a TM6 I have provided recipes in other stories for yoghurt making in the Thermomix. These recipes also use different recipes and methods in which a culture is introduced to the milk to produce yoghurt. In past stories, I have provided a recipe for Creamy Natural Greek Yoghurt which uses leftover commercially prepared yoghurt as a starter for the new batch.
I have also shared my cheat's method of using Easi-Yo in the Thermomix to produced flavoured yoghurts.
Yoghurt Culture
Today we are making yoghurt using a yoghurt culture. Yoghurt cultures are available online and in some kitchen shops. I'm using the Nourish Me Organics probiotic yoghurt culture. This culture has the following microbe composition;
Culture Composition:
Bifidobacterium (Probiotic strain)
Lactobacillus acidophilus (Probiotic strain)
Lactobacillus delbrueckii subsp. bulgaricus
Streptococcus thermophilus
Using a good quality yoghurt culture ensures:
a diverse range of beneficial bacteria
strong viable culture which hasn't become weakened by age.
uncontaminated culture
Storing Your Yoghurt Culture
Yoghurt culture will usually have a use-by date of 6-12 months. To extend the shelf life of your culture store it in an airtight container in the freezer.
Frequently Asked Yoghurt Questions
Can I use this culture with plant-based milk?
No, these microbes only culture dairy milk. You can use the culture for any animal milk, eg cow or goat.
What happens if I forget to refrigerate my yoghurt after it has been fermented?
The fermentation process will continue to occur whilst ever the yoghurt is unrefrigerated. Did you know that yoghurt is safe to eat even if it has been unrefrigerated for more than 24 hours?
Why is my yoghurt really tart?
A tart yoghurt occurs for a number of reasons:
fermentation has been allowed to continue for a longer period
the yoghurt culture mix produces are more tart yoghurt
optimum conditions present for that particular bacteria type
Why is my yoghurt still runny?
This usually occurs when the culture hasn't finished setting the yoghurt and may be due to the following;
Culture time not sufficient – Leave the yoghurt to continue for another 4 -6 hours.
the environment isn't warm enough – check the temperature of the yoghurt. It should be between 37- 43 degrees celsius.
What is the optimum temperature to culture yoghurt?
The recommended temperature will depend on the strains of bacteria being cultured. Usually, the temperature range is between 37 – 43 degrees celsius.
The new white Yoghurt making ThermoServer
Did you see the new white ThermoServer I used in this video to make a single large pot set batch of yoghurt? Thermomix in Australia has just released a white ThermoServer. The new Thermoserver has been designed to fit perfectly into the Varoma allowing for easy bulk fermenting.
The white ThermoServer is not available for sale! The only way to get hold of one is to host a cooking experience with you and two friends. This can be a virtual online cooking experience or a face to face demo. To find out more, please feel free to message me.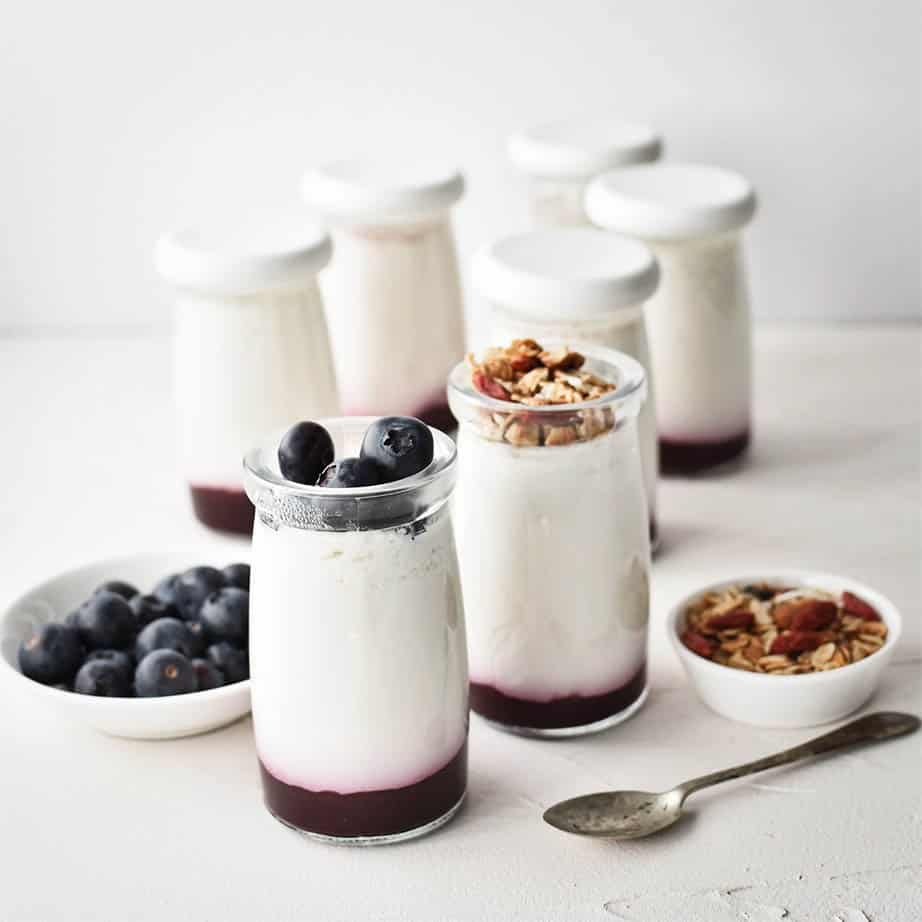 In my previous yoghurt stories, you may have noticed these cute yoghurt pots. These are available in the Mix-it shop? They're the perfect size for individual servings, or a grab and go breakfast. If you're interested in purchasing them for your yoghurt making, just follow the Yoghurt Pot link. Don't forget to select Julie Carlyle as the consultant that sent you. Selecting me lets me know you're interested in making yoghurt. If I see people buying the pots I know you need me to develop more recipes!
By selecting my name you reward me with a small commission which helps support me and this website? Your support keeps me cooking!
Let's Connect!
Would you mind tagging me on social media if you make any of my Thermokitchen recipes! Chatting and seeing your pictures really makes my day. #Thermokitchen
I would love to share more delicious recipes with you. For Thermomix recipe inspiration LETS CONNECT on;
FACEBOOK
TWITTER INSTAGRAM PINTEREST
Natural Yoghurt TM6 Method
Super easy to make in the Thermomix no matter what TM model you have! The TM6 is literally set & forget! Even the TM5 & TM31 can make delicious, pot set Greek yoghurt using this recipe.
Course:
Basic, Breakfast, Brunch
Cuisine:
American, Australian, Greek
Keyword:
Fermenting, Greek Yoghurt, Thermomix, Thermomix #greekyoghurt #Thermomixyoghurt #TM6 #fermentmode, Thermomix Yoghurt, Yoghurt making, Yogurt
Ingredients
Steaming
350

g

Hot tap water

1

TBS

white vinegar

used to clean the bowl as it steams
Instructions
Place the milk, milk powder and culture in the TM Bowl. Combine 1 min/Speed 6.

Pour the milk mixture into the white ThermoServer or 8 individual pots.
Fermenting Yoghurt TM6
Place the yoghurt pots or white ThermoServer into the deep Varoma dish and add the lid.

Wash the TM Bowl and add the hot tap water and vinegar to the TM bowl.

Place the Varoma dish on the TM Bowl. Ferment Mode /70 degrees/10 hours.

Place the yoghurt in the fridge to chill until required.
Recipe Video
Recipe Notes
This recipe can be made using either the white ThermoServer or 8 individual pots.
The nutritional information has been calculated for the total recipe.
Nutrition Facts
Natural Yoghurt TM6 Method
Amount Per Serving (1 litre)
Calories 861
Calories from Fat 414
% Daily Value*
Fat 46g71%
Cholesterol 149mg50%
Sodium 633mg26%
Potassium 1985mg57%
Carbohydrates 67g22%
Protein 45g90%
Vitamin A 2087IU42%
Vitamin C 4mg5%
Calcium 1597mg160%
Iron 1mg6%
* Percent Daily Values are based on a 2000 calorie diet.
I hope you have heaps of success with this yoghurt making method. Don't forget to come back and let me know how you went.
Happy Cooking
Julie