Thermomix Yoghurt TM6 – Cheats Creamy Vanilla
Published , Last Updated
Making Thermomix yoghurt is simple in the TM6. The new fermentation mode keeps the yoghurt cultures at the ideal temperature to produce thick, creamy yoghurt.
There are several ways to make delicious homemade yoghurt but each method relies on being able to maintain a constant incubation temperature to allow the cultures to develop.
Three ways to make Thermomix Yoghurt
Utilising commercially prepared natural yoghurt with milk as a starter.
Purchasing live yoghurt cultures and fermenting in milk.
I will provide a detailed recipe for all the methods of producing Thermomix yoghurt in upcoming stories, but today I wanted to concentrate on the Easiyo yoghurt sachets. Easiyo is my children's favourite type of homemade yoghurt as there are so many delicious flavours.
EasiYo is a brand of yoghurt powder sachets that are full of good bacteria, without preservatives or additives. Each sachet contains pasteurised milk and active yoghurt cultures which have been freeze-dried to retain the highest possible number of viable cultures. To activate the cultures and produce yoghurt, water is added to the sachet contents. The mixture is then stirred and divided amongst the fermenting pots and placed into the Thermomix Varoma.
Selecting fermentation mode allows the yoghurt to be maintained at the optimal incubating temperature for the next ten hours. This will give you perfect yoghurt every time.
Save Money on Homemade Yoghurt
1-litre Jalna probiotic vanilla yoghurt $7.00
1-litre Easiyo probiotic Vanilla yoghurt $3.75
8 pots x 120ml Vaalia French Vanilla $8.00
8 pots x 120ml Easiyo probiotic Vanilla yoghurt $3.75
Making homemade yoghurt cost half as much as commercially prepared yoghurt.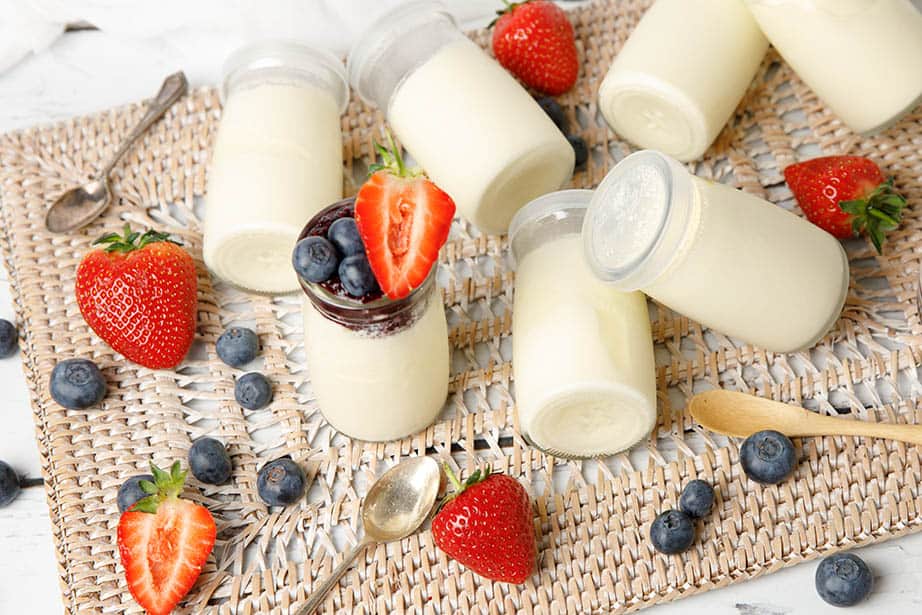 Health Benefits of Homemade Yoghurt
Commercially prepared yoghurts can contain preservatives, artificial colours, and flavours. Some have thickeners added and may even contain gluten. Plus, some yoghurts don't even contain beneficial probiotics or the pro-biotics have expired before you have the chance to consume them.
Freshly fermented yoghurt contains billions of good bacteria as the highest possible number of live bacteria are still present.
Easiyo yoghurt contains the live cultures of Lactobacillus Bulgaricus, Streptococcus Thermophilus and Lactobacillus acidophilus, with some varieties containing the Bifidobacteria strain as well. Probiotics such as these can help boost good bacteria in your gut, aiding digestion and promoting overall gut health. And with each serve containing billions of live cultures, every spoonful is good for your gut.
Fermenting in Yoghurt Pots or a Large Glass Jar
When it comes time to ferment the yoghurt mixture you can choose to use one large glass jar with a lid or these cute little glass yoghurt pots. If you're using a one-litre jar, firstly ensure that it can fit in the Varoma with the lid in place. It is fine to place the jar its side.
I prefer to use these 8 small pots which are available from the mix-it shop. The pots are designed to fit neatly into the Thermomix Varoma and also feature a plastic lid. My children prefer to have their yoghurt in individual serves. Also, having kids double-dipping their spoons into a large tub of yoghurt can get very unhygienic very quickly!
If you decided to purchase these pots, please add my name as the referring consultant. Doing so means I earn $1.80 toward maintaining this site and producing new recipes. It also allows me to see how many people are interested in making their own yoghurt! The more people I have interested, the more recipes I produce!
Methods for Culturing Yoghurt
By now you have probably realised the key to successfully producing yoghurt comes down to culturing the yoghurt at the optimum temperature. There are a number of different methods used for maintaining the yoghurt temperature. The method you chose will depend on the equipment you have on hand.
If you consume a lot of yoghurts it may be useful to invest in a method which minimises the chance of failure and food wastage.
Benchtop Method
This method requires you to manually maintain the temperature of the yoghurt. Here are a few tips to help you:
Place the yoghurt in a warm spot such as in front of a closed sunlit window.
Add the yoghurt to glass jars and place in a sink full of warm water. Top up the warm water as necessary.
Use my ThermoServer method below. The link is here and includes a video https://www.thermo.kitchen/thermomix-greek-yoghurt-thick-creamy/
Electric Yoghurt Maker
An electric yoghurt maker is a small, compact appliance which keeps the yoghurt at the optimum temperature. I have always used this model yoghurt maker because I also culture mascarpone cheese. Mascarpone has a longer culturing or processing time. If you are looking to purchase a yoghurt maker, ensure the machine has a timer which goes beyond 12 hours so you have the maximum functionality.
Let's Connect!
Would you mind tagging me on social media if you make any of my Thermokitchen recipes! Chatting and seeing your pictures really makes my day. #Thermokitchen
I would love to share more delicious recipes with you. For Thermomix recipe inspiration LETS CONNECT on;
FACEBOOK
TWITTER INSTAGRAM PINTEREST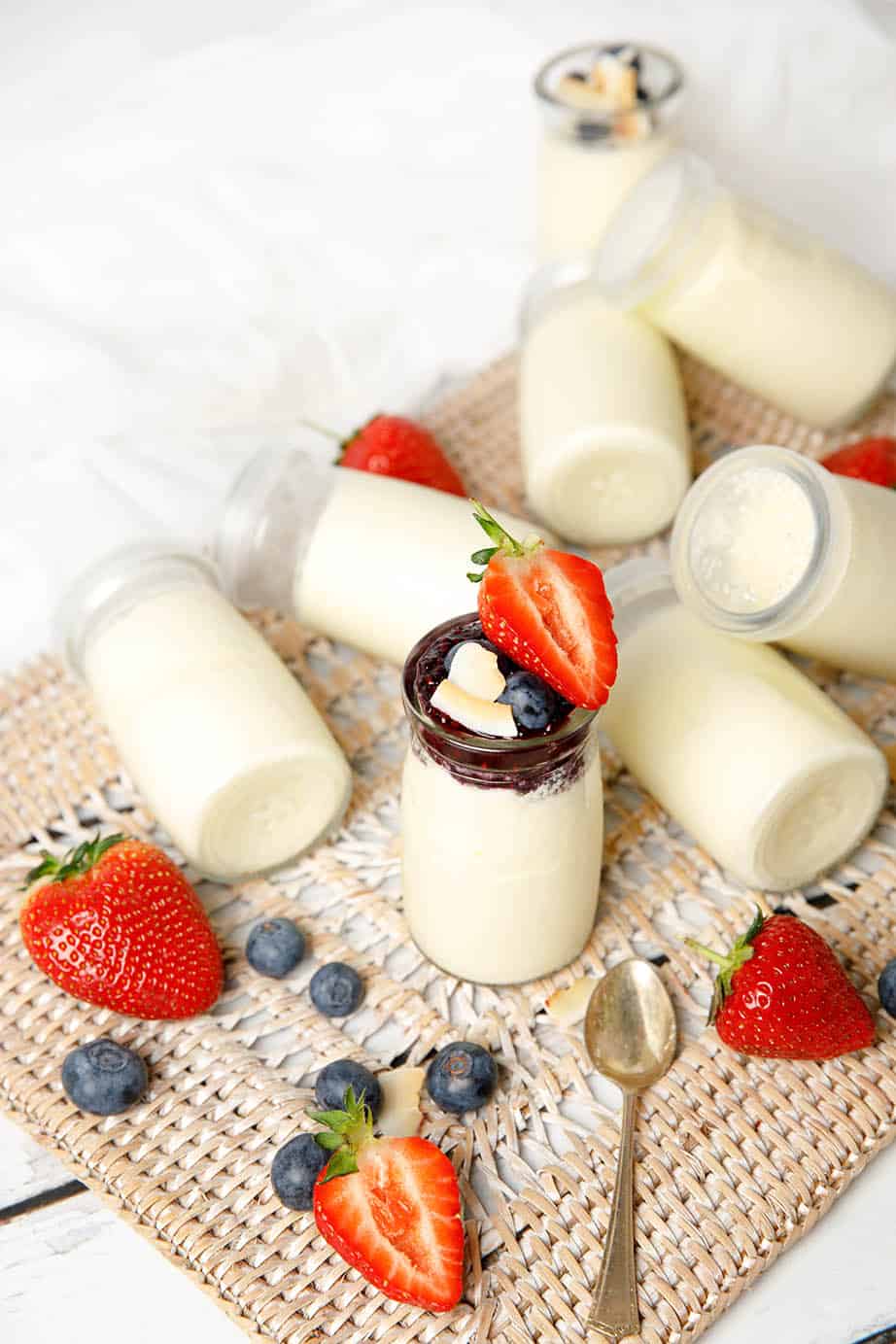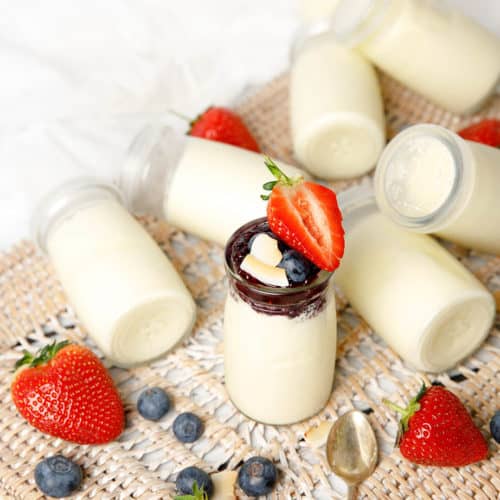 Thermomix Yoghurt Making - Cheats Creamy Vanilla Yoghurt
Making Thermomix yoghurt is simple in the TM6. Fermentation mode keeps the yoghurt cultures at the ideal temperature to produce thick, creamy yoghurt.
Course:
Basic, Breakfast, Brunch, Lunchbox, Probiotic
Cuisine:
American, Australian
Keyword:
Breakfast, brunch, Fermentation, Lunchbox, Probiotic, Yoghurt
Ingredients
1

Easiyo Vanilla Yoghurt

800

gm

warm tap water

300

gm

warm tap water

for steaming
Instructions
Add sachet of Easiyo and 800g water in TM Bowl. Mix 15sec/Speed 6.

Pour yoghurt into 8 glass jars and secure the lids.

Place the jars in the Varoma dish.

Rinse the TM bowl. Add 300gm warm tap water to TM Bowl.

Place the Varoma on the lid.

Choose ferment mode. Select 10 hours/70 degrees/ Ferment.

Refrigerate the yoghurt was complete. Serve with fruit or granola.
Recipe Notes
Serve the yoghurt with fruit and granola.
Yoghurt will keep in the fridge for approx two weeks.
Nutrition Facts
Thermomix Yoghurt Making - Cheats Creamy Vanilla Yoghurt
Amount Per Serving (1 pot)
Calories 108
Calories from Fat 36
% Daily Value*
Fat 4g6%
Cholesterol 1mg0%
Sodium 7mg0%
Carbohydrates 15g5%
Protein 4g8%
Calcium 149mg15%
* Percent Daily Values are based on a 2000 calorie diet.
If you're looking for more great breakfast and brunch recipes please follow the link for pancakes, smoothie, oatmeal and porridge recipes.
Please feel free to leave me a comment. I love hearing from everyone 🙂Rating the recipe once you've made the dish helps other readers decide whether to make my dishes, so I would love it if you could come back and let everyone know what you think.
Happy Cooking
j
xx