Kombucha Recipe Chart – Australian Metric & US Imperial
Published , Last Updated
Kombucha is a fabulous health-giving drink full of valuable probiotics for gut health! The brew can be made easily in your own home with this simple Kombucha recipe chart.
When I first started making Kombucha two years ago I had absolutely no idea what I was doing. Not surprisingly I had a few hiccups along the way.
Over the last two years I have now streamlined my process, and making booch is simple and satisfying.  If you're new to the art of Kombucha brewing, it might be helpful to start by reading my first Kombucha article which gives detailed information about the brewing process and appropriate vessels.
Below is a short flow chart, but more detailed Kombucha Brewing information is available here.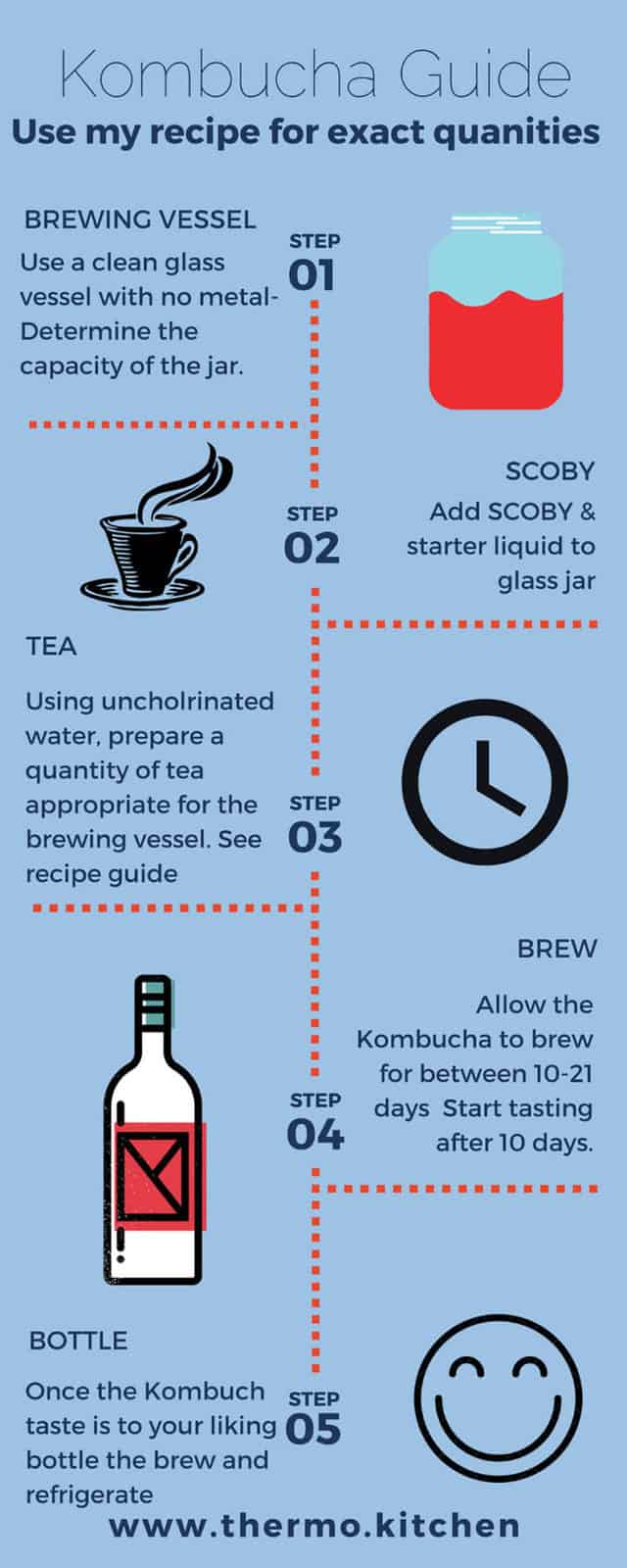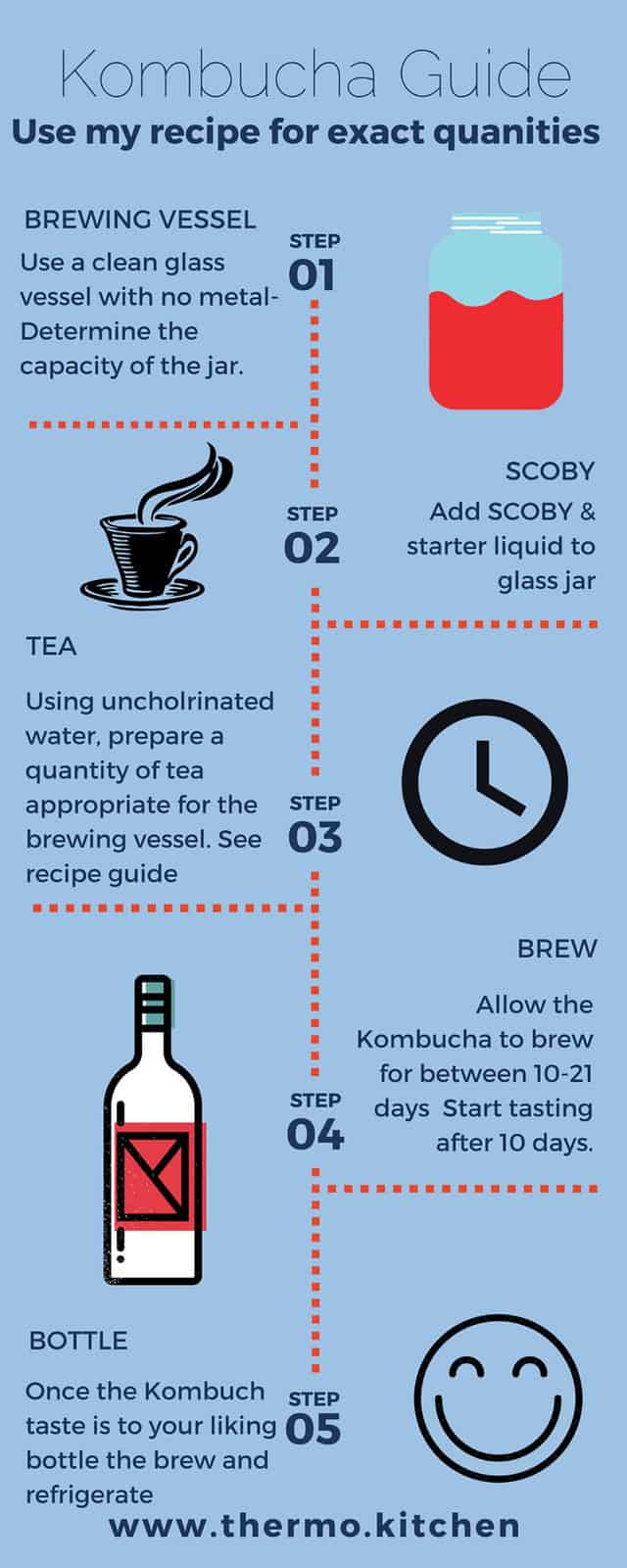 Anyway, when I first started brewing, all of the recipes I found were in US quartz, not metric litres. So I've created this handy Kombucha recipe chart which has both metric and imperial measurements. Hopefully, no matter what size brewing vessel you're using you will find a suitable ingredient ratio to fit.
Kombucha Recipe Chart – Metric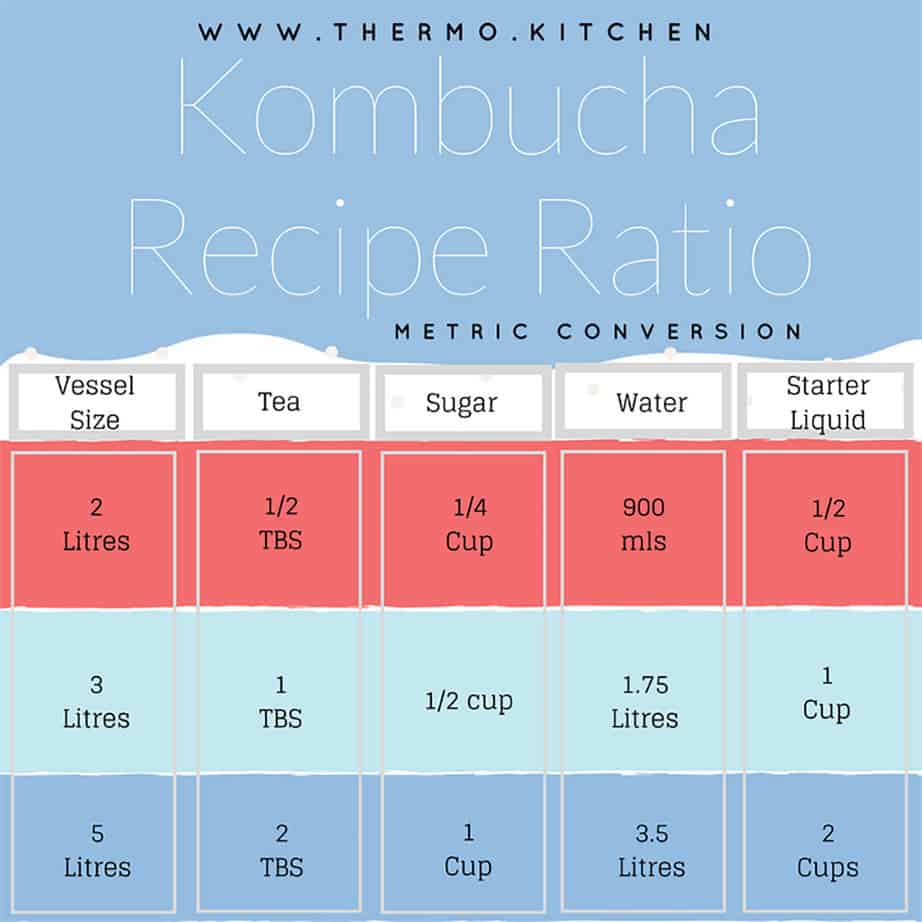 Kombucha Recipe Chart – Imperial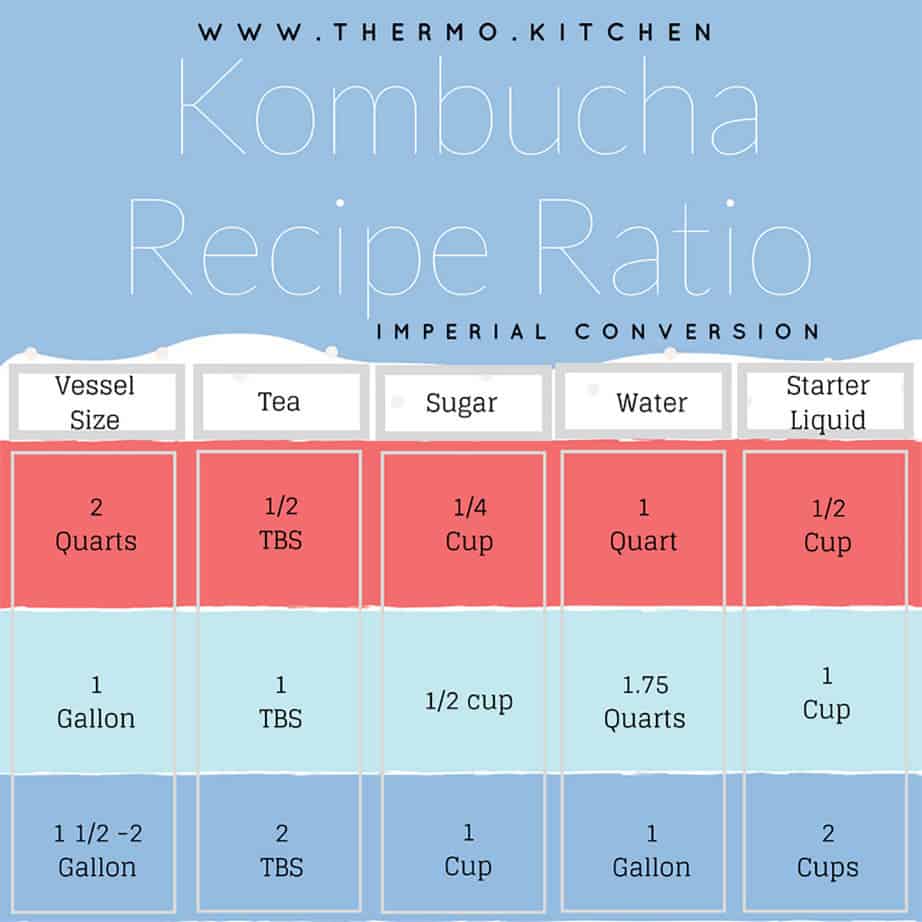 If you're looking for lots of recipes to flavour your Kombucha or you need to troubleshoot some brewing problems I would thoroughly recommend getting a copy of "The Big Book of Kombucha."  It's available as a kindle, ebook or hard copy and I found it invaluable. Even Aussie Booch Brewers are able to get hold of the book as an ebook or hardcopy.
The Big Book of Kombucha: Brewing, Flavoring, and Enjoying the Health Benefits of Fermented Tea

Each time you brew a batch of Kombucha you will generate a new SCOBY on top of the brew. These can be kept in a SCOBY hotel. The benefit of this is you will always have a spare SCOBY if the one you're using gets mould or a fruit fly infestation. I will be updating the site with more information about creating a SCOBY hotel in the next article.
Are you wondering why your Kombucha isn't as fizzy as the commercially prepared brews? The reason is twofold;
some commercially prepared brews carbonate their beverages
by taking the Kombucha to F2 (second ferment) in a sealed serving vessel you add a flavour and extra sugar (fruit) which adds carbonation. (More info on F2) 
FREE SCOBY ANYONE?
I brew a lot of Kombucha! If you're located near Coffs Harbour and want to try brewing your own Kombucha I will usually have a SCOBY or two available. Please feel free to message me as these are FREE to good homes 🙂
Lets Connect!
Do you want to connect with other pro-biotic warriors join the DYI Fermenting FB group page and connect with others? I share loads of great recipes and tips on the page.
Also, if you would like to be notified when more pro-biotic recipes are released please subscribe to our newsletter. We only send a newsletter to our friends when we have a recipe to share.
Please note: This article contains affiliate links. This means a tracking code is used and I may make a small commission if you purchase the item I've suggested. The price of the item will be the same for you whether it's an affiliate link or not. Adding affiliate links to items I love, helps me to promote sites that provide great products. As a bonus, I earn a small income that goes towards maintaining this website and support my family.