How to Make Greek Yoghurt – Thick & Creamy
Published
Thick creamy Greek yoghurt is super easy to make! Make it in a warm spot on the bench, in the Thermomix or in a Yoghurt Maker. This is literally a set and forget recipe if you have a TM6 or Yoghurt Maker. Even without fancy equipment, the recipe makes delicious homemade, natural, pot set yoghurt.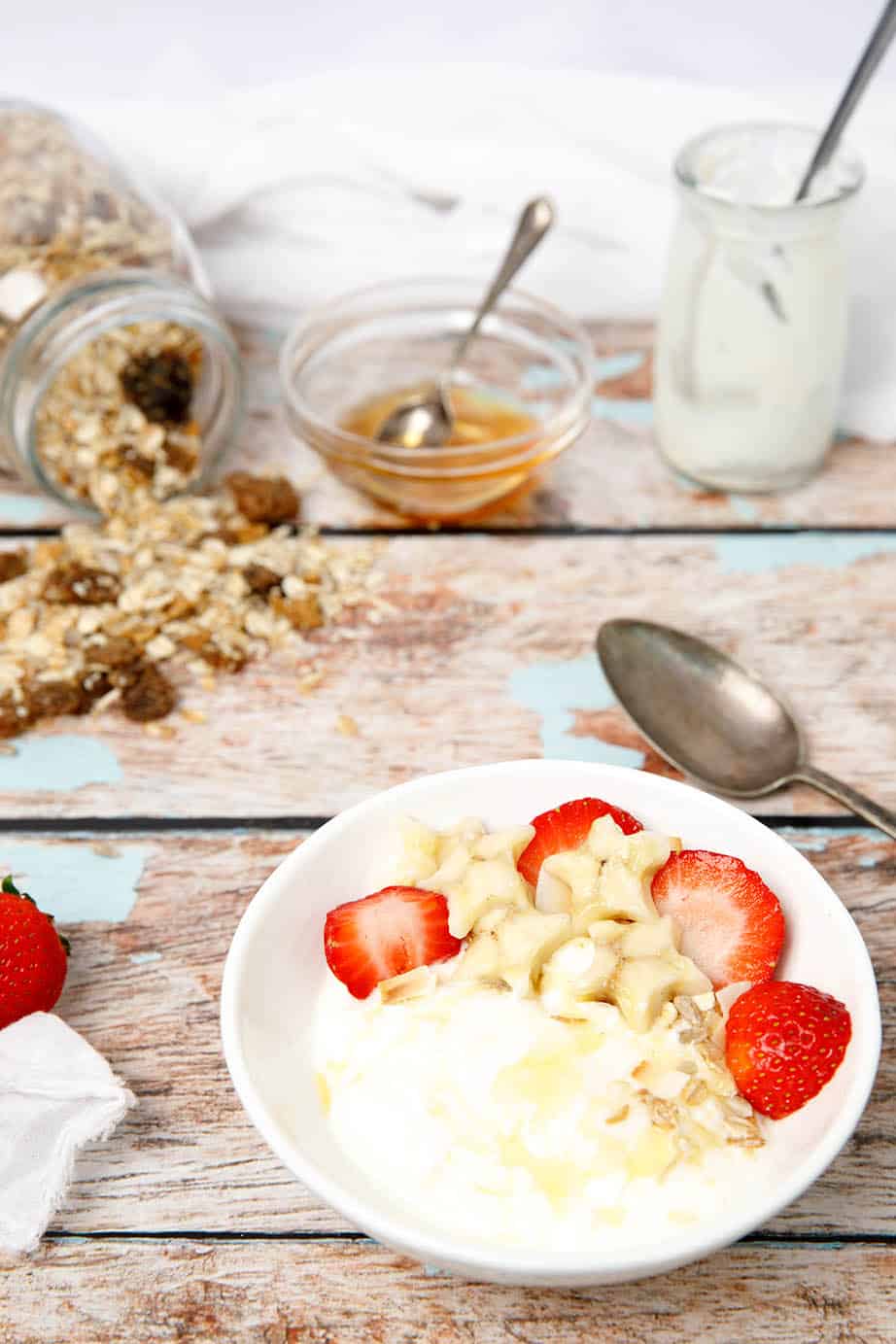 So many people have been asking me to share my recipe for creamy Greek-style yoghurt lately. I know it can be tricky to reproduce that thick, creamy premium yoghurt consistency, but with a good recipe and a few tips, you will nail the technique easily, every time.
The technique for yoghurt making will vary depending on whether you are culturing the yoghurt on your kitchen bench, have a Yoghurt maker or using a Thermomix, but the recipe remains the same.
Yoghurt Making Ingredients
First of all, I quite often get asked which starter yoghurt is best for yoghurt making and if skim milk is suitable. So I thought I would outline the ingredients I use in my recipe. There are only three ingredients used in my yoghurt recipe.
Milk
I use only full cream milk when making yoghurt. The reason for this is it will produce a thicker, creamier yoghurt and the cultures will multiply quicker when they are fed the optimum food, ie: full cream milk. I use full cream UHT milk because;
it's generally cheaper than refrigerated milk.
the milk is kept at room temperature so it's quicker to heat.
I always have reserves of UHT milk in the pantry so it's convenient
Yoghurt Starter
In the past, I've seen recommendations that only expensive brands of thick yoghurt be used as a culture. The truth is, any pot set yoghurt will have the active cultures needed to create yoghurt. I would always use full cream, natural yoghurt as a starter.
I will share another yoghurt making technique which uses actual cultures instead of yoghurt as a starter in an upcoming recipe.
Milk Powder
Good quality milk full cream milk powder adds a delicious creaminess and gives the yoghurt cultures more goodness to feed upon whilst turning your milk into yoghurt. If you have ever reconstituted cheap milk powder you will know there is a taste difference between brands, so choose a brand you trust. The flavour of your yoghurt can vary depending on your choice.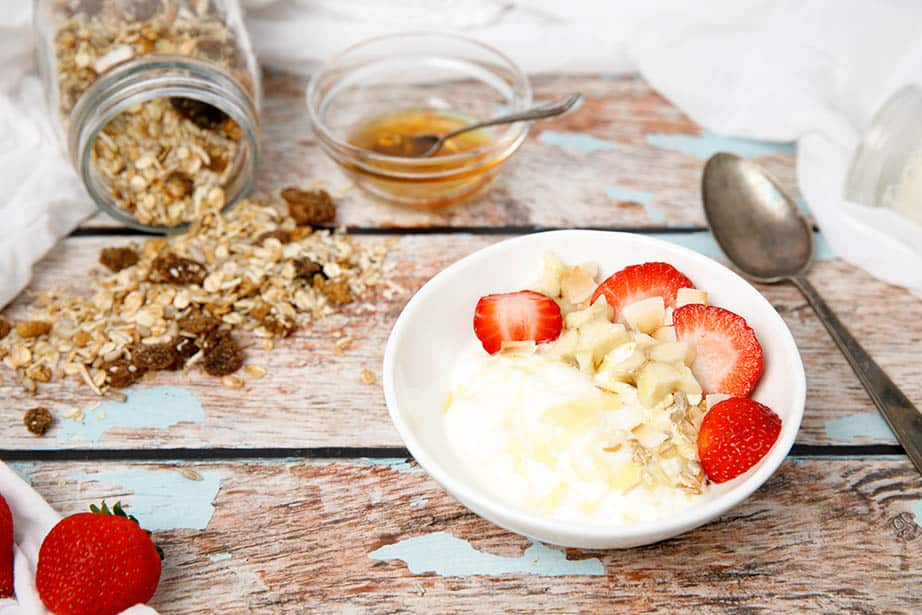 Greek Yoghurt Making Tips
How long does yoghurt need to culture?
The key to culturing yoghurt is keeping the yoghurt at the optimum temperature for a minimum of eight hours. The longer the yoghurt is allowed to culture the thicker and tangier the yoghurt will be. Culturing the yoghurt for longer also allows the bacteria to break down the lactose further making it more suitable for those with lactose digestion issues.
The easy answer, culture the yoghurt for a minimum of 8 hours and a maximum of 24 hours. Then refrigerate.
What temperature is the optimum temp for yoghurt?
In my experience yoghurt cultures best when maintained at between 38 – 50 degrees, or 102 – 120 Fahrenheit. It is most important that the temperature of the yoghurt is maintained adequately at the start of the process, (first five hours). Once the culture is active the yoghurt should still continue to the culture at body temperature although it will need longer to complete the process.
What if the temperature is too high?
Temperatures over 53 degrees or 127 Fahrenheit will kill the active yoghurt culture and should be avoided.
Yoghurt Making Methods
By now you have probably realised the key to successfully producing thick, creamy natural yoghurt comes down to culturing the yoghurt at the optimum temperature. There are a number of different methods used for maintaining the yoghurt temperature. The method you chose will depend on the equipment you have on hand.
If you consume a lot of yoghurts it may be useful to invest in a method which minimises the chance of failure and food wastage.
Benchtop Method
This method requires you to manually maintain the temperature of the yoghurt. Here are a few tips to help you:
Place the yoghurt in a warm spot such as in front of a closed sunlit window.
Add the yoghurt to glass jars and place in a sink full of warm water. Top up the warm water as necessary.
Use my ThermoServer method below. *see video
Electric Yoghurt Maker
An electric yoghurt maker is a small, compact appliance which keeps the yoghurt at the optimum temperature. I have always used this model yoghurt maker because I also culture mascarpone cheese. Mascarpone has a longer culturing or processing time. If you are looking to purchase a yoghurt maker, ensure the machine has a timer which goes beyond 12 hours so you have the maximum functionality.
Using a yoghurt maker, simply make my recipe as per the instructions. Pour the yoghurt into the supplied container. Add the container to the appliance and then set the timer for 10 hours.
Remove the yoghurt and refrigerate until required.
Thermomix TM6
If you have a TM6 you're in luck!! Your yoghurt maker is a built-in function! No need to carefully watch and maintain the temperature of the yoghurt in a ThermoServer AND no need to purchase a Yoghurt maker!
Simply watch the video below and follow the steps in the recipe.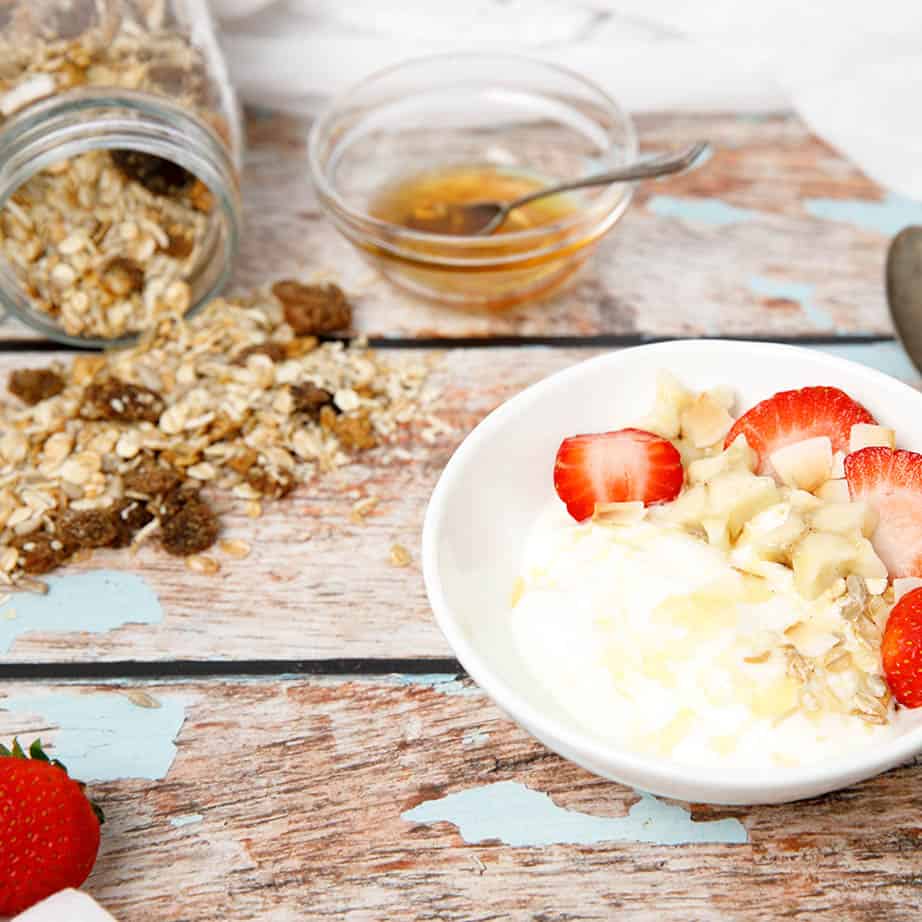 CUTE YOGHURT POTS
Oh, and if you're looking for the cute little yoghurt pot and lids, they're available at the Thermomix "Mix It" shop. Just follow the link!
Don't forget to let them know that Julie Carlyle was the consultant that sent you. This will show me how many people are interested in making yoghurt. The more people who are buying the pots the more recipes I will develop so you can use them!
Let's Connect!
Would you mind tagging me on social media if you make any of my Thermokitchen recipes! Chatting and seeing your pictures really makes my day. #Thermokitchen
I would love to share more delicious recipes with you. For Thermomix recipe inspiration LETS CONNECT on;
FACEBOOK
TWITTER INSTAGRAM PINTEREST
Thermomix Greek Yoghurt Natural
Super easy to make in the Thermomix no matter what TM model you have! The TM6 is literally set & forget! Even the TM5 & TM31 can make delicious, pot set Greek yoghurt using this recipe.
Course:
Basic, Breakfast, Brunch
Cuisine:
American, Australian, Greek
Keyword:
Fermenting, Greek Yoghurt, Thermomix, Thermomix #greekyoghurt #Thermomixyoghurt #TM6 #fermentmode, Thermomix Yoghurt, Yoghurt making, Yogurt
Ingredients
1000

g

Full Cream UHT Milk

at room temp

80

g

Full Cream Milk Powder

80

g

pot set natural yoghurt

used as a starter culture
Steaming
350

g

Hot tap water

1

TBS

white vinegar

used to clean the bowl as it steams
Instructions
Place the milk in the TM Bowl. Heat 6 min/70 degrees/Speed 2.

Turn off the TM and remove the lid. Allow the milk to cool to 37 degrees. Approx 45 min.

Add the milk powder to the cooled milk. Combine 10 sec/Speed 7.

Add the yoghurt to the milk. Combine 10 sec/Speed 7.

Pour the yoghurt mixture into 8 mini glass pots, add the lids to the pots.
Fermenting Yoghurt TM6
Place the yoghurt pots into the deep Varoma dish and add the lid.

Wash the TM Bowl and add the hot tap water and vinegar to the TM bowl.

Place the Varoma dish on the TM Bowl. Ferment Mode /70 degrees/10 hours.

Once complete, refrigerate the yoghurt until required.
Bench Top Yoghurt Culturing - Fermenting TM5 & TM31
Wash and submerge the Thermoserver and lid in boiling water to heat the dish.

Heat 550g water in the TM Bowl. 6 min/90/Speed 1

Pour water into the pre-heated Thermoserver.

Add the prepared yoghurt pots to the ThermoServer. Leave covered for 5 hours.

Heat 150g water in TM bowl. 3 min/70 degree/Speed 1

Replenish the ThermoServer with additional 150g of heated water. (Leave the original water in the ThermoServer.) Allow the yoghurt to ferment for another 5 hours.

Once complete, refrigerate the yoghurt until required.
Recipe Video
Recipe Notes
It's helpful to sit the heated ThermoServer on a thick tea towel so heat isn't lost through the base.
If you don't have a ThermoServer, use a thick crockery casserole dish or cast iron pot. Make sure to warm the container prior to adding the hot water and yoghurt.
Nutrition Facts
Thermomix Greek Yoghurt Natural
Amount Per Serving (1 pot)
Calories 132
Calories from Fat 63
% Daily Value*
Fat 7g11%
Cholesterol 24mg8%
Sodium 98mg4%
Potassium 314mg9%
Carbohydrates 10g3%
Protein 7g14%
Vitamin A 306IU6%
Vitamin C 1mg1%
Calcium 246mg25%
Iron 1mg6%
* Percent Daily Values are based on a 2000 calorie diet.
Easi-Yo Flavoured Yoghurt
If you're looking at a cheats way of making flavoured yoghurt fast, take a look at my story about Easi-yo Flavoured yoghurt. This is a great option if you have kids that enjoy copious quantities of expensive flavoured yoghurt. This homemade flavoured yoghurt costs approximately $2.50 for 1 litre. This yoghurt can be cultured using anyone of the above methods.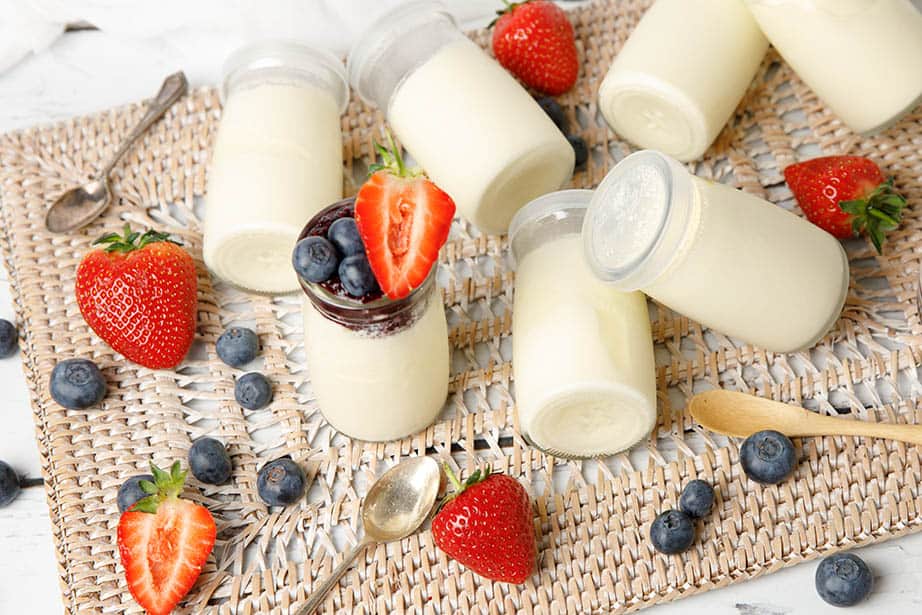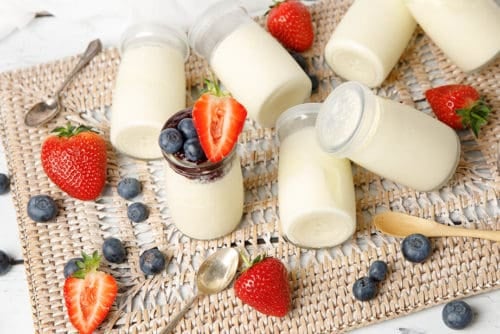 Please feel free to leave me a comment. I love hearing from everyone 🙂Rating the recipe once you've made the dish helps other readers decide whether to make my dishes. Also if you take any pics, please post them to social media and tag me!!
Happy Cooking
Julie
xx
Please note: This article contains affiliate links. This means a tracking code may be used and I may make a small commission if you purchase the item I've suggested. The price of the item will be the same for you whether it's an affiliate link or not. Adding affiliate links to items I love, helps me to promote sites that provide great products. As a bonus, I earn a small income that goes towards maintaining this website and supporting my family.