Retro Apricot Chicken Thermomix Style
Published
Have you noticed that recipes go in and out of fashion? This Retro Apricot Chicken recipe was all the rage in the 1980's. Most households had it on a weekly meal plan rotation! Then it went out of fashion.  I feel a little sorry for the poor old apricot chicken. It was a family favourite for the best part of a decade and then we just dumped it!
It has actually been 25 years since I made an apricot chicken for the family. What a shame, trending food becomes popular for a reason, namely, it's good! Everyone loved apricot chicken in the 80's. It was an easy dish to make, with limited ingredients and the whole family enjoyed it. Kids cleaned their dinner bowl in record time, and everyone was happy.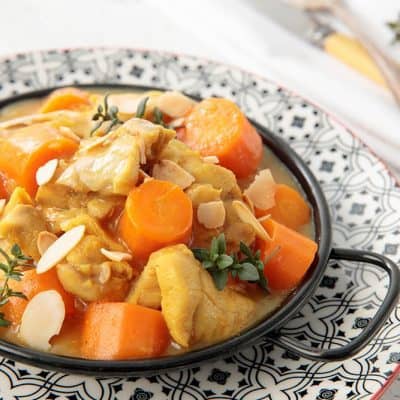 Retro Thermomix Apricot Chicken
Super quick weeknight meal the whole family will enjoy!
Course:
Main Course, Main Dish
Ingredients
10

gm

garlic

120

gm

brown onion

halved

640

gm

boneless chicken thigh fillets

2

Tbs

cornflour

1/2

tsp

garam masala

1

tsp

powdered chicken stock

Massel

1/4

tsp

turmeric powder

230

gm

carrot

peeled and sliced into rounds

405

gm

apricot nectar

Berri

35

gm

French onion soup

Continental
Instructions
Add garlic to TM bowl. Chop 3 sec/Speed 9.

Add the onion to the garlic. Chop 5 sec/Speed 4.5.

Place the corn flour, powdered chicken stock, turmeric and garam masala in a glass bowl and stir to combine.

Dice the chicken into massive chunks and add it to the seasoned cornflour. Coat the chicken well ensuring there is no flour left in the bowl.

Add the chicken, apricot nectar, french onion soup and carrot to TM bowl. Cook 25min/100 degrees/REVERSE BLADE/ Soft spoon.

Serve with mashed potato, rice or cous cous.
Recipe Notes
Apricot chicken freezes well and is a good option for a quick weeknight meal.
So why do these recipes fall out of favour? I think it's because we overdose on them! They suffer from over consumption and become a "food cliche". So Now 25 years on I've decided to give my trusty apricot chicken recipe a whirl in the Thermomix. I've made a few changes because I found the recipe didn't taste the same in the Thermomix. The dish had too sweet a flavour with no savoury depth. This could possibly be because of the lack of caramelization.
This was also a social experiment.  I'd never made this dish for my husband or kids. My children actually don't like apricots but I was willing to bet they would still love this old time favourite. Best of all, the recipe takes about 5 minutes of preparation.
You know deep down you want to try it…
Do you think enough time has passed for this dish to become a retro favourite in your household? Have you made apricot chicken for the family? If so why not pin the recipe or add it to your meal plan. I'd love to know what the family thinks!
If you're looking for more great Thermomix recipes, please follow the ThermoKitchen FB Page. Want to receive an email update when new recipes are released. Why not scroll down and hit subscribe at the bottom of the website.