Snickers Thermomix Peanut Butter Cookie in a Flash!
Published
I've been making these "Snickers" peanut butter cookies for as long as I can remember. They're not really a snickers cookie, as such, more like a delicious, simple peanut butter cookie with a chocolate button on top. Like the snickers bar, this chocolate and peanut butter combination is a match made in heaven.
My Thermomix Peanut Butter Cookies are so quick and easy to make. A batch of cookies takes about 3 minutes in prep time and then you just pop them in the oven. The chocolate button is added to the top of each peanut butter cookie once they're cooked.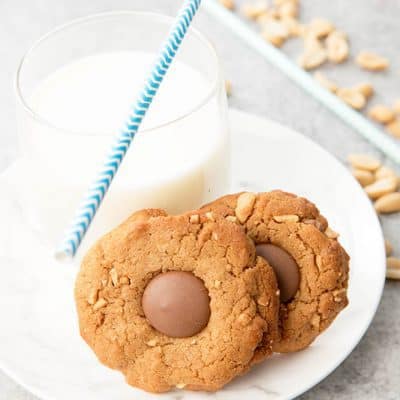 Thermomix Choc Chip & Peanut Butter Cookies
Deliciously crunchy snickers tasting cookies. With just 4 ingredients these are quick & easy to make!
Cuisine:
American, Australian
Ingredients
2

eggs

90

gm

brown sugar

240

gm

white sugar

100

gm

salted peanuts

100

gm

nestle milk choc bits

1

tsp

baking powder

2

cups

crunchy peanut butter

40

milk chocolate melts "buttons"
Instructions
Preheat the oven to 170 degrees and line two baking trays with paper.


Place the eggs in the TM bowl, then add all the remaining ingredients except the milk chocolate melts "buttons". Combine 40sec/Speed 3 (Reverse Blade).

Repeat if necessary. 20sec/Speed 3.

Roll the dough into 40 equal sized balls.

Place each ball on the baking sheet and flatten.

Bake for 20 minutes or until golden.

Remove the cookies from the oven. Immediately add a chocolate button to the top of cookie. Press gently into the cookie (The cookie will still be very soft.)

Leave the cookies to cool completely on the baking sheet.

Store in an airtight jar for 5 days.
Recipe Notes
These cookies will appear completely uncooked and soft when they're removed from the oven. As long as they have turned a golden colour they will be cooked. Once they cool they become deliciously crisp.
This would be a great recipe to make with the kids through the school holidays or on the weekend. Although, my kids tend to spend all their time eating the mixture and not some much time helping.
However, I have two problems with these cookies;
I have two warnings to pass along with these Thermomix Peanut Butter cookies;
They're too easy to eat – I really can't stop eating them! They're as addictive as popping peanuts into your mouth! Make them when you have lots of hungry mouths to feed.
The cookies come out of the oven super soft so you have to wait until they cool to eat them… it's torture after smelling them bake! Sorry 🙁
Other than that these are the perfect Thermomix cookie. A crunchy, sweet and salty cookie, which has little gooey patches if you hit some peanut butter or a chocolate chip.
Please note, once the peanut butter cookies are golden remove the baking tray from the oven. The cookies will still appear terribly soft and doughy but as soon as they're cool they become crisp and firm.
Why not pin my peanut butter cookie recipe for the next time you're in need of a quick lunchbox idea. I'd love to know what the family thinks!
If you're looking for more great Thermomix cookies for the kid's lunchbox why not take a look at my Milo Malted Cookies, they get demolished at our house. For more recipes, please follow the ThermoKitchen FB Page. Want to receive an email update when new recipes are released. Why not scroll down and hit subscribe at the bottom of the website.