Thermomix Chicken Salad – Sandwich Meat Epiphany!
Published
What a huge introduction! I hope you're just as excited as I am about my recent discovery. Before I visited the US I had heard Americans use the term "chicken salad sandwich." I presumed they were referring to the same lunch item we have. Meat from a rotisserie chicken on bread with lettuce, tomato and cucumber etc. I was very mistaken.
Deli's in America have a chicken salad mix which gets spooned onto the bread of your choice and perhaps garnished with some lettuce. When I purchased my chicken salad sandwich I was a little disappointed at first. I was craving all the regular salad items. However, when I tried the combination I was in sandwich heaven!
The chicken is moist with mayonnaise, made a little tart using either lemon juice or yoghurt and given a lovely crunch with the addition of celery. I made a mental note to try making my version of chicken salad sandwiches when I returned.
I returned from the US and Mexico nearly three years ago and have never posted my recipe for chicken salad. In my defence, I did write a Thermomix Tex-Mex cookbook, but I never got back to the chicken salad. The reason it took so long, I couldn't be bothered doing all the shredding and mixing by hand. You will be happy to know the Thermomix does all the work! This recipe is a cinch!
As luck would have it, my non-eating child, (aged 12) declared that he was bored with his lunches. Just for the record, I make my kids AMAZING lunches! His favourites are chicken schnitzel brioche burgers and hot dogs with cheese, fried onion, mustard and sauce etc… but anyway, he was bored.
I've seen my boy eat, he spills almost as much as he gets in his mouth. I was going to make him a regular chicken salad sandwich but I could just imagine the spillage. That's when I had my epiphany. The chicken salad sticks to the sandwich. It's actually really difficult to spill. Another plus was it does contain some salad vegetables.
So, I made my version of chicken salad and sent it to school for his lunch. I was expecting it to stay in his lunchbox uneaten. He doesn't like raw onion or celery.
When I asked him how his lunch was I expected him to say. "yeah, it was good, but next time can I just have chicken."
I was so WRONG, I saw him search his mind for the memory of his lunch. His face lite up and he said "That was AMAZING! Can I have it again tomorrow?"
IT WAS A WIN!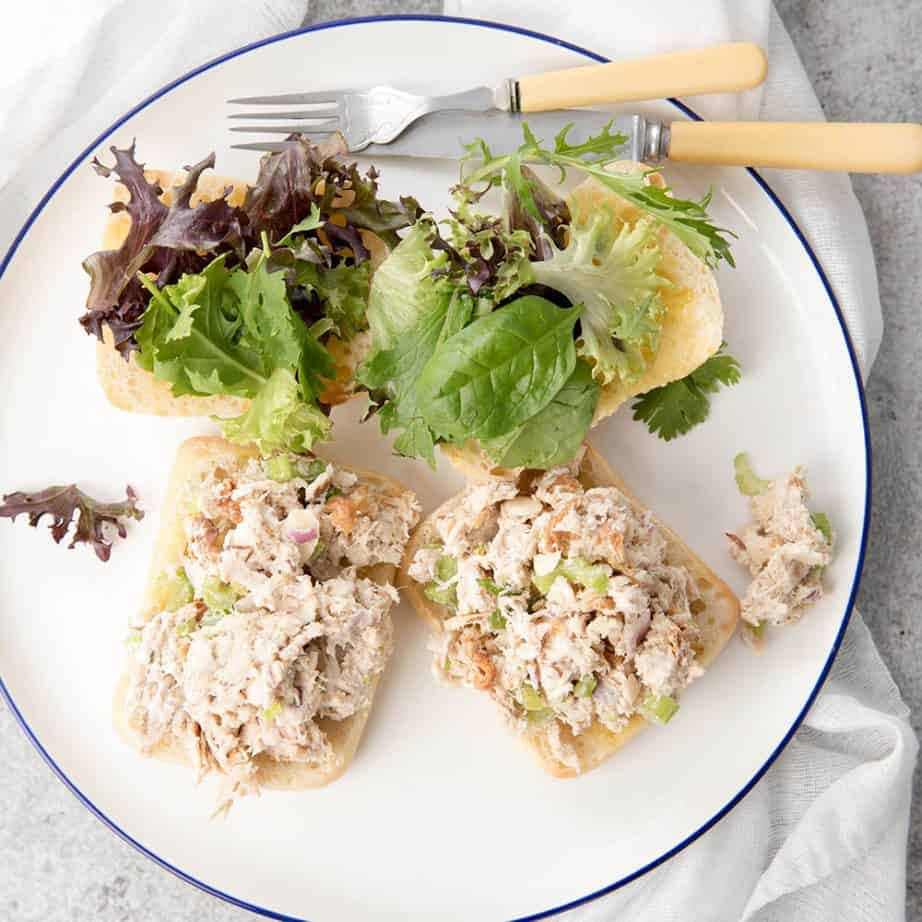 Thermomix Chicken Salad
Thermomix Chicken Salad - It's a Sandwich Meat Epiphany! If you're ever stuck for a lunch idea give this recipe a try!
Ingredients
590

g

baked chicken

1 whole hot rotisserie chicken (including skin)

70

g

red onion

40

g

chicken stuffing

70

g

Aioli

70

g

natural Greek yoghurt

70

g

celery

thinly sliced

40

g

sliced almonds
Instructions
Place the onion in the TM Bowl. Chop 10 sec/Speed 4.

Remove all the meat and skin from the chicken and add it to the TM bowl.

Add all remaining ingredients to the chicken. Combine 30 sec/Speed 3. (NOTE: you can decrease or increase the time depending on the level of chunkiness you like)

Store the chicken salad in a sealed container in the fridge until required.

Serve on bread with lettuce and extra mayonnaise if desired.
Nutrition Facts
Thermomix Chicken Salad
Amount Per Serving
Calories 162
Calories from Fat 63
% Daily Value*
Fat 7g11%
Cholesterol 52mg17%
Sodium 118mg5%
Potassium 205mg6%
Carbohydrates 2g1%
Protein 19g38%
Vitamin A 45IU1%
Vitamin C 0.7mg1%
Calcium 31mg3%
Iron 0.7mg4%
* Percent Daily Values are based on a 2000 calorie diet.
This salad includes mayonnaise, but I've more than halved the usual amount and substituted yoghurt for a lower fat, higher calcium alternative. It also tastes better as it has a little zing!
If you're like me and get stuck for lunch box ideas why not give this sandwich topping a whirl. I find when I'm giving the kids something a little different it's best not to give them a "heads up" in advance. They seem to be much "earlier adopters" when they take a bite without preconceived ideas.
Another great thing about this salad is you can make a large serving on Sunday with your meal prep. Just put it in a container ready for the week. It's so much easier to make school lunches when you don't need to pick the meat off a chicken first. Just take a scoop of the mixture, add some lettuce, a little more mayonnaise if you like and wrap.
Anyway, I would love it if you give this recipe a try next time your packing sandwiches for a picnic, school lunches or just stuck for new ideas. I
If you're eating Keto or LCHF, serve the Chicken Salad in a lettuce leaf for a delicious and completely compliant lunch idea.
ThermoKitchen has a facebook page which shares fabulous Thermomix recipes with followers. Feel free to come over and say hi. If you want to share some of your own Thermomix recipes and tips you can join the ThermoKitchen Group Page.