Chocolate Peppermint Mousse – Thermomix Dessert
Published
My Chocolate Peppermint Mousse is deliciously rich and creamy with a refreshing peppermint hit. This recipe is a lazy version of a traditional mousse, so there are heaps of short cuts which will have the dessert on the table fast!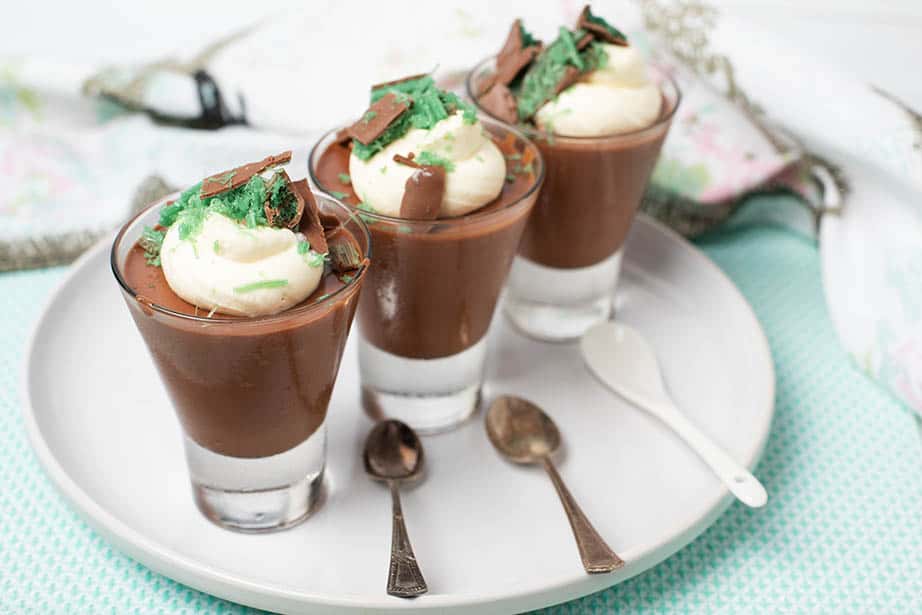 This is such a simple dessert! I feel a little bit guilty calling it a mousse because the ingredients are quite different from a traditional mousse. Most mousse recipes require raw egg yolk in the custard base to enrich the custard and help it set. Raw egg whites are also whipped to help aerate the mousse. A mousse recipe will also sometimes include gelatin to help it set. Using the incorrect amount of gelatin can lead to a stiff mousse or one that fails to set.
So traditional mousse recipes take a bit of skill to perfect. The biggest downfall, however, is in the setting time! Regular chocolate mousses need to be refrigerated overnight. But, honestly, who has time for that!! When I want dessert I want it fast!
That is where my super speedy Chocolate Peppermint Mousse recipe comes to the rescue!
My mousse is a rich chocolatey custard which only requires 2-3 hours in the fridge to firm up.
This recipe is completely free of raw egg, so it's safe for small children and can be enjoyed during pregnancy.
Which Chocolate to use in this Chocolate Mousse?
There are so many varieties of chocolate available for cooking and eating. How do you know which to choose for this dessert?
I used Cadbury dark chocolate with a cocoa content of 45%. Dark chocolate cuts through the sweetness of the dessert and balances the sugar from the marshmallow.
You can use dark chocolate with up to 70% cocoa solids if you particularly like strong dark chocolate.
I wouldn't use milk chocolate in this recipe as the dessert is very sweet and milk chocolate adds more sweetness and less chocolate flavour.
Chocolate Mousse Recipe Variations
I choose to use peppermint oil in my recipe and top each pot with cream and broken peppermint crisp bars because my husband loves peppermint. This recipe is really adaptable and lends itself to many different flavour combinations. Try some of these ideas by swapping out the peppermint oil for;
5-6 drops edible orange essential oil – Decorate with cream and crystallized orange zest
1 TBS Coffee Liquor & 1/2 tsp instant coffee – Decorate with cream and chocolate coffee beans
Substitute chocolate for Toblerone & 1 tsp honey – Decorate with cream & Toblerone, and a drizzle of honey.
Flavoured Oils
The peppermint essential oil I used is a DoTerra oil. I have also made an orange oil mousse which was delicious.
If you follow this link to my Doterra page and then press shop you will find the edible essential oils.
Don't forget to select your country. These oils ship all over the world.
More ThermoKitchen Dessert
There should always be a space left for dessert! To follow are a few of my favourites.
Let's Connect!
Would you mind tagging me on social media if you make any of my Thermokitchen recipes! Chatting and seeing your pictures really makes my day. #Thermokitchen
I would love to share more delicious recipes with you. For Thermomix recipe inspiration LETS CONNECT on;
FACEBOOK
TWITTER INSTAGRAM PINTEREST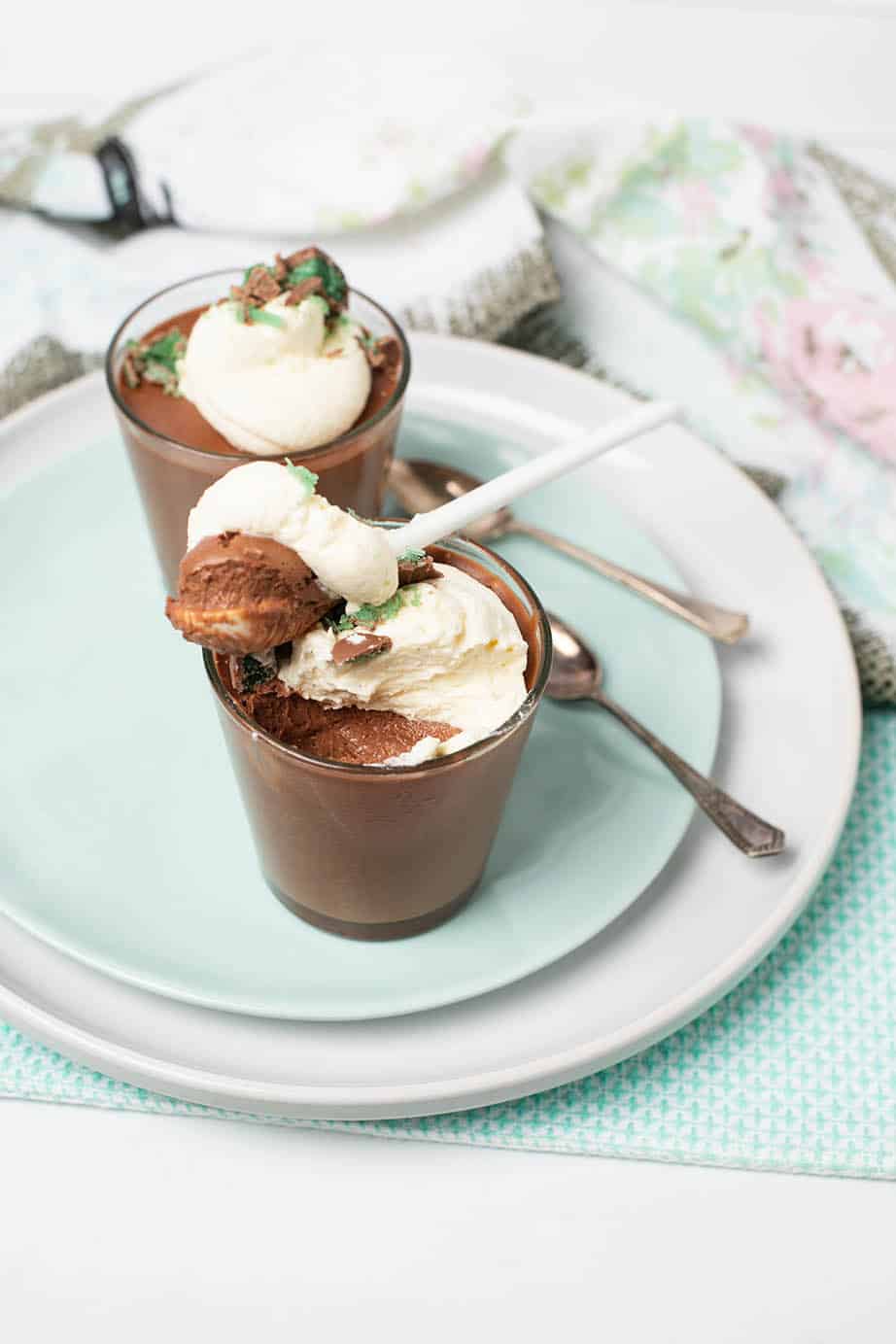 Chocolate Peppermint Mousse
My Chocolate Peppermint Mousse is deliciously rich and creamy with a refreshing peppermint hit.  This recipe is a lazy version of a tradition mousse, so there are heaps of short cuts which will have the dessert on the table fast! 
Cuisine:
Australian, French
Keyword:
Chocolate, Chocolate dessert, Dessert, Mousse, Thermomix
Ingredients
10

g

white sugar

600

g

pouring cream

1

tsp

vanilla extract

250

g

dark chocolate

Cadbury 45% cocoa solids

40

g

butter

room temp, cut in cubes

40

g

hot tap water

150

g

mini marshmallows

5-6

drops

peppermint oil

I use doTerra peppermint oil
Instructions
Add sugar to TM Bowl. Mill 10sec/Speed 9.

Scrape down the bowl and add butterfly whisk.

Add cream and vanilla to the sugar. Whisk at speed 4 with the MC out approx 24 sec.

Watch the cream carefully and stop as soon as the cream will hold soft peaks.

Place 100g of cream in a piping bag for the decoration. Reserve the remaining cream in a bowl for later.

Remove the butterfly whisk. Without cleaning the TM bowl add chocolate. Chop 5 sec/Speed 9.

Add butter and water. Heat 3 min/70 degrees/Speed 2.

Add marshmallows to the chocolate mixture. Melt 3 min/70 degrees/Speed 3.

Allow the chocolate mixture to cool to approximately 40 degrees.

Insert the butterfly whisk.

Add reserved cream and peppermint oil to the cooled chocolate. Whisk 20 sec/Speed 4.
Assemble
Pour the mousse into 8-12 individual serving glasses.

Allow the mousse to chill in the fridge for at least 2-3 hours.

Use the piping bag to decorate the tops of the mousse with reserved cream. Add crushed peppermint crisp bar to the top.
Recipe Video
Recipe Notes
NOTE:
Allow 0ne hour for the chocolate mixture to cool before mixing in the cream.
Allow an additional 2-3 hours for the finished chocolate mousse to chill prior to decorating with reserved cream and chocolate.
Nutrition Facts
Chocolate Peppermint Mousse
Amount Per Serving (12 serves)
Calories 338
Calories from Fat 243
% Daily Value*
Fat 27g42%
Cholesterol 63mg21%
Sodium 55mg2%
Potassium 197mg6%
Carbohydrates 22g7%
Protein 3g6%
Vitamin A 598IU12%
Vitamin C 1mg1%
Calcium 50mg5%
Iron 3mg17%
* Percent Daily Values are based on a 2000 calorie diet.
Dessert Presentation Glasses
The mini glass bottle I used in the video were from the mix it shop.
These are used for fermenting yoghurt but I find them useful for serving size desserts, milkshakes and smoothies for kids parties and loads of other things.
These are available at the Thermomix mixit shop and are only $19 for a set of 8 with lids.
Please select Julie Carlyle as the consultant that sent you. xx
I love making and sharing recipes with the community.
Thermomix has been my passion for nearly four years now and cooking has always been my first love. The product links I have shared are the products I use and recommend. They do also provide me with a small commission which allows me to keep testing, perfecting and producing recipes and videos.
I can't thank you enough for remembering to click on the link if you want the product or use my consultant name if you buy from the mixit shop. In a way the $1 I make from the mixit shop is a testament to the fact that someone enjoyed my recipe, pics or video and is going to make my recipe. It is very heartwarming and validating. I appreciate it more than you can image.
I really hope you try making these little chocolate mousse pots. Please come back and leave me a comment. I love hearing from everyone 🙂
Happy Cooking
j