Gooey Thermomix Chocolate Caramel Brownie
Published
ChocMy gooey Thermomic chocolate caramel brownie has everything you could want in a decadent dessert! The ultimate dense, brownie recipe, with explosions of caramel and crunchy walnuts. This is a recipe you need in your life.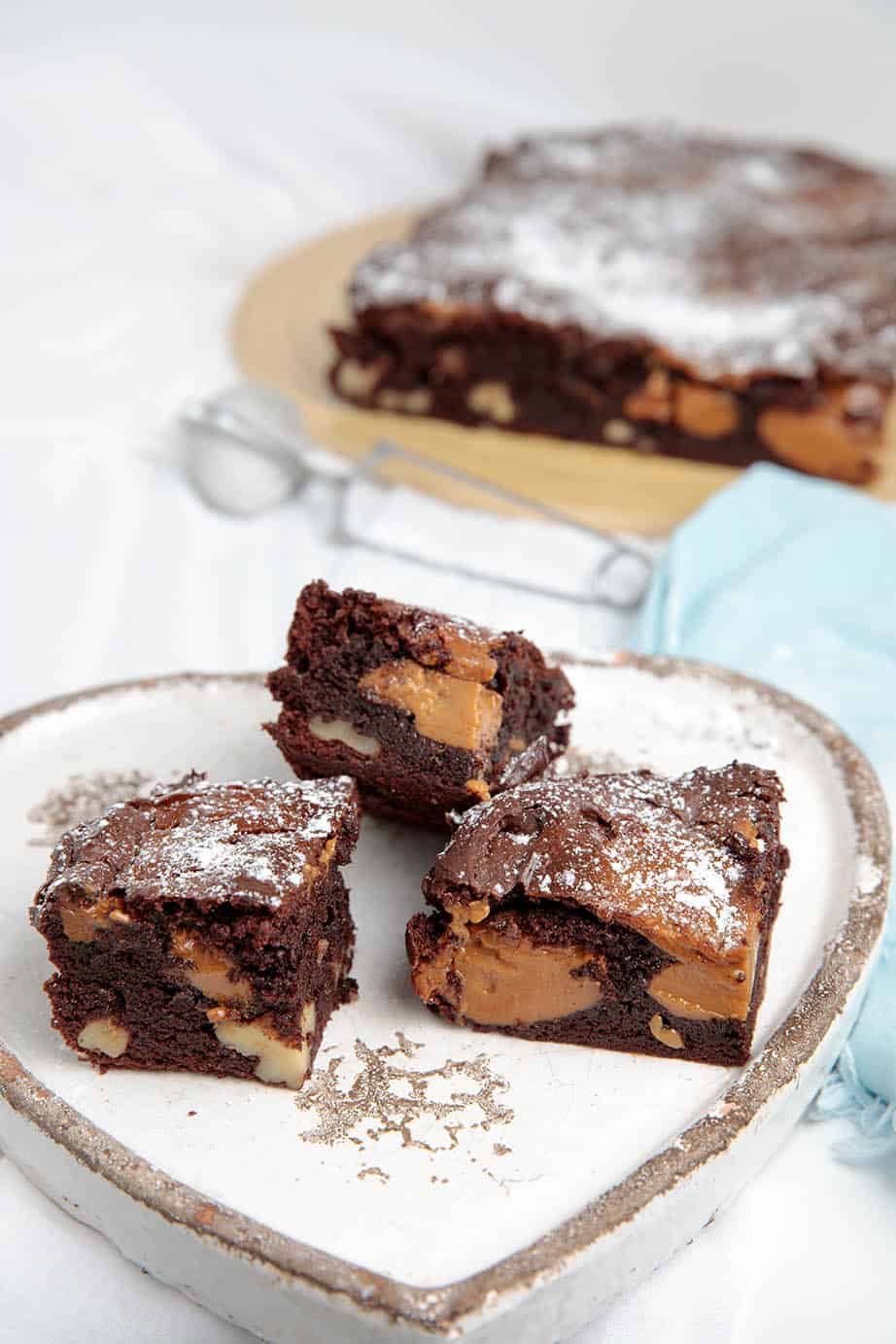 I've always wanted to spend a year living in Paris. I could spend days perfecting my high school French, going to the market and eating out with my lovely husband. I imagine sipping red wine in sophisticated wine bars and indulging my sweet tooth in all the chic French Patisseries. The experience would be a complete immersion in "La vie française" (the French life).
Given that I love all things French, it's not surprising that I am constantly inspired by Chef David Lebovits. I have quite a few of his books including "The Sweet Life in Paris" which is where I first came across this Chocolate Caramel Brownie recipe.
The Sweet Life In Paris
"The Sweet Life in Paris" tells the story of David's relationship with the city and people of Paris, as he moves from San Francisco to take up residence with his French partner. The book gives a very honest portrayal of the cross-cultural difficulties and the subtle differences he experienced as he transitioned from "L'American" to "Le Parisien".
Throughout the book, David shares recipes to go along with the story. He describes these brownies as having the ability to "help open some doors" for him in Paris. Not only did the book offer a glimpse into my Parisian fantasy life, but it shared some delicious recipes to go along with the story.
Today I'm sharing Davids famous recipe for Dulce de Leche Brownies. I've reproduced this Chocolate Caramel Brownie recipe from "The Sweet Life in Paris" by David Lebovitz and adapted it for use with the Thermomix.
Another of my favourite David Lebovitz books is "The Perfect Scoop" This book is filled with delicious ice-cream flavours, toppings and cones. Anyone that has taken a look through the recipes on this site would realise I have a BIG soft spot for ice-cream!
Other Thermomix Chocolate Brownie Recipes
Even though my family don't eat desserts I love brownies! Below I have provided a picture and link to two of my favourite brownie recipes.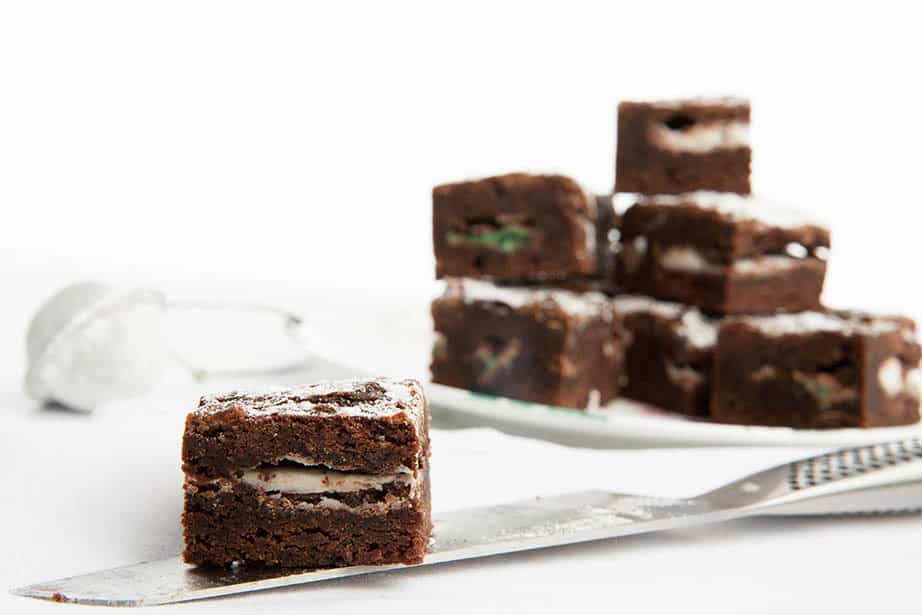 Chocolate Nutella Fudge Brownie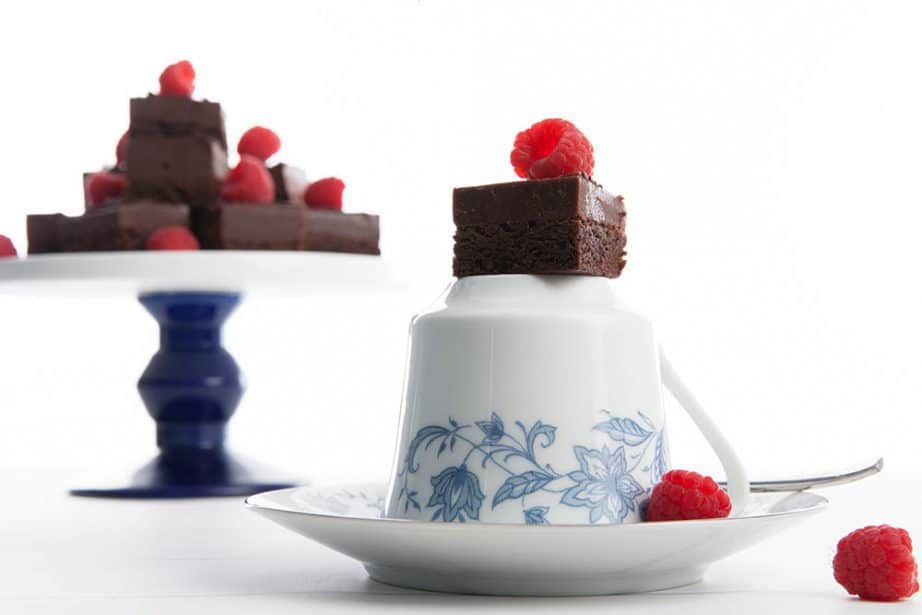 Caramel Brownie Recipe Tips
Chocolate Type:
Even if you're not a fan of dark chocolate you need to trust me and use dark chocolate. Milk chocolate will not give the same depth of flavour. I recommend using dark chocolate with 35% cacao solids. Dark chocolate which has 35% cocoa solids is commonly known as bittersweet chocolate.
If you don't usually like dark chocolate don't be tempted to buy a 70% cocoa solids chocolate as the result will be a more acidic tasting and bitter brownie. Ideally, the dark chocolate should be between 35-60% for the best results.
Storage:
These Chocolate caramel brownies will keep well for up to 3 days at room temperature. However, I prefer to keep them in the fridge where they will last for two weeks. If a longer storage period is required freeze the brownie for up to two months.
Baking:
Bake the brownie for 35 to 45 minutes. The batter is cooked when the centre feels just-slightly firm. Try not to overcook the batter as it will lose some of its moist deliciousness.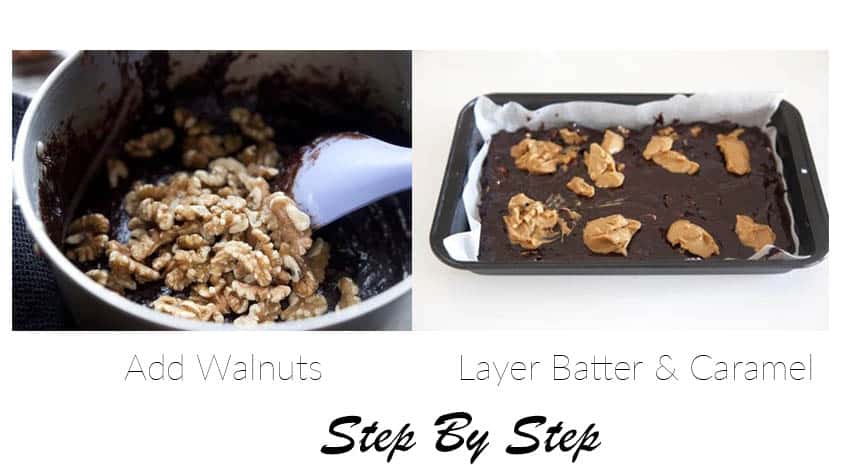 Let's Connect!
Would you mind tagging me on social media if you make any of my Thermokitchen recipes! Chatting and seeing your pictures really makes my day. #Thermokitchen
I would love to share more delicious recipes with you. For Thermomix recipe inspiration LETS CONNECT on;
FACEBOOK
TWITTER INSTAGRAM PINTEREST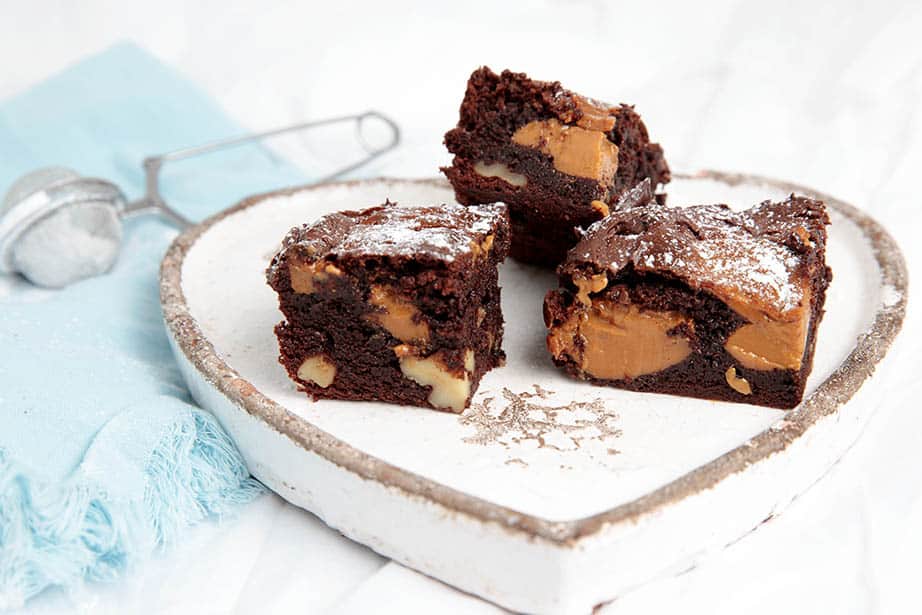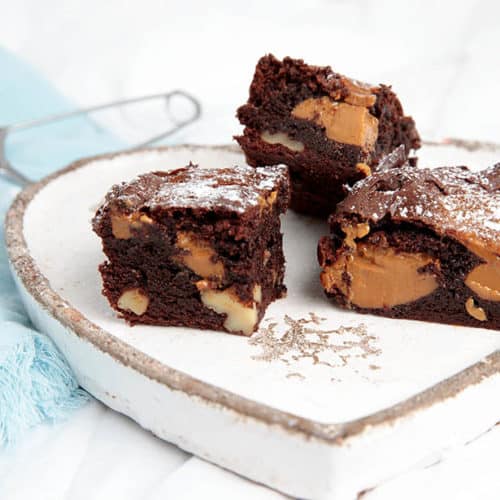 Thermomix Chocolate Caramel Brownie
My gooey Thermomic chocolate caramel brownie has everything you could want in a decadent dessert! The ultimate dense, brownie recipe, with explosions of caramel and crunchy walnuts.  This is a recipe you need in your life.
Course:
Dessert, Slice, Snack
Cuisine:
American, Australian
Keyword:
Brownie, Caramel, Chocolate, chocolate brownie, Lunchbox, slice, Thermomix, Thermomix recipe, Thermomix Slice
Ingredients
170

g

dark chocolate

broken into pieces

120

g

salted butter

at room temp, cut into cubes

200

g

sugar

1 cup

140

g

plain flour

1 cup

1

tsp

baking powder

25

g

Dutch-process cocoa powder

1/4 cup

1

tsp

vanilla paste

3

eggs

100

g

walnuts

1 cup

200

g

Caramel "Top & Fill"
Instructions
Pre-heat oven to 175 degree celsius.

Line a brownie tray with baking paper.

Place the chocolate pieces in TM Bowl. Chop 3 sec/Speed 9.

Add butter and sugar to the chocolate. Melt 7 min/60 degrees/Speed 1.

Place flour, baking powder, cocoa powder, vanilla and eggs in the TM bowl.

Combine 10 sec/Speed 5 (REV BLADE)

Add the walnuts to the TM Bowl. Stir through by hand.

Pour half the brownie batter into the prepared pan. Smooth the top of the slice.

Use half the Caramel "Top & Fill" to add heaped spoonfuls, at intervals, over the brownie base.

Add the remaining brownie batter to the top of the caramel.

Continue to dot the remaining Caramel "Top & Fill" over the brownie.

Bake for 35-45 minutes or until just cooked through when tested with a skewer.

Allow the brownie to cool in the tin.
Recipe Notes
Do not overcook the brownie, it should still be a little moist.
Cool brownies in tray an refrigerate.
The chocolate caramel brownie is much easier to cut neatly once it has been refrigerated.
Nutrition Facts
Thermomix Chocolate Caramel Brownie
Amount Per Serving
Calories 170
Calories from Fat 99
% Daily Value*
Fat 11g17%
Cholesterol 31mg10%
Sodium 46mg2%
Potassium 120mg3%
Carbohydrates 17g6%
Protein 3g6%
Vitamin A 157IU3%
Vitamin C 1mg1%
Calcium 25mg3%
Iron 1mg6%
* Percent Daily Values are based on a 2000 calorie diet.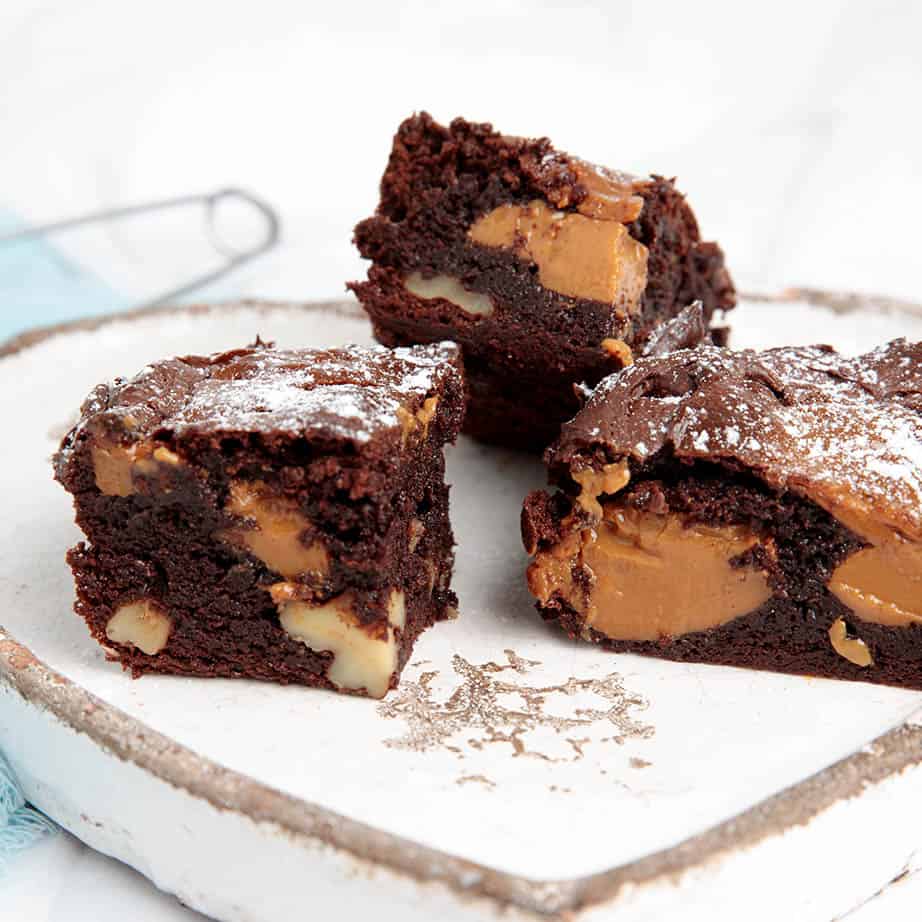 If France is your dream, or you would like some delicious recipes mixed with some laughter "The Sweet Life in Paris" is a great read. I hope you enjoy it as much as I did! Oh, and can you spot the minor change I made to the recipe?
Please feel free to leave me a comment. I love hearing from everyone 🙂Rating the recipe once you've made the dish helps other readers decide whether to make my dishes, so I would love it if you could come back and let everyone know what you think.