Pigs in Blankets or Mini Hotdog Rolls
Published
My kids often look at me like of lost my mind. When they asked what I was cooking and I told them "Pigs in blankets," they looked like they thought I'd finally flipped.  For a moment I even wondered if I had the correct name for these mini hotdog rolls.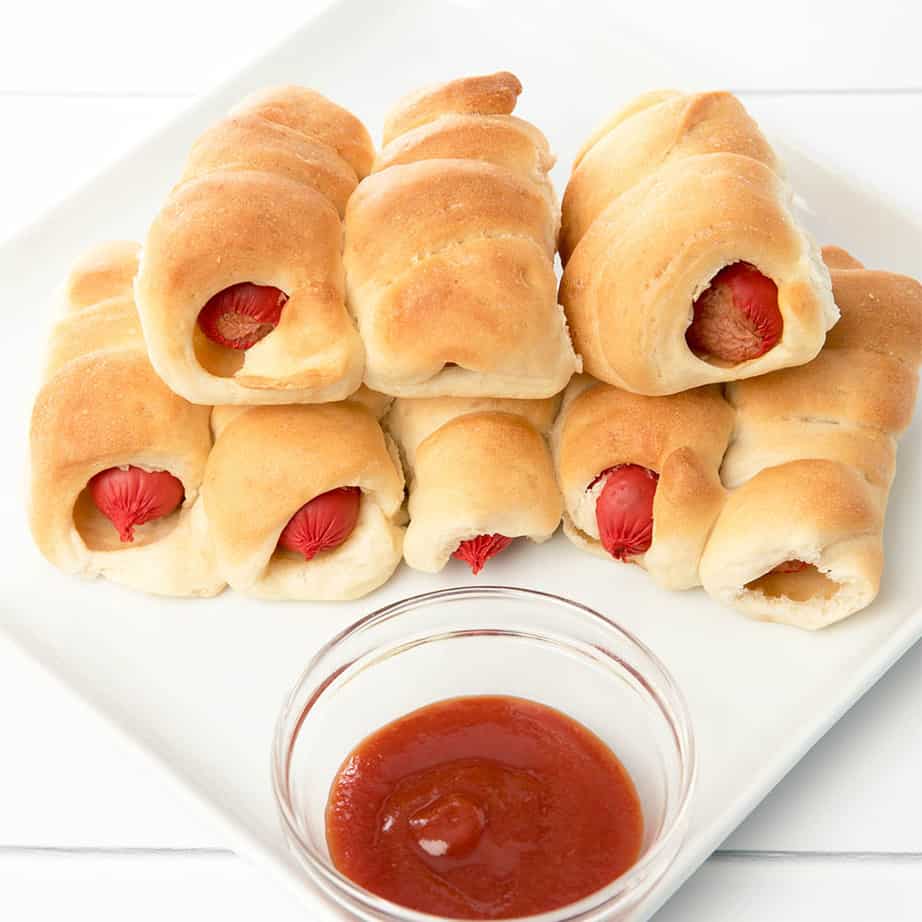 Pigs In Blankets or Mini Hot dogs
This is a great lunchbox idea for kids and is made even quicker if you're using a Thermomix to make the dough.
Cuisine:
American, Australian
Ingredients
7

gm

yeast

1

tsp

sugar

220

ml

warm water

20

gm

oil

450

gm

bakers flour

1/2

tsp

apple cider vinegar

20

small frankfurts
Instructions
Place the water, yeast and sugar in TM bowl. Combine 30 sec/Speed 3

Add the flour, salt, oil and apple cider vinegar to the TM. Knead 2 min.

Allow the bread to proof in the TM bowl for 30 minutes or until it's risen to twice the size.

Line a roasting tray with baking paper.

Remove the dough from the TM and roll out to 1 cm thickness on an oiled bench.

cut ten strips of dough along the longest width. Cut each strip in half to shorten them.

Wrap one strip around each frankfurt and place them on the baking tray.

Preheat the oven to 180 degree celsius.

Cover the pigs in blankets with a clean tea towel and place in a warm spot to proof for an hour. The dough will rise and become light and puffy.

Bake for 20 minutes or until golden.
Recipe Notes
Add tomato sauce just before serving.
Nutrition Facts
Pigs In Blankets or Mini Hot dogs
Amount Per Serving (1 Roll)
Calories 138
Calories from Fat 45
% Daily Value*
Fat 5g8%
Sodium 265mg11%
Carbohydrates 17g6%
Protein 5g10%
Iron 0.9mg5%
* Percent Daily Values are based on a 2000 calorie diet.
After a quick google search, I found that "frankies' in pastry or dough is also known as "pigs in blankets". So it seems I had the recipe name correct, however, this term seems to be lost on the younger generation. Although the kids found the name weird they absolutely loved the hotdogs.
These little piggies were a lunchbox idea that came to me as I pondered the last week of school lunch selection in my empty fridge. There was literally nothing in the fridge and we had no bread left.
Anais loves to help me make dough in the Thermomix, so I enlisted her help. She made the dough without any help from me. After the dough had proofed we rolled it out to 1 cm thickness and cut long strips. Each strip was then cut in half to shorten them. It was an easy task to wrap a strip of dough around the "little boys" and place them on a baking tray to proof. cut and we let it proof
Anais was super happy with her cooking success and both kids were pleased to have a more exciting lunchbox the following day. Do you find it difficult coming up with interesting things to pack in the kids' school lunch boxes? I'm always looking for quick, tasty recipes.
Take a look at some of these ideas to help make your "back to school" tasty.
These sushi pockets are filled with rice and whatever filling your child enjoys.
An oldie but a goodie is this Zucchini Slice. I could make this every week and I wouldn't get one complaint from the husband or children!
So, I'm wondering, would you call these mini hot dogs or "Pigs in Blankets?"
If you would like more great Thermomix recipes, please follow the ThermoKitchen FB Page. I share loads of great recipes on the page. Our community group page also shares recipes from other fabulous Thermomix bloggers.
Thanks for stopping by!