Sultana Slice – A Back to School Lunch Box Idea Kids Love!
Published , Last Updated
This sultana slice is also known as Russian slice is a deliciously sweet, golden syrup slice which is dotted with plump sultanas. It's super quick to make and perfect for back to school lunch boxes.
Is everyone ready to start the new school year? I have 5 children and 2 are returning to school. Thankfully the three bigger kids have finished school. This year Lachlan is starting high school and Anais will be in year six. At this time of year, I reevaluate my lunch box ideas in the hope of being better organised.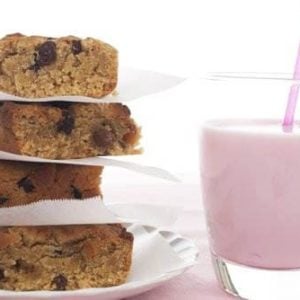 Russian Slice - Back to School Lunchbox Idea
I school treat kids will love!
Course:
Lunchbox, Slice, Snack
Cuisine:
American, Australian, Russian
Ingredients
300

g

butter

1/3

cup

golden syrup

3/4

cup

brown sugar

2

tsp

vanilla essence

1 1/2

cups

sultana

3/4

cup

natural yoghurt

3 3/4

cup

plain flour

3 1/2

tsp

baking powder

2

eggs
Instructions
Preheat the oven to 170 degrees Celsius and line a large roasting tray with baking paper.

Place the butter, sugar, golden syrup and vanilla extract in the TM bowl. Melt 5 min/100 degree/Speed 3.

Add the yoghurt, flour and baking powder to the TM bowl. Mix 1min/ Speed 3.

Add eggs and sultanas to the batter. Combine 20 sec/Speed 4.

Pour the batter into the prepared tray and bake for 20 minutes or until golden and a skewer comes out clean.
Recipe Notes
Feel free to drizzle a little bit of lemon icing or melted chocolate over the slice.
Nutrition Facts
Russian Slice - Back to School Lunchbox Idea
Amount Per Serving
Calories 180
Calories from Fat 72
% Daily Value*
Fat 8g12%
Cholesterol 31mg10%
Sodium 76mg3%
Potassium 143mg4%
Carbohydrates 25g8%
Protein 2g4%
Vitamin A 255IU5%
Vitamin C 0.2mg0%
Calcium 45mg5%
Iron 0.9mg5%
* Percent Daily Values are based on a 2000 calorie diet.
Surprisingly, my children have never been lovers of muesli bars so I've never been able to just go to the shops for a healthy recess option. I'm also not a fan of packing chips and bought cookies in lunchboxes, although don't get me wrong, I will do what I need to do to get the kids out the door on time!
Sultana slice is one lunchbox staple which I know all my children have loved. The recipe was given to me when Anais was at pre-school nearly 7 years ago. I remember I was dropping her off at the daycare centre and the most intoxicating smell was coming from the kitchen. Once I settled Anais I went to visit Sue, the daycare cook. I discovered she was preparing a golden syrup and sultana slice for the little kids morning tea.
I complimented Sue on the fabulous smelling slice and asked if she would share the recipe. Thankfully, Sue was happy to write the recipe down for me. She mentioned that all the kids loved it when she makes her Russian Slice.
Sue was completely correct, this slice is a hit with the kids. I've been making periodically for the kids for many years now and it's always devoured.
Since it is nearly back to school time I thought I would add a few links to other lunchbox recipes:
If you would like more great Thermomix recipes, please follow the ThermoKitchen FB Page. I share loads of great recipes on the page. Our community group page also shares recipes from other fabulous Thermomix bloggers.
Thanks for stopping by!