Super Quick Sugar-free Fig & Banana Bread Recipe
Published , Last Updated
Banana Bread is a lunchbox favourite and this version contains far less sugar than your cafe loaf. A sweet but healthy alternative!
Banana bread is one of the kids favourite lunchbox treats, which is probably lucky as we always seem to have ageing banana's in the fruit bowl. The problem I have with the Thermomix banana bread recipe on the basic chip is that it's very sweet! It's no wonder it tastes so good. At the moment I'm trying to cut down our intake of processed sugar and increase our consumption of fibre so I wanted to make this recipe healthier.
Sugar-Free Banana Bread Modifications
I have made some basic modifications to a fairly standard banana loaf recipe to give it more nutrients and less refined sugars. Here are the substitutions:
Figs replace sugar – more nutrients, fibre and less refined sweetness
Coconut oil replaces butter – healthier fat choice, dairy-free
Coconut milk replaces regular milk – healthy fats and dairy-free
I really like using figs in this recipe as the sweetening agent. Figs are a nutritional treasure trove, full of fibre, calcium, zinc and iron. Switching 150gm of sugar to 150gm of figs gives a significant nutritional boost to our bread. Take a look at the nutritional values of the banana bread shown in the recipe. Although this is still a snack food it provides valuable nutrients.
What does Fibre Do?
Increasing fibre in the diet helps you to feel full for longer, meaning it's easier to reduce your food intake without feeling hungry. Fibre also feeds the good gut bacteria and helps them to thrive. I've been really into eating lots of probiotic foods so part of maintaining these good microbes once they've been consumed, means feeding them the fibre and prebiotic food they need to live.
To make things even easier you can actually use the cookidoo basic recipe for banana bread recipe BUT make the healthy swaps in this recipe. The process remains the same. If you don't have a Thermomix just use your food processor.
Let's Connect!
Would you mind tagging me on social media if you make any of my Thermokitchen recipes! Chatting and seeing your pictures really makes my day. #Thermokitchen
I would love to share more delicious recipes with you. For Thermomix recipe inspiration LETS CONNECT on;
FACEBOOK
TWITTER INSTAGRAM PINTEREST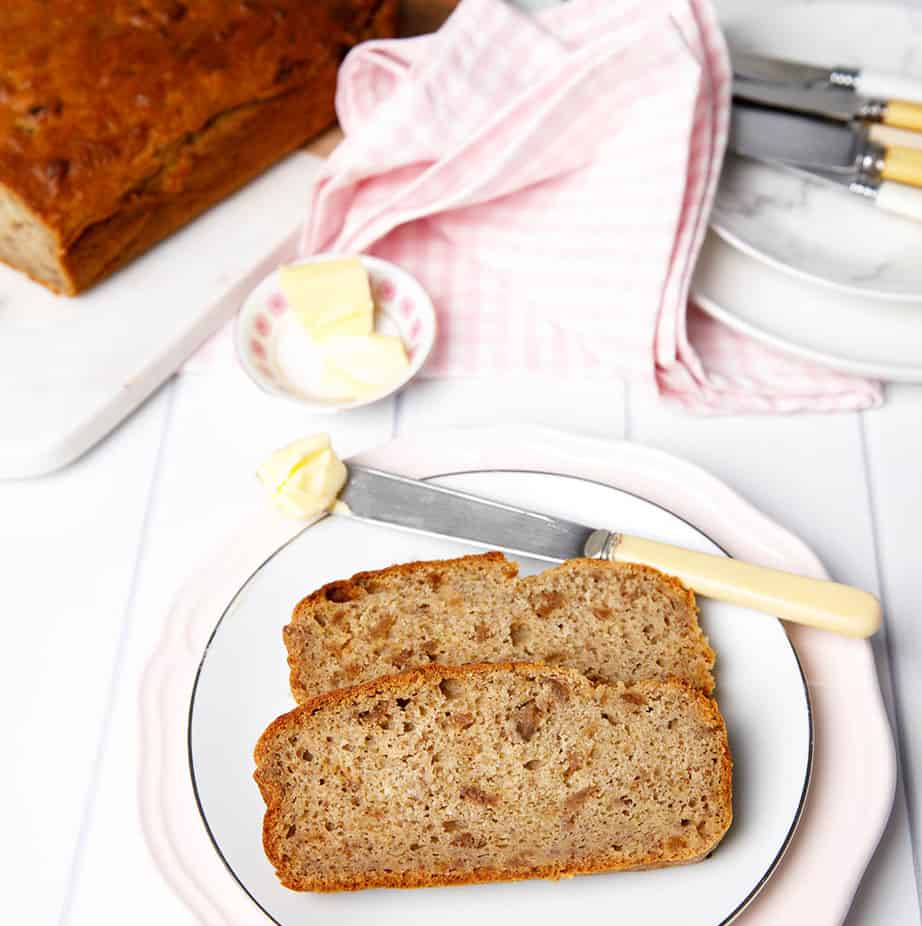 Sugar-free Fig & Banana Bread Recipe
This is a fabulous banana bread recipe which has been modified to make it sugar-free and high fibre. Much healthier snacking and you can still use you TM5 chip and follow the Banana bread method on the chip.
Course:
Cake, Lunchbox, Snack
Keyword:
Banana bread, sugar free, Thermomix recipe
Ingredients
320

gm

banana

130

gm

coconut oil

or butter if desired

130

gm

dried figs

2

eggs

220

gm

plain flour

2

tsp

baking powder

1

tsp

bicarb soda

100

gm

coconut milk

1/2

tsp

cinnamon

optional

1/4

tsp

ground ginger

optional
Instructions
Preheat the oven to 170 degrees celsius. Line a large loaf tin with baking paper.

Place the banana and figs in the TM Bowl. Blend 5 sec/Speed 6.

Scrape down the TM Bowl. Add the coconut oil. Combine 20 sec/Speed 4.

Add the eggs, ginger, cinnamon and coconut milk. Combine 10 sec/Speed 4.

Add the flour and baking powder and bicarb soda. Mix 20 sec/Speed 4.

Pour the batter into the prepared tin.  Cook for 50 minutes or until a skewer comes out clean.

Turn the cake out onto a wire rack after 30 minutes or allow it to fully cool in the tin.
Recipe Video
Recipe Notes
Try the banana loaf toasted for breakfast.
Nutrition Facts
Sugar-free Fig & Banana Bread Recipe
Amount Per Serving (1 slice)
Calories 221
Calories from Fat 117
% Daily Value*
Fat 13g20%
Cholesterol 25mg8%
Sodium 110mg5%
Potassium 278mg8%
Carbohydrates 26g9%
Protein 3g6%
Vitamin A 52IU1%
Vitamin C 2mg2%
Calcium 58mg6%
Iron 1mg6%
* Percent Daily Values are based on a 2000 calorie diet.
My toughest critics are always the kids. I am very happy to report that the healthy switch went completely unnoticed! I was fairly confident that adding dried figs to the banana the recipe would be sweet enough to satisfy my kids' sugar radar and it was!! That's what I call "a win for the good guys!"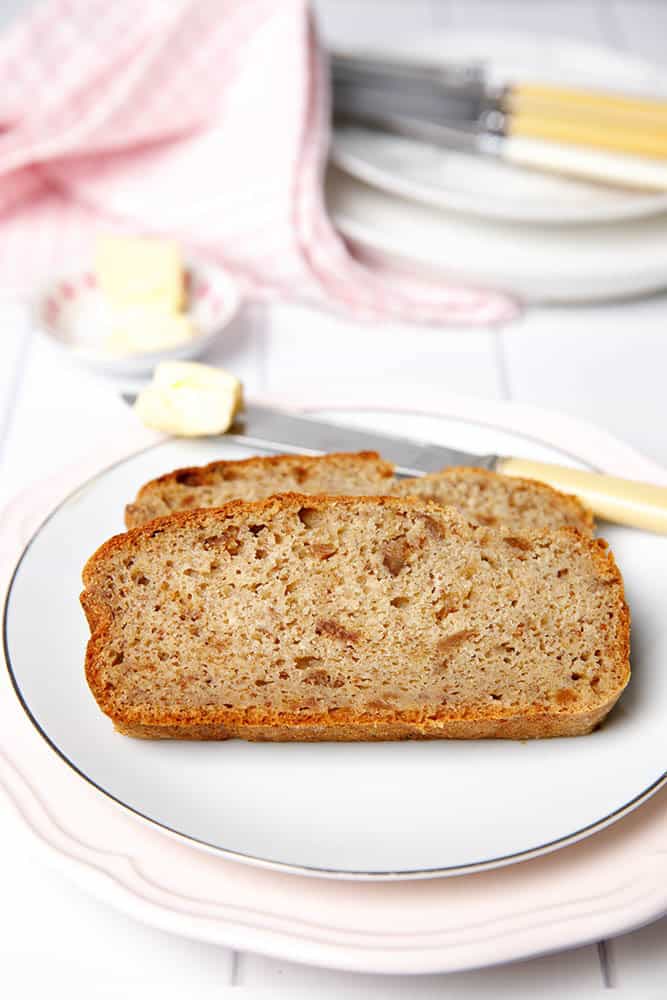 Make sure you bookmark or pin the recipe for when the kids go back to school 🙂
I really hope you enjoy the recipe. If you make this loaf please feel free to leave a comment below and let me know how you enjoy the bread.
Thanks for stopping by!