Best Hot Cross Buns Recipe for Easter
Published , Last Updated
Perfect Hot Cross buns are easy this Easter with my simple recipe. This recipe makes super soft, deliciously fluffy buns. The addition of a bit of milk and butter gives the buns a richer taste and texture. Best of all the whole house will smell delicious as the buns bake!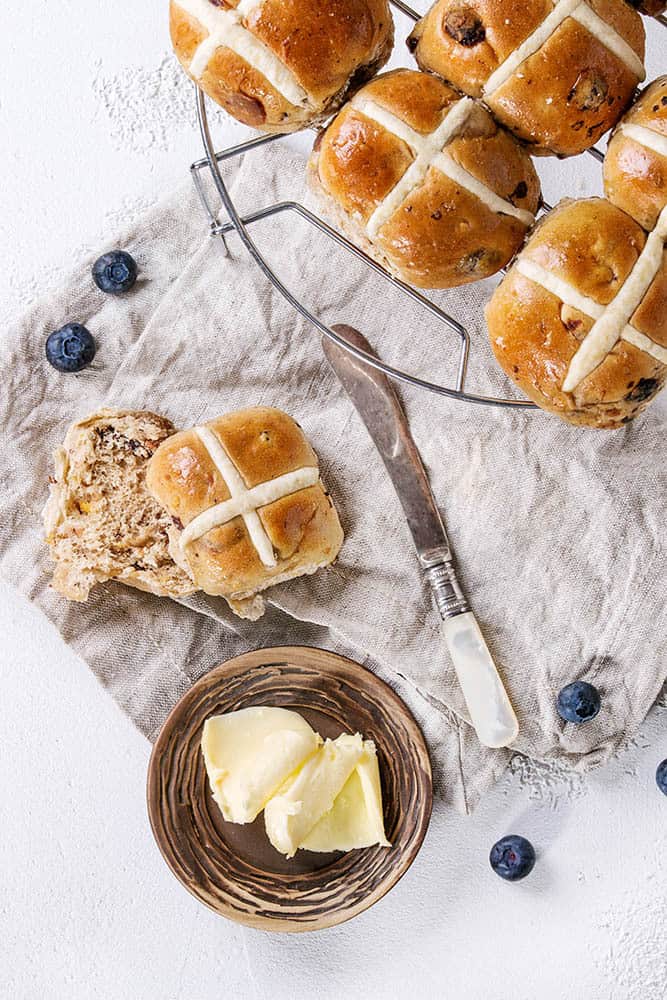 Our family always celebrates Easter with freshly made bread. We usually make hot cross buns, but in years past we have made brioche cooked with tye dye boiled eggs, Filipino Ensaymada and many other special Easter bread. I started this tradition because I wanted to make sure the kids had something in there stomachs before they launched in the chocolate Easter eggs.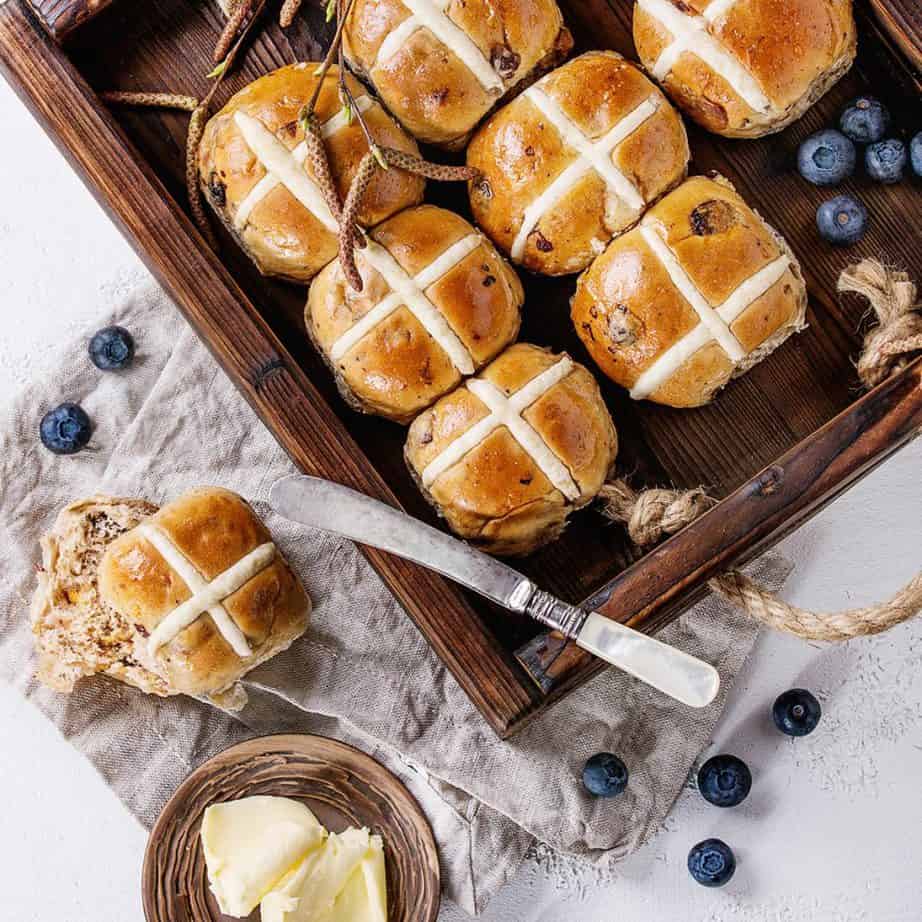 I could have just given the kids cereal for breakfast, like any other morning… but then it would be special.
The recipe I'm sharing was printed in the recipe booklet which came with my breadmaker. The breadmaker is more than 20 years old so I've been making these hot cross buns for a long time. Over the years I've altered the recipe slightly and they always work out perfectly.
However, once I bought my Thermomix there was no need for the breadmaker. So I kept the hot cross bun recipe and adjusted it for the Thermomix and gave away the breadmaker.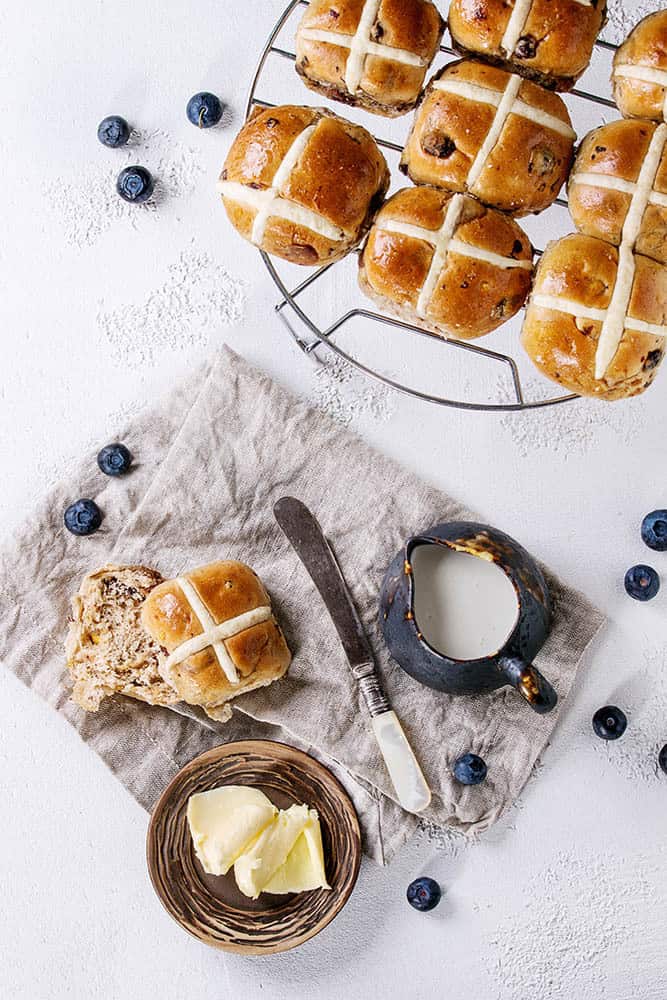 If you would like to make the Bakers Delight style chocolate Easter Buns the recipe is easily adjusted.
Chocolate Hot Cross Buns Variation
Using the recipe above;
omit the spices and substitute 2 teaspoons of dutch process cocoa powder.
omit sultanas and add 200gm chocolate bits.
Iced Hot Cross Buns Variation
I also like to use icing sugar to make the cross on my hot cross buns instead of the traditional flour paste cross. If you want to add an icing cross you will still need to glaze the buns with the sugar glaze whilst they're hot. Once the buns have cooled decorate with a thick white icing sugar cross.
Let's Connect!
If you would like more great Thermomix recipes, please follow on your favourite social media site below. Oh, and would you mind tagging me if you make any of my Thermokitchen recipes! Chatting and seeing your pictures really makes my day. #Thermokitchen
LET'S CONNECT on;
FACEBOOK
TWITTER INSTAGRAM PINTEREST
P.S Subscribing is another great way to get recipe updates.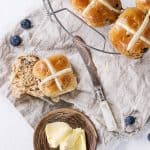 Thermomix Hot Cross Buns
There is nothing better than the aroma of hot cross buns baking.
Course:
Bread, Cake, Easter
Keyword:
Baking, Easter bun, Easter recipes, Hot Cross Bun
Ingredients
200

g

water

warm tap water

2

tsp

dried yeast

560

g

bakers flour

1

tsp

salt

70

g

milk

warm

2

tsp

bread improver

70

g

sugar

3

tsp

ground cinnamon

2

tsp

ground nutmeg

50

g

butter

at room temp

200

g

sultanas
Instructions
Place water, yeast, milk, butter and sugar in TM bowl. Combine 3 min/40 degrees/Speed 2.

Add flour, salt, bread improver, cinnamon & nutmeg to TM bowl. Combine 40 sec/Speed 3.

Scrape down the bowl if necessary.  Knead 2 min/Dough 

Add the sultanas. Knead 50 sec/Dough.

Remove the dough from the TM bowl and incorporate and lose sultanas by hand.

Spray the Thermoserver with oil and place the dough in the covered Thermoserver to proof. (approx 30 minutes or until double in size)

Once the dough has doubled in size remove the dough from the Thermoserver and place on an oiled bench.

Knead the dough by hand and divide into 12 equal buns.

Line a tray with baking paper.

Place the buns, side by side on the prepared baking tray leaving a small gap so that the buns will eventually touch as they proof.

Place the baking tray in a warm place with a tea towel to cover.

Pre-heat a fan forced oven heated to 170 degrees or a regular oven to 180.
Decorative Cross
In a small bowl add the flour and water. Stir by hand until combined.

Use a piping bag to draw a cross over the tops of the buns.

Place the buns in the oven and cook for 25-35 minutes.
Bun Glaze
Place the sugar and water in a microwave proof dish. Microwave 50 sec on high.

Once the buns come out of the oven apply the hot glaze immediately to the top of the buns with a pastry brush.
Recipe Notes
Proofing the Dough
You should proof the dough until it has reached double the original size. Sometimes this is a quick process and sometimes it can take longer. The key variable is the outside temperature. Yeast is a living organism and it will not become active unless it is in a warm environment. 
To speed up the proofing process, cover the dough and bowl with a tea towel and leave it in a sunny spot to proof.  If it is a particularly cold day place the covered bowl in your car.
SECOND PROOFING
This is just as important as the first. Proof, allow the Easter Buns enough time to rise to the finished size before baking. They will not continue to rise in the oven. All the size happens in the second proofing.
Nutrition Facts
Thermomix Hot Cross Buns
Amount Per Serving
Calories 348
Calories from Fat 45
% Daily Value*
Fat 5g8%
Cholesterol 14mg5%
Sodium 250mg10%
Potassium 278mg8%
Carbohydrates 66g22%
Protein 8g16%
Vitamin A 160IU3%
Vitamin C 1.1mg1%
Calcium 75mg8%
Iron 2.9mg16%
* Percent Daily Values are based on a 2000 calorie diet.
Thanks for stopping by I hope you enjoy the recipe. If you make these Easter buns please pop back and let me know what you think. There's even a star rating to can use to provide feedback for others!