Thermomix "Not Naughty" Nutella Recipe
Published , Last Updated
Today I want to share my "Not Naughty" Nutella recipe. My children love Nutella! I hate Nutella. It's so high in sugar and contains a stack of palm oil.  I find the concept of eating it physically repulsive! Yep, I know, I know, I'm probably the only person in the world that dislikes Nutella.
Don't get me wrong… the concept of blended nuts with chocolate is a good one, but the ingredient list on a jar of Nutella just doesn't deliver.  I started thinking of ways I could improve the recipe. I wanted to make a "Not Naughty" Nutella recipe. My finished product had to taste really good, but with an improved nutritional value.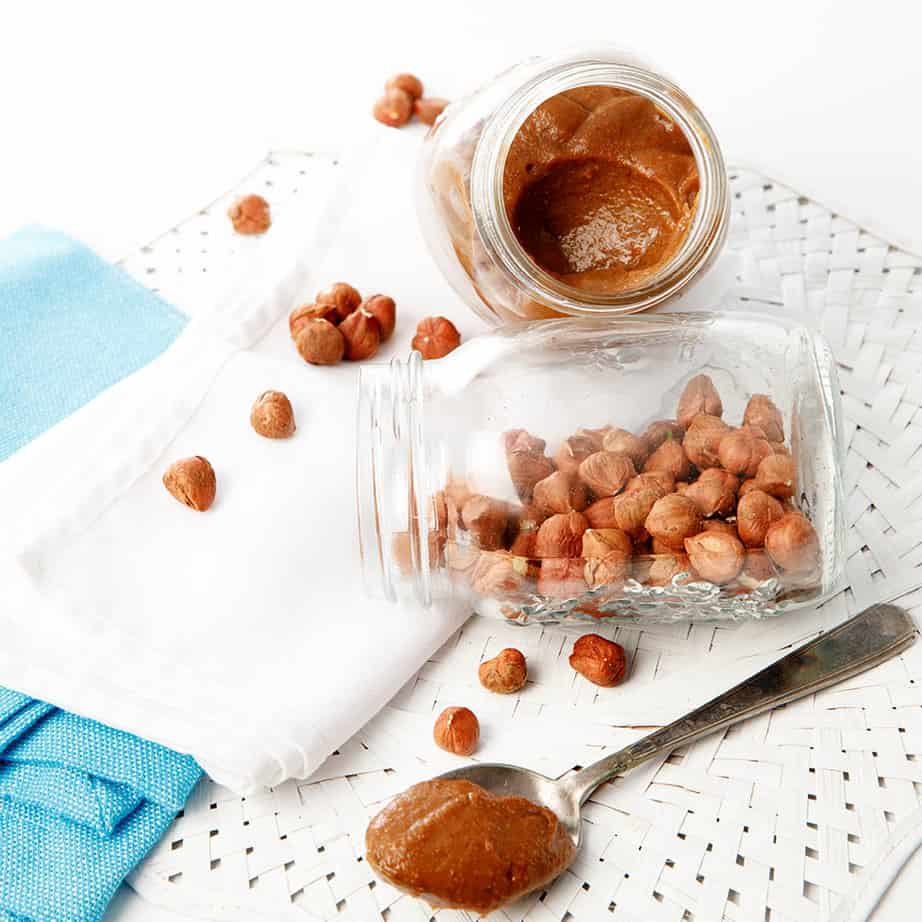 Not Naughty Nutella Recipe
Want a healthier spread for the kids! This Chocolate & Hazelnut spread tastes like Nutella but is so much healthier!
Course:
Curd, Dessert, Snack, Spread
Cuisine:
American, Australian
Ingredients
100

gm

hazelnuts

100

gm

milk chocolate

130

gm

Medjool Dates

pits removed

200

gm

coconut cream

5

gm

vanilla paste
Instructions
Pre-heat oven to 180 degrees celsius.

Place hazelnuts on a baking sheet and roast for 10 minutes.

Place the hazelnuts in a clean tea towel and rub to remove the outer dark shell.

Add the nuts, chocolate, vanilla, dates and coconut milk to the TM Bowl (or food processor) Blend 1 min/Speed 8.

Scrape bowl the bowl and Blend 30 sec. Speed 7.

Check the consistency of the spread. If it's smooth transfer the chocolate spread to a jar and refrigerate. If you want it smoother repeat the blending process.
Recipe Notes
The recipe makes a 535gm jar of Not Naughty Nutella. 
The nutritional value is based on a 25gms scoop. This is approximately a tablespoon. 
There are 21 scoops @ 25gm in one 535gm jar. 
Nutrition Facts
Not Naughty Nutella Recipe
Amount Per Serving
Calories 100
* Percent Daily Values are based on a 2000 calorie diet.
So I made some recipe switches.
Nutella Ingredients:
Sugar 55%
Palm oil (volume not disclosed somewhere between 30% and 14%)
Hazelnuts 13%
Cocoa solids
Non-fat milk solids
Soy lecithin
Vanillan (artificial vanilla)
Wow!! Nutella has 55% refined sugar!
Nice Nutella Ingredients
Coconut Cream 37.5%
Medjool Dates 24.5%
Macadamia Nuts 18.5%
Chocolate 18.5%
Vanilla paste
All ingredients on both lists are shown in order of how much is contained in the spread.
Now I know my nut & chocolate spread isn't a health food, but I think my ingredients are a huge improvement on the original recipe. I wanted to get rid of the sugar straight away so I substituted dates. Dates add valuable fibre, magnesium, B6, potassium and iron to the spread. They also help keep the spread, spreadable. I chose to use coconut cream to make the Nutella spreadable. Coconut cream is still a high-fat ingredient but at least it has 2.2gm fibre, iron and some protein. I've used a slightly higher amount of nuts, 18% and 18% good quality chocolate.
I also chose coconut cream to help make the Nutella spreadable. Coconut cream is still a high-fat ingredient but at least it has 2.2gm fibre, iron and some protein. I've used a slightly higher amount of nuts than the original recipe 18% compared to 13%.
Then I chose a good quality chocolate.  Yep, it's a chocolate spread so we need to add the chocolate. This ingredient makes up 18% of the recipe also.
So whilst my Nutella recipe is still a "sometimes food" I think it's okay to have it in small quantities. I also tried making the spread with 75% cocoa dark chocolate. It was delicious, although the kids preferred the milk chocolate recipe.
So the big question is "Does it taste like Nutella?"
I put my kids to the test and got a unanimous yes!  After a few mouthfuls, they said it was a little different… "but maybe even better!!"
I call that a win for the good guys 🙂
Please try my Nutella recipe and let me know what you think. Don't forget to pin it for later 🙂
If you would like more great Thermomix recipes, please follow the ThermoKitchen FB Page. I share loads of great recipes on the page. Our community group page also shares recipes from other fabulous Thermomix bloggers.
Thanks for stopping by.