Basic Pasta Recipe – Easy tutorial for all pasta!
Published
This basic pasta recipe is all you will ever need to make delicious homemade pasta in any shape or size. The recipe is suitable for lasagne, fettuccine, spaghetti and tortellini. Make your dough, by hand, in a mixer or in the Thermomix. It's just so easy!
Making pasta from scratch is one of those cooking skill which seems hard, but is actually really simple. This recipe uses just 2 ingredients so it really is very basic! I've made a pasta-making tutorial which is included in this story to help demonstrate the laminating process.
Pasta Ingredients
This lovely rich pasta recipe contains just two ingredients and produces a beautiful silky pasta. Did you know eggs and flour are the only ingredients needed to make pasta?
The Flour
"oo flour"
Choose "00" flour for your pasta. The double "0" refers to how finely the flour has been milled. This flour is super fine and produces a lovely soft pasta. Also, different flours have varying gluten levels. Gluten is the protein which binds the dough and allows it to be flattened without breaking. Finally, all flour has the ability to uptake liquids at different rates. When you substitute one flour with another you change the amount of liquid you need in the recipe to create the correct texture.
Plain flour
So the preference is for "00" flour for all the very important reason above. BUT, sometimes it's just not possible to get "00" flour.
What should you do if "00" is not available?
Don't panic!! I have you covered. If you only have access to regular flour you can still make pasta. I would suggest following the recipe below but adding a tablespoon of water to the dough before mixing. Like I said earlier, each flour has a different liquid absorption rate and you may need a fraction more water.
Using regular flour it is really important to make sure the dough is rested properly and laminated well to exercise the gluten and give the dough strength.
Eggs
The final ingredient is the humble egg! The eggs should be at room temperature. The reason for this is anything cold added to the flour inhibits the relaxing of the dough. If you are using fridge cold eggs you should allow the dough to rest longer and it will soften.
This recipe uses 2 whole eggs for protein and fat and an additional 3 egg yolks for a silky, rich pasta.
Kneading the Basic Pasta Dough
As I previously mentioned the flour contains gluten which gives the dough the strength it needs to be passed through the pasta maker without breaking. To activate the gluten the dough is kneaded.
Kneading by hand
If you are kneading by hand you will certainly get your exercise. The dough will start off quite stiff and it must be kneaded vigorously for 10 to 15 minutes until a soft, shiny dough is produced. At this point, the dough should not be sticking to your hands. The texture of the tough should be the same as pressing on a rare steak.
Kneading in a Stand Mixer
Pasta dough can be kneaded in a stand mixer. Firstly combine the ingredients. Add a dough hook and then knead for 10 minutes.
Kneading by Thermomix
I prefer to use the Thermomix to prepare the dough as it's the simplest and quickest method. Simply and the ingredients and combine for 10 sec/ speed 3. Then select dough mode for a further 2 minutes.
Resting the Dough
Once the pasta dough has been kneaded and the gluten has been activated it's important to rest the dough. Resting the dough allows the gluten in the flour to relax so it doesn't "spring back" every time you roll it.
Divide the kneaded pasta into four parcels, coat each dough parcel lightly with flour, then wrap in plastic and allow the dough to remain on the bench for at least 15 minutes.
Please! Don't put the pasta dough in the fridge!
This will cause the pasta to become very difficult to manage until it comes back to room temperature.
Rolling the Pasta
As with anything, there are a number of methods to rolling your pasta dough. The method you choose will depend on the effort you want to go to and the expense. By far the most cost-effective method is the rolling pin. Everyone will have a rolling pin on hand so there is no additional expense involved in making pasta using this method. However, this is very labour intensive. It is important to laminate the pasta thoroughly at each thickness to ensure the pasta has the necessary strength.
Manual Pasta Roller – Avanti
My first pasta rolling machine was an Avanti manual roller which clamped onto the bench. I loved it! It worked perfectly and rolled beautiful pasta. I would need hubbies help as it required one person to turn the lever and one person to feed the pasta through the machine and out the other side. It was a very therapeutic activity, especially with a glass of wine in hand. The Avanti manual pasta roller was an amazing machine and only cost about $45!
Electric Pasta Roller
Recently we upgraded our machine. I had tried a friend's electric pasta maker and I knew I wanted one! Believe me, this is not a necessity! But it is A LOT of fun. Even the kids can make pasta now! Using an electric pasta maker means that we now make pasta a lot more often. I never buy fettuccine now, homemade is so much easier and nicer. I bought a Marcato Electric pasta roller … but I have since found it so much cheaper on Amazon so I provided the link above.
I have prepared a Youtube tutorial which shows just how easy it is to make your own pasta. The process is exactly the same regardless of which pasta roller you have, manual or electric. The only thing that is important is the process of laminating the pasta dough and passing it through the pasta maker.
Subscribe and create more with me on YouTube.
The main thing to remember is to use plenty of flour and to laminate on each setting 6 – 9 times. The first 3 times through the pasta maker the dough is feed in flat. The following three passes are made once the dough has been folded in thirds.
This basic pasta dough can be used for lasagne sheets, ravioli, tortellini, fettucini or spaghetti. The only difference it the way the sheets of pasta are cut.
Let's Connect!
Would you mind tagging me on social media if you make any of my Thermokitchen recipes! Chatting and seeing your pictures really makes my day. #Thermokitchen
I would love to share more delicious recipes with you. For Thermomix recipe inspiration LETS CONNECT on;
FACEBOOK
TWITTER INSTAGRAM PINTEREST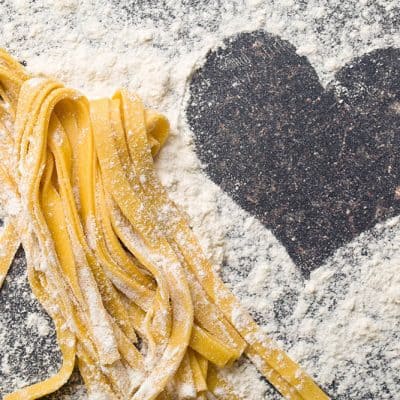 Basic Egg Pasta
This is my "go to" homemade pasta recipe. So easy and delicious!
Ingredients
250

gm

"OO" flour

2

eggs

whole

3

egg

yolks
Instructions
Add the flour, eggs, and egg yolk to the TM bowl. Knead 2 mins.

Divide the dough into 4 balls. Flatten each ball and coat in flour.

Wrap the pasta dough individually and leave on the bench to rest for 30 minutes.

Once the pasta has rested dust the pasta maker and one of the pasta dough balls with flour.

Pass the dough through the largest setting 3 times.

Fold the pasta in 3rd and pass it again through the largest setting. Repeat this action 2 more times.

Reduce the setting by one notch. Pass the dough through 3 times.

Fold the pasta in 3rd and pass it again through the same setting. Repeat this action 2 more times.

Continue to use this pattern of lamination until you have reached the 5th or 6th setting. You will need to flour the pasta dough regularly.

If you're making fresh lasagne you just need to cut the lasagne to size.

If you're making fettucini you only need to pass the pasta dough through the fettucini blades and you have perfectly cut fettucini.

Dust the cut fettucini liberally with more flour, lifting the pasta and ensuring all strands are coated.

Boil salted water in a large pot until it reaches a rolling boil. Add the fettucini and cook until it tastes al dente.
Nutrition Facts
Basic Egg Pasta
Amount Per Serving (100 5)
Calories 200
Calories from Fat 40
% Daily Value*
Fat 4.4g7%
Sodium 177.7mg7%
Potassium 32.3mg1%
Carbohydrates 31.9g11%
Protein 7.3g15%
Calcium 20.3mg2%
Iron 0.5mg3%
* Percent Daily Values are based on a 2000 calorie diet.
I hope you have enjoyed this basic tutorial. If you're looking for a Napolitana sauce recipe to serve with your homemade pasta take a look at my pasta sauce.
If you would like to receive an email update when new recipes are released then why not scroll down and hit subscribe at the bottom of the website. I want to help you create more with your Thermomix.
Please let me know if you have made my recipes and leave a comment below. I love seeing the dishes you make and hearing from everyone who is cooking along at home.
Please note: This article contains affiliate links. This means a tracking code is used and I may make a small commission if you purchase the item I've suggested. The price of the item will be the same for you whether it's an affiliate link or not. I only add affiliate links to items I love and use. This helps me to promote sites that provide great products. As a bonus, I earn a small income that goes towards maintaining this website and supporting my family.
Note: Originally posted Oct 2017 and re-edited and posted.