Cheats Thermomix Pasta Sauce Napoletana Style
Published , Last Updated
Commercially prepared pasta sauce may never be on your shopping list again once you've made my Thermomix pasta sauce! This is a rich passata or Napoletana style pasta sauce.
Have you ever avoided making something because it seems like too much effort for a product which can be bought commercially? I have always bought ready made pasta sauce and never imagined bothering to make my own.  I was so WRONG! My mind has been completely blown! As a result of this Thermomix pasta sauce recipe commercially prepared pasta sauce may never be on my shopping list again! It is SO good!
I always imagined there would be no real difference in flavour but I was absolutely wrong. This homemade Thermomix pasta sauce is so rich and luscious it tastes like a finished dish. I was literally eating the sauce by the spoonful straight from the Thermomix. Nothing else was needed to complete the Napoletana sauce. Even the colour of the sauce suggests just how different a homemade pasta sauce is to store-bought. I can't even imagine eating a spoonful a commercial sauce without other ingredients added.
The reason I was making pasta sauce was an unexpected tomato surplus. I had one kilo of tomatoes in the fridge getting soft and squishy and a friend brought me another kilo as a gift. I also had 2 punnets of cherry tomatoes. Now, I like tomatoes but I know I would never finish them all.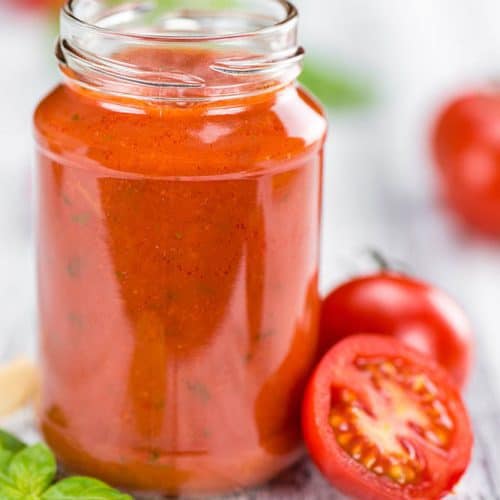 Thermomix Pasta Sauce
This is a deeply flavoured, rich tomato sauce which is made easily in the Thermomix.
Course:
Main, Main Course, Sauce
Cuisine:
Italian, Mediterranean
Ingredients
20

g

garlic

1

tsp

black peppercorns

200

g

onion

cut in quarters

50

g

oil

1000

g

tomato

cut in half with end removed

1

Tbsp

sugar

1

tsp

salt

1/2

tsp

all spice

or Chinese 5 Spice

2

tsp

dried oregano
Instructions
Place the peppercorns and garlic in the TM bowl. Chop 3 sec/Speed 9.

Add onion to the garlic mixture. Chop 3 sec/Speed 7.

Add oil to the TM Bowl. Sautee 5 min/Varoma/Speed 1.5.

Place the halved tomatoes in the TM bowl. Puree 20 sec/Speed 7.

Add sugar, salt, allspice and oregano to the tomato puree. Simmer 40 min/120 degree/Speed 1.5 (MC OUT). Add the strainer to the top of the lid to prevent splatters.

If you want to preserve the sauce add it to sterilized jars and place the topped jars in a large saucepan of boiling water. Allow the jars to boil for 2-3 minutes and then leave them to cool in the water. Once cooled the sauce will be vacuum sealed.
Recipe Notes
Tomato Passata sauce will keep in a sealed jar in the fridge for up to 2 weeks.
Nutrition Facts
Thermomix Pasta Sauce
Amount Per Serving (100 ml)
Calories 99
Calories from Fat 54
% Daily Value*
Fat 6g9%
Sodium 298mg12%
Potassium 350mg10%
Carbohydrates 10g3%
Protein 1g2%
Vitamin A 1040IU21%
Vitamin C 19.7mg24%
Calcium 29mg3%
Iron 0.6mg3%
* Percent Daily Values are based on a 2000 calorie diet.
I also wanted to make a ratatouille for my daughter who has become a vegetarian. Given that I had a surplus of tomatoes it seemed a good time to make this classic French vegetarian dish from homemade pasta sauce. Oh, and the Ratatouille turned out fabulously too, so I will share that recipe shortly.
One of the reasons I've avoided making a Thermomix pasta sauce from fresh tomatoes is most recipes tell you to blanch the tomatoes in hot water and peel the skins. So tedious! I promise this is a completely unnecessary step. My sauce pasta sauce recipe is a cheats version. I've taken all the shortcuts to keep things simple and let the Thermomix do the work.
How to Use Your Thermomix Pasta Sauce
Over Pasta
Napoletana sauce is delicious served with homemade pasta, a little freshly shaved parmesan and some torn basil leaves. All the big flavours of the homemade sauce are more than enough to make this a simple and delicious meal.
Pizza Sauce
I also reserved some pasta sauce for our pizza night. We recently added a wood-fired pizza oven to the backyard. I've previously been using the leggo's pizza sauce on the homemade pizza bases. After trying the Thermomix pasta sauce on the pizza I will never make pizza any other way. The pizza tasted exactly like my favourite authentic Italian pizza place in Santa Monica. Now I know their secret.
Have you noticed I keep swapping the term, pasta sauce, for Napoletana sauce? It seems that this sauce is known by a multitude of names and with even more spelling variations. In our house its known as a pasta sauce or passata but since everyone has a different name I've tried to incorporate a few variations.
I hope you enjoy the recipe. I would like to invite you to join a ThermoKitchen Facebook Page. On the facebook page, I share all my new Thermomix recipes with followers, so if you're looking for some inspiration make sure you stop by and say hi.