Basic Thermomix Pizza Dough Recipe
Published
Before I bought my Thermomix I owned a bread maker. I would make bread at least once a week and pizza dough most weekends. Now I only ever make Thermomix pizza dough! I had the Breville breadmaker for 20 years but I gave it away yesterday because I never use it. What was an invaluable, loved appliance prior to the Thermomixnow doesn't get used at all.
It's just so easy to make bread and doughs in the Thermomix. It's also so much quicker than the bread maker. Today I want to share my Thermomix pizza dough recipe. It's actually the same recipe I've been using for the last 20 years!
Our family makes pizza most weekends because I find it easy. I like letting the kids make their own pizza's and we usually finished with a shared dessert pizza. It's a lovely thing to do together. I like the whole family being in the kitchen together, deciding on toppings, and tasting each other's creations.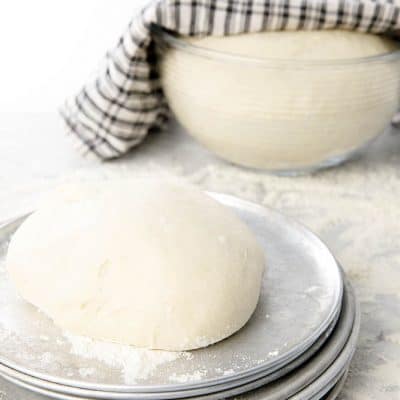 Thermomix Pizza Dough
A fuss free, never fail, pizza dough
Course:
Main Course, Main Dish, Snack
Cuisine:
American, Australian, Italian
Ingredients
510

gm

bakers flour

320

gm

hot tap water

10

gm

dried yeast

5

gm

sugar

5

gm

salt

25

gm

oil

1

tsp

dried oregano flakes

optional
Instructions
Wash a glass bowl in hot water then dry thoroughly.

Spray the clean, warm bowl with oil and put it in a warm place.

Add the water, yeast then all other ingredients to the TM bowl.

Scrape down the bowl. Knead 30 sec.

Remove the dough from the TM and form it into a ball.

Place the dough in the warmed bowl and cover with a clean tea towel.

Leave until it doubles in size.

Spray 6 medium size pizza trays with oil.

Punch down the pizza dough and divide into 6 portions.

Oil or flour the bench (this is a personal preference).

Roll each dough ball out and place on a pizza tray.

Leave the pizza trays in a warm spot, covered with a tea towel to proof until required. (They can be used immediately, or allowed to sit for a puffier "pan pizza".)

Top with pizza sauce and your favourite toppings.
We've just recently added a wood fired pizza oven to our backyard so I'm sure you will be seeing a lot more pizza recipes on the website.
Don't forget to pin my Thermomix pizza dough recipe for the next time you decided to throw together a pizza night. ????
If you're looking for more great Thermomix recipes, please follow the ThermoKitchen FB Page. I share loads of great recipes on the page. Our community group page also shares recipes from other fabulous Thermomix bloggers.