Healthy Nut Bar Thermomix Recipe
Published
These crunchy, little nut bar bites are the perfect on the go snack. Using only a few natural ingredients, they're nutritious and so easy to make.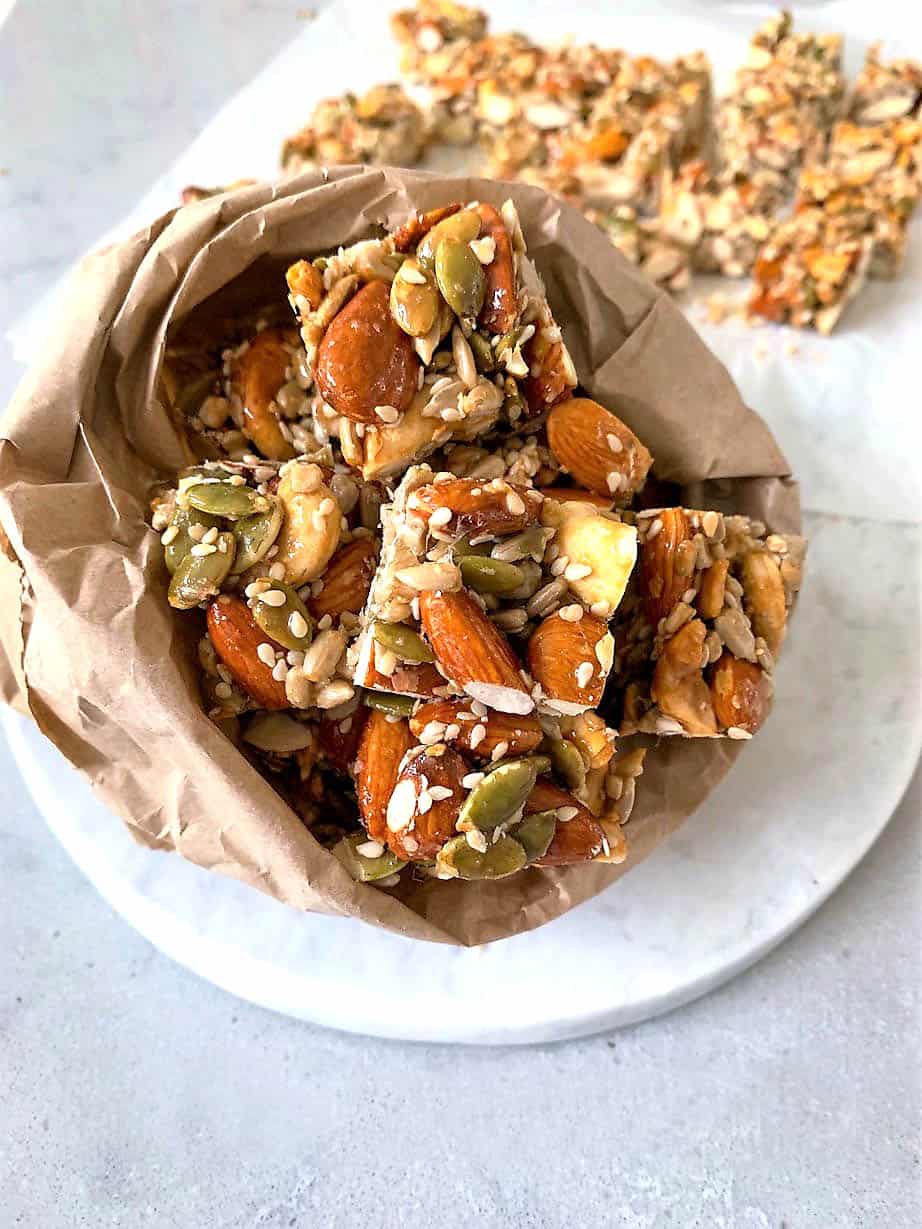 Guest Post
Hi! I am Rachel and A Small Cup of Sugar is my baking creation.
I began writing a cookbook to record my mother's treasured recipes and in the process discovered my great passion for baking. Bringing together simple ingredients with the help of my Thermomix to create delicious food has become a love of mine. Whether it's to nourish or indulge, you can find me in the kitchen preparing something to share with my family and friends.
I would love you to click on the logo and visit me at a Small Cup of Sugar.   I'm sure you will find a recipe or some baking inspiration.
Thinkfood Munch has a line of nut bars my family and I enjoy. I would often pop a bag or two of these into my grocery trolley as they make a healthy and tasty snack. The other day I discovered our snack supply had dwindled but I had an abundance of seeds and nuts in the pantry. I decided to have a go at making my own nut bar. The homemade nut bites ticked all of the boxes. They were so easy to make and significantly more economical. Best of all, they were equally moreish and crunchy even without adding any cane sugar.
What are Munchy Nut Bites?
Simply nuts and seeds coated in rice malt syrup and slow roasted to form crunchy, bite-sized, portable snacks. The nuts and seeds are packed with nutrients and healthy fats and the touch of sweetness is enough to satisfy the afternoon cravings. They're a great snack because they're relatively low in carbohydrates but rich in fats and protein, vegan-friendly, gluten free and fructose free.
Nut Bar Recipe Variations
The recipe only has two components; rice malt syrup and nuts and seeds, both of which can be varied to accommodate your preferences and what you have on hand.
Honey or maple syrup can be used instead of rice malt syrup for a sweeter alternative. Maple syrup does not need to be warmed before adding the nuts and seeds.  It isn't as thick and sticky as rice malt syrup however the end result will be a little more crumbly.
Nuts & Seeds – You can use whatever nuts, seeds or combination of nuts and seeds you like.  Keep the quantity to approximately 3 cups. The smaller nuts and seeds help the bites to bind together. If you are just using larger nuts, such as whole almonds, cut some of them into smaller chunks. You can also add some dried fruit such as cranberries, sultanas or blueberries for some extra sweetness.
Step by Step Nut Bites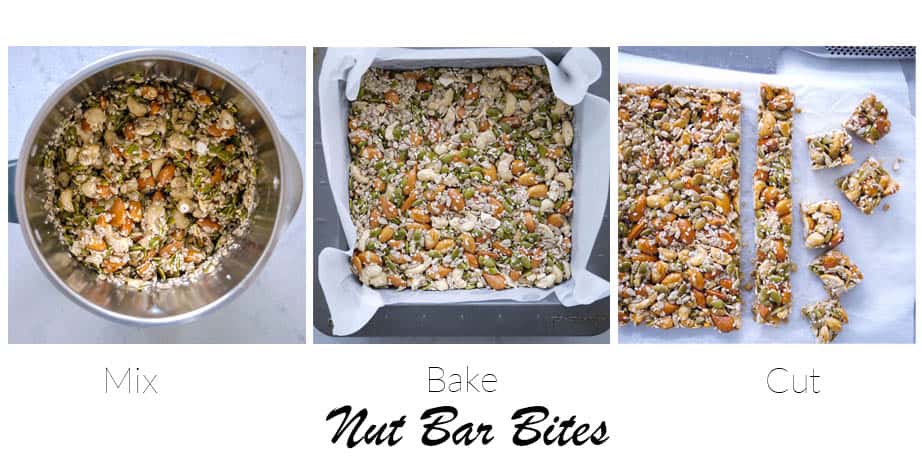 Let's Connect!
Don't forget to tag me on social media if you make any Thermokitchen recipes! I love chatting and seeing your pictures. #Thermokitchen
For more delicious Thermomix recipe inspirations LETS CONNECT on;
FACEBOOK
TWITTER INSTAGRAM  PINTEREST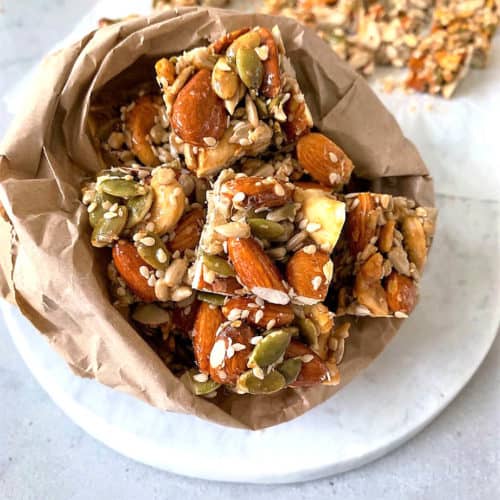 Healthy Nut Bar Recipe Thermomix
Delicious Healthy Munch Nut Bars - These crunchy, little nut bar bites are the perfect on the go snack. Using only a few natural ingredients, they're nutritious & so easy to make. Thermomix recipe #Thermomix #nutbar #nutbarrecipe #lunchbox #snack
Cuisine:
American, Australian
Keyword:
Baking, Healthy snack, Nut bar, Nut bites, snack bar
Ingredients
90

g

rice malt syrup

1/4 cup

160

g

whole almonds

1 cup

150

g

natural cashews

1 cup

75

g

sunflower seeds

1/2 cup

85

g

pumpkin seeds

1/2 cup

30

g

sesame seeds

1/4 cup
Instructions
Preheat oven to 150°Celsius. Grease 20cm square cake tin and line with baking paper.

Place rice malt syrup into TM bowl. Heat 5 minutes/50°C/Speed 3.

Add nuts and seeds. Mix 10 seconds/Reverse/Speed 3 (to evenly coat in rice malt syrup).

Press mixture firmly into prepared pan.

Bake for 40 minutes until golden. Cool for 15 to 20 minute until firm enough to cut.

Remove slice from tin and cut into 3cm squares. Cool completely before storing in an airtight container.
Recipe Notes
Recipe Notes
Cutting the bites when they have cooled but not completely set prevents them from crumbling.
Use a large kitchen knife and a firm chopping motion to cut into squares.
Bites can be stored at room temperature but they will be crunchier if stored in the refrigerator.
Nutrition Facts
Healthy Nut Bar Recipe Thermomix
Amount Per Serving (20 g)
Calories 77
Calories from Fat 54
% Daily Value*
Fat 6g9%
Sodium 2mg0%
Potassium 86mg2%
Carbohydrates 4g1%
Protein 3g6%
Vitamin C 0.1mg0%
Calcium 23mg2%
Iron 0.8mg4%
* Percent Daily Values are based on a 2000 calorie diet.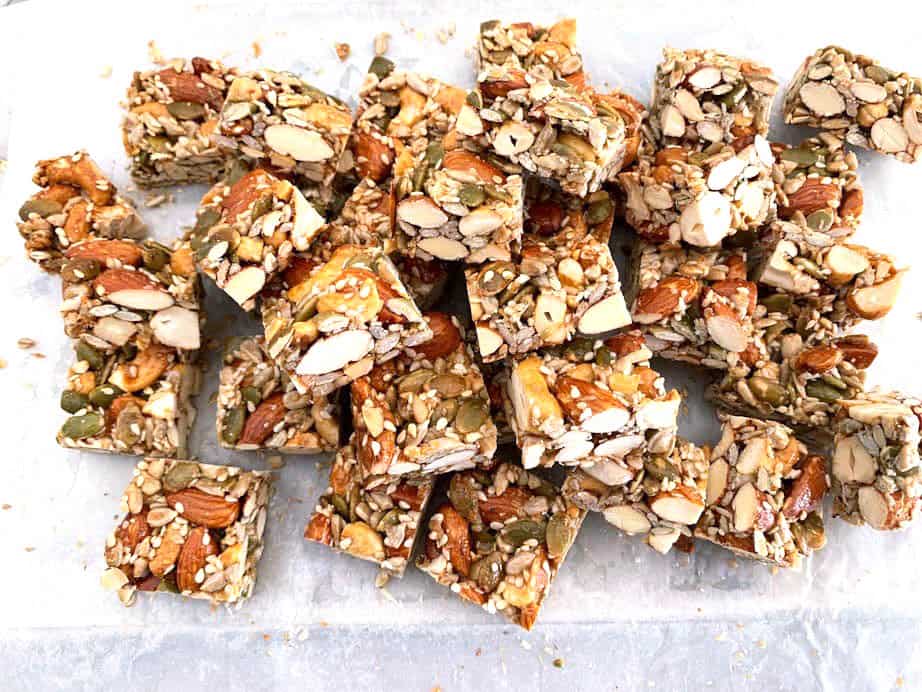 Thank you Rachel for stopping by and sharing your Nut Bar recipe.  Readers can see more of Rachels creations on her social media sites so please go over and say hi 🙂
If your looking for something else to pack in the lunchbox take a look at these Vegemite Scrolls or my Zucchini & Bacon Slice. Both are a favourite in our house 🙂
Once again for stopping by and checking out my website. As always, if you make this recipe please let Rachel and I know what you think in the comments section.
Oh, and don't forget to rate the recipe too, this lets others know what you thought of the recipe.